Branded Desk Clock Proves a Meaningful Tenant Appreciation Gift for New York and Connecticut-based Common Ground Communities
Posted in Case Studies | May 21, 2009 by jason

Challenge: To find a useful, budget-conscious tenant appreciation gift with high perceived value.
Building owners who appreciate tenants often show it in tangible ways. Some owners foster a sense of community among tenants, hosting parties or organizing common interest groups where tenants can mix and mingle. Others send gift certificates to local restaurants or movie theaters, encouraging tenants to spend a night out, literally "on the house." Other building owners send branded, holiday gifts to keep tenants in good cheer throughout the year and to spread the word about their properties to prospective tenants.
Common Ground, a pioneer and international leader in the development of solutions to homelessness, is not a traditional building owner by any means, yet the Common Ground team follows two tenant gift-giving traditions by gifting logoed promotional products to tenants and hosting annual, holiday parties at their different properties. One way in which Common Ground addresses the homeless issue is by building and operating supportive housing options that combine affordable accommodations with services like mental health and substance abuse counseling, job training and placement and community activities, as well as help with life skills like cooking and money management. The organization, having already helped more than 4,000 people overcome homelessness, currently manages 1,900 units in New York and Connecticut, with another 1,350 homes in development and another 2,700 planned by 2015.
With the holiday approaching, the Common Ground team began its search for a promotional product to brand and gift to tenants. In years' past the team has selected useful products like mugs, water bottles and tote bags. This year, they wanted something different to show their appreciation to tenants. They wanted a useful product with high perceived value that looked nice but tenants typically wouldn't buy for themselves.
Solution: Attractive, logoed Retro Desk Clock in silver, accented with blue.
Their search led them to ePromos Assistant Sales Manager Caren Aardema. Caren pointed the team to our online Web catalog of thousands of affordable, effective promotional products—many suitable to give as branded, holiday gifts. And although Common Ground has grown significantly since its start in the 90s, its budget has not: so the product needed to fit all the above criteria in addition to being affordable. Following recommendations from Caren, the team quickly honed in on the perfect product for this year's tenant appreciation gift: the Retro Desk Clock in silver with blue accents branded with the Common Ground logo. The clock met all criteria: it would be useful to a broad range of people, both male and female; its quality and high perceived value would surprise and please most tenants; and, more important, it fit within the Common Ground budget.
Result: Pleased tenants and gift givers enjoy attractive appreciation clocks.
The team was right: tenants expressed pleasure and delight when receiving their clocks, which in turn pleased the Common Ground team. And pleased gift recipients and pleased gift givers mean an equally pleased ePromos team.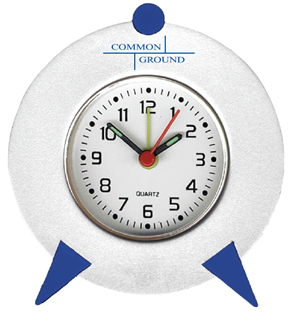 Check out other products to promote your Non-profit Organization.
Browse through our collection of Promotional Desk Clocks.
Find other items to use as Business Gifts.
Common Ground Imprinted Desk Clock Business Gifts (PDF Version).