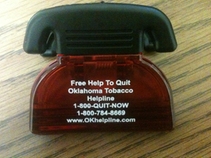 What Was Your Goal?
We ordered the telephone magnetic clips to promote the Oklahoma Tobacco Helpline to the public at health fairs, businesses, etc.
How Did it Go?
The magnetic clips have been a fun and practical way to help increase calls to the Helpline.


We are pleased with the service we received and are planning to order again.

- Brittney Hodges, Oklahoma City-County Health Department