May is a spirited month, a time of growth and new life — spring! April showers have (hopefully) stopped, the trees are budding, and flowers spring from the earth. People are ready to reemerge from their winter hibernation (of Netflix binges) and get out into the springtime air. All in all, it's pretty great.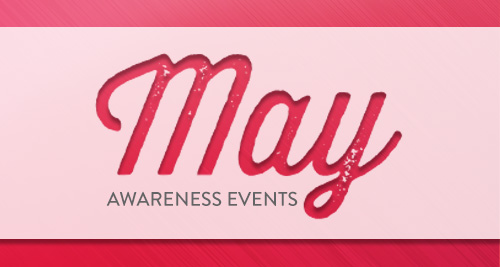 With all this naturally going on, May practically forces people to want to celebrate, making it an excellent time to get your brand involved in an awareness event. Using your brand's voice to support and connect with one of these events is a fun and dynamic way to get involved in your community (whether on a local, national, or even global scale) and connect with new audiences. In this piece we share the details on all the May holidays and awareness days. Keep reading to see which ones align with your brand and consider ways to get involved this month.
May Holidays and Awareness Days
May offers a big range of awareness opportunities, from day- to week- to month-long events. Below you'll find an exhaustive list of everything this month has to offer, complete with a short synopsis of the event and a link to more detailed information. Without further ado, let's dig in.
Memorial Day — Memorial Day is the unofficial start of the summer season. A federal holiday, most employees have the day off from work and celebrate with BBQs and beach outings. But it's actually a pretty somber holiday; a day to remember and honor U.S. soldiers who died while in service. For this reason, it's not appropriate to wish someone "happy memorial day". That said, it is absolutely a day to display your patriotism. Consider supporting a local parade or event over Memorial Day, complete with patriotic promotional products. Memorial Day is held on the last Monday in May; in 2020, it falls on May 25.

Mother's Day — Mothers have a tireless, and often, thankless job in raising children. Nearly 10 months of pregnancy! Giving birth! Sleepless nights! The list goes on, and yet so many do it with complete tenderness and pure love. Honoring mothers once a year on a national holiday is certainly more than deserved. Any business that caters to women or families may be prime for partaking in this celebration. Consider running a special, complete with a free (promotional) gift! Mother's Day is held the second Sunday in May; in 2020 it is May 10.

Cinco de Mayo — Cinco de Mayo began as a celebration of the Mexican Army's victory over France during the Battle of Puebla in 1862. However, since the 1980's the holiday has shifted in the U.S. to more widely celebrate Mexican-American culture (and hardly celebrated in Mexico at all!). Of course, it has become a big day of partying, complete with beer, margaritas, tacos, and other Mexican cuisine. In fact, beer sales for Cinco de Mayo are reportedly on par with Super Bowl beer sales! There are many ways to get your brand involved with the celebration, here are a few ideas:

Team up with a local restaurant or venue to host a Cinco de Mayo celebration
Kick off a social media campaign for best Mexican recipes or host a cooking competition (perfect for the food industry)
Offer a Cinco de Mayo special/discount for your product or services, and include a free promotional item for the first 100 people to take advantage of it

Teacher Appreciation Week — The importance of teachers cannot be overestimated. They're pivotal to society…and have a really tough job! Teacher Appreciation Week is a reminder of all they do for our children and reminds us to simply say "thank you" and show our gratitude. It is held during the first full week in May; in 2020 it is May 4-8. There are also a few other school-related awareness days in May, including:

Teacher Appreciation Day (May 5)
School Principal's Day (May 1)
National School Nurse Day (May 6)
If your brand is in the education or kids' space, these could be great awareness days to get behind by offering discounts or free (promotional) gifts to educators.
National Salvation Army Week — The Salvation Army is an international Christian church and charitable organization — the latter being what most of us recognize them for (their thrift shops abound across the U.S., though they are actually an international organization with locations in over 130 countries). The Salvation Army serves some 30 million people in the U.S. each year, and provides over 58 million meals and over 10 million nights of shelter per year in the U.S. alone. National Salvation Army Week is an opportunity to thank the millions of donors, volunteers, and staff who work tirelessly for these efforts. It is held annually the week following Mother's Day. In 2020 it is May 11-17. This may be a good opportunity for your brand to participate in regardless of your industry, as the goodness and importance of charity is universal. Consider hosting a donation drop-off, or a social media campaign asking people to post and tag pictures of them donating goods to their local Salvation Army.

Peace Officers Memorial Day and National Police Week — While these are two separate awareness events, they are both sponsored by the National Fraternal Order of the Police and designed to complement one another. They both seek to honor local, state, and federal peace officers who have either died or been disabled in the line of duty. Peace Officers Memorial Day is held annually on May 15; National Police Week is the following week taking place in Washington, D.C., where 25-40K officers, families, and supporters attend a plethora of events. Similar to Teacher's Appreciation Week, these awareness events are fairly universal and could be championed by nearly any industry. Of course, anyone in the security space may find a special connection to them.

Public Service Recognition Week — Public servants, those employed by the government, refer to those individuals who are not voted into their placements (such as politicians). In fact, they hold no political affiliations. Their work is critical to ensure the many government departments and offices that serve the public run smoothly. Public Service Recognition Week celebrates the work of public servants while also aiming to connect citizens with their government. It is held annually the first week in May, beginning on the first Sunday of the month. In 2020 it is May 3-9. This is a good opportunity for any organization that works for social good to get involved in celebrating.

National Tourism Week — If variety is the spice of life, what better way to experience it than by traveling? Waking up in new cities, eating exotic foods, and sharing in new cultural experiences are all rewarding ways to enrich your life (and support various economies). National Tourism Week is an annual celebration for those in the travel industry to celebrate the value that travel provides for the economy, businesses, and personal well-being. If your brand is connected to the travel industry, this one is a no-brainer to get involved in! In 2020 it is held May 3-9.

Asian Pacific American Heritage Month — Asian Americans and Pacific Islanders come from many different countries, including China, Japan, Korea, the Philippines, Samoa, Fiji, Guam, the Northern Mariana Islands, India, Pakistan, Bangladesh, Sri Lanka, Nepal, and Bhutan…and that's just a handful of examples! Asian Pacific American Heritage Month celebrates the many unique and beautiful cultures, traditions, and histories from these countries. This could be a nice awareness event for a brand involved in any country from Asia or the Pacific Islands, the travel industry, or the education space.

Haitian Heritage Month — There are nearly one million Haitian-Americans living in the U.S. Haitian Heritage Month seeks to celebrate the heritage and culture of these individuals during this month-long event. Events such as parades, school activities, and flag raising ceremonies are some of the ways it is celebrated annually. Similar to Asian Pacific American Heritage Month, this is a great opportunity for a brand in the travel industry, of or related to Haiti, and in the education space (just to name a few!).

National Pet Week — It's been reported that about 67% of Americans, or 85 million people/families, own a pet. Considering the amount of joy and love a pet can bring, this should come as a surprise to exactly no one. National Pet Week seeks to augment the pet love by educating the public on good owner practices, including the importance of regular veterinary medicine. It is held during the first full week in May; in 2020 this is May 3-9. Any brand in the pet space (food, toys, insurance, etc.) should definitely get on board. Brands in the family and kids space are also great industries to get involved, since pets are so often an integral part of family life.

Endangered Species Day — There are over 41,000 endangered species, and over 16,000 of those are on the brink of extinction. It's a horrible plight, and frankly, quite depressing. Endangered Species Day, held May 15, is an opportunity for people of all ages to learn about endangered species, and perhaps more importantly, how they as individuals can take action to protect these vulnerable animals. This awareness event is a good opportunity for any brand looking to increase their stance on sustainability and the green movement.
Medical Awareness Observances in May
May has many medical awareness days that may be appropriate for your brand to promote, particularly if you are in the health, wellness, or medical-related field, such as a hospital, research, or pharmaceutical company. Here is a handful of awareness days with a brief description of each to help determine if joining in on any of these days fits your brand and messaging. If you do opt to join any of these campaigns, we suggest reaching out to the organizers, or incorporating some of their communications pieces (many have available toolkits that include items like promotional posters and social media copy you can tailor) into your work to ensure you are representing the cause accurately.
International Multiple Sclerosis Month — Multiple Sclerosis (MS), an incurable autoimmune disease, causes symptoms like numbness, pain, spasms, fatigue, and vision, bladder, and cognitive problems. It is estimated about 2.3 million individuals currently live with it around the world. International Multiple Sclerosis Month aims to raise awareness for the condition and help connect the individuals living with it around the globe. The campaign focuses on a specific theme every couple of years. In 2020-2022 the theme is "connections" — connections of community, of self, and to quality care. The end of the month-long campaign ends on May 30, which is World MS Day.

National Nurses Week — Nurses play a critical role in the U.S. health care system. They're also the largest health care profession, with a workforce totaling nearly 4 million (!). National Nurses Week, which honors and celebrates the tireless work they perform day in day out, is held annually on May 6-12. The dates are always the same each year to coincide with Florence Nightingale's birthday, who is the founder of modern nursing. There are also several single-day nurse celebrations housed within the week, including National Student Nurses Day (May 8), National School Nurses Day (May 8) and International Nurses Day (May 12).

ALS Awareness Month — ALS, also commonly known as Lou Gehrig's disease, is a progressive, neurodegenerative disease. It is a devastating diagnosis, as it is 100% fatal; about 5,000 individuals in the U.S. are diagnosed with it each year. Public awareness of ALS leaped in 2014 due to the viral "Ice Bucket Challenge," which included folks dumping buckets of icy water over their heads and passing the challenges onto family and friends. May is officially ALS Awareness Month, and seeks to raise awareness and understanding of the disease.

National Lupus Awareness Month — Lupus is an autoimmune disease characterized by a hyperactive immune system that attacks otherwise healthy tissue. The results can be devastating, as the repeat attacks can damage the kidneys, heart, lungs, joints, blood, and skin. Typical symptoms of lupus include extreme fatigue, headaches, painful joints, fever, anemia, and more. It is estimated about 1.5 million people in the U.S. have lupus; further, about 90% of those diagnosed are women. National Lupus Awareness Month is all about bringing attention to the disease and the impact it has on the lives of those living with it.

World Red Cross and Red Crescent Day — The International Red Cross and Red Crescent Movement is an international humanitarian organization comprised of about 97 million individuals, including volunteers, members, and staff. Their aim? To protect human life and health, promote respect for all, and prevent and/or alleviate human suffering. World Red Cross and Red Crescent Day is celebrated annually on May 8 to coincide with Henry Dunant's birthday, the founder of the International Committee of the Red Cross and winner of the first Nobel Peace Prize.

Skin Cancer Prevention Month — Skin cancer is the most diagnosed cancer each year, with 5 million cases annually. While this is staggering news, the flipside is that it is also the most preventable cancer. About 85% of cases are due to exposure to UV rays from the sun. This exposure can be severely limited through safe sun practices, such as wearing SPF and hats while in the sun. Skin Cancer Prevention Month aims to educate folks on not only the dangers of U.V. exposure, but ensure more and more people become aware of how easy it is to nearly eliminate this exposure by taking simple precautions.

National Mental Health Month — It's estimated 1 in 5 adults experience mental illness annually in the U.S. Despite this high number, stigma around mental illness persists. National Mental Health Month, established in 1949, seeks to continue to break the stigma, provide support, educate, and advocate for policies that support those suffering with mental illness.

National EMS Week — EMS (emergency medical services) are a critical piece of the health care puzzle; they provide immediate medical care to those who need it most, such as following an accident or heart attack. National EMS Week celebrates the EMS practitioners and the important work they do around the country. In 2020, it will be held May 17-23. Each day has a unique theme:

Monday: EMS Education Day
Tuesday: Safety Tuesday
Wednesday: EMS for Children Day
Thursday: Save-A-Life Day
Friday: EMS Recognition Day
National Physical Education and Sports Week (May 1-7)
National Bike to School Day (May 6)
National Women's Health Week (May 10-18)
National Senior Health and Fitness Day (May 27)

National Hepatitis Awareness Month — Hepatitis is an inflammatory condition that affects the liver. There are several different versions, though National Hepatitis Awareness Month focuses on two viral forms of the disease: Hepatitis B and C. The campaign seeks to raise awareness about the importance of vaccinating for Hepatitis B, getting tested for both strands of the virus, and educating people on the available treatment for both diseases, which can help people achieve a full recovery. The month-long campaign includes a day dedicated to the importance of testing — Hepatitis Testing Day (May 19).

National Cancer Research Month — It's estimated 16.9 million people in the U.S. are cancer survivors, in part due to the tireless work of cancer researchers. National Cancer Research Month honors the innovative work of researchers not only in America, but around the world.

National Arthritis Month — Arthritis is a condition that refers to joint inflammation and is extremely common. An estimated 70 million Americans live with it, or 1 out of every 3 adults. This chronic condition can be helped with treatment, but cannot be cured. National Arthritis Month has a threefold campaign; it aims to 1) raise awareness about the growing number of people living with arthritis, 2) advocate for the additional research, and 3) encourage those living with it to stay physically active.
As you can see, May is chock full of awareness events — hopefully you've found one that rings true to your brand's identity. Getting behind something that speaks to your brand's voice is a great way to connect with your audience, as well as expand your brand's reach. And as if those reasons weren't good enough motivation to get involved, there's the additional bonus of doing some social good in many of the above-mentioned awareness events. We suggest you consider adding promotional products to your marketing campaign to make a lasting impression and commemorate your event. Ready to get started? Reach out to ePromos today. Our reps will walk you through each step of the ordering process to ensure it's an easy and smooth experience for you, and backed by our 110% guarantee.