12 Football Season Giveaways to Rally Team Spirit
With football season now underway, fans and players alike are excited to show off their team spirit. As teams advance in the standings, stadiums are packed with people decked out in team jerseys, waving foam fingers and enjoying other football swag. This guide explains how to best equip fans with popular football gear that will help celebrate every touchdown and showcase team spirit.
Football Swag Ideas
Check out these ideas for your promotional football giveaways:
1. Foam Finger
This iconic game-day swag lets fans show off what team they think is number one. Give away foam fingers with your team's logo in stadiums, or pass them out to tailgaters before the game. You can easily get foam fingers in bulk and turn your stands into a sea of your team's colors, which is sure to rally team spirit on and off the field.
2. Rally Towel
As a football player runs down the field toward that touchdown, tensions get higher and higher. When they eventually cross the goal line, fans in the stadium need something to show their support and celebrate. Rally towels are symbols of encouragement in sporting events.
Roughly close to the size of a hand towel, these sports towels are typically 16 inches by 25 inches and can be branded to any team. Pick an option in your team's color and get your logo printed on it — fans will be happy to wave this swag around to cheer on a favorite team.
3. Stadium Cushion
Sometimes, fans need breaks from standing and cheering. Football giveaway ideas like stadium cushions are fun while still being practical.
Equipped with a handle to easily transfer to and from football games, a polyfoam promotional stadium cushion will be a popular giveaway at sporting events. Hold a raffle to raise funds for your team, or entertain the crowd with a game during halftime and give away cushions as prizes. However you get these items to fans, they're sure to use them at your games and other events.
4. Drawstring Backpack
Fan-favorite drawstring bags are one of the best items to give away to crowds. One of the most effective ways to boost brand awareness is to have a team's logo printed on items.
These bags are versatile and are readily available to bring to football sporting events. The drawstrings allow for easy access and can even hold other giveaway items in them. They're also a favorite to use after a game to hold gym clothes and other items. That means players can use these branded items to feel unified as a team.
5. Branded Mini Football Stress Ball
Things can get a bit stressful during games. Someone's favorite player might have gotten close to getting a touchdown but fumbled within inches of the line, or maybe they intercepted a pass and almost got tackled.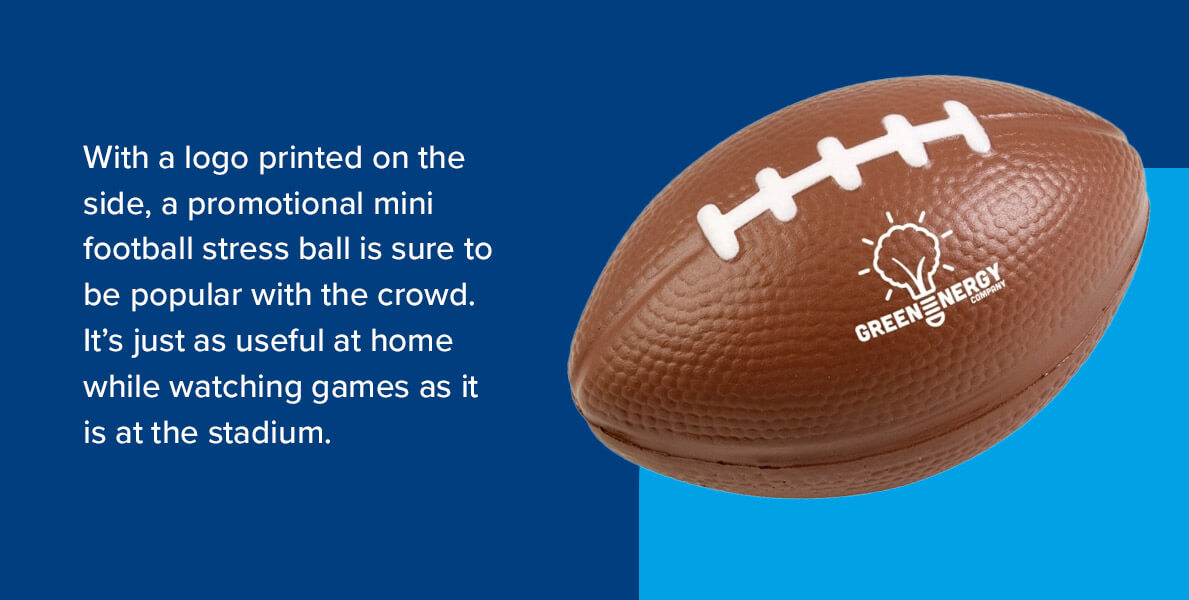 Having something like a little football to squeeze during these stressful times could be helpful. With a logo printed on the side, a promotional mini football stress ball is sure to be popular with the crowd. It's just as useful at home while watching games as it is at the stadium.
6. T-Shirt
Whether you sell athletic tees or toss them out to the crowd at halftime, they're an excellent and practical way to raise team spirit. Fans and players alike can show off team loyalty off the field with these shirts. And everyone in the stands will be happy to have a T-shirt with the team's logo or name on it to show their pride on game day. Offer a variety of styles and sizes so every fan and player can get in the spirit.
7. Stadium Cup
Souvenir stadium cups are always some fun and favorite football-related gifts. You can even find cups that dramatically change color when cold liquids are poured into them.
These cups are as much fun at home as they are in the stadium. They're also practical and can be found in kitchen cupboards ready for daily use. If you sell drinks on game day, consider offering a promotional cup for a slight upcharge — fans will be happy to pay a little extra if they can show off team spirit.
8. Blanket
As the football season continues, the weather begins to change. During cooler weather, people love to cuddle up with a blanket, whether that be on the benches of a stadium or sprawled out on their couch.
Giving away a blanket with a water-resistant backing and foldable design is a useful and handy way of promoting a football team while keeping fans warm and dry.
9. Football Pen
While this item will most likely not be used for writing during any football games, this is a great practical giveaway item. The small squeeze football at the top of the pen makes it easy to find in a drawer or purse, so it'll be the first pen people grab to use to sign a paper or write a list. Add your team's name to this pen for a two-for-one promotional item.
10. Can Cooler
One of the advantages of giving away can coolers is that they can be multifunctional. They can insulate drinks to keep them cold, then, when game day's over, fans can use them to hold pens on their desks.
Can coolers find their way into backyard picnics and beach vacations. Long after football season is over, can coolers advertise a team — and team spirit — year-round.
11. Phone Grip
More often than not, the audience at a football game will have phones on them. They'll be taking pictures and videos of the game and certain plays or texting a friend about what's happening on the field. Having something like a phone grip attached to their devices could be useful. With your team's logo or colors on the grip, fans and players can show off their loyalty.
12. Baseball Cap
Don't let the name fool you — baseball caps are perfect for football fans. These caps are practical and shield wearers' eyes from the sun, but they're also an American fashion trend. Baseball caps are neutral and trendy and a part of many people's daily wardrobes, especially sports fans. Ball caps become treasured team gear, worn everywhere and every day of the week, not just on game day. When the team wins, these ball caps can even become "lucky" caps.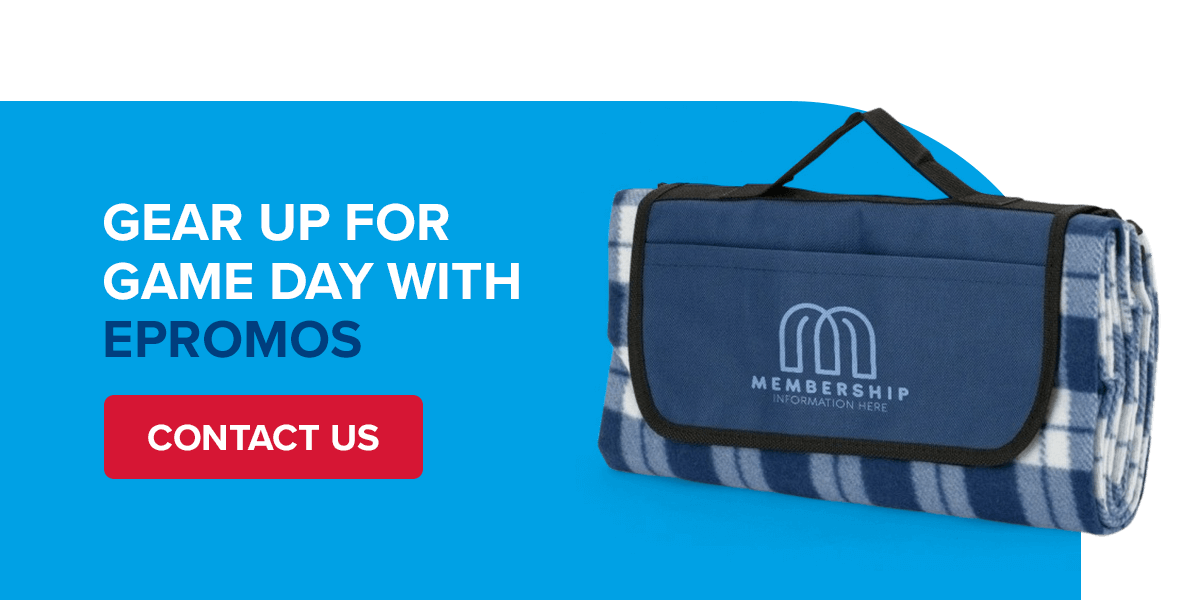 Gear up for Game Day With ePromos
Whether you're selling merch to support your team or want to give out prizes during halftime, ePromos can help. We can add your team name or logo to a variety of bags, apparel options, drinkware and other swag that are sure to impress on game day.
Give fans and players not just a shirt, cap or towel, but a piece of the team spirit with ePromos gear. Reach out to us to learn more about our products and branding services!