Sustainable Plastic Bag Alternatives for Your Business
As sustainability efforts increase across industries, plastic bag alternatives for businesses are becoming more relevant — and even required. In some states, such as New York and Washington, plastic bags are banned due to their numerous environmental implications. If plastic bags aren't banned in your state, you may still want to make the transition to reduce your company's impact on the planet and boost your customers' opinion of your brand.
As more companies adopt sustainable consumer practices, you can join them by offering eco-friendly bag options. Learn about how you can find alternative bags for plastic bags below.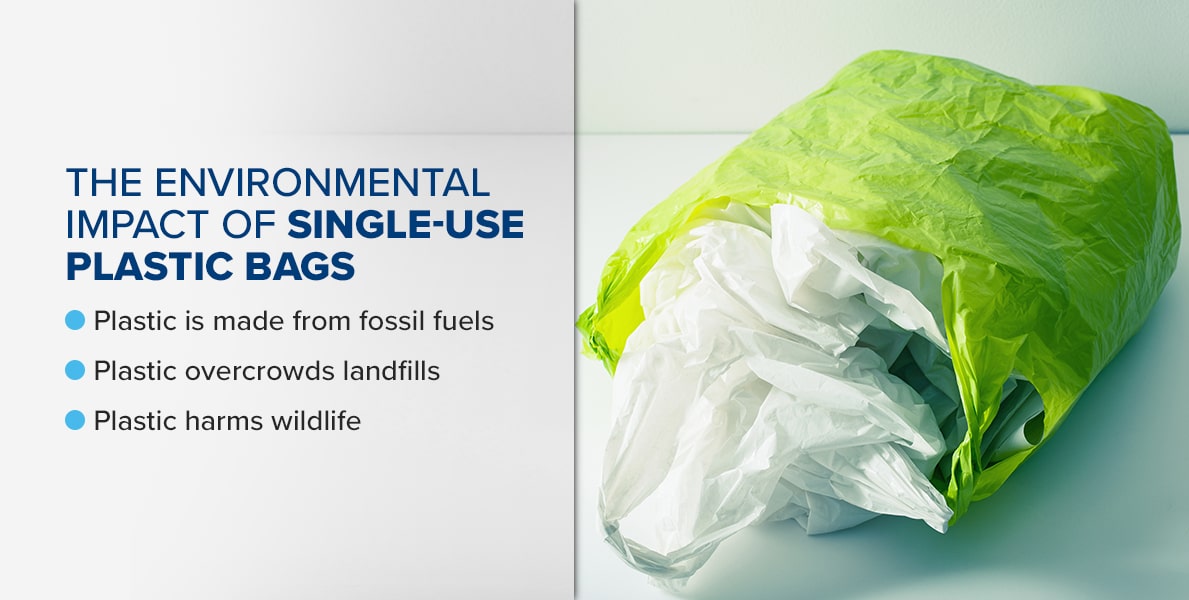 The Environmental Impact of Single-Use Plastic Bags
What's the problem with using disposable plastic bags? The primary controversy surrounding them is how long they take to break down — a whopping 20 years. But even after plastic bags turn into microscopic bits, they continue to have a detrimental effect on the surrounding environment, leading to a host of issues for wildlife.
From production to degradation, plastic bags have far-reaching impacts on our environment:
Plastic is made from fossil fuels: The materials used to produce plastic are derived from fossil fuels. These chemicals are called petrochemicals, and the finished products are entirely absent in nature. Since plastic is created from nonrenewable resources, it has a limited production supply. If single-use plastics remain the norm, we'll eventually run out of enough fossil fuels to create more bags.
Plastic overcrowds landfills: According to a study conducted in 2017, more than half of all non-fiber plastics — excluding synthetic fabrics such as nylon or polyester — came from single-use plastic packaging items that consumers threw away. This massive amount of plastic piles up in landfills, some of it making its way into the surrounding ecosystem — you may have heard of the infamous garbage patches in the ocean.
Plastic harms wildlife: Every day, plastic harms human, animal and plant health. In particular, plastic is hazardous to wildlife, affecting more than 800 different species. Whether as plastic shopping bags or tiny bits of microplastic, plastic degrades ecosystems, kills animals and ends up in our food and water.
These are just a few examples of how devastating plastic can be for the environment. Be sure to consider how plastic bags can negatively impact your local community and the world as a whole when thinking about alternatives. In many cases, you'll find that plastic bag alternatives almost always provide more benefits than plastic bags at a lower cost to the Earth.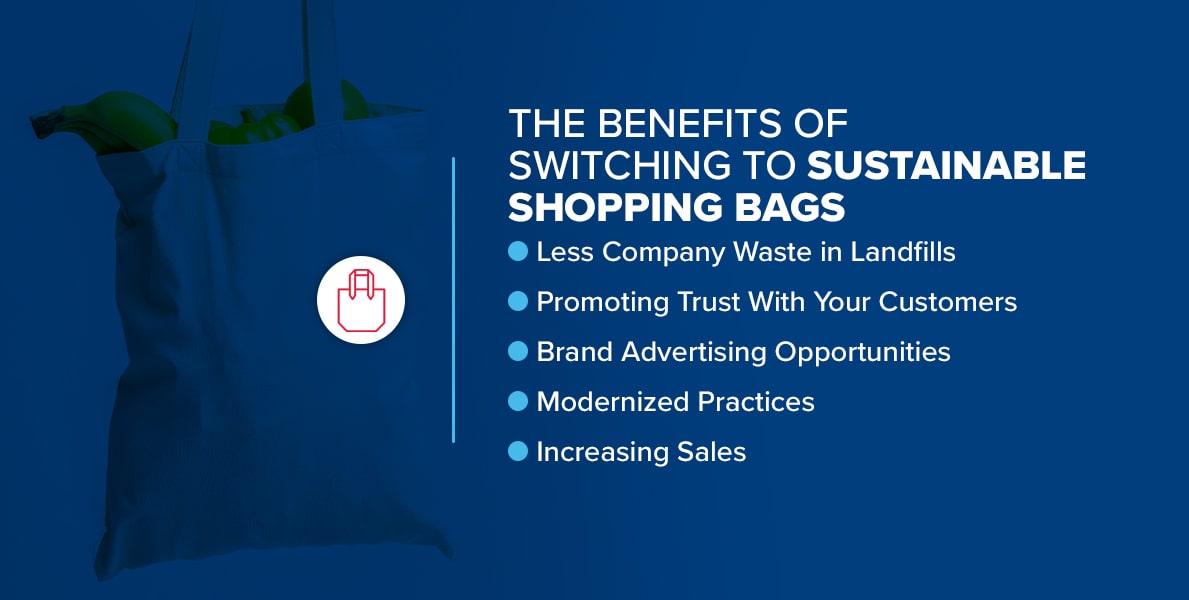 The Benefits of Switching to Sustainable Shopping Bags
Some companies are reluctant to change their shopping bags unless legally required. However, plastic bags were also a replacement for an earlier type of bag. Before the invention of synthetic polymers in the mid-19th century, paper and glass were used for the same purposes as plastic is used today.
Since the 1950s, plastic production has increased by 8.3 billion metric tons due to demand, and half of the total production of plastic has occurred in the past 15 years. These production levels mean that the detrimental effects of plastic aren't going anywhere — unless companies make a change. While alternative bags may be used less frequently now, they can eventually become the new standard, and your company should be at the forefront of this change.
Choosing sustainable bags is an investment in your company's future. Here are the specific ways switching to sustainable shopping bags can benefit your business and the environment:
1. Less Company Waste in Landfills
Single-use plastic materials take up a lot of space in landfills, which is why so many companies are currently trying to avoid adding to the problem. Some of these inorganic material wastes will decompose, but instead of dissolving, plastic bags break into small parts over time. The plastic then gets into the soil, and eventually, the water supply.
Although some plastic bags can be recycled, only about 10% of all single-use plastic bags end up going through the recycling process. Encouraging your consumers to reuse your plastic bags or shop with an eco-friendly alternative can help reduce the overall amount of waste. Using shopping bag alternatives can also lower your company's carbon footprint.
2. Promoting Trust With Your Customers
Many customers are concerned with ethical business practices. Those who appreciate commercial sustainability efforts view the bags as a step in the right direction. If they feel that your company is making serious efforts to benefit others, they know they can place trust in your brand.
When shoppers care about how plastic threatens wildlife and the environment at large, they gravitate toward companies that support their ideals. They may choose to start shopping more at your specific location, where they can rely on your eco-friendly practices and avoid bag litter. This helps improves customer relationships.
3. Brand Advertising Opportunities
Showing your support for environmentally-friendly shopping methods adds social awareness to your commercial advertising. This gives your brand a marketing boost, especially with customers who are motivated to make eco-friendly choices. The new brand opportunities help you build a sustainable image and drive up sales.
Reusable bags with your company's name and logo printed on the front are also good promotional tools on their own. Customers can reuse the bags outside of your business, increasing brand awareness and exposure for your company.
4. Modernized Practices
Sustainability in commercial industries and environmentally-friendly business practices have become more important in recent years. These efforts are here to stay. As more businesses get on board with practical solutions to the plastic problem, you can expect to see an even greater prioritization of replacing single-use plastic bags in the coming years.
When you purchase bag alternatives for your business, you're making a long-term investment that will matter in the future. If you continue operating with single-use plastics, there's a real possibility your company will be forced into switching to alternatives one day. Due to increasing concerns about sustainability, many businesses are having discussions on the topic and choosing to modernize before the process becomes more expensive.
5. Increasing Sales
More people are deciding to "vote" with their dollars, meaning that they're exclusively only choosing companies that care about the world around them. Sustainability efforts such as offering reusable bags can draw in new customers and drive up your sales. If your business becomes known for providing these items, more customers will want to shop there.
With a sustainable brand image, you can attract more customers from demographics willing to pay more if it means helping the environment, making healthy choices or giving back to the local community. Shopping with reusable bags is a way to achieve all three of these goals.
8 Plastic Shopping Bag Alternatives for Businesses
The plastic bag alternative you choose will likely depend on price. The materials and styles you want to convey to your customers will influence how much each bag costs. All of the following alternatives are affordable possibilities, but you should also consider how the new bags will work for your brand image and the quality and quantity you desire.
Below are eight eco-friendly plastic bag alternatives for businesses:
1. Recycled Paper Bags
It's widely known that paper is easy to recycle, and many paper products used today are made from recyclable materials. This makes paper bags a highly eco-friendly alternative to plastic, especially because they come in sacks, twist handle shopping bags and other varieties.
The pros:
They can be recycled.
They can be reused.
They can decompose quickly.
The cons:
Customers are often upcharged for using them.
They require more resources to produce than their plastic counterparts.
They tear easily and can break open.
They can weaken structurally when wet.
They're heavier than plastic bags.
2. Compostable Bags
These bags are made from raw materials that can compost into the Earth when properly disposed of, contributing to healthy soil. People can compost them at a personal residence or a designated facility. Some bags must be composted commercially because they're unable to break down unless a specific method is applied — check for the bag's certifications to know where it can be composted. For example, bags that say ASTM D6400 are different from bags that say BPI.
Depending on the brand, compostable bags tend to look similar to single-use plastics, making them a similar-looking alternative to plastic bags.
The pros:
Using compostable materials lowers a company's carbon footprint.
You can print on the bags using soy-based ink, and they'll remain fully compostable.
The cons:
Their shelf-life is limited.
They need to be stored in specific conditions to maintain their structural integrity.
3. Cotton Tote Bags
These bags are made from renewable crops and offer a lot of versatility. They can be made from recycled or organic material or both. Most cotton sources are chemically treated, but organic cotton reaches maturity without the use of pesticides. At the end of its life cycle, pure cotton can be easily incinerated without releasing toxic chemicals or causing harmful effects.
Order recycled cotton tote bags to offer them to customers interested in making a difference.
The pros:
They're reusable and have a long lifespan.
Organic cotton has a low carbon footprint because it removes pesticides from the crop's production cycle.
They're machine-washable and easy to clean.
The cons:
They require more energy to produce than single-use plastic bags.
They need to be washed regularly to prevent microbial growth and odors.
4. Non-Woven Tote Bags
Some types of plastics are unable to be recycled, but non-woven bags offer a recycling solution to the issue of environmental plastic waste. These bags are made from recycled plastics.
The pros:
They're highly durable.
They don't break as easily as single-use plastic bags.
They're reusable.
They can be recycled.
The cons:
They need to be washed for sanitary purposes.
They require the production of plastic materials.
5. Canvas Bags
Canvas bags are made from a woven fabric, typically thick cotton or hemp fibers that may contain a blend of polyester materials. You can order eco-friendly canvas tote bags wholesale as an alternative to plastic. These bags make use of materials that are easier to dispose of and better for the planet than plastic.
The pros:
They're strong and durable.
They're reusable.
They can be printed on.
The cons:
They can tear when used to carry heavy or protruding items.
They need to be washed for sanitary purposes.
6. Reusable Plastic Bags
Reusable plastic is made from post-consumer or post-industrial materials. These are the same plastic bags that consumers are used to, but they can be reused and recycled when consumers care for them properly. This is another solution to the problem of too much plastic waste ending up in landfills.
The pros:
They're stronger than single-use bags and can be used for several weeks.
They give consumers a chance to make a difference in their plastic usage habits.
They can lower the environmental impact single-use plastic bags have on the environment.
The cons:
Customers might fail to reuse the bags, which leads to an increase in litter and plastic materials in landfills.
Regular recyclers are generally unable to accept reusable bags — they have to be given to recycling agencies through special drop-off locations.
7. Woven Polypropylene Bags
Woven bags are made of polypropylene, but unlike the unwoven variety, part of their production involves creating a synthetic fabric. These bags are produced from recycled plastic materials, which are stretched into threads.
The pros:
They're more durable than single-use plastic bags.
They can be recycled.
They can be reused multiple times.
The cons:
They need to be washed for sanitary purposes.
They must be taken to a recycling facility or drop-off point that accepts polypropylene bags.
8. Jute Bags
This type of bag is made of spun vegetable fibers. Since jute bags require a renewable crop as the primary material in their composition, they're an eco-friendly choice.
The pros:
They're durable.
They're made of entirely organic materials and can be composted.
They can be reused multiple times.
The cons:
These bags are more difficult to clean.
They must be commercially composted.
Some manufacturers chemically treat the bags to make them moisture-resistant, which renders them unable to be composted.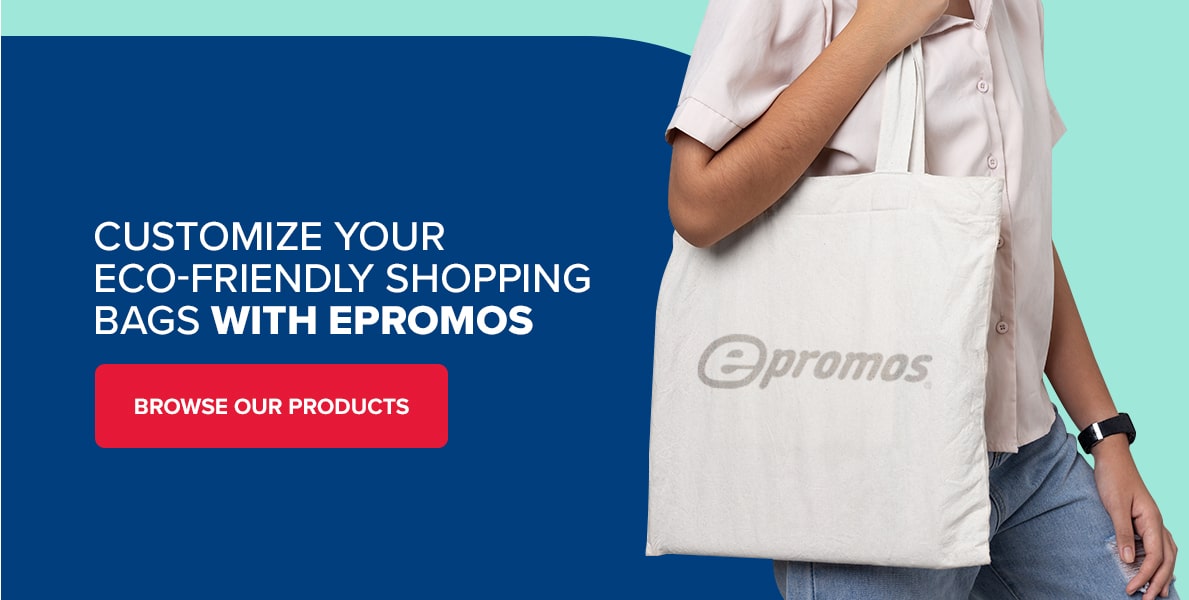 Customize Your Eco-Friendly Shopping Bags With ePromos
ePromos is a promotional product provider with many different bags. We can help you create sustainable shopping bags with your custom logo and graphics. We have a solution whether you're looking for recycled tote bags in bulk or another alternative to single-use plastic bags.
Browse our products to find specific bags or styles that will work for your company, or contact us at 877-377-6667 to learn more about our services.