9 Promotional Items for Sports Teams
Sports promotional items are excellent products to use if you're looking to increase your brand awareness, attract new fans or provide families with gear they can use to show their enthusiasm. When done right, promotional items will linger in the user's mind, giving them a reason to support your team over another.
Continue reading to learn more about innovative promotional items and giveaway ideas at your sporting events.
The Must-Have Promotional Items for Your Sports Teams
Sports fans love representing their favorite team wherever they are — on their walls, cars and bodies. Whether for their favorite little leaguer or go-to professional team, they want to display their support in any way possible. There's no better way for them to do that than with some creative sports team gifts and promotional items!
If you're wondering what sports team goods you can provide your fans, check out the following fun and exciting items to consider:
1. Team Apparel
There's something about dressing in a jersey with your favorite players' names on the back that just gets you in the mood to watch sports. Whether they've traveled to the venue on game day or are watching the game from the comfort of their home, chances are they have some sort of sports team apparel to show their support.
What's great about apparel is that fans can never have enough, looking for new comfy sweatshirts, stylish hats and more to fill their closets. Our Nike® Legend Dri-FIT Custom Tee is an excellent team sports gift for super fans of any team, staying fashionable and comfortable all game long.
2. Pennants and Flags
Flying high outside businesses and hanging from walls within homes, flags and pennants signify a deep love and devotion for the teams they represent. These sports promotional items give fans a way to show their pride for their beloved team, making them a must-have in any gift shop or team store.
Our Full-Color Flag is a fantastic addition to any sports venue, business or school and even fit for a college dorm room, ready to put their enthusiasm on display. You can also use these promotional tools to show off your colors and create an environment full of excitement, positivity and pride!
3. Key chains
Give your fans a way to carry your team wherever they go. These are must-haves for any sports enthusiast, easily clipping to keys, belts or backpacks for around-the-clock support. Plus, key chains are some of the most affordable sports team goods around.
Keep things simple with your logo and team colors or stand out from the crowd by adding a whistle, bottle opener, light or a teddy bear wearing your jersey — there are many ways to get creative with these promotional goods so fans can  display their support!
4. Glassware
For those over 21, drinking at sports games is a great way to enjoy time with friends and family while watching a sport they love. Whether they're tailgating or already in their seats, they're constantly filling their cups, so why not make it exciting? Add your name, logo and team colors to these glasses, creating a fun memorabilia item they can take with them.
The good times shouldn't stop when fans leave the stadium. With a team store stocked full of promotional glassware, your fans will always have cause to celebrate. Plus, a pint glass with your sports team logo makes a fantastic gift for any sports lover.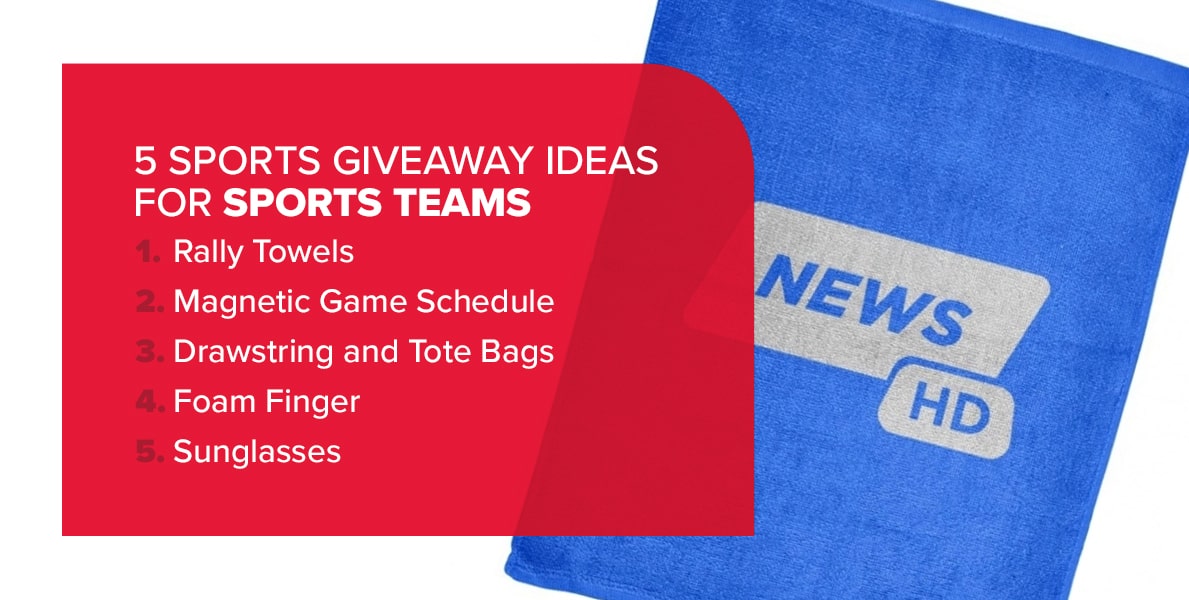 The Must Have Giveaway Items for Gamedays
Sports games are full of loud and passionate fans cheering their favorite players and teams all the way to victory. These fans are the life and soul of a team, showing others what being a fan is all about. There's nothing that pumps up a crowd more than a giveaway with some rousing merchandise, increasing loyalty and creating meaningful relationships.
Consider the following sports giveaway ideas at your next game:
1. Rally Towels
Load up your towel launcher and watch your fans go crazy for rally towels. These promotional items are smaller than regular towels, letting fans hold them and ecstatically wave them around from their seats.. They are popular at football, hockey and basketball games, giving supporters the chance to show their spirit and leave with a meaningful keepsake they'll remember for a while.
2. Magnetic Game Schedule
Keep your fans updated on future games and events by giving them a magnetic game schedule to take home. They'll stick these calendars and schedules on their refrigerators and stay up to date with everything going on with your team. Give these away at entrances or by food stands to promote your brand and give your fans a way to connect with your team and show their support.
3. Drawstring and Tote Bags
Bags are some of the most useful and versatile promotional items you can offer your fans. These bags are among the most cost-effective options you'll find, yet strong enough to carry all the essentials. Drawstring and tote bags should be at the top of your giveaway list, perfect for bringing items for tailgating or to the local sports complex.
These items are unique because you can also stuff them full of additional promotional sports teams goods. Hide pens, notepads, cellphone accessories and more, and surprise your fans with a bag full of awesome goodies!
4. Foam Fingers
Who doesn't love a good foam finger? Fans of all ages can't wait to slide on these big, colorful gloves and show their excitement and joy while watching the team they love. You'll have the whole arena waving and pointing with these wearable signs, creating an atmosphere ready to celebrate a win. Foam fingers coupled with your team colors or logo ensure everyone knows who their #1 is.
5. Sunglasses
People wear sunglasses everywhere — to the beach, in the car, walking around the city and sometimes even indoors. This budget-friendly solution shows your fans you care about protecting their eyes while also getting your name out into the world. With a pair of trendy sunglasses sporting your team's colors, your fans will watch your team win in style without missing a thing.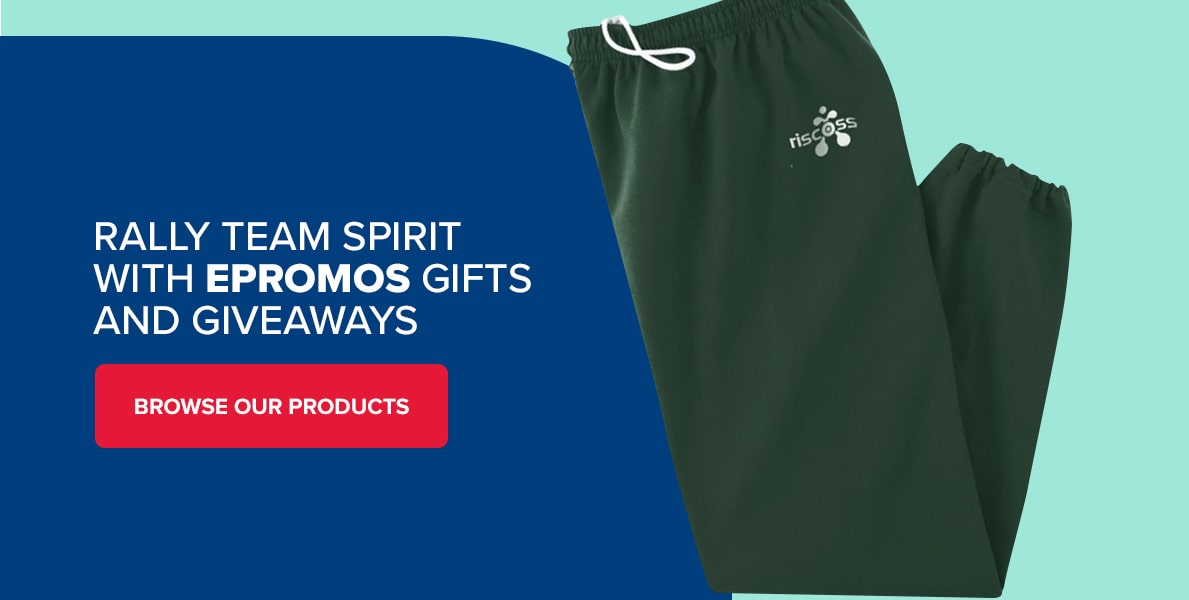 Rally Team Spirit With ePromos Gifts and Giveaways
Are you ready to give your loyal fans something to cheer about while making some new ones in the process? ePromos maintains an inventory of more than 5,000 products designed to make your sports team look good. Check out our online store today if you're interested in sports promotional items for your team.
You can always give our team a call at 877-377-6667 or contact us online with any questions or concerns you have. We are always available to chat and can't wait to bring your promotional vision to life.