Rush Gifts for the Holidays
Sometimes you have a tight deadline for ordering promotional gifts, and you need to get it taken care of faster than usual. During the holiday season, delays often happen. You might plan to send promotional gifts to customers or your staff, but how can you ensure your order gets completed in enough time?
In this case, your best option is to work with a company with the capability to get your order rushed through manufacturing and delivery. Learn more about promotional rush gifts below.
Last-Minute Holiday Gifts for Coworkers and Clients
Finding the right last-minute coworker gifts will require you to consider the interests of the recipients. It's important to put some thought into holiday gifts — even if you're on somewhat of a time crunch.
The ideas below will hopefully give you some inspiration for giving your coworkers and clients the perfect surprise.
1. Audio Headphones
Depending on the industry you work in, you may allow your employees to listen to music in hopes of boosting productivity. See what you can do to find over-the-ear headphones or earbuds with sound-canceling functionality. Your coworkers will appreciate this last-minute gift idea, as they can use the technology in and out of the workplace.
2. Power Banks and Chargers
We've all been in a situation where our laptops, phones or headphones run out of power during the workday. Portable power banks and chargers make excellent last-minute Christmas gifts for coworkers or clients who are frequently on the move.
3. Beverage Tumbler
It's always nice to have the option to take coffee, tea or another favorite beverage on the go. Pick up tumblers and travel mugs for employees to help them stay hydrated year-round. Tumblers and travel mugs come in different sizes to fit inside vehicles, sit on desks and fit in hands without an issue.
4. Drawstring Bags
Your coworkers have hobbies and interests outside of work, so some of the best last-minute personalized gifts you can get for your team are drawstring bags for transporting belongings from point A to point B.
Whether someone in your workplace likes going to the gym, traveling, camping, attending music festivals or walking with pets, drawstring bags make it easy to carry lightweight items.
5. Hats
Hats are useful year-round. Consider last-minute coworker gifts like baseball caps to help your recipients keep the sun out of their faces during the warmer months and knit hats to help them stay warm during winter. There are various hat styles that cater to men and women working in the office, helping you streamline your shopping experience.
6. Lunch and Cooler Bags
Portable coolers are helpful for keeping food items and beverages cold inside and outside of work. No matter if your clients enjoy packing their meals for the workday or want to attend an event and bring breakfast, lunch or dinner along, lunch and cooler bags will help them prepare for the day ahead.
7. Bluetooth Speakers
Many mobile devices can connect to Bluetooth speakers to make streaming media a more immersive experience. Think about making a coworker or client's day with a compact Bluetooth speaker gift for the holiday season. These devices make it easy to watch videos and listen to music when they're with a friend or family member at home.
Get Your Gifts Delivered on Time With Rush Service
When you request rush service, you let a promotional product company know that your project has a high priority. Rush service will ordinarily come with an additional cost and might require specific shipping methods for successful delivery.
If you want to rush an order with ePromos, select our 24-hour service option for several products. We can make these select items in about a day. When you order rush service, we'll deliver these products promptly. Depending on the time of day you place the order and the shipping option you select, you can receive your project after as little as one business day.
When to Use Our Rush Service
Do you need gifts for an upcoming event or holiday? You might also have plans to give away the products during a tight timeframe, like at a venue or office party. If at least one of these conditions applies to your order, or you have a similar reason for needing items delivered quickly, you can take advantage of our rush service to ensure your items arrive in plenty of time.
The extra cost of rushing an order is worth it for meeting a specific deadline or ensuring the gifts go out on or before your desired date. Here are some other circumstances when you may want to have an order created and shipped in a hurry.
You want to spread goodwill by sending out holiday promotional gifts from your company, but it's already a busy month when most vendors have a high demand for their products.
You need to order a large quantity of products in a short period. Placing a priority on a big order of promotional materials will ensure the manufacturer reserves time, resources and all premade products. When you have a larger order, you might wait longer for your vendor to create the products.
The vendor is in high demand and informs you that customers will likely experience delays. When the demand exceeds the supply, delays are sometimes unavoidable. If the vendor allows you to place a rush order under these circumstances, you will spend less time waiting.
You should avoid requesting rush service when you have plenty of space for new promotional items and can afford to order your stock months in advance. Here are some other reasons to wait:
You want to order gifts for a less commonly celebrated occasion, so your vendor is working with about the usual level of demand.
Your request is for standard products with simple designs or a low degree of customization. It's possible to get these orders out the door quickly, even without rush service, and they will arrive on time as long as you order in advance.
You are ordering samples, or your order is small. Fewer products require less time to process, and without a rapidly approaching deadline, you might as well let the items come in at the manufacturer's typical pace.
Your event is still several months away. Only use rush service when the priority of getting the products offsets your order's overall cost.
Do I Need Rush Service?
Should you still choose to rush your project if you feel it might be unnecessary? Depending on your deadline, you would be wise to opt for rushing a project if you expect to receive your items in less than a week during a busy ordering season. With a high number of orders, your project might take longer to arrive than anticipated.
However, if you are ordering more than two months in advance, rushing service might be unnecessary. Placing a high priority on your project could cause other orders to get pushed back. When you can go without your items for a while, it's best to use regular service.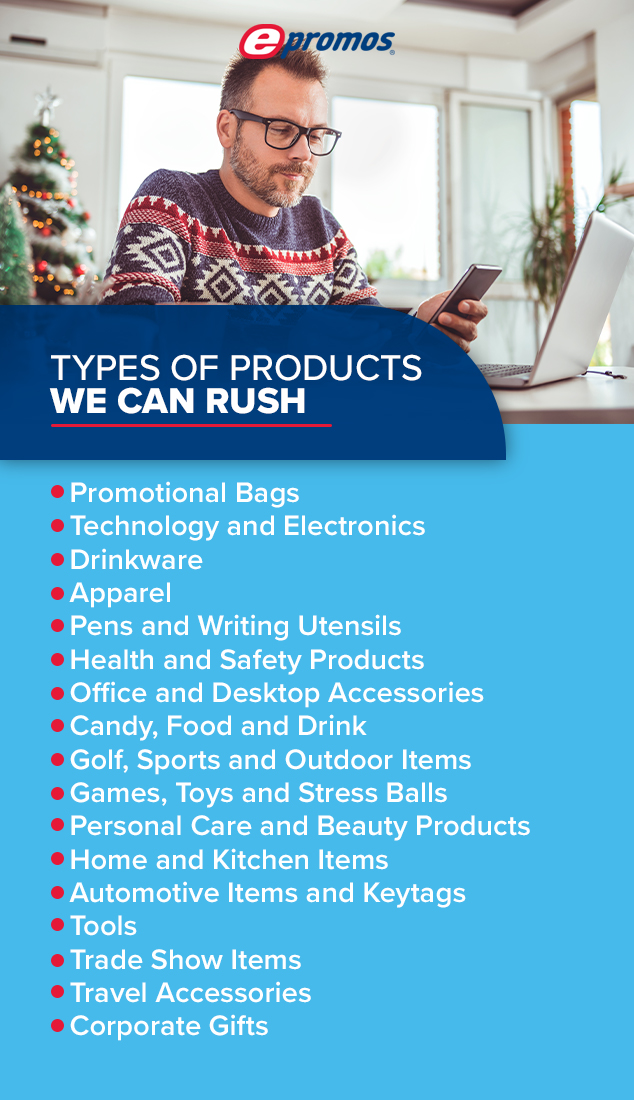 Types of Products We Can Rush
If you get caught in a last-minute rush, check to see which products can arrive quickly. Some items might take longer to produce, which could limit the manufacturer from shipping them right away. The best promotional gifts to rush are easy to produce in bulk.
At ePromos, we offer several rush items, but if you're curious about something specific, it's best to contact us directly. When production times get backed up, purchase your promotional products early to avoid waiting on any delays that come up.
Below is a detailed list of products you can order for rush service.
Promotional Bags
Bags come in many styles, and you will find one to match every industry. Many of these bags impress recipients as more expensive gifts, and a few are environmentally friendly replacements for plastic grocery bags. Here are some examples of sturdy, well-made promotional bags:
Backpacks
Cooler bags
Duffles
Drawstring bags
Laptop bags
Our favorite pick: High Sierra Impact Backpacks are roomy and durable, featuring compartments to separate your recipient's stuff.
Technology and Electronics
Consumers love to give and receive electronic items as gifts every year. Technology accessories and electronic products make popular promotional items for the holidays. Rush orders are available on the following:
Cell phone accessories
Power banks and chargers
Charging adaptors
Screen cleaners
Speakers and radios
USB drives
Our favorite pick: The 2-in-1 Portfolio & Power Bank will charge phones and provide a space for handwritten note-taking.
Drinkware
Promotional drinkware with various functions is also available to rush order in bulk. Some make excellent office presents, like coffee mugs. Consumers use drinkware every day, making it a gift for any demographic. Specialized items such as baby bottles are also available. Below are your options:
Mugs
Tumblers and travel mugs
Baby bottles and sippy cups
Vacuum bottles and carafes
Our favorite pick: Stainless Steel Sport Bottles come with carabiner caps and can clip onto backpacks.
Apparel
Free promotional apparel is always welcome for consumers who know clothes are expensive. One drawback is you might run out of items in high-demand sizes if you order limited sizing options. Options for rushing clothes and fashion accessories include:
T-shirts
Golf and polo shirts
Outerwear
Footwear
Workwear
Our favorite pick: With a Shoe Lace Key Caddy accessory, your clients can conveniently tuck their car keys away while they exercise or go out on hikes.
Pens and Writing Utensils
Pens are useful tools to keep on hand, even in offices where your employees rely on keyboards for most of the writing. Types of pens we can rush are:
Javelin pens
Stylus pens
Ballpoint pens
Gel pens
Our favorite pick: Metallic Colored Twist-Action Javelin Stylus Pens are classic black ink pens with a stylus feature. They come in multiple colors, to match your brand or messaging.
Health and Safety Products
Products that make excellent promotions for the medical industries include:
Hand sanitizers
Face masks
Pill boxes
First-aid kits
Our favorite pick: The Heart-Shaped Pill Box is a creative gift patients find useful, but your clients can use for storing more than pills.
Office and Desktop Accessories
Office items personalize work areas, making employees feel more at home on the job. Providing free office supplies will help everyone feel valued. Rush office accessories and other products for desk spaces such as:
Journals
Planners
Picture frames
Padfolios
Notebooks
Logo wallets
Letter openers
Clipboards
Mousepads
Window thermometers
Snow globes
Plants
Our favorite pick: Color Wave Notebooks come with 70 lined sheets and pockets.
Candy, Food and Drink
Many offices have a candy dish and offer treats to guests year-round. A holiday makes an ideal occasion to give out sweets. Order the following items on rush if you would prefer to send food items out as your promotional holiday gifts:
Chocolates
Individually-wrapped hot chocolate spoons
S'mores kits
Gift sets
Two-in-one wine stoppers and bottle openers
Our favorite pick: S'mores Gift Boxes are unique items that make excellent seasonal gifts.
Golf, Sports and Outdoor Items
If your business sees a lot of outdoorsy clients, this category will suit their interests. Outdoor items that you can have rushed include:
Umbrellas
Blankets
Towels
Plastic flyers
Golf tees
Golf ball caddies
Cardboard binoculars
Our favorite pick: Everyone could use an extra umbrella, and the Arc Umbrella is a generous size and eco-friendly.
Games, Toys and Stress Balls
Miniature games for passing a little bit of downtime are engaging gifts for students, but adults will enjoy these office toys too. You can rush order promotional toys such as:
Block puzzles
Stress balls
Magnetic dartboards
Coloring books
Zippered cork pouches
Our favorite pick: More engaging than a stress ball despite its lack of a squishy texture, the Safety Fidget Spinner Stress Reliever is fun for children and adults.
Personal Care and Beauty Products
Hygiene products and personal care items never go out of season. These items include:
Lip balm
Sunscreen
Lotion
Hand sanitizer
Our favorite pick: Full Color Hand Sanitizer Spray is mess-free and can easily fit in bags, pockets or purses.
Home and Kitchen Items
Sometimes, the best promotional gifts are a little outside the box, and home and kitchen supplies are welcome reminders of life outside the office. The extensive list of home goods items with rush options include:
Potholders and oven mitts
Measuring cups and spoons
Spatulas
Aprons
Bamboo cheese sets
Pizza cutters
Barbecue sets
Magnets
Snack bowls
Wine bottle openers
Piggy banks
Ornaments
Christmas stockings
Lunchboxes
Our favorite pick: You can never have enough Bag Clips to seal snack bags and keep their contents fresh.
Automotive Items and Key Tags
Automotive items can help clients in an emergency or add a decorative touch to their vehicles that reminds them of you. You can rush these automotive products:
License plate frames
Ice scrapers
Key chains
Automotive emergency kits
Our favorite pick: The Great Lakes Ice Scraper has a sleek design and comes in various colors.
Tools
Tools work well as promotional gifts for many industries with clients who are independent and handy. If you operate a campground, auto shop, woodworking or repair service, consider rushing these items:
Tool bags
Flashlights
Glasses repair kits
Our favorite pick: These Aluminum LED Flashlights clip securely to belt loops or key chains.
Trade Show Items
While you're attending a trade show to display your goods and services right in time for the holiday season, consider ordering some extras to give away. Items commonly given away at trade shows include:
Bandage dispensers
Fidget spinners
Lanyards
Our favorite pick: Two-Tone Lanyards promoting your brand will be a hit with participants.
Travel Accessories
Travel accessories make fitting gifts from travel agencies, but they are also a hit with many unrelated industries. These items successfully increase appreciation for and interest in your business when many of your clients go on frequent trips. Travel products include:
Luggage tags
Luggage locks
Carry-ons
Travel cases
Travel cosmetic bags
Travel sewing kits
Our favorite pick: Frequent travelers are always in need of more TSA-Approved Travel Sentry Luggage Locks to keep luggage safe in crowded airports.
Corporate Gifts
Corporate promotional gifts make excellent, practical gifts for employees. Receiving holiday or birthday presents can make employees feel valued and improve productivity. They will feel secure in their position and want to give back to the company for your generosity. These gifts will show your workers you are thinking of them on the next holiday:
Jumbo blankets
Messenger bags
Clock pen holders
Key chains
Photo albums
Many of the corporate items overlap with specific categories. For example, if you're looking for pens, you will find them on either list.
Our favorite pick: This Simulated Leather Clock and Pen Holder is the ideal desk accessory. It stores favorite pens and displays the time.
Rush Promotional Gifts With ePromos
Want custom products for promoting your business sent quickly? When you use with ePromos' rush service, you can receive your order as early as the following business day. The additional cost is worthwhile when you get your order on time for an important occasion.
We stock various promotional products with several customization options. If you're interested in ordering some promotional items for the holidays, consider using rush service with us. Email a customer care representative at [email protected] or call 800-LOGO-216 to request rush service.
Updated 11/8/2022
Additional Holiday Season Resources: