Swag Bags for Remote Employees
Even if your remote employees live miles away from your office, they're still valuable members of your team — and they want to feel that way. Keep them feeling motivated and appreciated with some generous work-from-home swag. If you're preparing to mail out gift boxes soon, we have some ideas for what to put in corporate swag bags for remote employees.
Why Is It Important to Show Appreciation to Remote Employees?
As more of the workforce moves online, your company needs to find ways to adapt to the needs of your valuable remote workers, giving them the same opportunities as their on-site peers. When you show your appreciation for their achievements, they feel like they're involved in a supportive workplace and will put more effort into their work.
Showing appreciation has the benefits of:
Motivating your employees to succeed and continue their good work.
Creating a positive culture in your workplace, even for those who are unable to be there in person.
Bridging the barrier of distance that makes remote employees feel isolated from their supervisors at times.
Showing employees their work has value even though they don't commute to the physical office.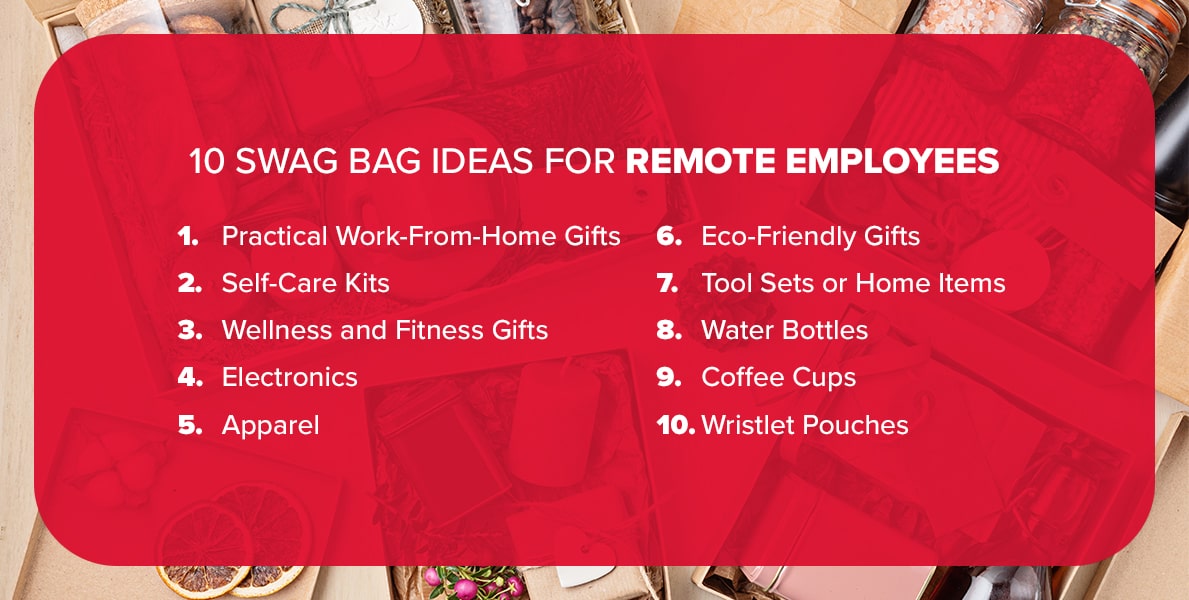 10 Swag Bag Ideas for Remote Employees
How do you show appreciation for remote employees? Below are 10 fun and unique categories of gift ideas for remote employees. These corporate swag bag ideas are sure to let your workers know how much you appreciate their dedication to your company.
1. Practical Work-From-Home Gifts
Working from home is easier for employees when they have items that can help them stay organized and maintain a healthy work-life balance. Your employees might be naturally good organizers already, but everyone appreciates getting additional supplies or tools to help make the process easier.
Ideas for items that fit this category include:
2. Self-Care Kits
These swag bag ideas for your employees will help them relax on their time off so they can be their most productive while on the clock. Self-care is about pampering oneself and unwinding. Here are some ideas for promotional items you can include in a self-care kit:
3. Wellness and Fitness Gifts
One way for virtual employees to connect with their co-workers is through virtual running clubs or other fitness groups. You can promote team-building through a fitness club and show you care about your employees by promoting their wellness. One of your primary concerns as their employer should be their wellness.
You can encourage your employees to stay fit and active by gifting them sports apparel and activewear and duffle and gym bags.
4. Electronics
Electronics are popular with remote workers, as they tend to put a lot of effort into creating the perfect home office space. Gift boxes for remote employees with promotional electronics can include:
5. Apparel
Apparel with your company's logo helps workers feel unified even when they're working from miles away. Below are some ideas for promotional apparel that you can supply your remote workers with.
6. Eco-Friendly Gifts
Look for promotional gifts that use eco-friendly materials of a high quality. Recyclable products or sustainable, organic materials such as cotton are ideal when you're considering gifting promotional items. Below are some ideas:
7. Tool Sets or Home Items
If you're undecided about what kind of gift set to give your employees, a miscellaneous tool set with your company's name could be just what you need. Home items can also be very helpful, as your remote team is at home for the majority of their days. Check out a few ideas:
8. Water Bottles
Many people like taking a water bottle to work with them to stay hydrated and comfortable throughout the day. Providing your employees who work from home with company-branded custom water bottles will help them feel like they're at an office. They can also take their water bottles to the gym or when they're on the go.
9. Coffee Cups
Keep your employees productive and refreshed by offering promotional coffee mugs they can keep in their home offices. You can choose between a classic coffee mug or a stainless steel travel mug they can leave home with.
10. Wristlet Pouches
If you want to try something a little different, give your workers some new accesories. A wristlet is perfect for storing important items while traveling. A wristlet zippered pouch is just big enough for a wallet, phone and keys — all you need when running errands.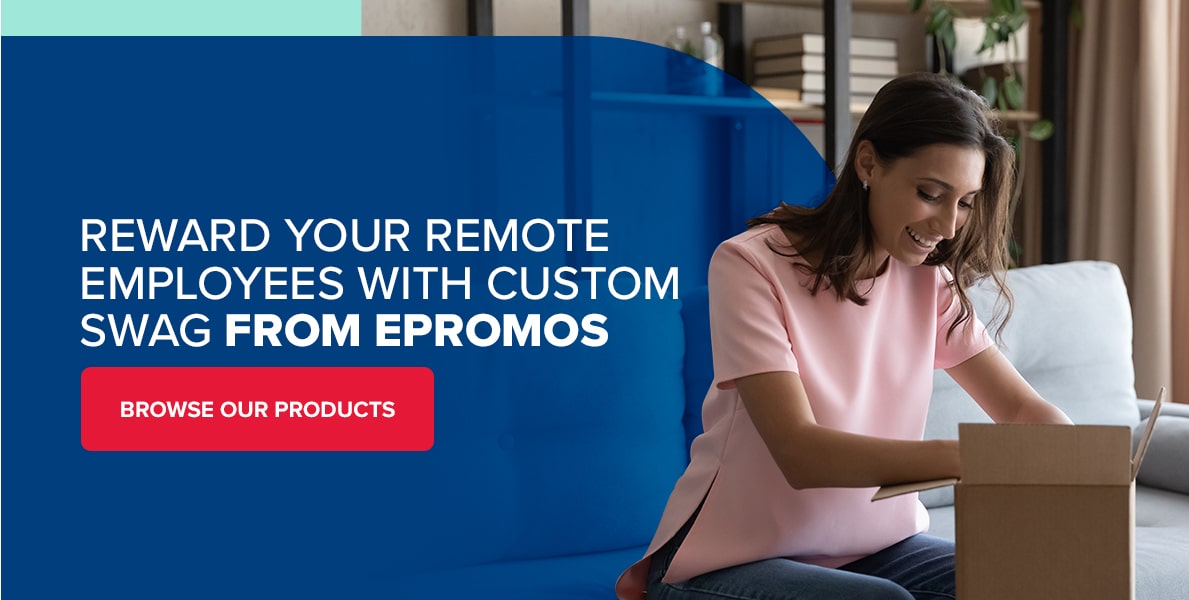 Reward Your Remote Employees With Custom Swag From ePromos
If you're looking for company gift ideas for goodie bags or a special event, ePromos has a wide variety of promotional products. We supply everything from electronics accessories to useful tools and equipment your employees can use outdoors. Plus, we use high-quality materials in all of our products, so you can trust they're built to last.
Contact us at 877-377-6667 if you have questions about ordering or any of our available products.