Awareness Events in April
Monthly awareness events are a great way to get your brand involved with something that generates social good, rather than the normal business focus of profits and growth (which isn't a bad thing!). April doesn't have a ton of awareness opportunities compared to other months, but there are still plenty to consider. It can also be a nice month to get involved in because of its slowness — the quietness makes it ripe for the want of activity. After all, the ground is thawing, and signs of spring are beginning to show; all reminders the sun will eventually be back for good (or at least until next winter). People know it's on the horizon, they're starting to put away their winter wears, and are looking for activities to get involved in outside of their homes –  where they've been basically hibernating since December.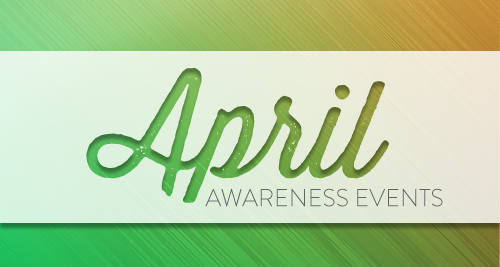 Below we offer a nice handful of awareness events to celebrate this April. From Easter to Earth Day to a slew of medical awareness days, there's something for every business to get behind. The advent of spring provides a great opportunity to provide seasonally appropriate promotional items such as umbrellas (hello, April showers), lightweight jackets, and active wear.
Holidays
Two holidays to get behind in April are Easter and April Fool's Day. Some details on each:
Awareness Events and Observances in April
If neither of the above holidays quite works for your brand, we've provided the list below to give you more ideas for awareness events to participate in this April. They range from a single day, to a week, to even the whole month (a great option if you'd like to really dig deep and create a longer campaign with several smaller events during it). The list also includes a few key details about the awareness event, the days over which it falls, ideas for getting involved, and promotional items to boast your message and create a lasting impression.
Medical Awareness Days in April
April has several medical awareness days that may be appropriate for your brand to promote, particularly if you are in the health, wellness, or medical-related field, such as a hospital, research, or pharmaceutical company. Here is a handful of awareness days with a brief description of each to help determine if joining in on any of these days fits your brand and messaging. If you do opt to join any of these campaigns, we suggest reaching out to the organizers, or incorporating some of their communications pieces (many have available toolkits that include items like promotional posters and social media copy you can tailor) into your work to ensure you are representing the cause accurately.
We hope this piece has sparked your creative juices and provided ideas to get involved with an awareness event this April. Your involvement has a wonderful two-fold effect — you get to participate in a good cause with national (and sometimes global) attention, while also getting your brand out to potential new audiences while building a reputation that shows you are involved in social good. Once you've decided on an event to get behind, connect with ePromos to get started on creating customized promotional items to commemorate your event and brand. Our talented customer service representatives will help you get started in the ordering process, no matter how early — even brainstorming the best item for your brand and event or drafting art to go on the promotional items. Reach out today!