Awareness Events in February
February is certainly a short and sweet month. It's the shortest month of the entire year — except when it's a leap year. In 2020 it adds an extra day to the month. But for as short as it is, it's bursting with sweetness, thanks to Valentine's Day, which is just about as syrupy sweet as you can get. But, February has plenty to offer in the way of awareness events, too. It's also a nice time to celebrate, as Thanksgiving and the big December/January holidays are behind us, people have had a chance to recoup and can muster the energy for more celebrating (or awareness raising). In this piece we explore all your options for celebrating or raising awareness for a number of excellent causes in February. Keep reading to check them out.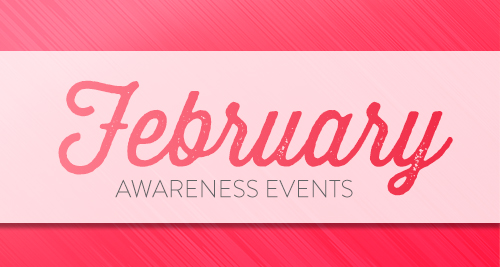 Holidays in February
Most of the holidays celebrated in February are fairly universal, and in a sense, generic — which is to say, none are really polarizing or fit a specific niche that would make it difficult for most brands to celebrate. While some companies will find themselves a natural or inherent fit to one of these, we think most brands can get on board to celebrate any of them. There are four big holidays in February — each listed below with some useful details to help you decide if/how they might jive with your brand. Read through each one and see which might jump out as a potential holiday to celebrate with your brand (and don't worry — if none of these speak to you, we have more awareness days listed below).
• Valentine's Day – Romance! Love! The beautiful sting of cupid's arrow! Valentine' Day, held annually on February 14th, is a day to celebrate love in many countries around the world. The day often includes greeting cards, chocolates, flowers, candle-lit dinners, jewelry and other gifts that serve as expressions of love. Valentine's Day is the perfect holiday to get your brand behind if you're in the business of any of these things — candy, jewelry, flowers, etc. But while Valentine's Day has a ton of romantic associations, it can also be an expression of appreciation and platonic love — like the kind you no doubt have for your customers. This holiday is fairly universal in that sense, so that almost any industry can make the case for celebrating love.
• Super Bowl Sunday – An unofficial American holiday, Super Bowl Sunday is a big deal in most households around the nation. It's the championship football game of the NFL, and usually held the first Sunday in February. In 2020 it will be held February 2nd. Celebrating Super Bowl Sunday can be fun for nearly any business. Consider creating a friendly competition on social media, or even hosting a Super Bowl party at a local bar or venue. Tons of businesses also hold "big game promotions" — offering discounts on goods in celebration of the Super Bowl.
• Groundhog Day – Groundhog Day, held annually on February 2nd, is celebrated across Canada and the U.S. It originates in Pennsylvania Dutch folklore. The story? If a groundhog, when leaving its burrow, sees its shadow, it means there will be six more weeks of winter. No shadow? Spring is on its way. While the holiday is a lot of fun, studies have not been able to show any correlation between the no/shadow sighting and the arrival/delay of spring. Groundhog Day could be a great event for a brand involved in winter activities, such as ski shops, snow removal companies, or spring activities, such as garden nurseries, rain boot or umbrella companies, and more.
• Presidents Day – Presidents Day is celebrated on the third Monday in February; in 2020 it falls on February 17th. This federal holiday dates all the way back to 1885 and was originally created to celebrate President George Washington's birthday, which is February 22nd. It wasn't until 1971 that it officially became known as Presidents Day, and a day to celebrate, honor, and remember all past U.S. presidents. Since it is a federal holiday, most schools have the day off, and many businesses consider it a paid holiday for workers. Since it always falls on a Monday, it provides a much-loved three-day holiday. Presidents Day is a pretty universal holiday in America, and it doesn't really speak to any one specific industry, making it a perfect opportunity for almost any American business to celebrate.
Awareness Days in February
It may be a short month, but there are no shortages of events to celebrate and/or help raise awareness for this month. Check out these additional awareness days below as potential opportunities to get your brand involved. Joining in on an awareness day can be a great way to expose your brand to a potentially new audience. That said, we advise you don't just pick at random — seek an awareness day that vibes with your brand and is something you can speak to authentically. If you're trying one of these out for the first time, consider hooking up with an already existing event that you can help sponsor as a way to feel things out and learn the ropes.
• Black History Month – Also sometimes called African-American History Month, this month-long celebration honors the important people and events of the African diaspora. Started in 1970 in the U.S., Black History Month is now celebrated officially in American and Canada, and unofficially in the Netherlands, the United Kingdom, and Ireland — although other European countries celebrate it in October.
• Library Lovers Month – The world of books and libraries has been rapidly changing since the creation of the Internet (hello, eBooks) and super selling online giants like Amazon (who sell the most books). But, it would be foolish to think libraries are no longer needed. They're an integral part of our society, and something we should all support. Library Lovers Month seeks to remind everyone of all the good libraries provide (for free…), and encourage us to support and use our local libraries. This could be a great awareness event for a brand in the education, research, or publishing industry.
• Random Acts of Kindness Week – Random Acts of Kindness is a movement that believes the little kindnesses in life make things better — a pure and simple message. Their goal? To make the world a better place, and who wouldn't get behind that? From smiling at a stranger to holding the door for someone, there are a zillion ways to show small acts of kindness. Random Acts of Kindness Week, held February 16-23 in 2020, encourages participants to go out of their way to show kindness wherever possible. This awareness week could work well for nearly any business, especially ones that deals with the public, or have customers (who are always deserving of a little extra kindness).
• National Weddings Month – February is the month of love, and what better month to celebrate marriage, love, and a happy ever after? Plus, Valentine's Day holds the record for the most weddings in a single day. National Weddings Month is an opportunity to celebrate all things matrimonial. This is a great event to get involved in for wedding vendors, couples looking for wedding favors, florists, bakers, event spaces, dressmakers, caterers, event planners, and anybody else in the wedding industry. Consider offering a special discount for anything booked during this month, or running a social media campaign asking people to post their wedding pictures.
• National Green Week – As we begin to finally pay attention to the perils of climate change and the very small window we have to start making some serious changes before irreversible damage occurs, going green is the trend we've been seriously needing. The Green Education Foundation, which seeks to create a sustainable future through education, created National Green Week in order to encourage educators to engage in sustainability-focused activities for a full week during the school year. It kick-starts the first full week in February and runs through the end of Earth month (in April). This allows educators the flexibility to pick a week that works best for them. This may be a great opportunity for a business centered on education, kids, families, or sustainability.
• National Entrepreneurship Week – It is the innovative, creative leaders who help move our society to new and exciting levels; for example, consider how the lightbulb, the Internet, and Apple®, have all dramatically changed and molded the world we know today. Being an entrepreneur takes guts and vision, and is surely something to celebrate. National Entrepreneurship Week is held February 15-22, 2020, and is an excellent opportunity for a company that supports business innovators, science and researchers, and education.
• Anti-Bullying Day (see also: Pink Shirt Day) – Bullying can have serious effects for the bullied and those doing the bullying. For those who are bullied, it can cause depression and anxiety, leading to lowered academic achievement, and an increase in health complaints. For those doing the bullying, it can lead to added risk of substance use, criminal activity, and being abusive later in life towards spouses. Research shows a quick and consistent response to bullying by adults can stop the behavior over time. Anti-Bullying Day, also known as Pink Shirt Day, is a day when people wear pink shirts in a stand against bullying. In the U.S., it is held on February 27th, though the date varies between different countries.
Medical Awareness Days in February
February has several medical awareness days that may be appropriate for your brand to promote, particularly if you are in the health, wellness, or medical-related field, such as a hospital, research, or pharmaceutical company. Here is a handful of awareness days with a brief description of each to help determine if joining in on any of these days fits your brand and messaging. If you do opt to join any of these campaigns, we suggest reaching out to the organizers, or incorporating some of their communications pieces (many have available toolkits) into your work to ensure you are representing the cause accurately.
• AMD/Low Vision Awareness Month – AMD, which stands for age-related macular degeneration, is the leading cause of low vision and blindness in adults aged 60 and older. It affects an estimated 1.6 million Americans. Unfortunately, it is a progressive disease, meaning it will only worsen over time, and there is no cure for it. AMD/Low Vision Awareness Month seeks to make people aware of the condition as a means to increase prevention — healthy lifestyle habits can reduce the risk of developing it.
• American Heart Month – Heart disease is the leading cause of death in America, responsible for every 1 in 4 deaths. Additionally, every 1 in 3 adults has high cholesterol, a major risk factor in the development of heart disease, but may not even know it, as it can show no signs and be difficult to detect. American Heart Months aims to raise awareness about the importance of keeping your heart healthy and encouraging ways to instill heart-healthy practices and lifestyle choices into your everyday life.
• National Children's Dental Health Month – Tooth decay is the most common chronic condition in children, and yet in most cases, it is preventable with good oral health practices, such as brushing regularly and visiting the dentist for routine check-ups. Sponsored by the American Dental Association, National Children's Dental Health Month raises awareness about the many benefits of good oral health in children.
• African Heritage and Health Week – Held the first week of February (February 1st- 7th), African Heritage and Health Week celebrates the food, flavors, and healthy cooking habits that were used by peoples across Africa. The intent is to educate people on traditional diets; studies show that certain diseases are more prevalent in African-American communities, such as diabetes and heart disease, and that there may be a correlation in moving away from traditional diets.
• National Wear Red Day for Women's Heart Health – Cardiovascular diseases are the biggest threat to women's health. This awareness event seeks to educate people on the importance of being heart healthy, including getting regular screenings for cholesterol levels and blood glucose. Held on the first Friday in February, National Wear Red Day will be held February 7th in 2020. As the name suggests, participants are encouraged to wear red to show their support.
• National Donor Day – Donating organs and tissues can be the difference between life and death for those individuals desperately needing a transplant. National Donor Day, held annually on February 14th, seeks to spread the message about the importance of the Donate Life message, honor the legacy of donors, and recognize those who have either received a donation, or are awaiting one.
• World Cancer Day – In 2017 it was estimated that some 100 million people worldwide had cancer – more than double the number in 1990 (which was about 45 million). World Cancer Day aims to spread awareness about cancer, and reimagine a world where preventable cancer deaths are eliminated and access to cancer treatment is equal around the globe. Conceived in 2000, World Cancer Day is sponsored by the Union for International Cancer Control; it is held annually on February 4th.
• National Cancer Prevention Month – Research indicates about 40% of cancers can be attributed to preventable causes, such as excessive sun exposure, being overweight, and smoking. National Cancer Prevention Month seeks to educate people on how healthy lifestyle habits, such as regular exercise and not smoking, can help reduce the risk of some cancers.
• Eating Disorders Awareness Week – It is estimated about 30 million people in the U.S. suffer from an eating disorder. Eating disorders have the highest mortality rate of any mental illness, with a person dying about every 62 minutes. Created by the National Eating Disorders Association in 2001, Eating Disorders Awareness Week focuses on support and advocacy for those affected by it. It is held annually during the last week of February.
• National Patient Recognition Month – National Patient Recognition Month provides an opportunity for those in the health care industry to reflect on the patient, which includes his or her satisfaction with received care. Taking the time to reflect on this is a chance for health care workers to reconsider how they do their jobs, and find opportunities for change that may benefit patients. It was established in 1955, and celebrated every February.
February may come and go in the blink of an eye, but as you can see, there are plenty of reasons to celebrate. From Cupid's arrow to a slew of medical awareness days, there is something for everyone to get involved in. To ensure your efforts create a lasting impression, don't forget to include customized promotional products, either as giveaways or prizes.
Not sure where to start (we offer a ton of options)? Our reps are always eager to help brainstorm ideas with our customers and make sure you get set up with something that perfectly represents your brand. Give us a ring or shoot us an email today.