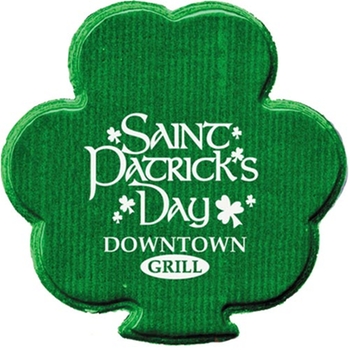 St. Patrick's Day has become one of the most worldwide celebrated holidays. As the popular saying goes, everyone is Irish on St. Patrick's Day! Historically, St. Patrick's Day is the feast day that celebrates Saint Patrick, patron saint of Ireland, on March 17th each year. In Ireland the day is observed as a religious holiday, although secular celebrations have increased in recent years, such as the Saint Patrick's Festival which lasted for five days in 2006. It is important to note that this holiday as a celebration of Irish culture is only observed in the Republic of Ireland and not Northern Ireland. In many countries, such as the United States, Canada, Great Britain, and Australia, St. Patrick's Day is celebrated by all kinds of people. The day is marked by parades, wearing green, eating Irish food, and frequenting Irish pubs and bars. Decorations include shamrocks, leprechauns, pots of gold, and rainbows.
Take advantage of the promotional capabilities St. Patrick's Day items afford. Inspire your employees and clients to revel in the festivities with our fun, themed, custom imprinted gifts and giveaways. Many of our products are great for bars and restaurants that cater to the overwhelming crowds. Browse our collection of promotional individually packaged food, promotional individually packaged candy, Koozies, and drink glasses.
For more great promotional opportunities, see our promo events calendar!
Promote St. Patrick's Day with ePromos Promotional Products