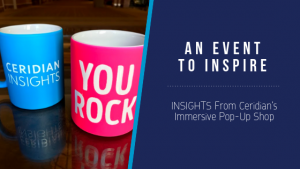 When you host a 3,000-person conference at Caesar's Palace in Las Vegas, you want it to not just be memorable but to engage and activate attendees long after the final breakout session. And that's exactly the bar Ceridian set for this year's INSIGHTS 2018, the payroll software's annual customer conference.
Running from October 16 to 18, 2018, INSIGHTS unpacked the latest in human capital management technology, thought leader and best practices. With innovative insiders and global visionaries leading sessions and breakouts, INSIGHTS again brought together the understanding, actionable insights and a user-first mentality that makes this an epic conference year after year.
And, of course, that 90s-themed wrap party didn't hurt either…
From the minute attendees arrived at their hotel to the final minutes of the final sessions, Ceridian was committed to creating an exciting, immersive and on-brand experience – and they succeeded. Here's why – and here's how…
1. They Surprised and Delighted Guests With In-Room Welcome Bags
After their long journeys to Las Vegas, participants were greeted in-room by paper bags filled with day one essentials: a Ceridian cable stable kit, snacks and branded water.  Bags also contained the INSIGHTS agenda based on the specific attendee – the event committee used different colored tissue paper to easily identify the right items for each bag.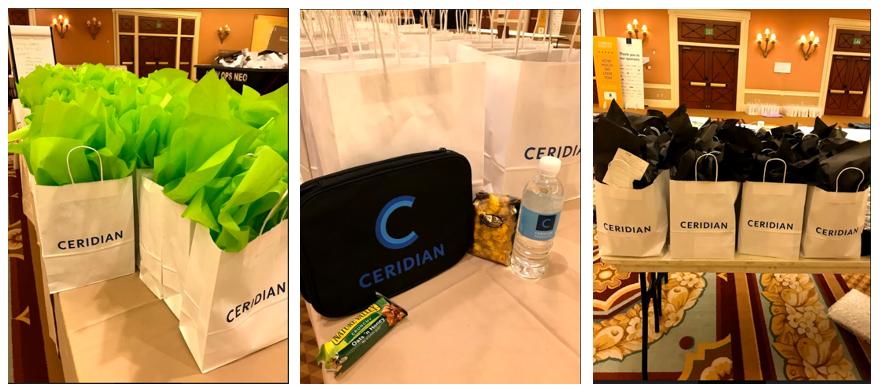 2. They Used Registration To Wow.
There was no mistaking you were at a Ceridian event the minute you stepped onto the floor. Ceridian went for a serious wow factor in its event branding, including jaw-dropping booth setups, custom steps and more. At registration, each attendee received a custom Herschel-inspired backpack and water bottle. Bags were custom-created for the event, complete with a Ceridian step-and-repeat liner, front leather straps PMS-matched to the brand's own blue, plus a custom zipper pull featured a Ceridian logo.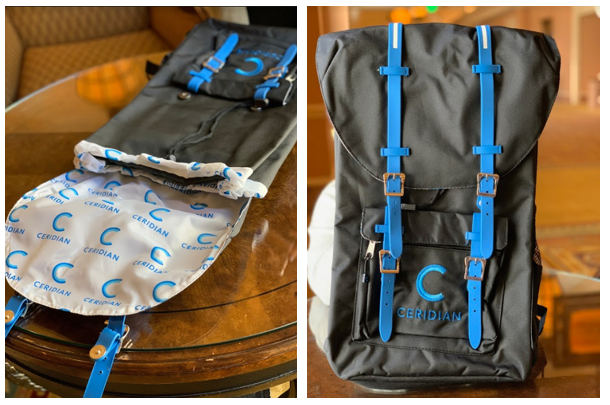 3. They Created an Unrivaled Pop-Up Experience
But that wasn't enough for Ceridian. To differentiate their brand and their event – and to ensure participants would keep this experience and the company's cutting-edge services top-of-mind – Ceridian created something truly unique and truly on-brand: a custom pop-up shop that sold and sampled exclusive Ceridian-branded goods and gear.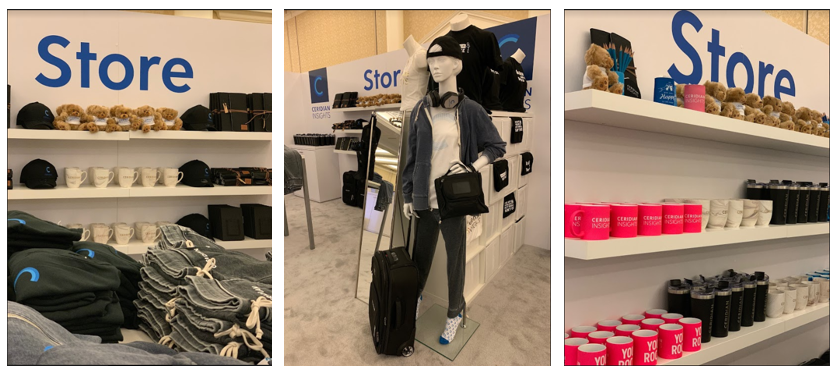 Working with ePromos, Ceridian created a dynamic collection of limited edition branded premiums. Drawing from emerging trends in fashion, accessories, technology and wellness, the teams collaborated to identify essential items for the shop. Ultimately, the diverse inventory included:

— Custom fitbit charge 2 for the wellness-focused—or soon-to-be wellness focused—in the group
— Branded Wrapsody headphones branded with a bold logo and Ceridian "C"
— Alternative Apparel, including high-end Ceridian-branded zip-up jackets and sweatshirts
— Raised-dot Jersey shirts
— Custom drawstring joggers with a Ceridian logo
— Ceridian socks to add a pop of color—and sea of "Cs!"—to conference wardrobes
— Ghost printed tumblers, with both Ceridian and partner logos etched into the sleek finish
— Branded New Era baseball caps embroidered with a Ceridian logo and "C"
— Portable "Power Bar" power banks. Banks were packaged to look like grab-and-go snacks, and ensured participants are always charged up and ready for the next event.
–Marble mugs, neon mugs and koozies
— Notebooks
— Woven tote bags
— Tassle charging cables and Popsockets
The shop also offered a host of family-friendly premiums, perfect for attendees to bring home for their kids. From teddy bears wearing mini Ceridian t-shirts, to stickers and a collection of shirts that proudly proclaimed "my mom makes work life better" or "my dad makes work life better," attendees could easily pack up a few fun gifts for families—and save themselves a trip to the airport gift shop.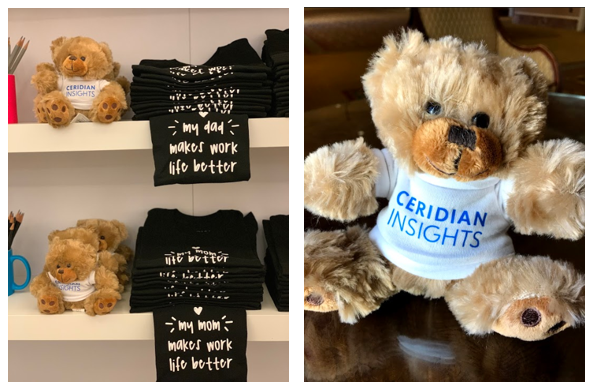 In the spirit of bringing the excitement home, the team also produced branded echo dots, a perfect take-home for the entire family—and a perfect way to integrate the Ceridian brand, messaging and value proposition into attendees' day to day.
Thousands of attendees poured through the shop, creating even more chatter and more excitement for Ceridian and for INSIGHTS. Overall, it was an incredibly holistic, incredibly immersive experience attendees won't soon forget, complete with valuable gifts and takeaways that serve as constant reminders of their partners at Ceridian.
4. They incorporated Fitness and Fun Into the Agenda
Traveling can make it tough to stick to a workout routine—but breaking a sweat is also a great way to kick off or wind down from a busy day in Vegas. To help attendees squeeze in a few sweat sessions, Ceridian added AM yoga to the agenda. Participating yogis were given branded yoga mats, theirs to keep after INSIGHTS. Following each session, participants could also grab a branded breakfast bag and bottled water, perfect for refueling and rehydrating post-workout.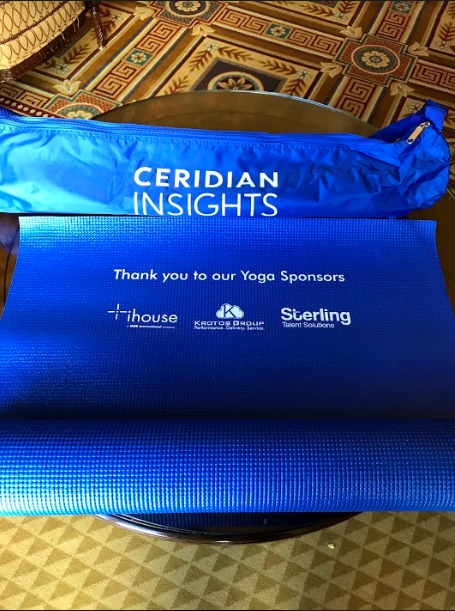 And when it was all over? Ceridian brought the house down with a 90s-themed customer appreciation party at Drai's Nightclub, featuring Grammy Award-winning Salt-N-Pepa!
Looking to plan your next event? Call us—the Promo Know-How People—to get started.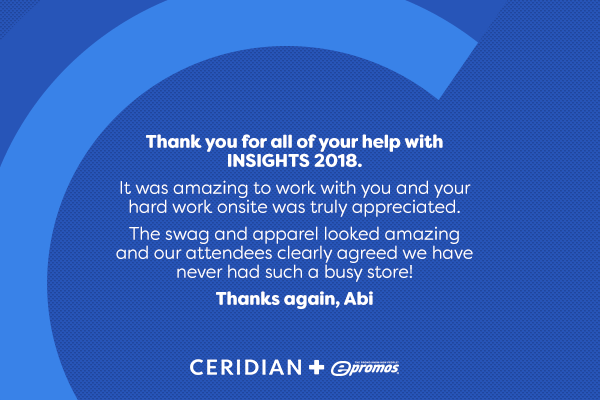 Interested in seeing pictures of many of the items from the event? Click here.