When screen printing a t-shirt, getting the size of the logo right is one of the most important factors in getting the recipient to wear the item. If you want recipients to wear your shirt, the wearer must think the shirt both looks good and feel good. Get any of those two things wrong, and it's going to sit in the back of the closet and eventually be given away.
In this article, we discuss how to size the logo for your audience and purpose, and we provide some great examples on how to work with the four primary logo shapes plus a special trick so you won't go wrong.
Who's Your Audience?
Different recipients will be looking for different things when deciding to wear your shirt or others in their existing pile of shirts in their closet. It's important to first understand the audience that's on the receiving end of your giveaway. Once you understand your audience, you can think about the impression you are going for: big and bold or small and subtle. Some factors to consider:
How old are the recipients?
Young people tend to be willing to wear louder, brighter shirts with larger logos and logos in non- traditional locations.
Where will they be wearing the shirt?
Will the shirt become a fashion piece for them? Will the shirt be worn at work, school, on the weekends, during the day, at night?
Your brand image – are you a loud, youthful brand or a conservative brand?
Consumer brands to a youthful audience can be louder and larger. More conservative brands might have darker shirts with more neutral or darker logos.
Is your audience your employees – is this a uniform in some way?
Do you want to give them a fashion piece that they wear out of the office, or is it for uniform purposes to have your employees look a certain consistent way in front of customers?
How much is the recipient willing to advertise your brand?
If your consumer loves your brand and wants to represent you in the world, the louder and more colorful you can go with your logo.
Here are examples of how consumer brands and tech brands can use t-shirts as fashion clothing and in turn get significant advertising exposure. It's pretty cool when a more conservative brand produces a t-shirt that can really be worn as a fashion item.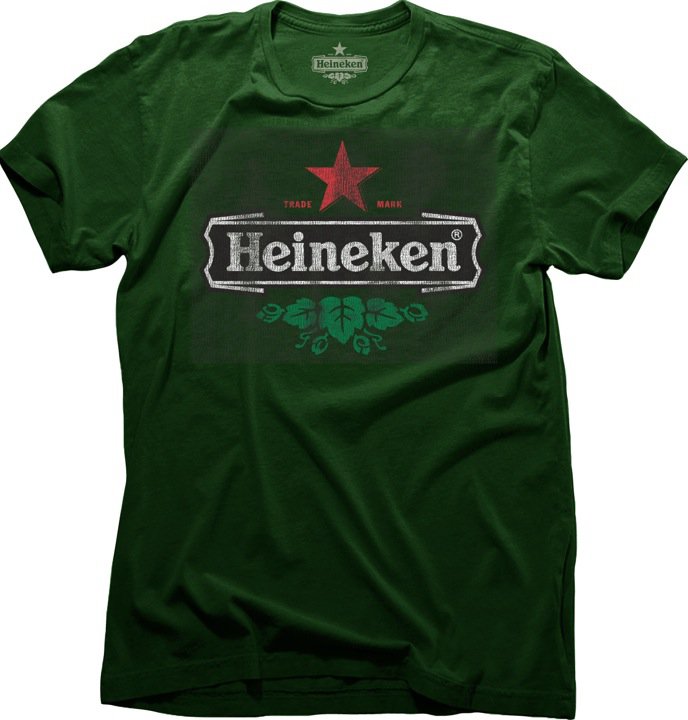 What's Your Reason For Investing In Custom T-Shirts?
When t-shirts are used as uniforms, consider two further factors:
a) Will the shirt be used as a billboard and need to be see from afar? If from afar, consider going larger with the logo and adding a phone number or website so it can be seen from 50 or even 100 feet away. This is an example of a shirt designed as a billboard: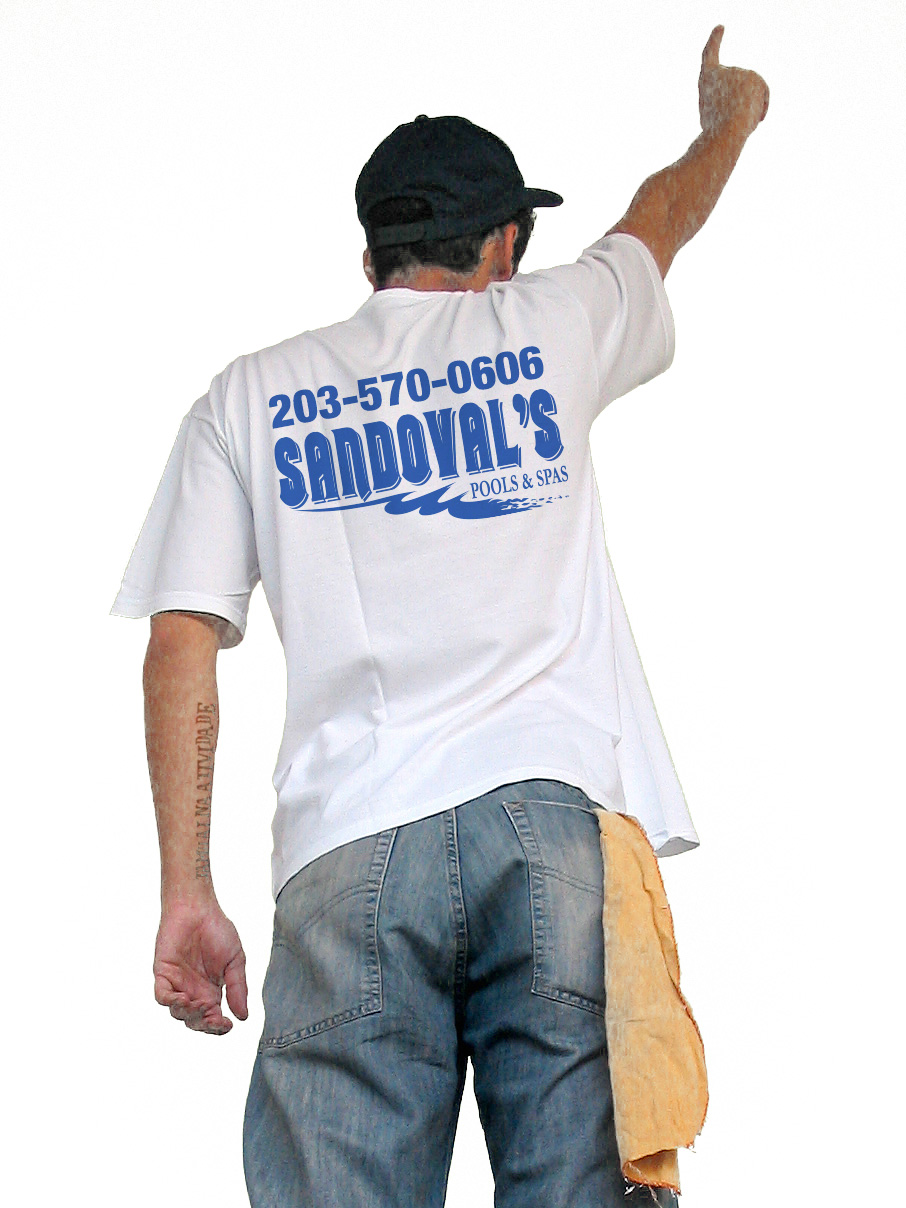 b) Will the shirt be seen up close in person, such as at a store counter or a tradeshow registration table? If up close, you can go smaller. Even just a left-chest logo, and you might not need the phone number or website information. This is an example of a shirt that would be fine for someone who does close up communication.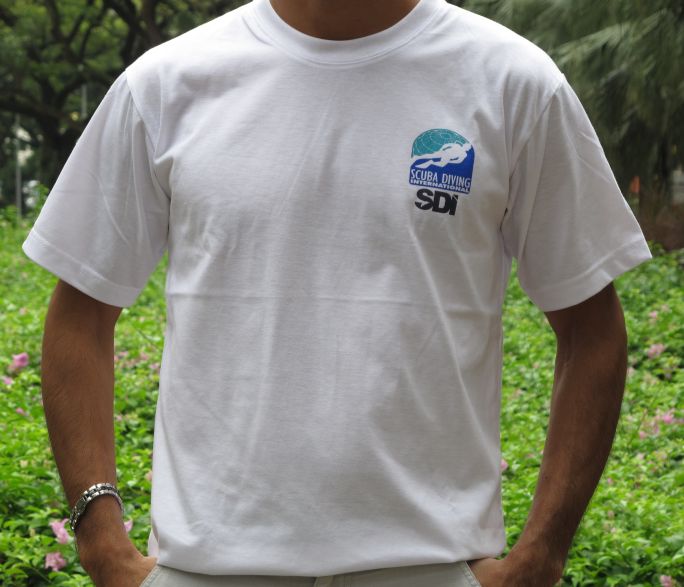 If for dual purpose, you can consider small left-chest logo for when facing a customer and a larger logo on the back. Sometimes it makes sense to print "STAFF" or something similar on the back. Other times just the logo is all that's needed.
When the shirt is being given as a gift, it's all about comfort and appearance. If a logo is too much of an advertisement or billboard, people might not want to wear it. If it's tasteful and appropriate, they will.
Different Logo Shapes And Examples
There are four primary shapes for logos:
1. Round/square/symmetrical – Here is an example of a basic square logo on a t-shirt from the "Breaking Bad" TV series. Because the logo is proportionally balanced, meaning it's not tall and skinny or wide and short, centering it under the neckline works great.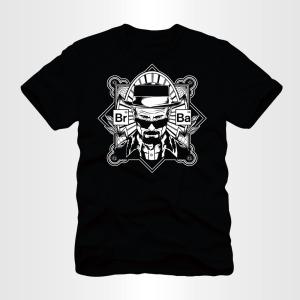 2. Wide – Here is an example of a wide logo,  John Belushi's iconic t-shirt from Animal House. It's wide, not tall, and stretches all the way across the chest. This is about 11" wide — any smaller and it might not look right.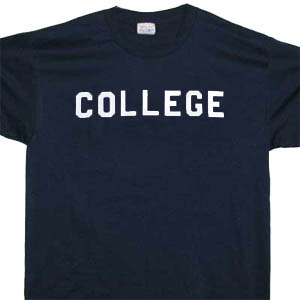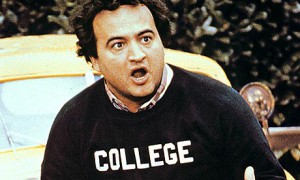 There are certain times when you want a horizontal or even square logo to be small. It's especially important on women's t-shirts to make sure you don't get undesired consequences.
Going too large depending on the logo could be a bad choice or it could be what you are going for. Some examples: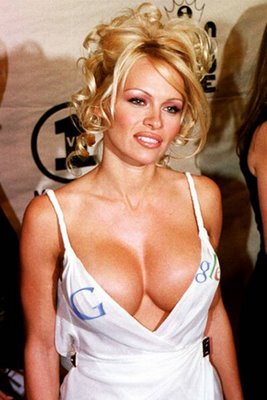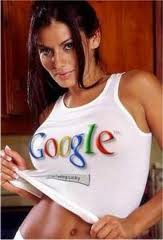 The more tasteful and less raunchy way to do these shirts would be to have the logo about 4-5 inches wide. This way the logo can't get stretched out in the wrong place. Sometimes, logos just look better when they're smaller. See for yourself.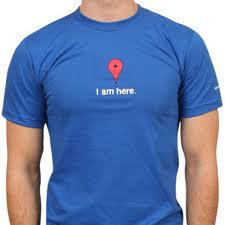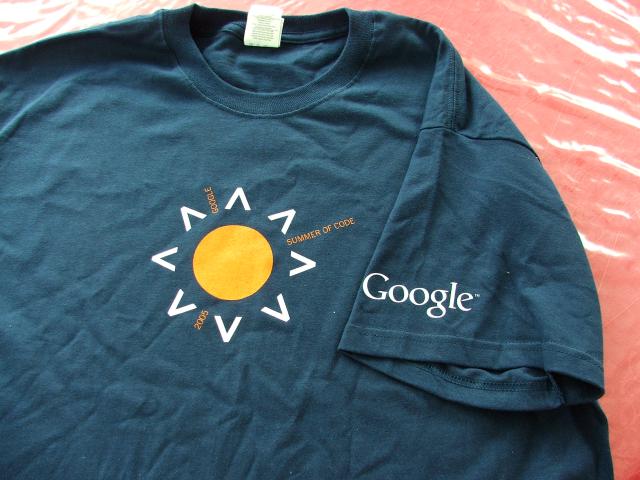 3. Tall – full area – Depending on how loud you want to make the t-shirt, you can go big. So if the t-shirt was tucked in the logo might tucked in, or leave it no longer than 15" so that it looks good either way, tucked or untucked. Keep Calm and Call Saul is a perfect example of a t-shirt that will look good untucked but might be problematic if tucked in. This logo would have looked pretty good smaller and maybe even attracted an audience that wanted a less "loud" shirt. Here are some examples of tall logos:
Keep Calm and Call Saul — loud version and smaller version: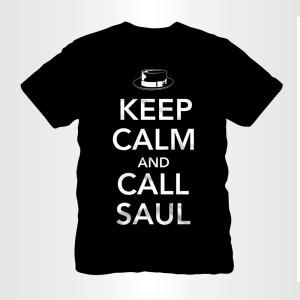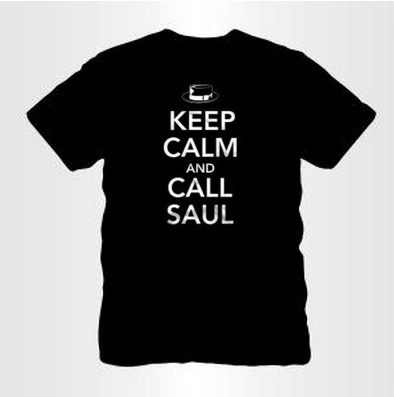 Here are some examples of going just about all the way: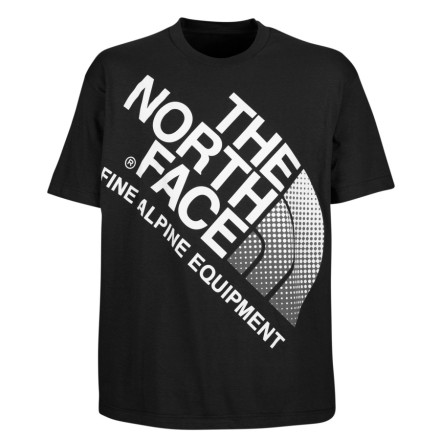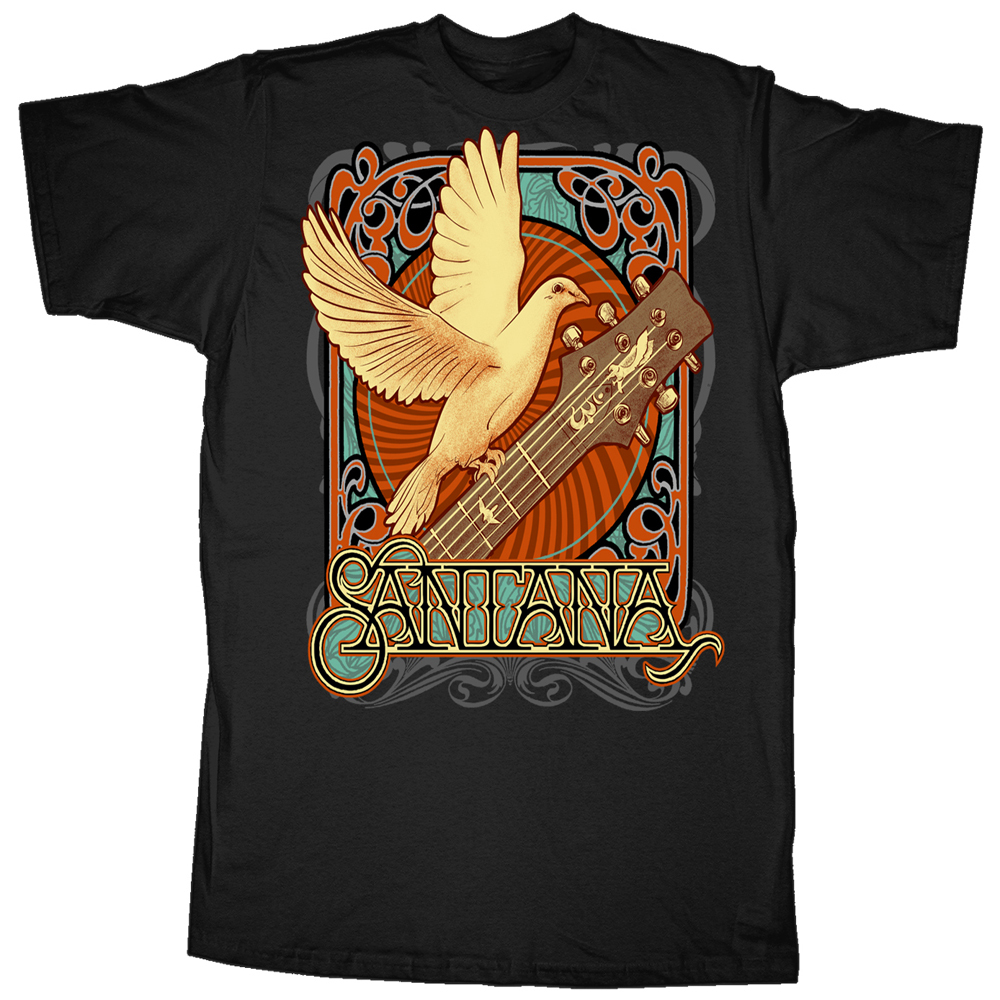 Sometimes logos can have a subtle background logo and a louder smaller logo: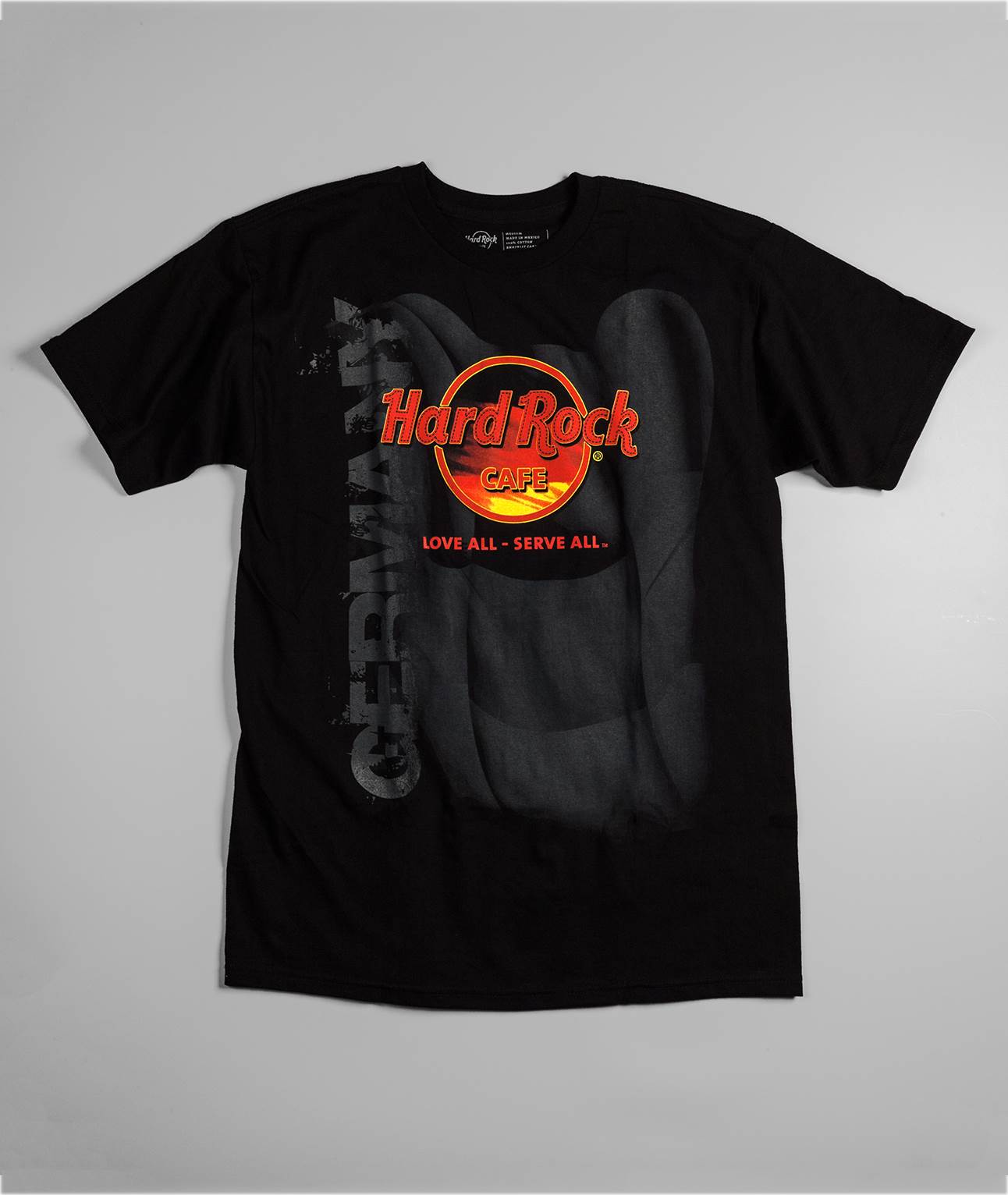 Sometimes dense logos look better smaller and can be more comfortable for the person wearing the shirt because there is a smaller area of heavy ink on the shirt.  This Blue Moon shirt keeps a complex logo small.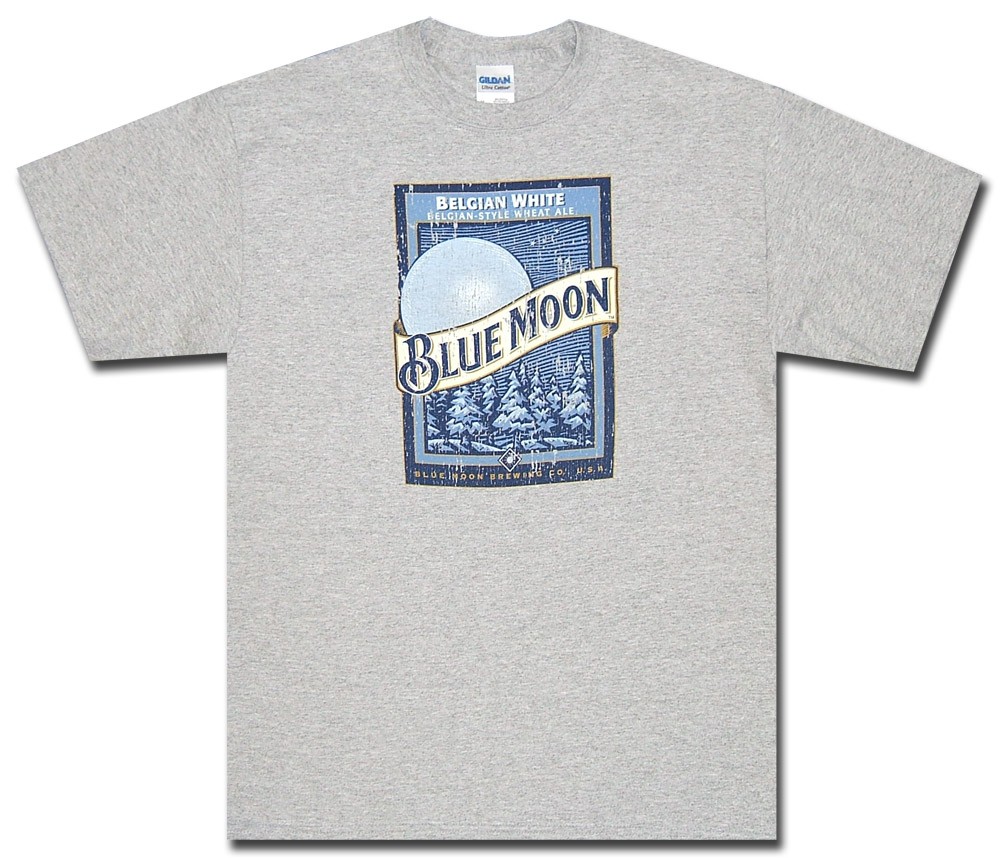 In contrast, here's a loud Nascar t-shirt.
Using the enitre Tall – Full area for sponsorships can be quite cost-effective, especially when done in one color (you'll only need on screen created).  Here is 15" of sponsorship logos on the back of a youth large shirt.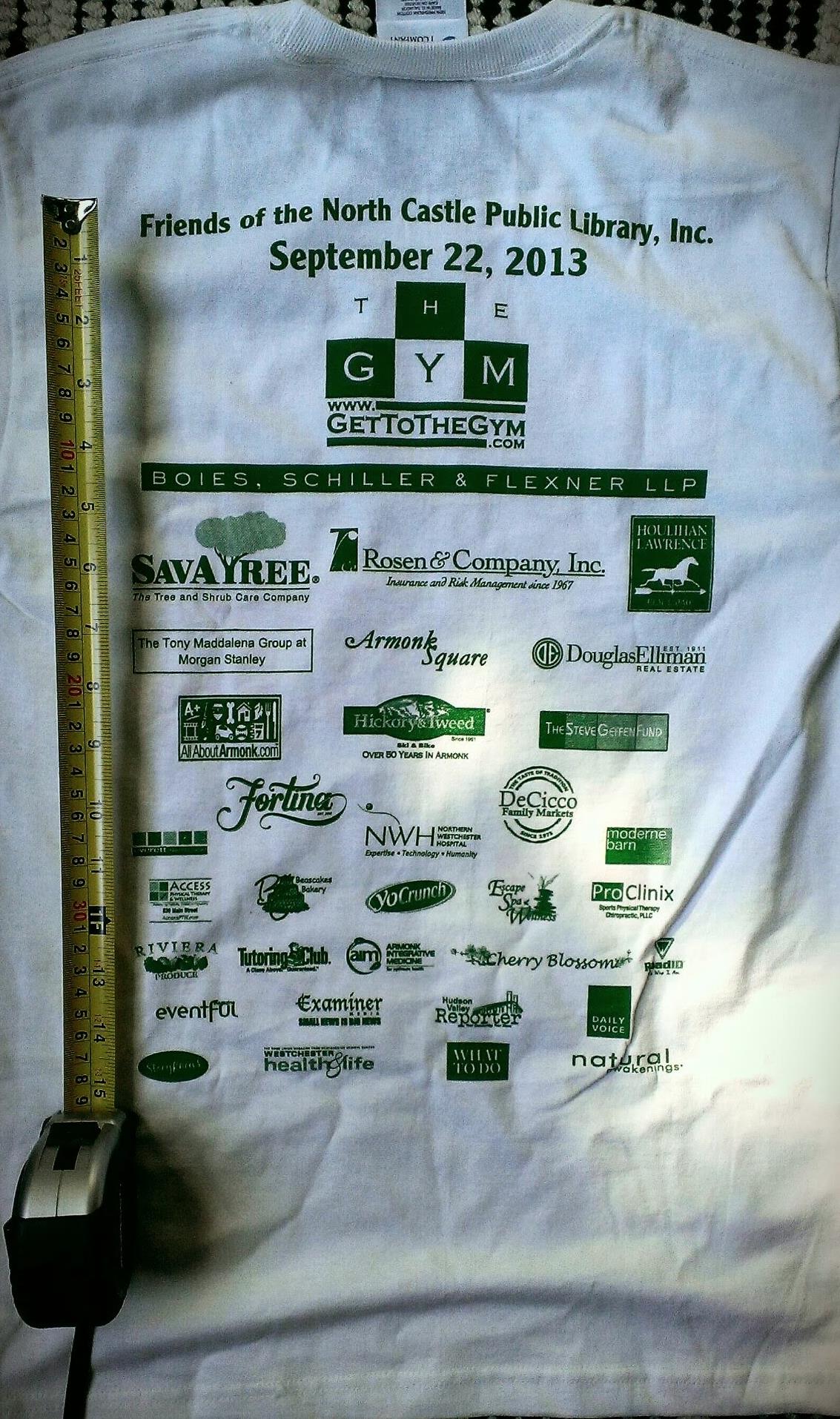 When the logo is less dense, taking up the full area can work nicely: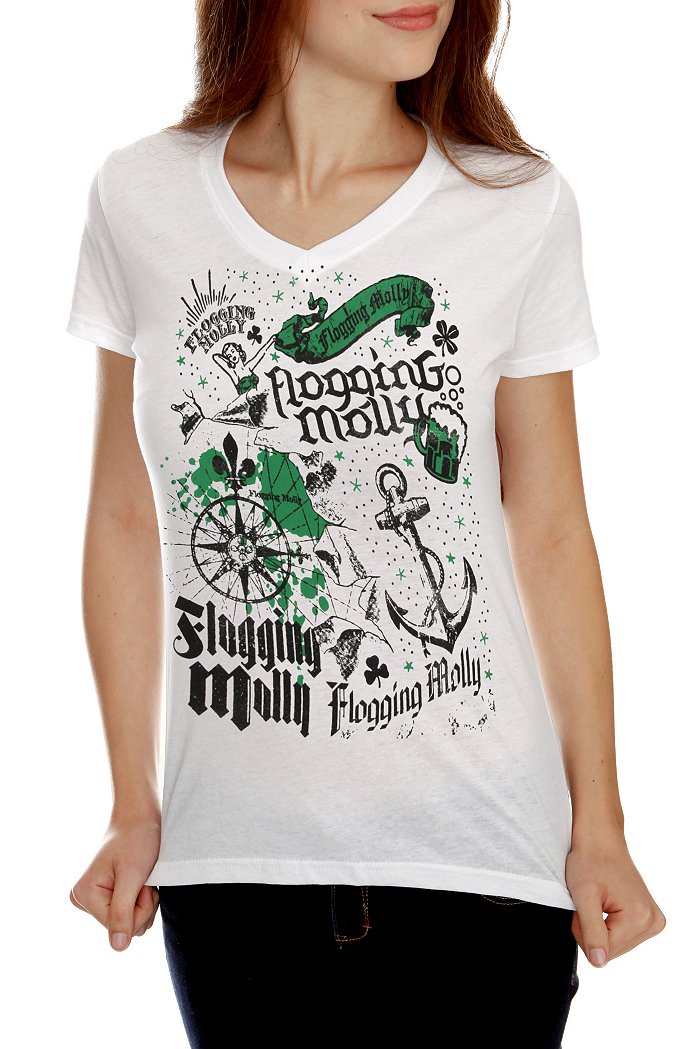 4. Tall and narrow – Here are two examples of logos that are tall and narrow on a t-shirt: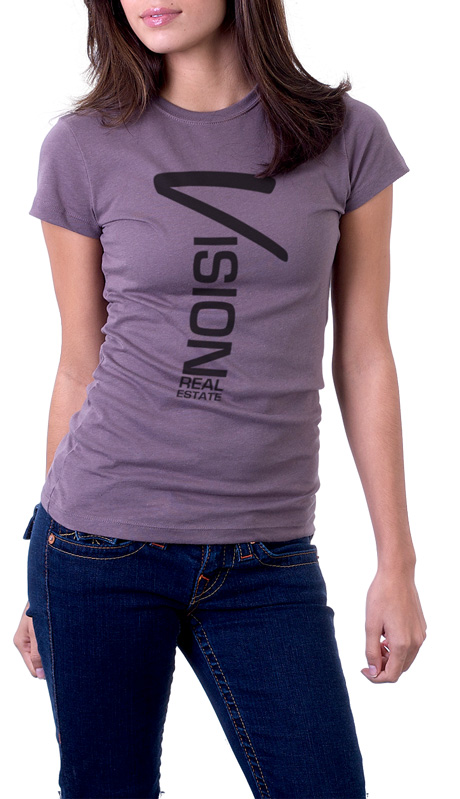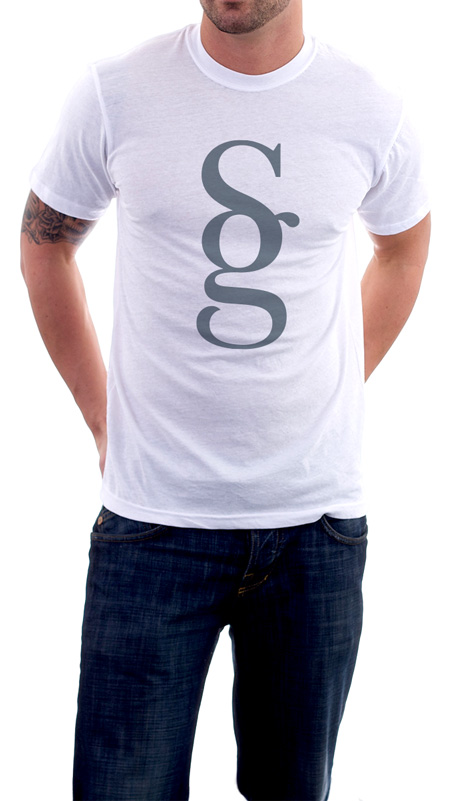 Remember: tall logos don't always have to be centered. Here's an example: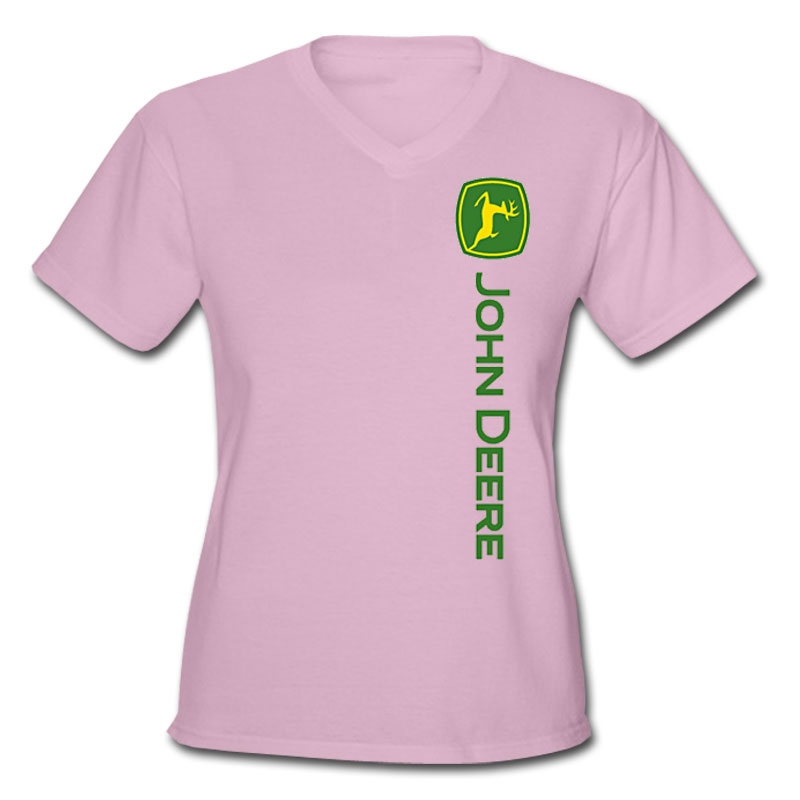 Here's an example of poor logo sizing: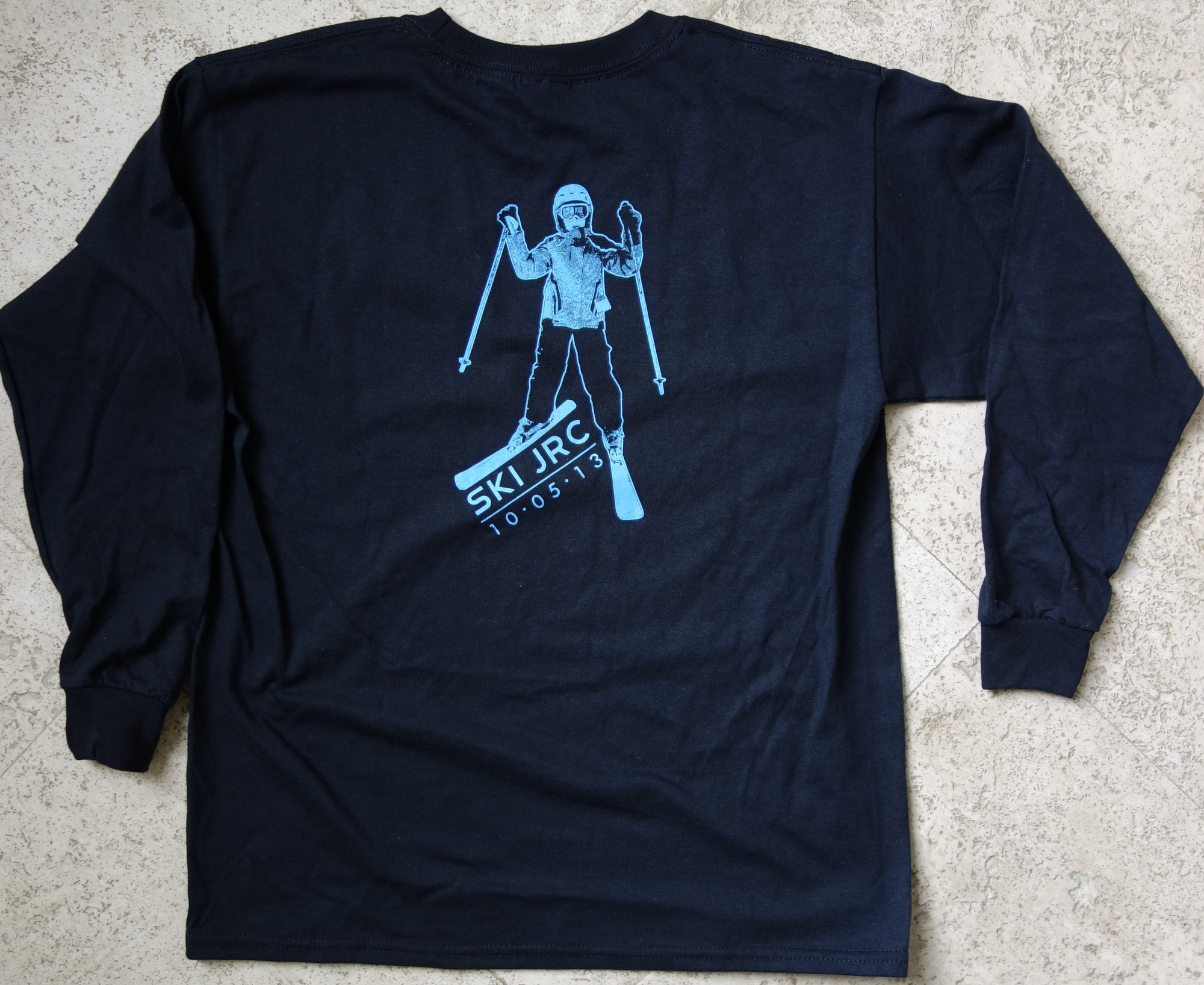 See how much better it looks with a larger logo: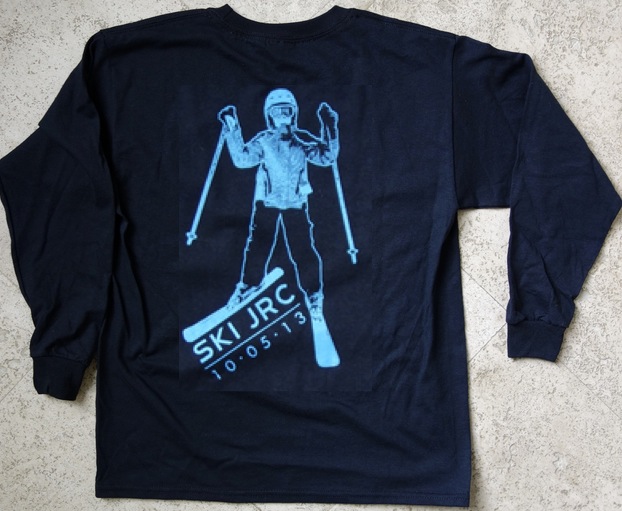 Important Lesson: Logo Size Appears Smaller With Different Size Shirt – How To Handle
You should be aware that when you print the same size logo on different size shirts, the logo stays the same and will look bigger on the small sizes and smaller on the larger sizes (see the illustration below). When you make a screen for each logo, and often each color, you are going to print on a shirt, things can get expensive. You don't necessarily need a different screen for each logo on each sized shirt. We recommend that you size the logo off your most popular size.

According to our customer research, ePromos sells about 70% of shirts in large and XL size, roughly 35% each. ePromos recommends designing a logo for a large or XL and letting the size change. If you are getting into separate women's and youth sizes and in larger quantities, you might consider investing in another screen (if only one color) or set of screens (if multiple colors or locations) if getting the size just right is important.
Tip: Here's A Great Trick To Get Your T-Shirt Size Right
A great way to determine the appropriate size for the logo on your promotional t-shirts is to take a large t-shirt or a size that will be average for your audience and use a ruler up against it, then take either your actual logo and print it, or simply cut out a plain piece of paper with the desired size and tape it onto a shirt. Then look at it from an appropriate distance. This is a great technique to get your size right and have confidence in what you are buying.
Now you have the knowledge you need to get the size of your logo just right on custom t-shirts. It's important to understand who will receive your t-shirts and what you hope to achieve with the shirts. Then, fine-tune your shirts by deciding on a logo shape and what kind of statement you want to make. Get started on your promotional t-shirts by chatting with a Brand Consultant, shopping and ordering at www.epromos.com.
Looking for Promotional Items for Small Businesses?
Shop Now