How to Create Custom Lanyards
Lanyards make for a smart promotional item. Like bags and t-shirts, they offer a prominent way to display your brand and earn great visibility at events while being totally functional and inexpensive (the dream combination of promotional products). They are most popular at conferences and trade shows where attendees need to display a badge or identification during it. They're also a nicer way to display attendees' names then wearing, a "Hi My Name is ________" sticker. In addition to conferences and events, lanyards are popular in industries where security is a top priority, such as education, medical, and office buildings.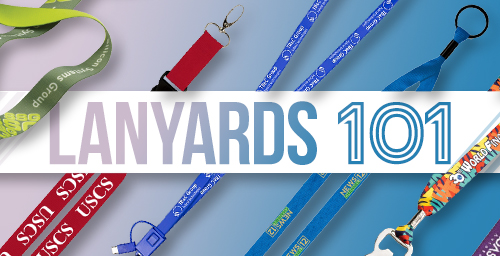 But, have you ever tried to order a custom lanyard? Admittedly, it can be a little confusing due to the many different options you have when building it. Cotton or polyester? What is dye sublimation? And, what are crimps? Designing a custom lanyard doesn't have to be a confusing process, but it does help to understand the basics that go into making a lanyard. In this guide we focus on the process of designing lanyards and the various decision points that go along with it, like choosing materials, attachments, and imprint considerations. Are you ready to dive into everything lanyards? Let's go…
Different Types of Lanyards
Lanyards, perhaps surprisingly, have a ton of options when it comes to customization. The main decision points when designing a custom lanyard are the foundational pieces—the material and attachment. Below, we discuss the options available under each of these categories.
Materials
There are several different options to choose between when selecting the material for your custom branded lanyard. Each of these materials is available in a wide selection of colors.  Below, we discuss the most popular materials available, as well as the pros and cons of each one.
Polyester – This option includes a flat, visible weave. It takes a crisp screen print, which is great for your brand visibility and allows for greater detail. We offer a wide range of color options in polyester; more than any of the other materials we offer. However, one potential downside to this option is that we are unable to offer a back-side imprint domestically. If you prefer polyester and a front and back imprint, we would need a greater lead time for production to allow for the printing to be done overseas.
Cotton – We offer 2-ply tubular cotton lanyards made in the USA, woven in a factory in Utah. Cotton lanyards are soft on the neck, making them a great option if they're going to be worn for a long time, such as at an all-day convention, or regularly around the office. Cotton also allows for back side printing (note, there is an extra charge for this). Cotton lanyards are best suited for logos or branding that are less detailed (for more detailed artwork we suggest polyester or dye sublimation, discussed below).
Nylon – These lanyards are thicker than the other options, and like the polyester versions, have a visible weave. The thicker style gives them a sportier look. The colors are more vibrant than other options; however, they're not the best option for a highly detailed logo or artwork due to the depression in the weave. Similar to the polyester option, if you would like a back-side imprint, it will need to be done internationally, requiring a greater lead time for production.
Dye Sublimation – This unique material is a polyester with a lux silky feel. Similar to cotton, it is soft and more comfortable to wear around the neck than some of the other material options. Dye sublimation is unique because the imprint is dyed into the material, making it wonderfully permanent. Other bonuses include the ability to imprint multiple colors onto the lanyard and back side imprinting carries no additional cost to the customer.
Looking for something more off the beaten path so your custom lanyard really stands out in the crowd? We've got you covered. Consider the additional material offerings listed below.
These materials are available domestically:
Reflective
Neoprene
Stretchy elastic
Tie dye
Marled
Heathered
Flat dye sublimation ribbon
These materials are available internationally:
Attachments
In addition to selecting the material for your lanyard, another big decision is choosing the attachment—that's right, there are a handful of options just for the attachment. But, no need to feel overwhelmed by having another decision point in building your custom lanyard. One of the easiest ways to decide on an attachment style is to simply ask "what will be connected to the lanyard?" Perhaps it will be used to hold a badge, key card, keys, or even lip balm.
Knowing what will be attached to the lanyard will make this decision much easier. Why? Whatever is going to be attached needs to have a hole or an attachment device and depending on which it has will help determine the type of attachment the lanyard needs.
Before we get into the specific types of attachments, we'll note that attachments are available with metal or plastic components. Both options provide a sturdy attachment and share similar price points. So how to choose? Consider your audience. If the lanyard will be used in schools, for example, metal is a great choice as it is more difficult to pry apart by curious students. In fact, most schools or after-school programs require the quick-release attachment. Metal is also a great choice for people in the eco-friendly, zero-waste crowd (i.e. plastic-free). Plastic, on the other hand, provides a smooth, clean look—perfect for a professional environment.
One last thing to note before delving into the different attachments is that nearly all of them are available with a convenience release, which allows for quick, easy removal of whatever is being hung from the lanyard.
Now onto the various attachment styles:
Metal Crimps – As the name suggests, these are made from metal, and as we mentioned above, a great choice when you need the sturdiest attachment out there, as it is more difficult to (purposely) break. Metal can be finished in black or silver.
ID Holders – These are great for conferences, offices, or schools that require tight security. If attendees are constantly having to show/use their badge to enter the facility, or move throughout it (i.e., for using elevators, access to different floors, restrooms, etc.), an ID holder attached to a lanyard can make it much more convenient to keep the ID on hand at all times (yet hands-free).
Key Rings – Need a lanyard to keep keys safe? A key ring attachment is the best choice. They're available in both metal and plastic.
Badge Holders – Many of our badge holders are retractable, making them wonderfully convenient when needing to swipe a badge or key card to enter a facility, elevator, etc.—an especially great choice for those needing to use the badge regularly. We are also able to offer vinyl pouches to hold the badges, so be sure to check out those options if needed.
Choosing Your Options and Other Things to Know
Below we discuss even more decision points when building your custom lanyard and the importance of weighing in lead time when mulling over decision points.
Imprint
The imprint area on a lanyard is quite small, especially compared to other promotional items, like t-shirts and bags. For this reason, you'll want to make the most of the available space. There is some range in size, with lanyards clocking in between 3/8" to 1". A great way to go about figuring out the best size for you is to determine how much detail you have (or would like) in your design—more detail is best suited to a wider lanyard.
Looking to imprint a highly detailed or colorful logo/artwork? Consider a dye sublimation lanyard, which can accommodate bold, bright colors and fine-tuned detail. On the other hand, a simple design will work beautifully on a screen-printed lanyard. The font you choose for any text also influences material. For instance, a serif font requires a smooth, flat material, such as polyester or cotton. Prefer a bold, block style text? Nylon is a great option to meet your needs.
Budget
Lanyards range dramatically in price depending on the customization you opt for, including imprint method, material, quantity, and attachment style. Knowing your budget upfront can help inform these decisions and ensure you create something that not only fits your brand but also your wallet. For example, dye sublimation lanyards are bright, soft, and can handle the fine details in your logo/artwork; however, they are more expensive than a polyester option, yet very important if your budget is a concern or tight.
Lead Times
Lead time will vary depending on the type of material, attachment, and imprinting you choose. For this reason, it's important to start your decision-making by figuring out how soon you need the lanyards in hand. With that information, you can design and customize a lanyard that not only fits your needs, but your timeframe, too. Need something soon? Consider screen printing, which can be done much faster than dye sublimation or woven lanyards. If you've got a comfortable lead time, you may consider options that necessitate overseas materials or creation. Need something in a few days? We have quite a few choices (polyester and cotton) that can be turned around quickly to accommodate last minute orders – 35 site SKU's that can be done in one day, and 23 that can be done in three to be exact!
Uses for Custom Lanyards
As with any custom promotional item, it's important to consider the type of event and/or how the item will be used. Below, we consider the different uses for lanyards.
Trade Shows, Expos, and Conventions
A one-time event such as a trade show, expo, or convention provides a great opportunity to spread your brand's reach to new and returning customers alike. For this reason, consider providing a lanyard that really stands out. Through our customization, you can strike a happy balance between fitting into the theme of the event and staying true to your brand's voice and tone. That said, don't be afraid to stretch your imagination and get creative with your lanyard so that it stands out in the crowd. For example, if the event has a theme, like an Hawaiian luau, consider a bright dye sublimation Hawaiian flower pattern for the background of the lanyard—and of course, there will still be room for your company name, logo, etc. Another consideration for one-day events is to opt for a dual-use lanyard that can be used for something else, such as a water bottle holder, eyewear container, or bottle opener. This way the lanyard will serve a function beyond the event day and gain your branding more visibility through repeated use.
Lanyards are also a great consideration when budget restrictions prevent more expensive promotional products, like sweatshirts or hats. Lanyards, with all of the many customization available to them, serve as a perfect keepsake to commemorate an event—turning them into memorabilia for festival-like events, such as concerts, races, the many cons (anime, comic, sci-fi, etc.), or to thank season ticket holders for their loyalty to sports teams.
Badges for Various Industries
Outside of trade shows, the following industries are the most popular for lanyards:
Education – As mentioned above, we suggest going for the sturdiest materials out there when purchasing lanyards for students. So, for example, consider opting for a metal crimp and attachment.
IT – For professional, daily use, consider choosing a material that is most comfortable around the neck, such as cotton or dye sublimation.
Medical – Many medical facilities require strict security and authentication to enter and exit different floors, wings, and back offices. For this, consider a lanyard that retracts so that wearers do not have to remove the lanyard in order to swipe it against a key card pad.
When purchasing lanyards for any of these industries, we suggest shying away from white, as the dirt they collect will become more evident overtime. Instead, consider opting for a dark color, like black or navy, which will help hide dirt and stains. They also make great backgrounds for your logo, company name, or other chosen artwork.
Next Steps
We know this guide contains a lot of information, and we hope it's been helpful. Of course, if you need more information on any of the above points or are ready to start putting together a custom lanyard for employees or your next big event, give us a call or send us an email. ePromos specialists are available to walk through every step of the process to make it a simple, streamlined experience for you. We'll review your lead time, budget, and any other considerations that will help us design the ultimate lanyard to fit your needs. Get in touch today.
---