Drop Shipping Promotional Products to Quickly Boost Brand Awareness
Businesses have had to evolve at light speed over the past year. While it is easy to feel swept up in the chaos and worry of the unknown, there has been a strong show of innovation and resilience at all levels. So many businesses have shifted nearly overnight to support our current "remote" world — where many employees now work from home and customers shop almost exclusively online. While this opens up opportunity for businesses to have a further reach than they may have before, it also means that maintaining — and growing — brand awareness is maybe more important than ever as businesses clamor to gain customers' attention in the single, same space of the Internet during an unprecedented (in our lifetime anyway) pandemic.
Promotional products are one of the best tools you can use to both attract and retain customers. There are countless studies that prove the high return on investment of gifting promotional items. But, the COVID-19 pandemic has made it nearly impossible to reach customers in person to actually give them a promotional product like you might have in the past, such as at conferences, events, and concerts. Luckily, you can still ship them, but that offers its own challenges. If your employees are working remotely, who is available to receive the shipment, store it, and then repackage and mail the products out to individual customers as needed? It's a logistical nightmare. How are folks getting around this? Drop shipping.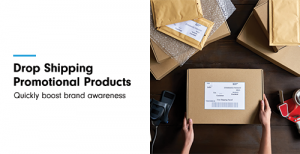 What is Drop Shipping?
In the promotional products industry, drop shipping refers to shipping out a single piece out of a large quantity order to individual recipients. Drop shipping removes you as the middleman — instead of you ordering and receiving hundreds (or even thousands…) of promotional products, which you then have to repackage to give out to individuals (the logistical nightmare we referenced above), ePromos will hold your large order, and only ship out individual pieces as you need them, delivered to your customers' doorsteps.
There are a ton of appropriate and useful promotional products to gift customers/employees during the COVID-19 pandemic via drop shipping. A few of our favorites:
Face Masks — Recent federal conversations have suggested we may be using face masks for at least another year. Looking further out (post-COVID), perhaps they will become a new staple in our wardrobes come cold and flu season, just like a jacket or scarf. From a promotional perspective, they are a great item to brand as they allow your brand/logo to be front and center when worn.
Drinkware, such as Tumblers — We're all trying to find ways to stay healthy these days, and staying hydrated is a great step towards that goal. A gift of a promotional tumbler is a gentle and thoughtful way to encourage customers/employees to get in their eight glasses of water a day.
Blue Light Blocking Glasses — The struggle over zoom fatigue and eye strain is real these days. Promotional blue light blocking glasses, which block out glare and help protect your retina from prolonged screen time, make a thoughtful and technology-savvy gift for customers/employees.
What Are the Benefits to Using Drop Shipping?
We've already generally touched on why drop shipping is helpful to businesses, but let's dive a little deeper. To us, there are three stand out benefits to use drop shipping:
Saves time — Drop shipping allows you to send your promotional products directly where you need them — into the hands of your customers/employees. And it does this without you having to putting extra time or resources in packaging or shipping the products on your own.
Offers consistency — Packaging, branding, and messaging will remain wonderfully consistent each time a product is sent out to a customer/employee.
Provides cost efficiency — It might seem more expensive to opt for drop shipping, but you may be surprised to find that it may even out or even save you money over shipping items yourself. How is that possible? In any promotional products order at ePromos, shipping is part of the cost. However, the cost to drop ship items may be comparable to the cost and effort of you distributing them yourself. Additionally, you will save money by not having to purchase supplies to ship each item out yourself.
We hope this piece has clarified what drop shipping is and how it can work for your business — particularly related to your goal of expanding brand awareness through promotional gifts or simply showing company appreciation to your employees during these challenging times. At ePromos, drop shipping is available for almost all items. The fees associated with drop shipping vary, so if this is something you're interested in exploring, reach out today. Our account executives are available to answer any questions you may have related to drop shipping, or any other part of the promotional product ordering process.