Ideas for Employee Recognition, Awards and Gifts
Employees are the backbone of every business. Some would argue they're (gasp) even more important than customers. Sure, that's a sensational headline written to entice clicks, but there is merit to a theory even that bold. After all, you can't run a business without employees doing the myriad of tasks required to keep an organization moving. And while that is the simple goal (completing tasks), the real dream is those tasks are done well, heck, exceptional even, with excitement, pride, and even a touch of passion. To inspire a level of dedication and greatness in your employees, ingraining employee appreciation into your organizational culture is key. You gotta give to get, right?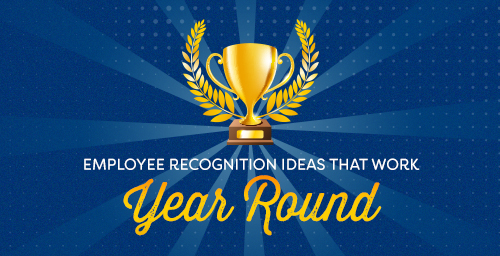 Employee appreciation can take several different forms. For starters, there is the (unofficial) holiday of Employee Appreciation Day, celebrated annually on the first Friday in March. In 2020, it falls on March 6th. This fairly new celebration, having only been created in 1995, is still catching on in the U.S. and abroad. It's a great step in the right direction of honoring the critical role filled by employees. Since this is a dedicated holiday, it's a great way to get started showing employee appreciation, even if it's something you haven't officially done before. Some ideas for celebrating Employee Appreciation Day include letting employees leave work early that day, catering a special lunch, taking the team to dinner or happy hour, or giving employees an appreciation gift – check out our curated list of employee gift ideas.
Looking for other ideas to celebrate employees? Consider recognizing them during your business' anniversary, or during each individual employee's work anniversary. Of course, employee appreciation should really take place year-round, and can be shown in many small ways. A thoughtful holiday gift at the year's end, a summer party to celebrate mid-year, or even a monthly employee recognition to highlight individuals who embody your company's values and work ethic are all nice ways to show some employee love. We suggest using both strategies to really embed employee appreciation into your organization – celebrate the big wins and the daily stepping-stones leading to those mega achievements.
Employee Gift Ideas
In addition to how you choose to celebrate and honor your employees, there's also the decision of what sort of gift to give them. While a bonus paid-time-off-day or free lunch will always be appreciated, giving a physical gift serves as a reminder of your appreciation throughout the year (and beyond). Looking to really wow your employees? Check out our collection of high-end gift ideas, which start at $50 – as we said, this is when you really want to dazzle them! Gifts work especially well if you're planning to highlight specific employees throughout the year, as these are substantial and functional, such as lux travel gear and leather bags. Looking for a high-end gift to be shared among employees? You'll find those on our list, too, such as our gourmet snack tower or custom cookie crate, which are great for sharing around the office.
But you don't have to go high-end to show your support and appreciation for employees (we can appreciate how expensive it can get). Consider pairing something branded from our list of corporate employee gifts, conveniently organized by price, with another item personalized to the employee's individual taste or a gift card from a popular local restaurant.
Special Awards for Employees
We're big fans of celebrating the everyday greatness of employees, but sometimes an achievement just calls for something extra. This might be a yearly award, complete with a ceremony, champagne, and toasts to all. Or, it might spring up following a record-setting fiscal year or quarter – something reminding people when the business wins, so do they. However you choose to celebrate and award special achievements in your organization, check out our list of customized corporate awards. There are a ton of options (which means we're confident we have something for everyone here!), and, as we're wont to do, we've organized them into categories to make browsing for your next award a breeze. Be sure to check out our acrylic awards, which are elegant and look great displayed on a desk. Or, consider our curated list of award plaques, which will spruce up any office and allow employees to proudly display their achievements. Looking for an award that both celebrates employee achievement and can be useful? Our clock awards are the perfect choice – handsome, celebratory, and functional.
Special Days and Events Specific to Businesses
In addition to Employee Appreciation Day and other business/employee anniversaries, there are still ever-more options for celebrating your employees, such as special days related to your business by industry. Here a few ideas to consider:
• Medical field – National Blood Donor Month (January), National Patient Recognition Month (February), National Cancer Prevention Month (February), National Immunization Awareness Month (August)
• Banking/Accounting – Tax Day, Financial Wellness Month (January), National Financial Awareness Day (August), Identity Theft Prevention and Awareness Month (December)
• Schools and Education – Teacher Appreciation, National Book Blitz Month (January), Library Lovers Month (February), National Coloring Book Day (August)
We hope this guide has underscored many ways you can show employee recognition and appreciation throughout the year. From celebrating the daily and weekly achievements to the big deal quarterly or even yearly wins, ensuring your employees truly feel your sincere appreciation for everything they do for your organization is a wonderful way to boost morale, retain good workers, and create and maintain a healthy and thriving workplace. So, how will you recognize your employees going forward? However you go about it, remember ePromos is standing at the ready for all your custom thank-you gear. Reach out to get your order started.
Not sure where to begin? Give us a call and one of our talented reps will be happy to brainstorm gift ideas as well as walk you through the ordering process.