Here's How to Keep Your Virtual Event Fresh
Consider these tips and tactics for engaging an at-home audience for your next virtual event or digital conference this year.
We might be getting closer to putting the pandemic behind us, but in-person events are still off the table for now. And even when they return, conferences and other professional gatherings may look a lot different than the ones we remember. In the meantime, virtual events continue to offer much-needed flexibility, with the option to engage attendees from the comfort of their own homes or workplaces.
To combat Zoom fatigue and help your virtual event stand out, you'll need to keep things fresh. Consider these ideas and best practices to ensure your next digital event packs as much wow-factor as an in-person experience.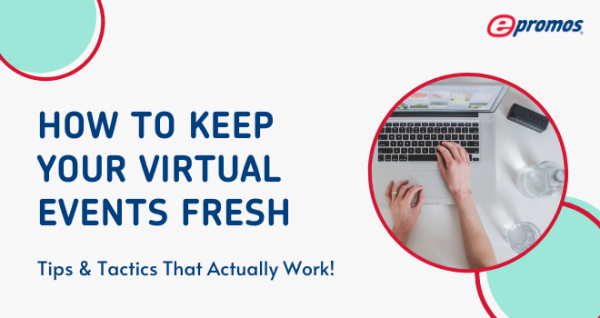 Get creative, but always center on your message
Virtual events aren't exactly like their in-person counterparts, so don't expect a 1:1 conversion for every component. As Moz's CMO Christina Mautz advises, it's not smart to simply "copy and paste" an in-person agenda into a virtual plan.
Sara Little, Managing Director of the Co:Laboratory, an experiential event agency owned by Catch Hospitality Group, says it's crucial to "think outside the box, both literally and figuratively" when it comes to planning. Virtual events may seem more restrictive at first blush, but they can also open up a variety of opportunities that real life, in-person interactions just can't match.
However, now that the newness of virtual events has started to wear off, it's also important to think about "tailoring to the needs of the content and the messaging you're trying to convey," says Little. To start, think about your brand messaging and what key concepts or ideas you want to transmit to your audience. Build your event around that message, and then add some creative and fun touches to support your primary goals.
Keep engagement and interaction top of mind
Engagement is crucial for any event. In fact, 49% of marketers say audience engagement is the biggest contributing factor to an event's success.
Little explains that connecting and engaging with event attendees is all about offering something that goes above and beyond or falls outside the box. This might include proprietary access to talent, exclusive content, premium product giveaways, or an unusual experience an attendee wouldn't expect to easily find somewhere else.
Gift appropriately and inclusively
Little shares that gifting is "number one" in terms of creating "that out-of-home, in person experience [inside] the home." With this in mind, make sure your promotional gifts and any other branded assets give off an elevated, premium feel wherever possible. The ideal is something highly curated, personalized, and beautifully packaged—even opening a box is a chance to provide a memorable experience.
Gifts and promo products should be perfectly branded. Little advises to consider every aspect of a gift—"not only logo placement, but also the color, finish, and feel of everything from a pen to an entire box, including inserts." Every detail down to the weight of your cardstock should get careful consideration, because each of these touchpoints is an opportunity for connection and to communicate value. This is especially important at a time when the ability to connect with a consumer in person isn't available.
If you're aiming to leave an impression, here are a few ideas to consider for your next virtual event giveaway:
Put the focus on your audience
Ever heard of the acronym WIIFM? It stands for "What's in it for me?" Your prospective attendees want to know the answer.
Last August, we hosted our first-ever interactive and exclusively virtual event, Brandstorming. While our core message revolved around the branding industry's latest news, insights, and developments, we put the spotlight on our actual customers and how they utilize branding in creative and effective ways.
Yet we didn't lose sight of what our attendees would find valuable. Topics included how to stay fit and flexible, the momentum behind the "Keep the Pen" initiative, and how to elevate a work-from-home setup into something special.
As you're planning your next event, remember the needs of an at-home audience are going to be different from a live program, and that includes the ways attendees will connect both with each other and your presenters. Think of all the ways you can create a feeling of community and excitement leading up to and during an event, from the release of new or exclusive content to special packages with event swag arriving ahead of attendance.
Double and triple check your technological infrastructure
There's nothing more panic inducing than a tech failure during a virtual event.
Little continues that careful planning around a virtual event's technology is critical, because live digital events are often less forgiving when something goes wrong. Make sure you've got a contingency plan with redundant systems lined up where possible for anything that might go wrong. Finally, consider the attendee's experiences throughout the event from beginning to end, making sure they align with your goals, brand, and messaging. This includes everything from setting up virtual waiting rooms, enabling or disabling live mics, transitioning between speakers, and solutions if there are issues with audio or internet connections during your event.
Branding helps make any event more successful
If you're planning a virtual event or a safely-distanced in-person experience, get in touch with our team. We'd love to help you choose just the right gifts and promo products to connect with your audience and make your event a success.