The Most Effective Promotional Products for Your Business
We get it, you want your promotional product to be as effective as possible – and so do we! We love nothing more than when you connect with one of our items and create a meaningful promotional item that speaks to your brand and customer base, which is why we've compiled this information. In it, we'll explore some of our favorite items we know will be effective, and will make a lasting splash. How? The categories of items below have been specifically identified for their effectiveness. So, what makes a product effective? We consider a promotional product effective if it fits the following criteria:
• Practical – Is this an item people will use and/or need in their daily lives (as opposed to a novelty item)?
• Imprint Area – Can it house an imprint in a noticeable and/or meaningful way? Is your custom logo/message able to be prominently displayed on it?
• Noticeable – Is the product itself noticeable to not only your client/customer, but to others who see your customer/client using it?
• Durable – Does this product have longevity? Will your customer/client find it worth keeping for a long period of time because it serves a purpose in their life?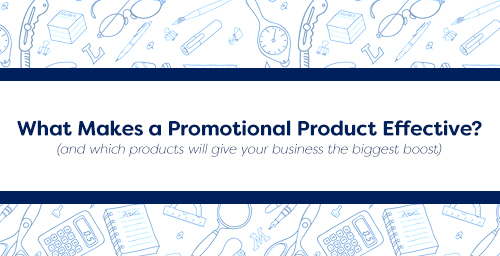 Without further ado, here are some of the most effective promotional products we carry at ePromos. We've placed them in item categories, and called out some of our favorites (with handy links!).
Water Bottles
Water bottles are excellent promotional products, especially as they tick nearly every box when seeking the ideal giveaway. They're household staples, and one item you can seldom have enough of. They're also durable enough they won't be thrown out. If recipients don't keep one for themselves, they're likely to pass it along to a friend who will make good use of it. Water bottles are a great choice for a summertime event, or a fitness-related event, such as a marathon or awareness-raising charity walk.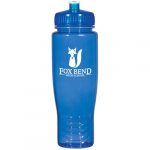 • Translucent Squeezable Water Bottle – Available in bright, rainbow-worthy colors (aqua, pink, purple and more!), these water bottles are lightweight and inexpensive, but are still high-quality BPA-free and biodegradable.
Shatterproof Triton Custom Water Bottle – These water bottles are a hit for several reasons. People love and value the convenient carabiner clip and the fact that you can take this water bottle along for the ride to any event and stay well hydrated. From a marketing and visual perspective, you can customize the shatter-proof bottle to match the custom color accent plastic bottom.
• Fruit Infuser Water Bottle – A water bottle for those who many find drinking plain water boring, or just want to add a little flavor to their daily H2O intake. The detachable fruit infuser is perfect for adding oranges, lemons, strawberries, or any other number of fruits. Or, get creative and try adding cucumber or fresh herbs such as mint or rosemary. You can also opt to remove the fruit infuser center in this BPA-free beauty should you prefer to just use it as a normal water bottle.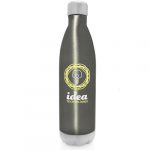 • Triple Insulated Stainless-Steel Water Bottle – Looking for a versatile water bottle? This is it. Thanks to its triple insulated, dual-wall vacuum seal construction it can hold both cold and hot beverages – and keep them cold/hot all day. This high-quality water bottle will be a true favorite and see plenty of use, which is perfect because it has loads of space for your customized design/logo to brand across it.
Bags
Promotional bags are always a hit, especially with the recent trend towards the green movement, which has many people moving away from single-use plastic bags (especially at the grocery store) in favor of reusable bags and totes, which have a much longer shelf-life and are a great way to infuse sustainability into everyday life. Here are some of our favorite bags, each with their own unique functionality.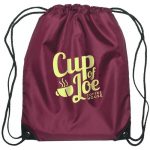 • Budget Drawstring Bag with Reinforced Corners – These drawstring bags are practically a steal at (well under) $2 a pop. Made from heavy duty polyester and a slightly larger size than similar bags, they can carry a fair amount of items with ease. And your branding has plenty of room to splash across the front to ensure a prominent display. These are a great giveaway at a fitness or sporting event, for schools and coaches, or any event that will keep attendees on their feet (and needing a place to hold all their stuff easily throughout it).
• Insulated Lunch Bag, 6 Can – This insulated lunch bag can hold up to 6 cans (or plenty of snacks). It comes with an adjustable carrying strap for convenience. It's a nice giveaway for students, commuters, and families (a perfect beach day lunch bag, for example).
• Heavy Cotton Canvas Boat Tote Bag – This sleek and sturdy tote, made from durable cotton canvas, is a versatile, highly functional item. Recipients will find a myriad of uses for it, from daily commutes, to beach days, or even grocery shopping. From an advertising perspective, the large size is perfect for getting your brand in the public's eye each time it's used.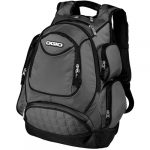 • OGIO® Metro Commuter Backpack – Perhaps the mother of all backpacks, this bag does it all. It's durable and sturdy; has a back panel for laptop storage; a power cord and mouse storage; and a fleece-lined audio pocket with headphone exit port. It's the perfect choice for students, commuters, travelers, or anyone else who's always on the go and wants to ensure their valuables are protected while at it!
Apparel
Apparel is a much-loved promotional item, and the stats back it up with 44% of U.S. consumers owning logoed shirts. Plus wearable promotional goods are the most memorable. There is a wide range of available apparel to choose from. Price points can vary greatly, with a t-shirt being much less expensive than a sweatshirt or jacket. Below, some of our favorite apparel items for your consideration!
• Elevate Microfleece Jacket – These microfleece jackets provide ultimate warmth on chilly days. Contending with harsh, blizzard-like conditions? These are super layer-able; they'll fit nice and snug under a heavy winter jacket, making them useful throughout fall and winter. Available in 11 colors and prices include embroidery.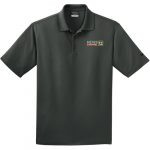 • Nike® Dri-FIT® Micro Piqué Polo – Customers and/or employees will love this lux polo made by Nike. It features their Dri-FIT technology, which wicks away moisture throughout the day, keeping you cool no matter how the temps (or stress) rise. It's available in over 20 different colors and pricing includes embroidery charges.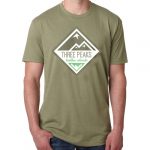 • Next Level™ CVC Logo T-Shirt – There's nothing like a classic promotional tee. It's a great way to turn your promotional product into a walking billboard. This one is made from high quality jersey blend and looks fantastic when printed on!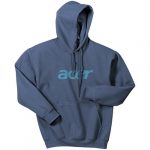 • Gildan® Pullover Hooded Sweatshirt – Sweatshirts are a high quality promotional item, excellent customer and employee gifts. Crafted with a cotton and polyester blend, this sweatshirt is ideal for chilly weather.
Cell Phone Accessories
Cell phones are our babies these days (and cost nearly as much). Most everyone has one, and people are seldom without them, which makes them a perfect item to put your logo and branding on. The back of a cell phone is a prime advertising area. And, there are plenty of cell phone accessories to choose from. Check out some of our favorites.
• Adhesive Silicone Cell Phone Wallet – This silicone cell phone wallet is a dream promotional item. It's small and lightweight, making it easy for you to transport to an event and also for people to carry around with them. The handy wallet feature allows you to ditch your traditional wallet and stash your credit cards right on your phone, lighting your load.
• Full-Color PopSockets® Cell Phone Stand & Grip – PopSockets are all the rage for cell phones. They make holding and operating them much easier and more comfortable in your hand. They're also a great way to spruce up a cell phone by adding color and pizazz – or your logo.
• True Wireless Earbuds with Rechargeable Case – This techie gift is a win-win – clients will love it, and it won't break the bank thanks to unbelievable pricing (a fraction of the similar, highly popular Apple® ones!). Compact sizing also makes them a breeze to transport and store as needed.
• LEEMAN™ NYC Tuscany Cell Phone Wallet with Ring Phone Stand – Another lux item, this cell phone wallet with ring is made of durable leatherette, available in seven rich colors. It attaches directly to the back of your cell phone with removable, residue-free adhesive tape.
Pens
Pens are a classic promotional item, and for good reason. They are super easy on the wallet, with prices clicking in at cents per item, making them a great value choice for a giveaway. They're perfect for when you're looking to give away a ton of promotional items and stay within budget. Below, we've selected a variety of pens (and even one pencil) to show you the diverse range of options available, including styles perfect for an executive to a craftsman.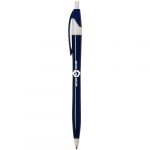 • Colored Javelin Pen – These colorful pens stand out thanks to their bright colors. People will appreciate their comfortable handling, too, thanks to their ergonomic design. In addition to choosing from nine different colors, you can also alter the ink color – available in blue, black, and even red.
• Rubberized Click-Action Pens – The rubber body of this ballpoint pen makes it super comfortable. Choose from eight colors, though you can add up to two contrasting colors in custom design that we'll imprint onto it (included in the price).
• Executive Metal Twist Pen – Looking for a pen that screams VIP? This executive metal pen is just waiting for its new corner office home. The best part about it? Executive pens don't have to be expensive; this pen is phenomenally priced.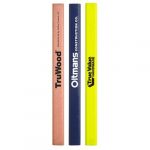 • Carpenter Pencil – Carpenter pencils are a must for anyone in the construction and/or home building business. The unique rectangular shape stops the pencil from slipping on sloped areas. A simple but important tool on the job site, this pencil is sure to be appreciated and more importantly used, by your clients or employees. They're available in seven different colors.
Unique Tools
Looking for something that's a true promotional stand out? The below collection of items has been hand-picked for their functionality (they're all keepers!) and uniqueness.
• Full-Color Plastic Slide Webcam Cover – We all love the convenience and connectivity brought into our lives through technology, but one pitfall is the potential for privacy breeches. With most tech items housing built-in cameras nowadays, we unfortunately run the risk of hackers getting a view of our lives in real time, without us even knowing it. This simple but effective plastic slide webcam cover is a brilliant way to ensure that, should someone tap into your device's camera, they won't actually be able to see anything since you've physically blocked their view. This handy cover fits on most computers, laptops, smart TVs, and monitors.
• USB Flexible Fans – Looking for a unique giveaway for a techie crowd? Check out this fan, which plugs right into the USB outlet on a laptop – which means no cords or batteries needed! It's great for use in the office, where the air tends to get stale and temperatures can range wildly throughout the day (anyone ever been in one of those freezing in the morning, boiling by the afternoon offices?).
• Reusable Silicone Straw with Case – We mentioned this earlier, but the green trend only continues to grow (trees rejoice!). Get onboard with these handy reusable straws made from silicone, which is touted for being more environmentally-friendly than plastic. Each straw comes with its own small carrying case, making it convenient to take with you wherever you go.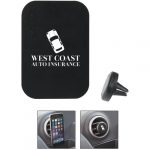 • Magnetic Auto Air Vent Phone Mount – The advent of GPS has made driving to new places a breeze but holding onto your phone while maneuvering the highways can be tricky. Enter this handy phone mount, which attaches right to your air vents without anything adhesive! How's that possible? Magnets (collective oo-ahh)! The back plate that attaches to your phone is the only piece using adhesive. Available in five bold colors.
• Clear Stadium Tote Bag – This clear tote bag is perfect for stadiums and other large arena gatherings that prohibit the use of non-clear bags. The main compartment is nice and big, allowing you plenty of space to fit in snacks, drinks, layers of clothing and more. It also opens widely, making security bag checks a breeze.
• 4-in-1 Measuring Spoon – Need a promotional item that will delight a foodie crowd? Check out this handy 4-in-1 measuring spoon, which covers all the basic measurements as well as a traditional set of measuring spoons.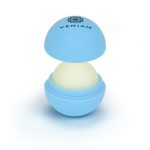 • Rubberized Sphere Beeswax Lip Balm – Lip balms are an awesome promotional giveaway. Small and inexpensive, you can stock up without your wallet taking a mega hit. These little beauties are available in a range of colors and flavors, from vanilla to melon, blueberry and mint. Your logo is all that's needed to complete them!
• Luggage Grip/Identifier – These luggage identifiers make spotting your luggage a breeze. They easily fit over most luggage handles and are available in seven bright colors to ensure they stand out among any sea of suitcases. They're a great choice for a client who's constantly on-the-go, or anyone in the travel industry.
• Fleece Roll-Up Blanket with Carry Handle – Fleece blankets are a favorite thanks to their softness and the warmth they provide. These kick it up a notch by rolling up for easy storing and carrying. Perfect for traveling and also in the notorious sub-freezing temperatures of office life.
We hope this information has illustrated the various possibilities of how to choose a wonderfully effective promotional product for your next customer giveaway, or client and/or employee gift. While we love all of these, remember to take into consideration the impact of the product on your specific client/customer/employee – that's how you can maximize effectiveness for your brand! Scroll through our website for even more options, and don't hesitate to get in touch with any questions. We love connecting with you and brainstorming ways to enhance your brand through our promotional products.