The Impact of Sustainability on Promotional Products
Your brand's image is its essence… it's the way people view your company. It's not just about offering an amazing product, service or even a better-than-the-best customer experience; it's also about what you do (and don't do) for the environment and everyone in it.
The importance of social and environmental responsibility is now stronger than ever. Sustainability for businesses is not just a nicety anymore; it's a MUST. People love a cause, and they love a company with a cause.
With competition mounting day by day, your commitment to sustainability and your social responsibility is what gives you the edge over every other business out there. So, boost your company's image with eco-friendly promotional products and a unique give-back program!
Sustainability for Marketing Efforts
As a whole, people are making huge strides in efforts to reduce our carbon footprint. Sustainable materials, chemical-free ingredients, energy-reducing processes, power-saving technology, recycling, waste reduction, buying local, and altogether conserving resources… Overall, more and more people are striving to maintain more environmentally-friendly lives.
According to a worldwide study by Unilever (the company responsible for Dove soap), a large percentage of consumers actively seek sustainable products and practices. What does that mean for businesses? It's a strong case for sustainability! It means consumers have high expectations when it comes to a brand's positive social and environmental impact.
It has always been a good idea to practice sustainability for businesses, but research shows that promoting your green efforts is actually a factor for your bottom line. More than 21% of consumers will actively choose brands with clear sustainability credentials in their packaging/marketing over brands without.
Step up your brand's image with sustainable promotional products and a green marketing plan.
Promotional Products Make a Difference
If promotional products are not already part of your marketing plan, they should be. Why? Because they WORK. They engage the senses and give people something to take hold of, keep and pass along. They become mini and mobile advertisements for your brand. They are useful, memorable and cost-effective. And people LOVE getting free stuff.
So now that we've established the need for promotional products in your marketing efforts, you'll want to narrow your choices. We work with several partners in the industry that are making a giant push toward sustainability. Choosing products such as these will send the message you're serious about your brand's commitment to social and environmental responsibility.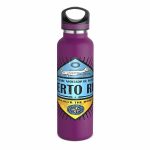 BASECAMP: Basecamp® donates a portion of their proceeds from each sale to support the Warrior Spirit Retreat. Founded by Basecamp brand ambassador, Dan Nevins, this unique facility is a non-profit organization dedicated to veterans and their families to help heal the invisible wounds of war. This holistic healing retreat is free to all veterans as well as their families.
WOODCHUCK: The Woodchuck™ brand produces custom wood products right here in the USA. In addition to their products being eco-friendly in nature, for every product sold, Woodchuck plants a tree through their "BUY ONE, PLANT ONE®" program. They'll even include the GPS coordinates of the tree your order is responsible for!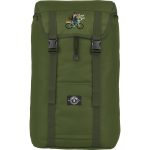 PARKLAND: Parkland  is an eco-friendly company with the exterior of their bags made from recycled plastic bottles (and the leather diamonds made from apples). Not only are they killing it in sustainability, Parkland also delivers on all the feels when it comes to giving back in their partnerships: WE Charity and From One Hand To AnOTHER Inc.
SNUGZUSA: In July of 2018, Hawaii became the first state to ban the sale of sunscreen that researchers believe is harmful to marine life. The ban is specifically for products containing the chemicals octinoxate and oxybenzone, which SnugZ's SPF-30 sunscreen does not contain. Offering eco-friendly lanyards made from recycled plastic bottles as well as their reef-friendly sunscreen lotion, the SnugZUSA® brand is a beach-lover's dream.
HOUSE OF MARLEY: The House of Marley creates high-performance audio products such as portable speakers and headphones. These items are made from sustainable materials such as bamboo and FSC™ certified wood as well as recyclable aluminum, plastic and fabrics. In addition to using mindfully-sourced materials, House of Marley also contributes yearly to One Tree Planted. Through this non-profit program dedicated to global reforestation, House of Marley has helped to plant 168,000 trees to date.
AWS: The AWS line boasts a variety of items from bags and wallets to umbrellas and sunglasses. As a way to give back, the company donates five percent of proceeds to the following five charities (one percent to each): Shriner's Hospital for Children, American Cancer Society, Boys Town, Make a Wish, and St. Jude Children's Research Hospital. A hang tag in included on all merchandise purchased within this collection.
Customers Seek Sustainable Companies
People love to support companies that work to make a difference. Sustainability for businesses can actually influence purchasing decisions. Because people want to feel they are doing their part to help the planet, they will actively choose socially and environmentally responsible brands over a competitor.
Sway public opinion of your company's product or service with giveback and sustainability programs, then advertise your own green marketing efforts with sustainable promotional products!