4 Ways to Celebrate Fall at Work
Throwing a fall holiday party at your office or workplace will give your employees something exciting to look forward to. A fall party can be a lot of fun, but before you can host the perfect celebration, you need to choose a theme, activities and gifts. The theme, food, prizes or gifts all get coworkers invested in the fun. You can throw a successful company party with just a few of these company event ideas.
A successful fall party can revitalize your workers toward the end of the year and make the workplace feel like a family environment. This guide will help you set up an engaging and entertaining fall holiday party in the workplace:
How Do You Celebrate Fall at Work?
Planning for corporate holiday party events with colleagues can help you establish a positive culture and build bonds between your coworkers. Your attendees will get to know their colleagues from other departments and have fun with coworkers they usually only see when they're working.
A holiday party and a little recognition and praise can help boost morale. Below are four special fall party ideas for the workplace:
1. Provide Good Food
The food you order or prepare for your fall festival office party will vary depending on the specifics of your venue. If you're hosting the party at a park or other public space, you may have more options for cooking the food on-site. A catering company can provide a good selection of fall party food ideas for in-office parties, including fall platters, pastries and hors d'oeuvres.
When choosing your food, you'll need to:
Decide on a theme: Do you want your party favors to reflect a fun, spooky Halloween theme or a relaxed but elegant fall atmosphere? You can theme the food for your event in many different ways with items in fall shapes and colors.
Consider food restrictions: Some of your employees may have food allergies, sensitivities or other conditions. It's crucial to be aware of your workers' allergies and dietary restrictions. If you have several restrictions to consider at once, consider hosting your party at a restaurant or hiring a caterer that sells fall-themed food items. These trained professionals have experience creating delicious options that suit different diets.
Decide on an alcohol policy: An alcohol-free party is easier to set up when you host it at your workplace. At a restaurant and bar venue, your coworkers may order drinks, which can quickly make the bill more expensive. However, requesting that employees only order nonalcoholic beverages or use drink tickets can be awkward.
2. Arrange for Group Activities
Whether you're arranging for October or November office activities, adding group games, challenges or recreation will make the party entertaining. Hosting a party at an indoor venue can make it more challenging to coordinate your group activities, especially if you want to do giveaways or a rewards ceremony. Indoor venues also tend to be more pricey on average.
If you're expecting the weather to be mild, consider options for engaging in outdoor activities such as:
Going on a boat cruise.
Playing golf.
Visiting a theme park.
However, you can also make an alternative arrangement for indoor fall office activities in case of inclement weather. Consider:
Playing games in the office.
Ice skating.
Roller skating.
An escape room.
Visiting an art gallery.
3. Provide Entertainment
Whether you want to host a party at your office or a local venue, you can have entertainment come directly to you. Entertainment options include:
Karaoke.
A DJ.
A local band.
A guest speaker.
Getting a venue is probably the best option if you want to include live entertainment at your fall party. A location designed to accommodate entertainment will be expensive, but it will also allow for more flexibility in your arrangements. Generally, a venue space is more accessible and provides an inclusive effort to make the atmosphere relaxing.
4. Offer Recognition and Prizes
Fall is an excellent time to celebrate your company's successes with prizes for loyal employees. A fall event with surprise gifts and prizes will motivate your employees to finish the rest of the year strong. Below are some ideas: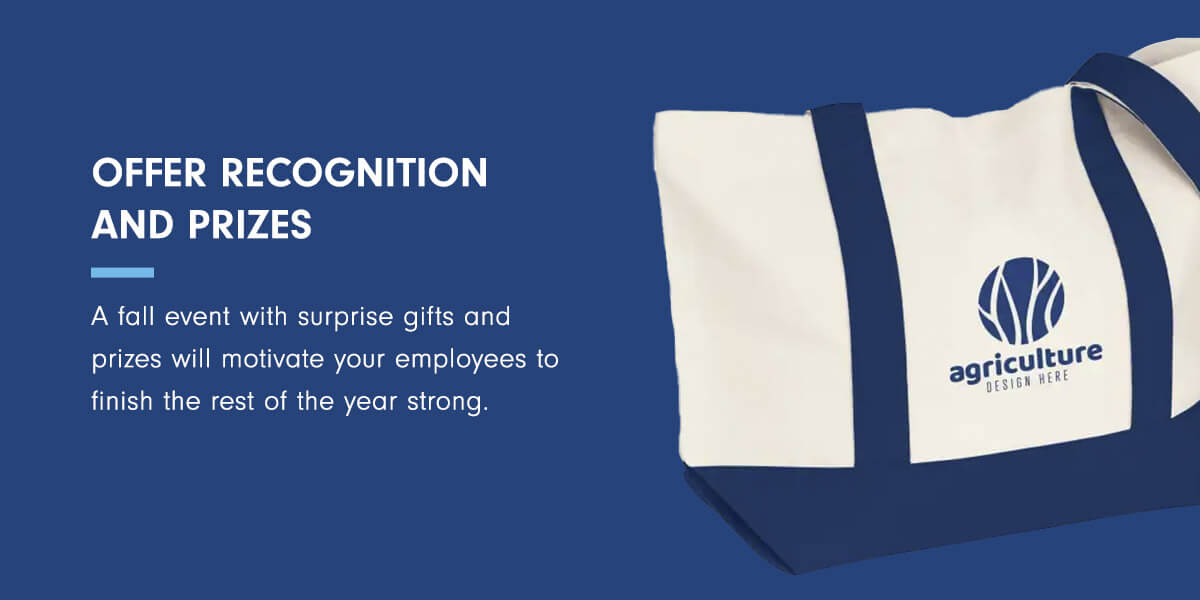 Host your fall party alongside a spirit week: Offering prizes and recognizing employees for their hard work are two solid fall spirit week ideas for workplace parties.
Give speeches: Your employees will feel appreciated if your executives or team leaders give speeches to thank the team for their hard work.
Hold an awards ceremony during the planned meal: Gathering around tables to eat fall-themed food and celebrate the company's achievements is only made better with an awards ceremony for hard-working employees.
Provide promotional gifts: Ordering quality gifts with your company's logo to hand out for the giveaway or prizes will make your fall party a big hit with the staff.
What Are Some Fall Party Themes?
Fall holiday parties have a lot of opportunities for exciting themes for any budget. Depending on the culture of your office, fall party themes for adults can be subtle or represent the holidays. Simple fall decorations are a great way to throw a low-cost party in the office.
You can change the environment from the regular walls, tables and chairs by adding decorations such as:
Colorful streamers in red, orange and yellow
Items that bring fall-themed visuals such as pumpkins, leaves or a cornucopia
Themed dinnerware, like plates in the shape of leaves
Potential themes for fall parties include:
1. Fall Harvest
Pumpkins, squash and corn all reach maturity during the fall. These common harvest goods remind people that this special time of the year has arrived. You can use pumpkins and colorful decorative corn as an elegant part of the theme.
2. Outdoor Bonfire
For a change of scenery, head outdoors for a bonfire bash. This party idea will provide fresh air and a closer look at the fall foliage. You can host a weenie roast outdoors and your coworkers can toast marshmallows on skewers.
3. Halloween
Halloween is a fun time of the year for adults as well as children. Your employees will enjoy the novelty of dressing in costume at their workplace —  you can establish a Halloween dress code to keep things office-appropriate!
4. Oktoberfest
Oktoberfest is a German celebration of the season that offers an exciting flavor for your office party. Oktoberfest is the perfect theme for the occasion if you would enjoy hosting an event with catered alcohol. You can host a pub crawl or just provide drinks and samples of German fare around your workplace.
Promotional Decorations and Gifts for Fall
Whether you're planning for November team-building activities or a big annual giveaway event, the most important part of celebrating is finding the right gifts for your employees. Company gifts are a great way to express appreciation to employees, especially corporate logo gifts. Holiday parties offer an excellent opportunity to give your team something with your logo they can see daily or use often.
Promotional gifts also function well as decorations or prizes for games that may be available at your event. Here are some of the best promotional products that make great corporate gifts for your team:
1. Coffee Mugs
Coffee mugs are a great drinkware option since you can never have too many. A mug with a vacuum seal lid keeps drinks warm throughout the day and helps prevent spills on your desks and onto your devices. A standard coffee mug is multi-purpose. Not only can it hold morning coffee, but also serve as a soup cup, snack holder or tidy pencil storage. To optimize the mug, you can get a built-in spoon.
2. Travel Mugs
Travel mugs and cups make the commute to work much more manageable. Tumblers can hold water or coffee and maintain their temperature for hours after filling. They come in multiple sizes and styles, with and without straws. Tumblers also make it easy to stay hydrated at the beach and prevent spills during bumpy rides in a car.
3. Hand Sanitizer
As we remain vigilant to stay safe and healthy, hand sanitizer has proven useful. Shared spaces, like a break room, collect germs that are difficult to avoid. Gift a carabiner hand sanitizer that your team can keep with them at all times or a larger pump sanitizer that they can keep at their desk. The wide variety of hand sanitizer from sprays to pumps makes this corporate gift a great option. It also is highly versatile and valuable in day-to-day life, even outside the office.
4. Tote Bags
As we aim to make environmentally sustainable choices, tote bags are becoming increasingly popular as a great alternative to plastic bags. Non-woven tote bags are perfect for holding groceries and transporting them efficiently inside. They require fewer trips, and you avoid accumulating plastic bags.
Woven tote bags are sturdy, lending themselves well to carrying heavier items such as books and large notebooks. You can close many of them, whether loosely with a snap or securely with a zipper. These bags are great universal prizes for your fall team-building ideas.
5. Fall Apparel
Outerwear makes the perfect company gift when the weather starts to turn chilly. These items make good prizes for your October team-building activities, and if you're hosting an awards ceremony, they will help employees feel instantly recognized. Order corporate fall outerwear for trade shows, casual workdays or to throw on for a trip to the grocery store. Your options are expansive and great for promoting your company. For something more subtle, you could also go with socks or scarves, which are also perfect for the colder periods of the year.
Celebrate the Seasons With ePromos
Show your teammates how much you appreciate them this fall with promotional items and other fun fall engagement ideas. Whether you gather in the break room or have a black-tie formal, you can celebrate your team's successes or recognize their achievements with the right gifts.
Receive white-glove service from us at ePromos when you purchase your gift items in bulk at a low price. Whether you are looking for the best promotional gift items or plaques to award employees, ePromos can help you find the right product to meet your needs. Browse all of our options for the perfect gifts.
Updated 11/8/2022