Frequently Asked Questions
Physical Samples
Apparel Samples
International Sample Orders
Merchandise Consistency
Who Can Assist Me With My Project?
How Does the Ordering Process Work?
Who to Contact for Order Placement?
Order Process Overview
Authorization & Identification
Changes to Existing Orders
What Type of Proof Will I Receive with My Order?
Low-Price Guarantees
Large Quantity Discounts
Is Price Matching Available?
Are name brand products available?
Product Origins
Setup Charges
Submitting Artwork
What if I do not have artwork?
Can you create artwork if I do not have any?
Are there specific art file formats which are preferred and acceptable?
What Type of Artwork or Image does NOT work well for art?
Is there Anything I Need to Know About Submitting Text Only?
What if I Want a Specific Color Match Imprinted?
Popular Product Decoration Options
Kitting and Fulfillment Option
Why use ePromos fulfillment services?
Let us take the burden off you!
How do I get started?
Standard Delivery Service
RUSH Delivery Service
Is there a charge for Rush Service?
First time orders
Payment Options
Credit card payment information
What if my credit card is declined?
Corporate Accounts and Purchase Orders
Corresponding Product Arrival Dates
Order Shipment Notification
Tracking information
Preferred Carriers
Third Party Shipping
Drop Shipments
Split shipments
Truckload Shipping
Shipping to Post Office or APO Boxes
International Shipments
Special Shipping Instructions
Shipping Weights
About the Use of Trademarks on Our Site
About the Customer's Right to Use Trademarks
For California Residents – CCPA "Do Not Sell or Share My Personal Information"
Samples
Physical Samples
We are happy to offer you physical samples to help with your purchase decision. Here's how it works:
ePromos will provide free random imprint non-apparel samples to our registered, qualified customers at our discretion if you have a shipping account with UPS or FedEx which we may use to cover the shipping costs
A maximum of two (2) non-apparel samples may be ordered for any one product
Random non-apparel samples may be ordered online by simply clicking "Get a Sample" on any product page or through our amazing Brand Consultants. If your desired random imprint sample is not available for any reason, we will substitute for the closest alternative product
Once you become a customer, you can expect an increasingly lenient free random sample policy
We reserve the right to refuse free random imprint samples to any party at our discretion
Should you request a sample bearing your logo or brand imprinted on the item, we are happy to provide it. There will be a charge for the pre-production sample and any applicable set up fees. A shipper number would need to be provided as well. Pre-production or samples bearing your logo or brand may not be returned or refunded.
Apparel Samples
We are happy to provide our valued registered business customers with apparel samples. To receive apparel samples, you must have either a credit card on file or an existing open account.
Blank apparel samples will be charged to your credit card or open account based on the lowest published price shown on our website for that item plus freight. If the blank apparel sample is returned undamaged and not soiled within 30 days of receipt, we will issue a credit to your credit card or open account minus outbound freight. Return freight and restocking fee will be the responsibility of the customer. Please note that damaged or soiled blank apparel items will not be returnable.
If a custom decorated apparel sample is requested (apparel sample that we imprint using artwork you provide), that type of apparel sample is not returnable, but may be used as credit against your order for that same item once the order is placed. Decorated apparel samples will be charged to your credit card or open account based on the price we quote you for the garment, combined with decoration method you require for the sample, plus freight.
Apparel samples are intended to help the serious buyer who is considering an item and who needs to check sizing or product quality.  We reserve the right to refuse to send apparel samples at our discretion.
International Sample Orders
If you are outside the US and would like to request a random imprint non-apparel sample, please provide your DHL, FedEx or UPS account number for shipping charges.
For question regarding samples, please send email to [email protected]
Merchandise Consistency
Please note that we encourage you to take the opportunity to review a sample of the actual product before you order in bulk quantity. It is important that you understand that these samples are representative in nature. While we are very careful about the suppliers and manufacturers we use, manufacturing variations are unavoidable and a natural result of the manufacturing process.
By choosing to place and order with ePromos, you are agreeing to accept merchandise with reasonable manufacturing variances in product material, color, and packaging. The most common example of this is apparel dye-lots.
Who Can Assist Me With My Project?
ePromos is fanatical about WOW! Our Brand Consultants are here to assist you every step of the way.
One of our core values is to Begin by Understanding. Let us guide you in bringing your brand to life through the use of the thousands of promotional product options available.
Chat live with us by clicking the Chat Now Icon at the top of any page on the website or by clicking on the How May We Help green button at the bottom right-hand corner of any page
Brand Consultants are available to speak live between 8:45AM and 8:15 PM Eastern Standard Time: 877-377-6667
Email us 

[email protected]
How May I Receive a Quote?
The quickest way to receive a quote is to identify the product desired online. Click the 'customize' button under the price grid and answer the questions. There will be a block of information on the right side of the page displaying the pricing for your order before taxes and freight or any additional charges which may be made during the actual ordering process.
You may also email 

[email protected]

, and a Brand Consultant will assist you same day if your request is received Monday-Friday 8:45AM and 8:15 PM East Coast Time.
How Does the Ordering Process Work?
Who to Contact for Order Placement
You may place orders online, by phone, email, or live chat.
Online: epromos.com
Email: [email protected]
Phone: (877) 377-6667
Order Process Overview
Shortly after placing your online order, you will receive an email notification that we have received your order and instructions on how to send us your artwork. Then, one of our customer care experts will be assigned to oversee your order. We will check product availability, review your order for any potential problems with artwork, imprint issues or delivery times, and make sure to offer you any recommendations should our expertise be helpful.
Once your order is reviewed, you will be emailed an link for your approval that will include all details of your order including your shipping charges and a form for credit card payment (unless you have requested payments terms). Please review and approve the details of your order within 24 hours so as not to affect your expected date of shipment. Late approvals from customers may require expedited shipping methods or in some cases rush production charges. If you require any modification to your order, please contact your representative by email or phone at (877)377-6667.
Authorization & Identification
By placing an order with ePromos, you represent and warrant that you have the authority to order, purchase and/or distribute merchandise containing the names, trademarks, logos, copyrights, etc. identified and/or submitted with your order. You also agree to indemnify, defend and hold harmless ePromos, its affiliates and representatives, from and against all claims, liabilities and expenses (including attorney fees), arising out of or related to an actual or alleged infringement or misappropriation of any trademark, copyright or any other proprietary right of such merchandise. This provision will remain in effect after delivery of your order.
Changes to Existing Orders
For customer inquiries or changes on existing in-house orders, please contact your representative by email or phone at (877)377-6667.
What Type of Proof Will I Receive With My Order?
Our expertly trained artists will prepare an electronic proof of your artwork, and even make recommendations if you would like assistance. These eProofs are emailed to you for your review and are typically sent along with your Order Acknowledgment. You can approve, approve with changes, or reject your proofs.
How long does it take to receive a proof?
All new orders will receive an electronic proof for your approval prior the start of production. After completing your order, our artists will bring your product to life and send you a virtual electronic Proof.
Pre- Production Proofs
We can produce an actual product proof of your item with your imprint prior to running your entire order. We recommend this on all orders where time permits.
Actual product proof requests add an estimated 3-5 days to standard lead time pending the product involved and if the product is to be blank, have a random imprint for review, or have a custom imprint. All product proof item, any set up charges, shipping and handling costs apply. Depending on order size and imprint type, we may require an actual product proof prior to the start of production.
Order Minimums
All minimum quantities are listed throughout epromos.com. Minimum order quantity applies to both blank and customized merchandise
Less than minimum orders may be available on most orders for an additional charge. For the majority of products, the minimum quantity shown online is the required factory minimum, although from time to time we may be able to accommodate special requests, so please reach out to us and ask. Email us at: [email protected] or call us at: 877-377-6667.
Product Pricing
Low-Price Guarantee
No one wants to sacrifice service and quality just to save a few pennies. At ePromos we offer great pricing and the best service in the industry. To make sure you never have to choose between service and price, if you find the same item at a lower price, we'll match that price and even give you 10% off your next order. It's that simple. Just give us a call and let us know where you found a price that beats ours. As long as it is the same item with the same options, we'll match any price, no questions asked.
Large Quantity Discounts
Price reductions for quantities greater than those shown may be available. Please place your order or contact us for an exact quote. We have discount programs for frequent and loyal customers. More information is available by contacting ePromos. Email us at: [email protected] or call us at: 877-377-6667
Is Price Matching Available?
Yes, but some exceptions do apply. Price match offers are not combinable with coupons or other special offers or promotions. ePromos will price match a competitor for any domestically produced order for the exact same product, imprint method, production time and shipping time. Quoted price match prices are valid for 15 days. Price Match Guarantees do not apply to:
Offers from websites that cannot be verified as genuine promotional product online retailers or promotional product distributors.
Global production or import orders.
Pricing only available to select customers relating to membership programs, government, bundle offers, and education.
Product Availability
ePromos offers thousands of branded promotional products at any given time. Let us be your corporate shopping guide! Contact us at [email protected] or by calling 877-344-6667 and we will be happy to assign a Brand Consultant to help you select the best and most effective promotional products or corporate gifts.
Are name brand products available?
ePromos has a large array of name brand product with strong retail presences.  Click on this link to view just a sampling of what we have available: https://www.epromos.com/brand-name-corporate-gifts/_/N-13727. Please contact your Sales Representative to inquire about any brand name products you may like to incorporate into your special project, corporate gift needs, or event.
Product Origins
We have a vast number of products that are sourced from all over the world.  Most items that enter the United States must be legibly marked with the name of country of origin.
If you are looking for item specifically made in the USA, check out this link to all of our USA made product shttps://www.epromos.com/_/N-11612. They are specifically noted and tagged on our website.
Setup Charges
Set-up charges exist to cover the costs associated with the creation of any tooling or dies required to imprint your specific logo on any one specific product. If you want to use the same artwork on multiple products, there will need to be a separate tooling or die created for each product type/size to be decorated. Set-up charges are usually only charged once if there are no changes to the original artwork to be used and if your reorder occurs within a two-year span of time from when your original order was placed.
Submitting Artwork
Sending Artwork
During the customization and checkout process online, you will have the opportunity to upload your artwork. When corresponding with your ePromos Sales Support contact please be sure to provide your order number in the subject line and preferably your order number and your company name
What if I do not have artwork?
If you do not have artwork, it is not a problem. Sketch out or send us a file describing what you are looking for and we will help you out. We will do simple typesetting of your name and message at no charge! Here is a list of some standard fonts. If you do not see a font that you like, just tell us the name, or describe it and we will try to locate it for you. You can also have our skilled graphic artists develop some new logo concepts for you. An eProof will be provided for you to review on all orders.
Can you create artwork if I do not have any?
Yes.  We have a team of professional artists who will work with you to create exactly what you have in mind for no charge.
Are there specific art file formats which are preferred and acceptable?
Yes.
AI or EPS (Adobe Illustrator)
• Convert text to outlines, embed any linked images, and save as version Illustrator CC or lower.
INDD (Adobe Indesign)
• Export as an Indesign package and select included fonts and links in Save options.
PDF (Adobe Acrobat)
• Embed the fonts used or export as generic .eps.
CDR (Corel Draw)
• Convert text to curves and save as version X6 or lower.
Other Accepted File Types (Non- Vector*):
*May delay order process due to file conversion depending on the imprint method.
PSD or EPS (Adobe Photoshop)
• Embed or include fonts.
DOC, PPT or PUB (Microsoft Office Files)
• Embed or include fonts.
BITMAPS (Image Files)
• May appear with file extensions in the name such as; .jpg, .bmp, .png, .tif, .pict.
The ePromos Creative Services team will do our best to work with whatever form of artwork you have, however, to complete your order quickly, we would prefer to receive your artwork in vector format. Please submit your vector artwork in one of our preferred file types listed above.
What type of artwork or image does not work well for art?
For best results please avoid creating artwork using Microsoft Word, spreadsheets, or ppt presentations.  Raster Images are produced by digital image capture tools such as cameras and digital scanners or by pixel editing programs (i.e., Adobe Photoshop).
Is there anything I need to know regarding Submitting Only text?
If you are submitting only text, we will provide a choice of popular fonts to select from. If a specific font is requested that we do not have on file, we may ask that you send the font to our art department.
What if I want a specific color match imprinted?
Many of our decoration methods allow for the opportunity to closely match the imprint color to a specific requirement. Customers who require specific color matching should provide us with "PMS" color numbers where applicable. PMS stands for Pantone Matching System®. For more information on the Pantone Matching System and to view an online pantone color chart click here. Be aware that all monitors are different and the color you see on the screen will surely be different when viewed in person. There may be cases when there is an additional charge for PMS matching services. There is typically a $55 charge per color for this service for initial and reorders as inks need to be carefully blended to achieve a close match to your color. In rare cases, this charge may be greater. If your logo is to be embroidered, we will select a thread color which most closely matches your PMS color, and you will have the opportunity to see this choice when you approve your "embroidery sew-out" prior to the start of production.
Full Color Artwork
Products that offer Full Color imprints are a great way to print multiple colors in your artwork. When submitting artwork for this imprint method, please keep the following details in mind.
Resolution
Vector artwork is always preferred but if you are uploading photography or non-vector artwork (e.g., JPEGs), please make sure they are no less than 300dpi at the size it will be printed. If your designs are a mix of photography and design, make sure the embedded photographs used are above the recommended pixel sizes. Be mindful that images downloaded from websites are typically low res and will not work for printing processes.
Color
Due to limitations of this imprint method, we cannot guarantee the colors to match as they appear on screen, but we will make our best efforts to ensure the quality and consistency of color within each order. We do prefer that artwork be created and sent to us in CMYK color mode. You may also upload in RGB if you prefer, however the color will be converted into CMYK and may not be as accurate.
Embroidery
We can use low resolution graphics for this imprint method since your artwork will be re-rendered in thread stitches. Please note that the smallest text size that can be embroidered is typically. Fonts should ideally be non-serif. It is often necessary to modify or drop text entirely for small imprint areas.
Once we have your embroidery file on file, you will never have to deal with it again, unless edits to the design are needed or requested. All sounding too complicated? Our team is here to make your ordering process easy and enjoyable. Contact a Brand Consultant via email [email protected] or call us at: (877)377-6667.
Popular Product Decoration Options
On our website you will find the standard product decoration (product imprint) option suggested and available for each specific product on the product page. To locate product decoration (product imprint) options, either click on the drop-down arrow next to the words Imprint Details under the product image or you may simply scroll down the page to view the imprint details available for the product you are interested in.
Screen Printing
Highlight your logo in vivid color on bags, pens, drinkware, technology items and accessories with this method. Available in single or multi-color, it is an economical way to gain high visibility. ePromos will choose the most appropriate method to obtain high visibility for your artwork.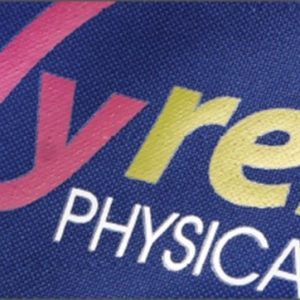 Heat Transfer
Image is screened on a transfer substrate which is then laid directly on the material to be imprinted. The image is then "transferred" from the substrate to the material using heat and pressure. Works best on cotton and cotton blends.
Laser Engraving
Laser engraving gives your logo a clean, distinguished appearance by precisely etching the artwork into the material's surface.
Deboss
Deboss allows you to leave an impression of your logo in a material's surface. Deboss utilizes a die that is heat-pressed into the material.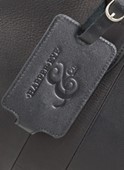 Embroidery
This traditional method of decorating material with needle and thread is a popular favorite year after year. It is an excellent way to add value to your next promotion.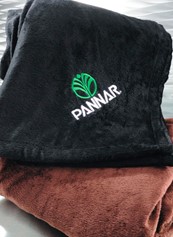 Digital Imprinting
Looking to make a bold impact with a photo or 4-color artwork? Our methods allow fine halftones and an expanded color range to capture the sharpness of the design and then transfer it to the product. PMS matches cannot be done with Digital Print methods.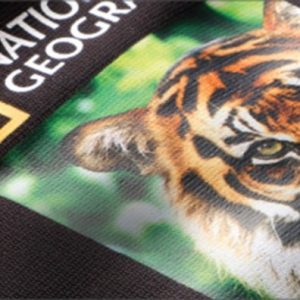 3-D Raised
Add dimension and shine to your one-, multi- or 4-color logo by placing it under a clear, high-gloss polyurethane dome with black bezel. Logos are maximized for the best possible display and then placed on a white background unless otherwise specified.
Mixed Media
Mixed Media is a bold new decorating method that combines two processes. Using Laser as the base for an Embroidery or Digital Print overlay.
Kitting and Fulfillment Options
Why use ePromos fulfillment services?
If you are planning to do a mailing, whether it is 50 holiday gifts or 5,000 promotional items, ePromos can provide fulfillment services to meet your needs. If you are considering doing a mailing in-house, think ahead about who would do it, if they have the time, and how much that time is really worth. With our resources and infrastructure, chances are it is less expensive for us to do it for you. Having us do what we do best lets your staff focus on what they do best.
Let us take the burden off you!
We can offer customized kitting and fulfillment solutions to fit your needs. From special gift packaging and inserts, to shipping method and schedule, we can execute your kitting and fulfillment project to your exact specifications. Want a brochure in the pocket of the item you are sending? No problem. Let us know exactly how you want each package to look when it is received, and we can make it happen.
How do I get started?
Our Brand Consultants can help you develop a kitting and fulfillment plan that suits your needs and your budget. Take advantage of all the kitting and fulfillment benefits we offer:
Top-notch, professional service
Quick turnaround
Customized kitting and fulfillment solutions to fit your needs
Special packaging and gift card abilities
Drop shipping to thousands of locations- no problem
Competitive pricing.
The next step is to email us [email protected]  or call (877) 377-6667 and speak to a trained kitting and fulfillment specialist who can help you every step of the way.
Delivery Options
Standard Delivery Service
Standard production times are listed on the product page for every product online. This is the number of business days it takes to customize your item after you have approved the artwork for production. The number of days for delivery depends on the shipping method you choose. As part of the online ordering process, we show you the shipping charges for ground (usually 2-6 days transit time), 3-day, 2-day and next-day shipment. If you need an item faster than the production time shown or if you have any questions, contact us directly at 877-368-5678. We love a challenge and would be happy to help!
RUSH Delivery Service
ePromos has thousands of products which are eligible for rush service. Please contact your Sales Representative directly to discuss all your options.
RUSH service eligible products are also shown online by typing the word 'rush' in the search box field online or clicking here to view the Rush eligible products.
1 Business Day (24 hour) Rush eligible Products: https://www.epromos.com/_/N-13629
3 Business Day Rush eligible Products: https://www.epromos.com/_/N-13631
5 Business Day Rush eligible Products: https://www.epromos.com/_/N-13633
The search results shown online will direct you to 1-business day, 3-business day, and 5-business day rush eligible products. Feel free to contact us when you are in need and we will do our best to locate rush eligible products that may not be shown online.
Is there a charge for Rush Service?
Pending the product and factory requirements, a rush service fee may or may not be charged. Separate shipping charges will apply based on the shipping service type. You will need to pre-approve any of these charges.
Is Sales Tax Applied?
ePromos collects state and local sales tax on all orders where applicable. Purchases will be subject to state, county, and/or city tax unless within a jurisdiction or for an organization that is tax exempt. If you are ordering on behalf of a company or organization that is exempt from sales tax (state or local), please provide your tax exemption resale certificate or letter.
Order Payment Options
First time orders
First-time orders from ePromos require prepayment in full. We recommend the use of a credit card to facilitate rapid fulfillment of your order. Please be aware that forms of payment that require funds to clear into our account can delay your order. We will not ship orders until our bank has cleared your funds.
Payment Options
ePromos accepts multitudes of payment options for your convenience.
Credit card (Visa, Mastercard, American Express and Discover)
Check (Check must be written from a United States based account and all funds must clear in full prior order being released into production). If time is of the essence, we strongly recommend using a credit card.
Terms (Not available for first time orders. Terms may be granted with the submission of a credit application in full. Please allow 5-7 business days for your review of your credit application and for a credit approval response to be given). Credit card use is suggested if time is of the essence for your order.
Credit card payment information
Upon your acknowledgement online of your order details and proof approval, we will authorize the funds available on your credit card signaling your order is ready to move into production.
What if my credit card is declined?
A declined credit card transaction means that something went wrong while your purchase was being processed and that the purchase could not be completed.
Some reasons that declined credit card transactions occur are:
You entered the wrong associated zip code
You entered the wrong associated address
You entered the wrong card verification data (CVD) code. The code is three to four-digit code on the back of the payment card
Your Purchase Was Flagged as Fraud. …
You Have a Large Pending Transaction. …
You Entered the Wrong Information. …
Your Credit Card is Expired. …
Corporate Accounts and Purchase Orders
We will be happy to set up a corporate account. Credit review typically takes 3 days and production will not begin on orders until the review process is complete. If your order is urgent, please use a credit card or call us to make other arrangements.
ePromos accepts purchase orders from Fortune 500 companies, United States Government, Counties and Municipalities, and public educational institutions if the order has a value of over $500 before shipping and taxes. An actual company or institution purchase order is required to process your order. Payment to ePromos must be in U.S. dollars drawn on a U.S. Bank.
Order Cancellations
We know that changes may happen, and we will work with you to ensure a satisfactory resolution that is amenable to all parties and pending where your order is in the cycle.
You may cancel your order if the order has not been approved, paid for, and sent to the factory for production.
If, after review and at the discretion of ePromos, we can cancel your order, there may be associated fees. Cancellation fees may include, but are not limited to; art charges, setup charges, and/or restocking fees.
Order Shipping
Prices do not include shipping & handling charges.
ePromos ships from manufacturing facilities throughout the United States. Our service commitment to you is to ship your merchandise to your desired location(s) on or before the desired due date.
We make best efforts to ship your products to your desired destination in the most economical way possible given your specified date and production limitations. The most economical means of transportation is typically UPS Ground however ePromos offers all classes of service offered by UPS.
All orders will be shipped using ePromos' account and billed with your order at published rates for that carrier.
Unless otherwise specified, all shipments are sent using UPS. Any customer not wishing to pay for this expense must communicate this to us on their Order Acknowledgment.
Saturday deliveries are limited to domestic US shipments only and only apply to UPS Next Day service. Saturday deliveries will result in additional shipping charges. Additionally, providing an incomplete address or making a change to a shipping address once an order has been processed will result in additional shipping charges.
All orders are shipped FOB (freight on board) from the factory. This means that you own the merchandise from that point on. We guarantee that your items will leave the factory on or before the ship date specified on our Order Acknowledgment. We cannot be held responsible for goods lost or delayed by common carrier, international or US Customs departments or by 'acts of God'. We will typically notify you with tracking information within 24 hours (one business day) of shipment. If you have any questions or problems, please call customer care toll-free at (877) 377-6667 for assistance.
Corresponding Product Arrival Dates
As ePromos sends its products from a network of factories around the country, orders placed on the same day may arrive at different times. If you have unique needs regarding arrival of products, please be sure to specify those needs in the 'additional instructions' section of your order form. If you have additional needs after placing an order, please call your representative directly.
Order Shipment Notification
You will receive an email notification to include a tracking number from the carrier used for your shipment.
Tracking information
Tracking information is provided with every order and usually provided within 24 hours (one business day) of shipment.
Preferred Carriers
Most orders are shipped via UPS ground standard delivery.
Third Party Shipping
If you prefer to use your own carrier account, we can accommodate you. Please provide us with the carrier's name and your account number either via email or in the 'additional instructions' section of the order form. If you choose to use your own carrier account, you will be solely responsible for the insuring of your shipment. If your shipment is damaged or lost in transit, you will be responsible for the full invoiced amount of the items. Third party orders may be assessed per-order handling fee.
Drop Shipments
Drop shipment charges apply for each additional location per release, plus freight costs. Drop ship addresses must be received at the time of order receipt. If there are more than 10 drop shipment addresses, you must provide addresses electronically via e-mail attachment with a purchase order reference in the subject line.
Split Shipments
Do you have a trade show in San Francisco and a sales meeting in New York? At ePromos, it is no problem at all for us to send your items where they need to be. In the 'additional instructions' section of your order form, just specify that you need your order sent to multiple locations. A Customer Care Representative will call you or send you an email to obtain the details. We require that at least one full carton of product is shipped to each location. Freight will be billed individually for each shipment on your final invoice and a handling charge of $10.00 for each additional location may be added.
Truckload Shipping
In some cases where product is extremely heavy, another common carrier may be used.
Shipping to Post Office or APO Boxes
We can ship to most locations in the US and abroad although individual carriers have restrictions regarding PO and APO boxes.
International Shipments
Product prices displayed online do not include duties, taxes, or broker fees. These fees will be prepaid and added to your invoice (free domicile) provided we are shipping your order and billing you for the freight. You will be billed for these fees on your original invoice, if possible. If not, you will receive notification on your original invoice that charges will follow, and they will be billed. Export documents will reflect customer purchase price and will be provided.
If you wish to specify a carrier and account number for an international shipment, you will be responsible for customs clearance and ultimate delivery of shipment, as well as for duties, taxes, and broker fees. You must provide broker name, address, and phone number with your order.
If you are shipping to Canada under your carrier account number and you are not shipping under your NRI# (Non-residential importer number), Canadian Customs has the right to contact the receiving party to request payment of duties and taxes prior to clearance.
Special Shipping Instructions
Additional charges and lead-time may apply for special handling such as palletizing, using custom mailing labels, and special packaging requirements. Please call for lead times. Any labels or packaging must be sent to us prior to production and reference your purchase order number, company name, contact name and phone number.
Shipping Weights
Weights displayed online are approximations based on ground shipping. Shipping weights for items packed in oversized boxes may vary greatly from actual shipping weight. Variances may occur from product density, packaging, and dimensional shipping weight. Dimensional weight qualifying shipments will be billed accordingly. ePromos is not responsible for differences in final freight charges versus quoted estimates.
Overrun & Underruns
We reserve the right to ship +/- 5% of the quantity ordered.  We do not bill you for any overruns that may be produced on your order. You will be billed for the exact quantity of your order or any underruns.
Specify on your PO if exact quantities are needed and we will work with the factory producing the order to do our very best to meet your quantity target, but they cannot be guaranteed.
Returns & Exchange Policy
Requests for returns or exchanges will only be considered if the product in question will be returned in its entirety (exact quantity of product returned) and unused within 30 days of receipt. All shipping costs to return the merchandise will be the responsibility of ePromos. If the order is not shipped back in its entirety when returned, is damaged, or used in any way, the customer will only receive an internal credit for pieces returned.
The following restrictions apply to Returns and Exchanges.
Due to health and safety concerns, Personal Protection Equipment (PPE) products cannot be returned. This includes disinfectant spray, masks, sanitizer, and sanitizing wipes.
If the reason for the return or exchange is due to an error on our part, we will refund or exchange 100% of your order.
All shipping costs to return the merchandise will be the responsibility of ePromos. If the order is not shipped back in its entirety, is damaged, or used in any way, the customer will only receive an internal credit for pieces returned.
Contact your Customer Care Representative to review and to request your return authorization number.
If the reason for the return or exchange is not due to our fault, we will try to accommodate you in the best way possible. If we can accommodate your request, please note that all shipping costs to return the merchandise are charged to the customer's account. Contact your Customer Care Representative to inquire about your specific situation.
About the Use of Trademarks on Our Site
Logos shown on products on our website appear only to illustrate the products we offer and the variety of ways in which they can be decorated. The use of logos that are trademarks or copyrighted work of other companies are never intended to suggest that ePromos owns the rights to those trademarks, or would make those products featuring the trademarked logos of others available to any purchaser without the permission of the trademarked or copyrighted art or copy.
Additionally, the contents of the ePromos web site, including, but not limited to, the arrangement and assembly, text, graphics, logos, button icons, images, audio clips and software, are copyrighted materials owned by ePromos. You may use our web site and its contents as a shopping resource for non-commercial use only.
About the Customer's Right to Use Trademarks
Any customer ordering custom-imprinted merchandise from ePromos represents and warrants to ePromos that he or she has the unrestricted right and authority to use, copy and distribute each copyright, trademark, service mark, trade name, logo, statement, portrait, graphic, artwork, photograph, picture or illustration of any person or any other intellectual property in the way it is applied to promotional merchandise. Purchase of merchandise from ePromos in no way, shape or form grants a customer permission to reproduce logos, nor does it transfer, grant, or lease ownership of any logos or trademarks to a customer.
To use any logo a customer MUST have written permission from the registered owner of the logo or trademark or be an authorized agent or affiliate of the registered owner of the logo. A customer may NOT use any logo in a manner that may infringe copyright laws. A customer also may NOT use any logo in a vulgar, illegal, and/or unlawful manner. ePromos assumes no responsibility for damages or any wrongdoing that the purchaser may cause using a logo. ePromos shall not be held liable for the unauthorized, improper, or illegal use of any logo or trademark that is applied to promotional merchandise purchased through ePromos. ePromos will also not accept responsibility or liability for the actions of clients who have misrepresented their ownership of licenses or trademarks. ePromos will reserve the right to refuse orders from any customer who has violated or otherwise infringed upon the intellectual rights of others.
ePromos will not accept responsibility for claims of infringement arising out of ePromos' manufacture or sale of any custom merchandise (i.e., merchandise not currently in ePromos' catalogue) the design, appearance, functionality, or specifications of which are requested by the Customer.
Privacy Policy
Our customers are at the core of everything we do at ePromos and we incorporate data protection practices into our business processes to ensure we continue to deliver the best services to our customers.
General Policies: We collect and process customer information when you visit our website and place orders as part of our standard business process. We treat your personal information with the highest level of care and attention. We train employees on how to protect information, and regularly review how we collect and process that information to provide the best service while maintaining privacy and protection for our customers.
European Data Protection: Our internal data protection policies are reviewed and updated to align with applicable legislation and integrated into our business functions, allowing us to process personal data safely and in accordance with our policies and applicable law.
Privacy Policy and Rights: We maintain and utilize a privacy policy to provide transparency in our processing activities and convey the relevant information to our customers and website visitors. You can find more information on our privacy practices by clicking on the link provided here: https://www.epromos.com/support/privacy-security/
For California Residents – CCPA "Do Not Sell or Share My Personal Information"
ePromos does not sell personal information for monetary consideration, however, we may share certain personal information with third parties under circumstances which might be deemed a "sale" under the California Consumer Privacy Act. You may request that we exclude your personal information from such sharing arrangements by contacting your Sales Representative. Please allow up to 45 business days for you opt out request to be processed in accordance with California's CCPA law.
Accessibility
ePromos is committed to ensuring our website is accessible to users of all abilities. We adhere to the Web Content Accessibility Guidelines (WCAG) and are always working to keep up with the latest standards.