Welcome Back to the Office Kits for Employees
Welcome back gifts show your employees that you care. Learn about the types of gifts available to motivate your employees when they return from a leave of absence or when they're starting a new year.
10 Gift Ideas for a Welcome Back Kit
Here are 10 gift ideas for co-workers that you can use to welcome them back to the office:
1. Water Bottles
Staying hydrated throughout the day is much easier when you have your own water bottle. Water bottles with your company logo make good welcome-back gifts because they:
Are convenient: Employees can save money on drinks if they carry their own water. They can refill their bottles at a drinking fountain or at home, which is much easier than going to a vending machine or stopping at a store for another bottle of water.
Promote a healthy culture: Encouraging your employees to carry water bottles promotes their health and wellness. Drinking water throughout the day is a positive habit for busy workers.
2. Umbrellas
It's common to forget an umbrella on a long commute. Your employees will appreciate promotional umbrellas with quality features because they are:
Helpful during inclement weather: When a sudden downpour starts, your employees will be pleased you gave them umbrellas.
Practical: This gift comes in handy, especially if your company is in a region that gets a lot of rainfall.
3. Laptop Bags and Cases
If your employees bring their electronics to work, you can give them cases to protect their devices. Custom laptop bags and electronics cases are a good way to welcome your employees back to the office because they:
Provide protection: Your employees can keep their valuable investments safe from moisture, spills and falling objects with protective carrying cases.
Are high quality: Even if your employee already has a slim laptop carrying case, all of the available promotional bags are high in quality.
4. Jackets
Company jackets have many benefits as a gift for your employees. Jackets with company labeling make excellent welcome-back gifts because they:
Promote belonging: When you give jackets or other promotional apparel with company branding to your employees, you create an accepting environment and bring the team together.
Make employees feel valued: Employees are sure to appreciate a quality jacket and will understand that you value their contributions.
5. Lunch Meeting Gift Sets
If your company has frequent lunch meetings, this gift set is sure to impress returning employees. This lunch meeting gift set includes a cooler, tumbler and notebook customized with your company logo. This set is great for an employee gift set because it is:
Luxurious: This gift set is a luxury your employees will appreciate right away.
Comforting: Having items to bring to a lunch meeting can help your co-workers feel at home.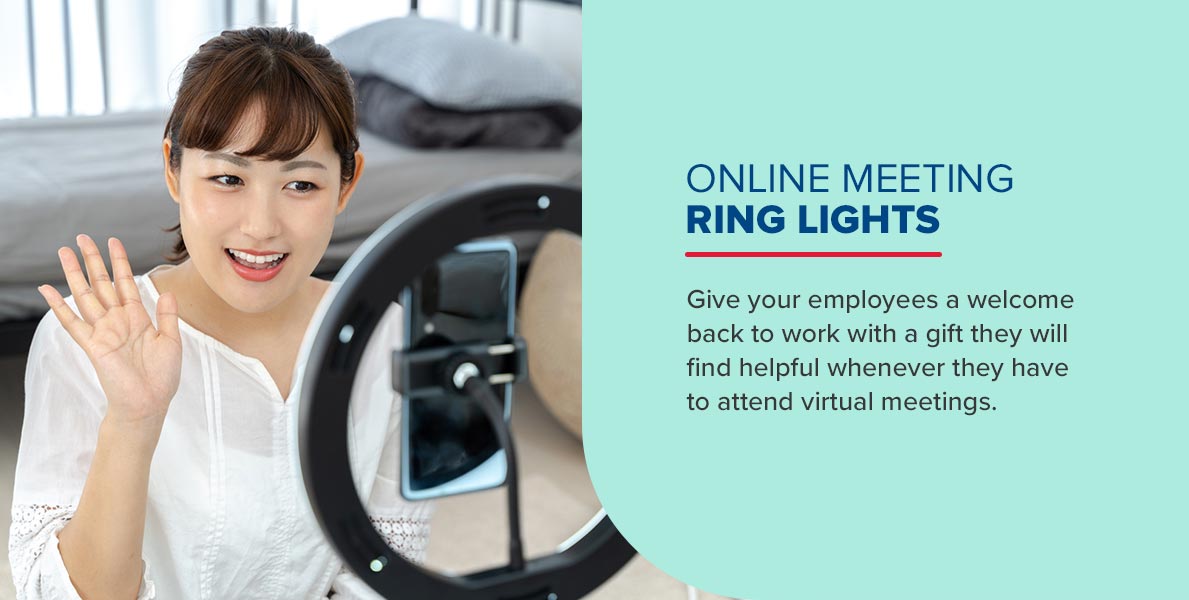 6. Online Meeting Ring Lights
Give your employees a welcome back to work with a gift they will find helpful whenever they have to attend virtual meetings. These online meeting ring lights work using a clip that recipients can attach to their phones. They can also select the light setting that works the best, allowing for optimal visual settings during the next Zoom meeting or sales call. Rings lights are good gifts because they:
Are fun and unique: A ring light is an unusual item that employees will find amusing.
Help make meetings easier: Your employees will realize how useful a ring light is the first time they try it.
Have multiple uses: Ring lights are good for work meetings, but they can also help improve the quality of photos taken on a phone. They are portable and lightweight, so they are easy to carry around.
7. Webcam Covers
Webcam covers keep employees comfortable while they work. Giving you employees webcam and cellphone camera covers when they return to the office can:
Address safety concerns: These items keep your webcams operational only when it's time for meetings and hide your employees from view at all other times.
Be fun: Available webcam covers include colorful and creative style options, showcasing this item's practical value and unique appearance.
8. Screen Cleaners
Screen cleaners are useful for ensuring everyone's technology is clean and free of smudges. Promotional screen cleaners for phones, computers and laptops make good welcome back to work gifts because they:
Are practical: These items are helpful tools everyone occasionally needs to use. Without a screen cleaner, computer and phone screens gradually become less sanitary.
Have several unique options: Many screen cleaner products come with a second function. Some are also stylus pens, and others double as webcam covers. You can choose the best multi-tasking product for your office.
9. Flash Drives
Flash drives are essential tools for many working professionals and are easy to identify when they have the company logo. Flash drives with unique features are good office gifts for employees because they:
Are useful: Flash drives are a useful item for the office and at home. Even your co-workers who prefer to use online document storage systems can benefit from having a flash drive, which can store all kinds of files.
Last a long time: A flash drive has a long life span, so it can store important documents safely for long periods.
10. Chargers and Car Adapters
Keeping devices charged and ready to use is critical in modern society. Your employees will appreciate promotional custom chargers with unique characteristics because they:
Offer convenience: It's easy to forget a charger at home, so having an extra at the office comes in handy. Your co-worker will be relieved you gave them a charger as soon as they realize they need one. Car chargers offer additional convenience. Being able to charge their devices in their vehicles means your co-workers will always stay connected.
Promote higher efficiency: Running out of charge is stressful and puts your co-workers at risk of missing meetings or important phone calls. A gift that allows them to stay plugged in will promote the highest efficiency possible.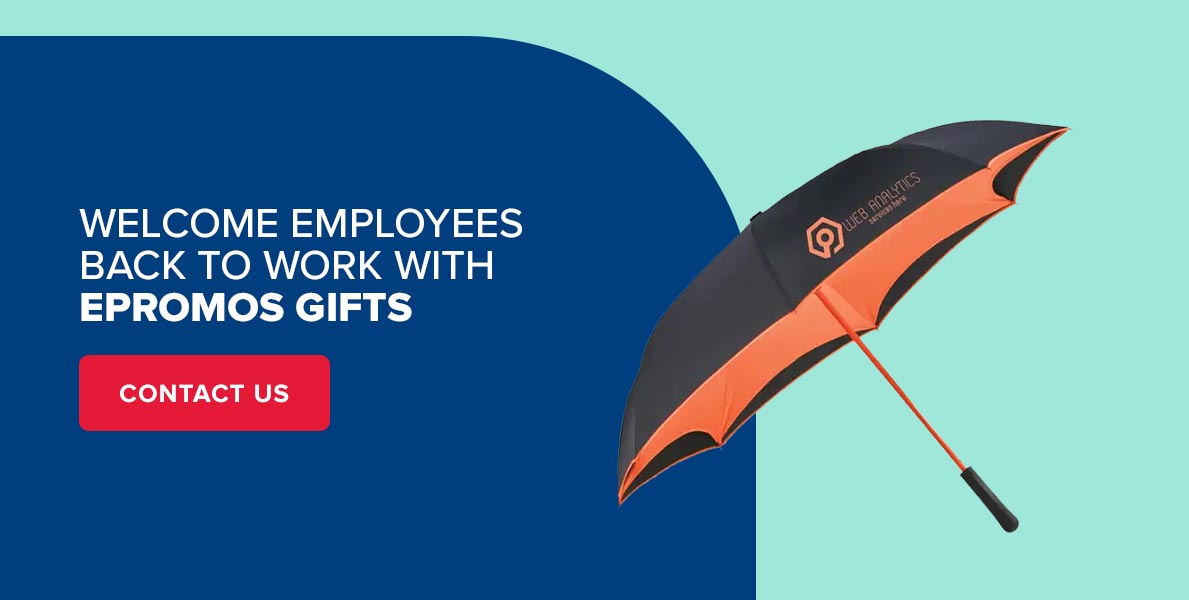 Welcome Employees Back to Work With ePromos Gifts
ePromos carries all of these gifts and many more. Browse our selection of gifts for your welcome-back kits. If you have questions about a product or the ordering process, call us at 877-377-6667 to speak with an expert or request more information.