With the holidays right around the corner, it's time to start thinking about gift ideas for everyone on your "nice list." Corporate promotional gifts offer extensive benefits for your business, your employees, and your customers. Thoughtfully selected items will go a long way in showing the people who fuel your business that you care and are thinking about them this holiday season. If you're unsure about your corporate or holiday promotional gifts this year you'll find the ePromos Holiday Gift Guide very helpful with its well curated selection of promotional bags, totes and even knit hats. But, before we get into our 2021 Holiday Gift Guide, let's look at some of the benefits and uses for holiday gifts this season.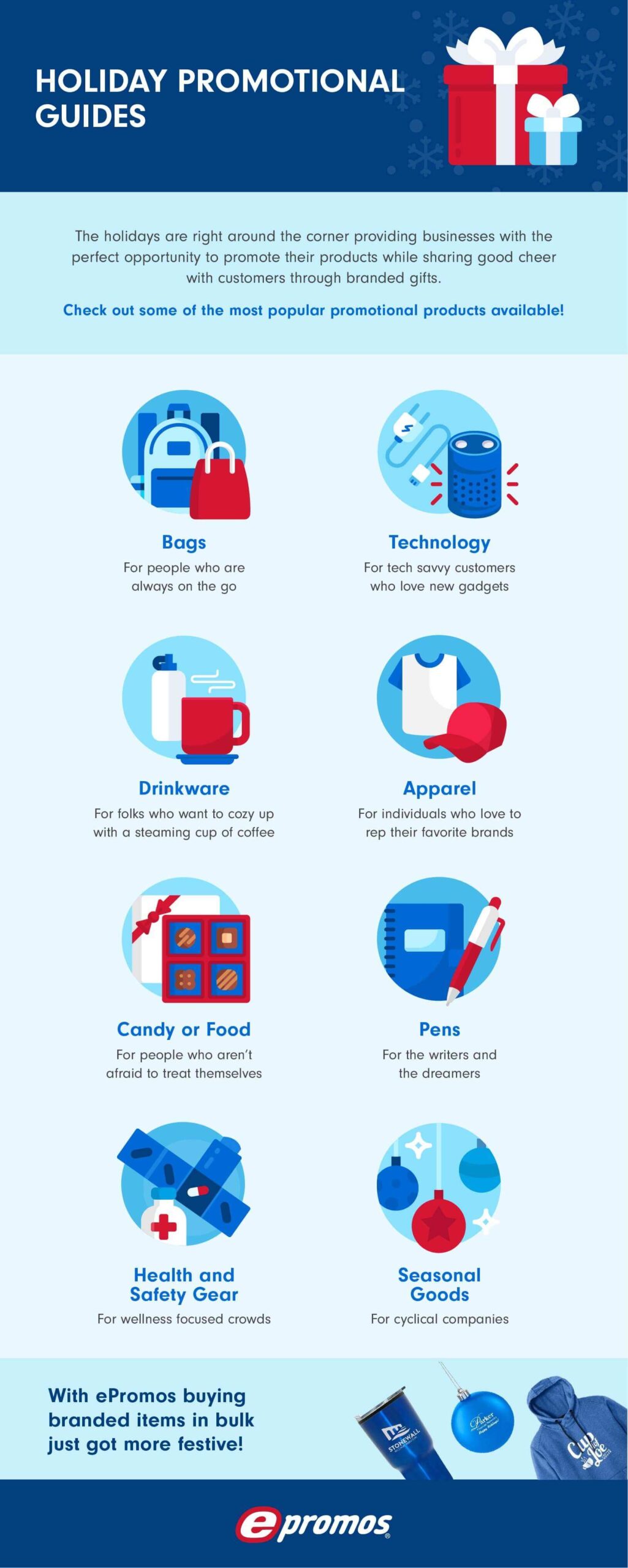 Importance of Branded Holiday Gifts
Your customers and employees fuel your business' success. What better way to show you care and are thinking about them this holiday season than with stunning promotional items and products? Demonstrating your appreciation to clients and employees through branded holiday gifts is an excellent way to express how much they mean to you. There are many benefits to giving your clients and employees holiday promotional gifts.
Showing Your Appreciation to Employees
Prove how much you care with this season's top corporate promotional gifts. Choosing the perfect branded holiday employee gifts can drive your business' success in several ways.
Improve Morale
One of the foremost reasons to give your employees holiday gifts is to boost their morale. Giving them matching T-shirts, pens, mugs, or other gear with your company logo will foster a sense of belonging and teamwork. Improve job satisfaction and make your employees feel appreciated with a thoughtful holiday gift from ePromos.
Increase Productivity
When employees feel valued, they're sure to go the extra mile for you and your business. Gifting them with a thoughtful, helpful present from our extensive holiday gift catalog will not only make your team members feel more valued but can also increase their productivity. A heartfelt, branded holiday gift that's simultaneously memorable and useful for your employees can go a long way to say thank you during this time of year. The perfect gift will surely make them feel like they're part of the family and encourage them to give 110% to everything they do.
Establish a Corporate Culture
You've worked hard to build your brand and increase awareness among your target market, clients, and customers, but a branded company gift from ePromos is an ideal way to create a corporate culture of giving. When you give employees practical holiday gifts, you're emphasizing values such as gratitude and thoughtfulness. If you integrate high standards and integrity into your mission statement, your team members will adopt those characteristics as part of the company's unique value proposition.
Provide Useful Items and Products
Holiday employee gifts from ePromos are also an excellent opportunity to provide your team with useful products to make their lives easier. Boost their performance with useful products from the ePromos catalog, such as our branded outerwear to keep them warm and dry all winter. They'll think of you every time they bundle up to go outdoors. Or custom tumblers and travel mugs make the perfect accessory for any on-the-go lifestyle.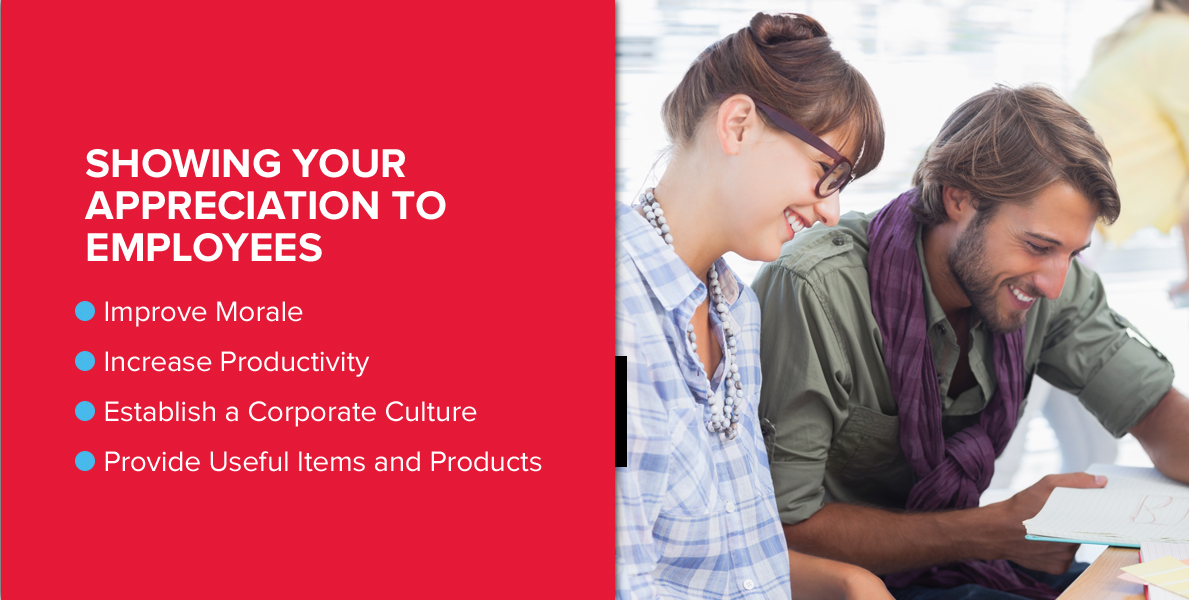 Showing Your Appreciation to Customers
Customers and clients fuel your business' success, and the holidays are the perfect time to show them how much they mean to you. That's why it's vital to convey your gratitude with branded holiday gifts from ePromos. Our holiday promotional gifts make the perfect token of appreciation for your customers and can help drive your business' continued growth for several reasons.
Increase Brand Awareness and Visibility
Branded holiday gifts from ePromos are a visual reminder of the brand you have worked so diligently to build. Give your clients and customers corporate promotional gifts that will elevate your company above the competition. Branded gifts that include your business' name, website and logo will make your customers think of you every time they see your gift. That doesn't mean you have to smother your 2021 holiday gift with your logo and business name. Ensure your corporate branding is subtle enough to make your gift seem sincere, but prominent enough to keep your brand top of mind all year long.
Demonstrate Your Creativity
Holiday promotional gifts for your customers play a role in more ways than increasing brand awareness. Custom-designed holiday gifts from ePromos offer you a way to demonstrate your creativity to existing or potential clients and customers. If you do your research to learn what gifts will benefit your customers most, you can use this opportunity to fill a need and demonstrate your thoughtfulness at the same time.
Strengthen Relationships
When your customers receive an unexpected gift from your business, they immediately think of you. Reinforce relationships with existing customers by letting them know how much you care about them. When they have a future need you can fill, they'll be more likely to call you first.
Incentivize Business and Orders
Do you have customers who haven't done business with you in a while? A thoughtful holiday gift is a perfect way to reach out and remind them why they did business with you to begin with. Your clients and customers are busy, just like you, so they may forget about your company when placing their orders or choosing business partners. Be sure they know you're still ready to meet their needs at a moment's notice and look forward to hearing from them with a quality branded holiday gift from ePromos.
What to Consider When Giving Corporate Gifts
Selecting high-quality presents for customers or employees isn't always an exact science. When making this season's holiday promotional gift choices, think about the following to give the best gift possible.
Your Budget
You want to give the best corporate promotional gift possible without breaking the bank. Take your company's gift budget into consideration before you start ordering and shopping. At ePromos, our branded holiday gift options are affordable and stylish!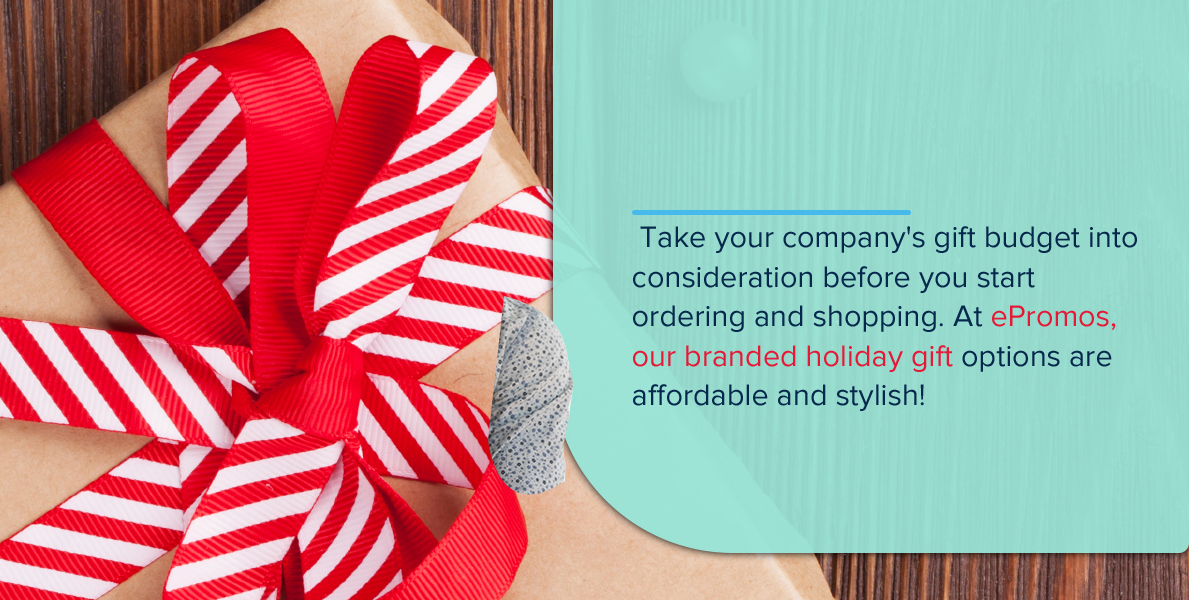 Your Relationship
When you're choosing the perfect branded holiday gift, be sure to think about the relationship you have with your clients and employees before making your selections. For example, you may want to give a more personalized business gift to a client who has been with you for several years and has contributed significantly to your company's success. However, when you're giving holiday employee gifts, you should try not to show any favoritism and keep your gifts the same across the board. You don't want to offend anyone or hurt feelings over a holiday gift choice.
How You Will Give Your Gifts
Are you giving your gifts in person or shipping them out to your employees and customers? Are you wrapping them, attaching a thoughtful note, or surprising them with their gift? Considering how you will give your gifts plays a central role in the type of holiday gift you'll choose this season. These are only a few considerations to make when shopping for your holiday promotional gifts this season. Be sure to maximize your holiday shopping with ePromos. Our trained and professional staff members are here to answer any questions you might have when choosing ideal gifts for the special people who make your business what it is.
Uses for Holiday Gifts
There are many different uses for holiday promotional gifts. Take a look at these creative ways to use holiday gifts for your employees and customers. Promote your business and show your customers and employees you care!
Handing Them Out
One of the best ways to use holiday gifts from ePromos is to pass them out at trade shows or expos. When you offer potential customers or clients a thoughtful and cheerful holiday gift, they're sure to remember your business. Take advantage of an opportunity to expand your branding efforts and increase your products' or services' visibility by handing out free gifts at trade shows, expos or as part of an order or purchase.
Holiday Gifts for Parties
Holiday office parties are back in full swing this year as we begin to come out of the pandemic. A memorable way to use holiday gifts is to hand them out at parties or holiday celebrations. Ensure you're ordering enough items to provide something for everyone who attends your corporate holiday party. Unsure about how many items you'll need? Our trained professional staff is standing by ready to help with all your ePromo orders!
Holiday Office Competitions
ePromos branded holiday gifts make the perfect choice for holiday office competitions. One idea is to offer various items and products as part of a holiday office competition. For example, December's top-performing sales team wins a specific reward, with the next highest team earning a different item and so on. Another way is to hold a raffle with different prize tiers. There's no wrong way to get creative with your holiday employee gifts from ePromos.
Saying Thank You
Show your customers and employees how much their dedication to your business means to you with personalized business gifts from ePromos. Say thank you for your business or a job well done over the past year with a thoughtful holiday gift. The holiday season provides an excellent opportunity to close out the year on a positive note.
Reaching Out to a Client or Customer
Use holiday gifts to reach out to existing or potential clients or customers during the holiday season. Let them know you're excited to have a relationship with them, while demonstrating your excitement to work with them in the year ahead. These are only a few ideas for using holiday promotional gifts from ePromos to build your business and enhance your relationships with existing customers and valuable employees.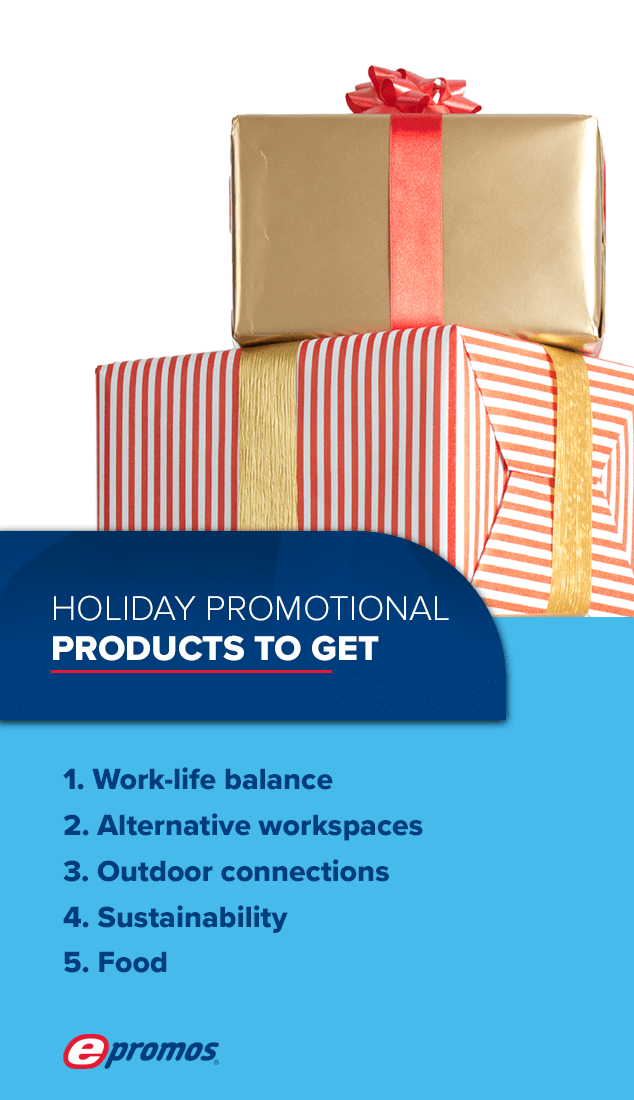 Holiday Promotional Products to Get
It's never too early to start thinking about your holiday promotional products. Show your employees and customers alike how much they mean to your business with a range of branded promotional products from ePromos. Our seasonal products make the perfect corporate promotional gift idea for your clients and employees. Some of our favorite promotional products to consider for the holiday season include those that follow this year's top gifting trends.
Work-life balance: Investing in corporate health and well-being can boost your team's morale and demonstrate your commitment to fostering a positive reputation as an employer. Any recipient will love getting a custom gourmet gift set or baker's kit for whipping up delightful desserts.
Alternative workspaces: The emergence of the COVID-19 pandemic forced many people to find new, creative ways to work from anywhere. Support your work-from-home culture with a home office kit or custom portable video light to brighten up any remote meeting.
Outdoor connections: Being in nature benefits our mental health in multiple ways. Bring the outdoors in with this cute, trendy branded ceramic planter set, or keep your gift recipients warm and stylish all winter with cozy fleece accessories adorned with your logo.
Sustainability: Finding ways to be eco-friendly supports overall community well-being and can also bring your company economic benefits. Encourage your giftees to shrink their carbon footprint with reusable custom produce bags or our recycled leather-bound journal.
Food: Tasty treats are a gift option that never goes out of style, whether you choose custom chocolates or a pizza party gift set.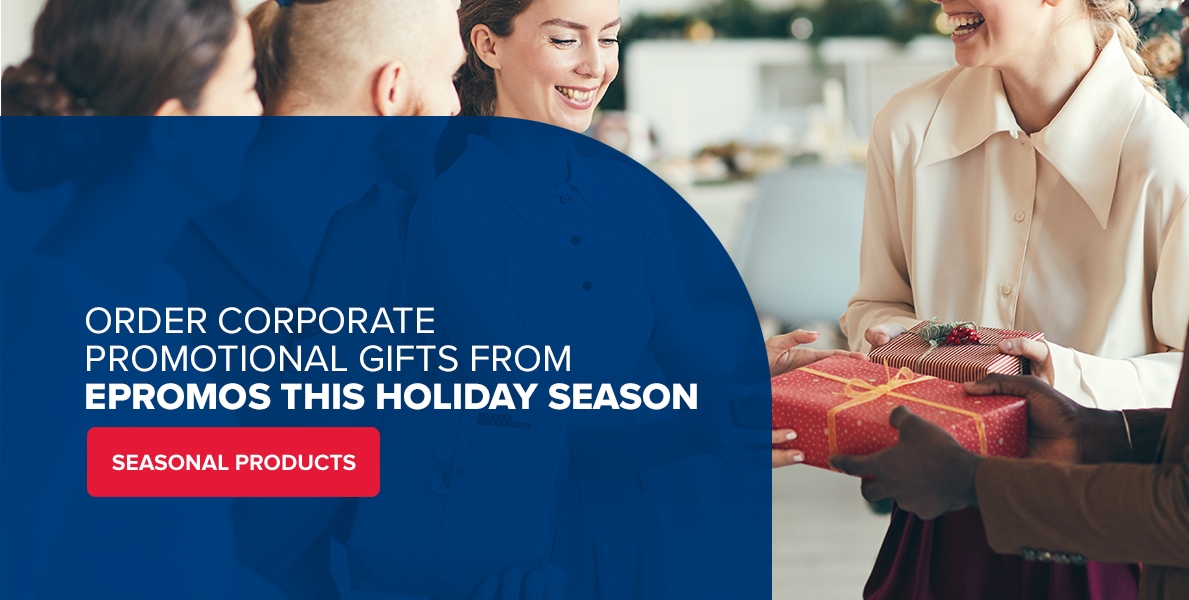 Order Corporate Promotional Gifts From ePromos This Holiday Season
The holidays are an exciting and joy-filled time of year. Make this holiday season the most memorable one yet with branded holiday gifts from ePromos. At ePromos, we make the ordering process easy and affordable with our guarantee! Don't trust your corporate promotional gifts to any online retailer. Shop with ePromos for top-notch customer service from a proven promotional branding expert. At ePromos, we want you to be a customer for life so we prioritize providing you with the best online and promotional product shopping experience. We guarantee order accuracy, from imprinting your items with the correct information and logo to packing and shipping them directly to your address. Our seasonal products offer something for everyone who is involved with making your business a success. From employees to customers, ePromos has a wide selection of products and accessories to meet all your branded holiday gift needs. Want to learn more about our outstanding products and service? Contact us today. Get your holiday gift orders started early with the trusted professionals at ePromos.