For many companies, giving out small promotional products with corporate branding on them is part of their overall marketing efforts. But when it comes time to say thanks and offer a small token of gratitude to your clients and employees, budget and travel gifts can go a long way. The next time you feel stumped for gift ideas or are wondering if it is necessary to snag a little something for the people who keep your business running, consider the following ideas of what to get and the benefits of gift-giving. Keep reading to learn everything you need to know about budget and travel gifts plus where to find the best items.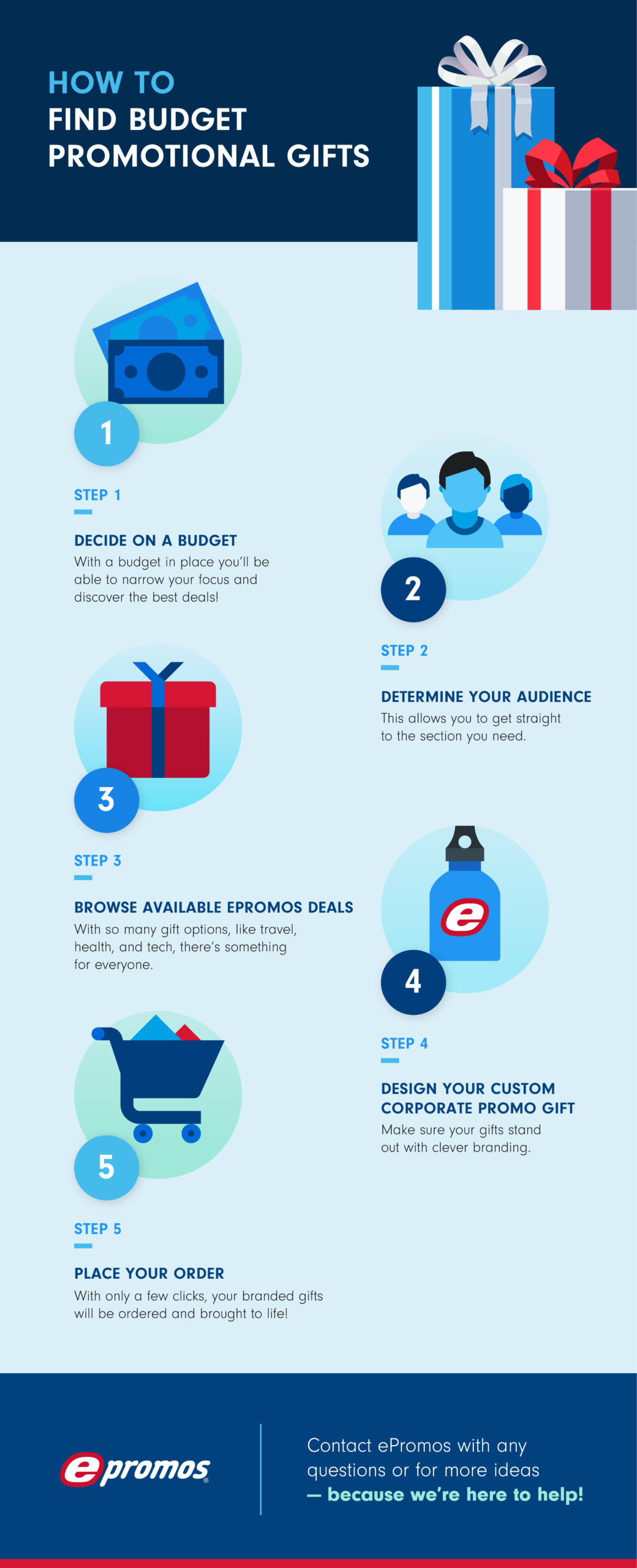 The Impacts of Having Small Budget Promotional Gifts for Your Business
Businesses have a lot to gain from having promotional gifts. Corporate promotional gifts are a great way to help your business relate to customers and employees. Did you know that 82 percent of people who received a promotional product felt more favorable towards the brand that gifted them the item? This means doing something as simple as giving your employees a small gift could help influence a better outlook on your business. And since 83 percent of people who received a promotional gift were more likely to do business with the brand, giving small gifts to your clients can shape how they see your brand. There are tons of additional benefits and impacts of having budget promotional gifts for your business, such as the following:
Appreciation: When you want to make your team or a customer feel especially appreciated, a small gift can remind them that you value their work and efforts.
Acknowledgment: If your employees have worked extra hard on a big project or put in extra hours to meet a deadline, give them a promotional gift to recognize their effort. This kind of acknowledgment communicates that their work is important and valuable.
Celebration: When a client or team member meets a major goal or milestone, celebrating with a small gift can make them feel accomplished and given the recognition they deserve.
Promotional gifts are a great way of supporting and giving back to your customers and employees. When choosing which items to give, consider their usefulness. You want to give the people most important to your business something they can use repeatedly. Did you know that 53 percent of people use promotional items at least once a week? This means a small gift can go a long way and have a lasting impact. Giving gifts to clients and employees can leave a meaningful impact beyond the moment they receive them. In one survey, 75 percent of employees noted a boost in morale when they were given holiday gifts from the company. Your small-budget gift has the capability of boosting positivity and making your team feel recognized and valued. When businesses give back to their employees and customers, they end up getting way more than they paid for.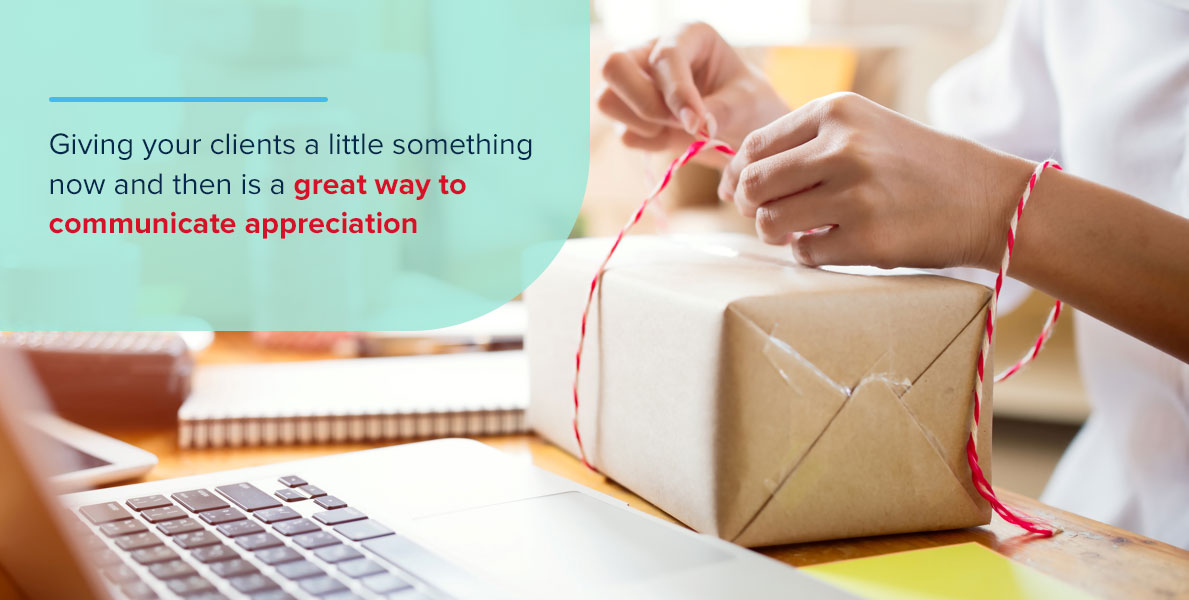 When to Use Small Promotional Gifts for Your Clients
Corporate promotional items make for wonderful customer appreciation gifts. Giving your clients a little something now and then is a great way to communicate appreciation. For corporate businesses, it is in good taste to give your clients a gift at least once a year. Part of building and nurturing relationships with clients is acknowledging them when it matters most. We have compiled a list of appropriate times to give clients gifts throughout the year.
Holidays
While not everyone celebrates the same holidays, the end of the year is a great time for gift-giving. You do not need to break the bank to give your clients something to say thank you for a wonderful year. Budget promotional gifts will allow you to give clients something that reminds them of you and your work together while hopefully reminding them they want to keep doing business with you throughout the coming year.
Accomplishing Something Big
When a client lands a major deal or completes a big project, giving them a gift is a great way of saying congratulations. It shows your business recognizes your clients' accomplishments and cares about their success. It does not have to be large and expensive. A budget promotional gift that is both useful and relevant will do!
Launching a New Product
When a client launches a new product, initiative, or service, giving them a gift to celebrate their new endeavor is a thoughtful way of offering your well-wishes. It shows you are up to date with their business matters and recognize the hard work that goes into starting something new. When a new launch comes around, consider gifts that can be especially useful.
Hitting Milestones
When a client hits a milestone, it can be a great gesture to gift them with something small. Whether it is a business-related anniversary, or they reached a monetary goal, celebrating with them is a thoughtful way of supporting their efforts and work.
Thank-Yous
When it comes time to say thank you to a client, it is best to do it with a gift of appreciation. Thank-you gifts should be thoughtful but can be small and budget-friendly. Offering these types of presents will set you apart from competitors and give your client the sense that you are friendly, considerate, and enjoy working with them.
When to Use Small Promotional Gifts for Employees
When it comes time to offer your employees a token of appreciation, small promotional gifts can be a great tool. The best times to give gifts to employees are slightly different than client gift-giving. The gifts you choose may be more suitable for the jobs they have. It is a nice gesture to find gifts that coincide with the nature of your business's industry that your employees can use for a long time.
Holidays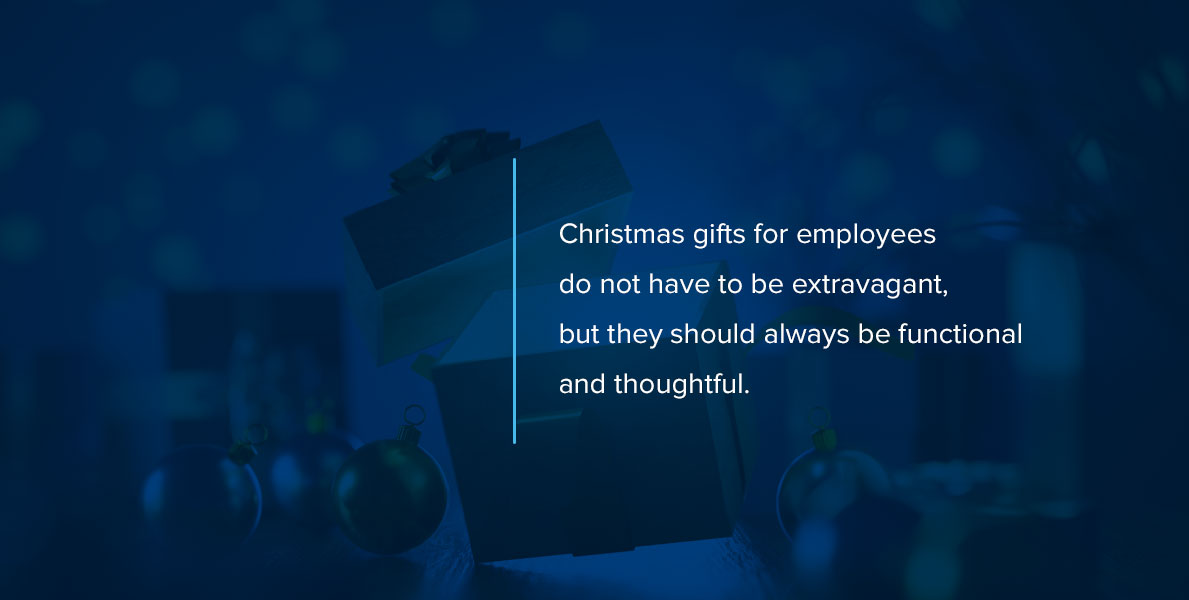 Having holiday gifts for your employees is a special way of giving back to the people who work hard for your business. It is a reminder you care and have appreciated the work they have completed this year. Christmas gifts for employees do not have to be extravagant, but they should always be functional and thoughtful.
Work Anniversaries
One of the best times to celebrate with an employee is during a work anniversary because it symbolizes both loyalty and dedication from the individual. Giving small promotional gifts on work anniversaries is an easy way of commemorating the time they have spent working for your business. Plus, 59 percent of employees have a more positive outlook on their workplace after receiving branded promotional gifts.
Accomplishments
When an employee accomplishes something important, give them recognition with a small gift. By acknowledging hard work and achievements, your team is more likely to do better work. Did you know 91 percent of human resources professionals believe giving employees the recognition they deserve will keep them at their job for longer? Do not miss out on an opportunity to recognize employee accomplishments!
Birthdays
Budget employee gifts make for awesome birthday presents. Giving birthday gifts to your team members will not only make them feel special but will also help you connect personally to your employees. It can be a small, inexpensive promotional gift. Consider useful gifts that will make them feel celebrated and seen by the company. Simple gifts like drinkware or candy will work!
Thank-Yous
Much like saying thank you to your clients, saying thank you to your team is important. A small thank-you goes a long way. For those times when your team goes above and beyond to meet a deadline or make something happen, a thank-you gift can be the perfect way to acknowledge their performance and help. Plus, offering a small incentive will motivate your team to keep up the great work.
The Lasting Impressions of Budget Marketing Items
Small promotional items are wonderful not only for gift-giving, but they also make for an effective yet budget-friendly marketing tool! Whether it is a t-shirt, mug, or umbrella, having promotional products can function as a moving billboard for your business. In fact, in the 2020 Global Ad Impressions Study, promotional products were noted as being the most highly regarded form of advertising over television and the internet. Advertising and marketing can be costly for a business. Luckily, promotional items are a budget-friendly form of marketing that is highly effective and can lead to excellent results.
Building Brand Recognition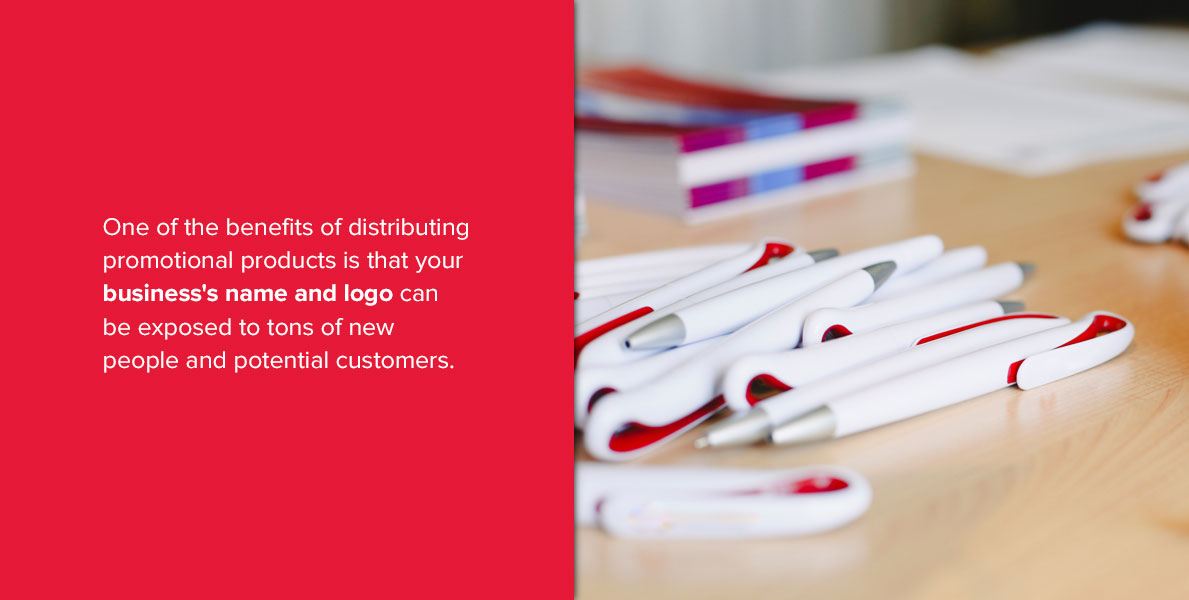 One of the benefits of distributing promotional products is that your business's name and logo can be exposed to tons of new people and potential customers. When someone wears a company's branded t-shirt or carries around a branded tumbler of coffee, they are walking ambassadors for that business. Did you know that 9 in 10 recipients of a marketing product can recall the branding on the item and 79 percent of people research the brand after getting a promotional product? This means promotional items are working overtime to boost your marketing efforts. The more useful a marketing item is, the longer it will stick around and do advertising work for you and your business!
Cultivating Customer Loyalty
Brands are always trying to reach new customers, but customer retention and loyalty are vital parts of any successful marketing plan. When a company makes an effort to give back to its customers and to say thank you with a small gesture like a promotional marketing item, customers will take notice. Distributing promotional items allows your customers to be repeatedly reminded of your business without any pushy or overbearing tactics. Plus, it costs a lot less to nurture existing relationships than it does to acquire new shoppers. It costs up to five times more to acquire new customers than to tend to existing ones.
Generating Leads
Budget marketing items are a great and cost-effective way of getting the attention of new customers. Promotional products can be used as incentives for new clients or returning ones that make a business referral. If your marketing items are functional and useful, then they will get more use and more people will interact with them! Promotional items can influence word-of-mouth advertising and have prospective customers asking about your brand.
Ideas for Budget Marketing Materials and Travel Gifts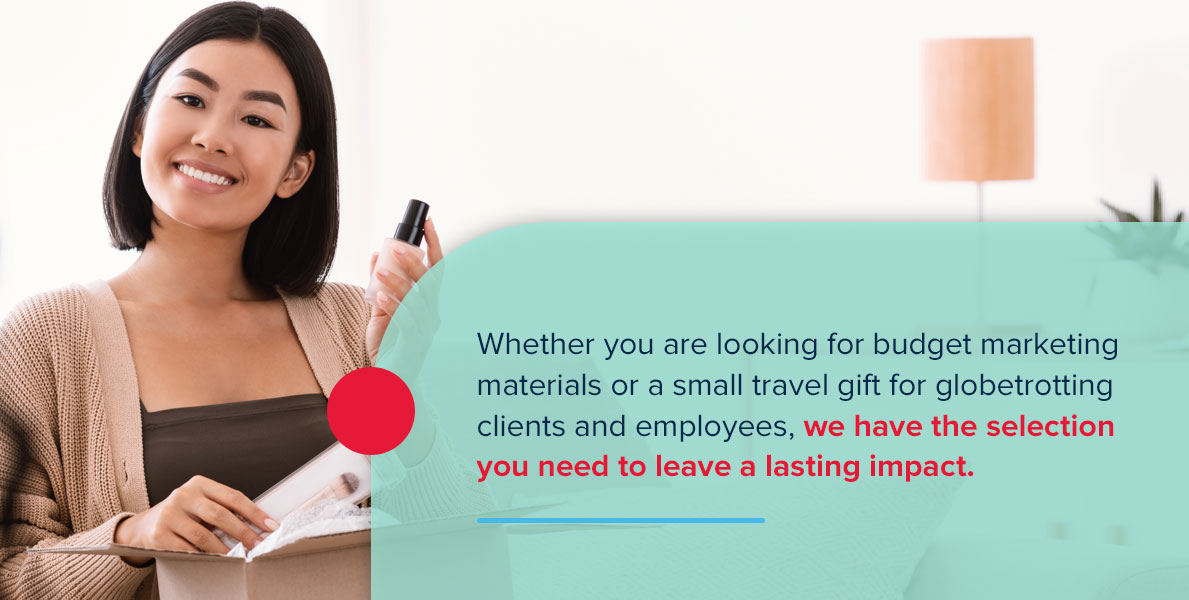 At ePromos, we have a wide range of products from apparel to tools to travel essentials. Whether you are looking for budget marketing materials or a small travel gift for globetrotting clients and employees, we have the selection you need to leave a lasting impact.
Four Ideas for Marketing Materials
Four Ideas for Travel Gifts
Find Your Business's Promotional Gifts from ePromos Sometimes the best way to say thank you is with a small gift. ePromos has everything you need plus a full suite of services to make the process of getting your products as easy as possible for you. With our 110 percent satisfaction guarantee, you can feel confident that you are getting the right items with the right imprint, on time or your order is on us. From travel accessories to drinkware, our extensive selection of products will make gift-giving simple this year. Shop ePromos to get every gift you need for your clients or employees today!