Welcome Kits for New Clients
What's the best way to welcome new clients? Try giving away a client welcome packet with free merchandise. A promotional gift serves double duty, making your clients feel appreciated while also serving as advertising for your company. Keep reading to find some easy welcome package ideas that your clients will surely appreciate!
7 Gift Ideas to Welcome New Clients
You can put just about any type of product in a welcome kit with the right partner. Whether you want to promote industry-specific products or items with a broad appeal, you have plenty of options for welcome gifts. Below are eight welcome kit ideas for your new clients.
1. Apparel
T-shirts, outerwear and fashion accessories like masks, scarves and gloves give your clients a fun introduction to your company. These items make good welcome gifts because they:
Have broad appeal: Everyone needs new clothes, which gives apparel a near-universal appeal.
Promote a positive experience: Giving your clients and valued customers a company-branded t-shirt will make them feel like they are part of something larger than themselves. Their appreciation for the gift can help establish a lasting business relationship.
Serve as marketing: When your clients wear your company logo in public, they serve as subtle advertising for your business. This bump in brand awareness can lead to an uptick of prospective clients who are interested in your message.
2. Headwear
With the many types of promotional hats and headwear available, bandanas and headbands with your company logo are some of the best for clients. These products make good promotional gifts because they:
Indicate a fitness culture: If your business is part of the fitness industry, giving away headbands sends a positive message.
Store easily: Smaller accessories like bandanas are easy to store in bulk, so you can keep a large number of them on hand.
Are one-size-fits-all: Unlike other clothing items, you can give away most headwear products needing to ask for your clients' sizing. You won't have to worry about reordering common sizes or not having the right size for a new client.
3. Bags
If your company wants to give away a product that most clients will regularly use, promotional bags are the way to go. Branded bags are valuable because they:
Provide a variety of options: You can choose from tote bags, drawstring bags, cooler bags and more. With so many types of promotional bags available, you can select the version your most common demographics will enjoy. For example, if your company is popular with people who enjoy the outdoors, you can give out a camping-friendly cooler bag. If you often cater to college students, a promotional backpack, sling bag or fanny pack may be a good option.
Have a practical use: Your clients can make good use of a quality promotional bag, whether for the gym, travel or extra storage.
Are high quality: Show your clients that your company provides value. People frequently view a bag as a higher-end gift, especially if you choose one that's sturdy, attractive and as multiple features..
Are easy to store: Most promotional bags can fold or roll up, making them easy to store. You can keep a large order of bags in your office or wherever you engage most with your clients. Space constraints are hardly an issue when you're giving away this type of product.
4. Pens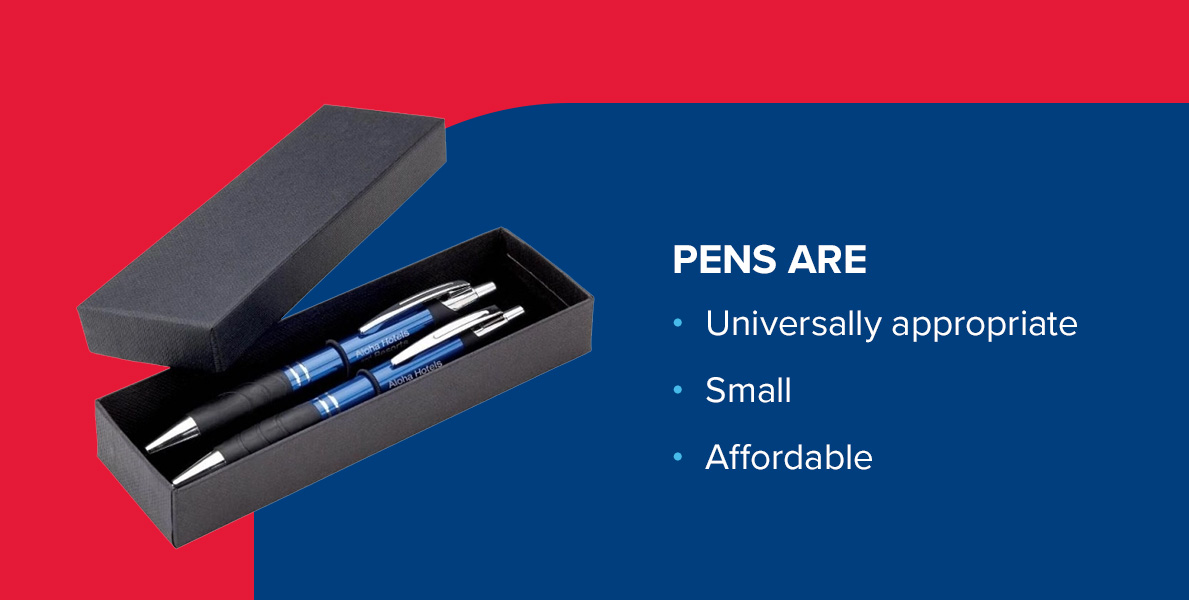 Promotional pens come in many fun options, including pen/stylus combos, full-color pens, novelty pens, highlighters and markers. Pens are a good option for gifts and giveaways because they:
Are universally appropriate: Everyone uses pens, making them fitting giveaways regardless of your industry.
Are small: Pens are easy to handle and store, so you can keep a large number on hand for giveaways or gifts for new clients.
Are affordable: Promotional pens are among the least expensive and most popular gifts you can order for your company. They work well as a gift item for companies with many clients or businesses that tend to get new clients in high numbers.
5. Office Accessories
Your clients will enjoy promotional office accessories such as folders, sticky notes and desk organizers just as much as your employees. While these items might work best for certain industries, they appeal to many clients, from students to working professionals. They can benefit your company as promotional products because they:
Are practical: Many people need sticky notes and other office supplies and will appreciate having this type of gift to use for their daily tasks.
Are easy to store: Most office accessories are easy to keep in stock, with desk organizers taking up the most room.
6. Electronics Accessories
Electronics and compatible accessories make the most sense as promotional gifts for some industries. You can order products for cellphones, webcams, computers and more for your clients to take home. This type of product can benefit your clients and your company's reputation because they:
Are desirable: Electronic accessories like headphones and chargers are in high demand by consumers. If your industry involves electronics in any capacity, these items are sure to be a hit with clients.
Are high quality: These items communicate a higher value than many promotional items. They offer a healthy balance between affordability and value and show your clients that you are serious about quality.
7. Water Bottles
Whether or not you work in an industry concerned with health and fitness, promotional water bottles make excellent welcome gifts. Clients tend to appreciate such a useful item regardless of your company's specialty. Water bottles are a good option for client welcome gifts because they:
Offer convenience: A personal water bottle helps your clients stay hydrated throughout their day, whether they have a long commute to work or enjoy going to the gym.
Provide advertising: When your clients take their water bottles with them on the go, others will see your company's logo.
Are practical: Water bottles are valuable items that most people will find good uses for. Even if someone rarely carries a water bottle outside their home, they may still use it around their kitchen.
Create Memorable Welcome Kits for Clients With ePromos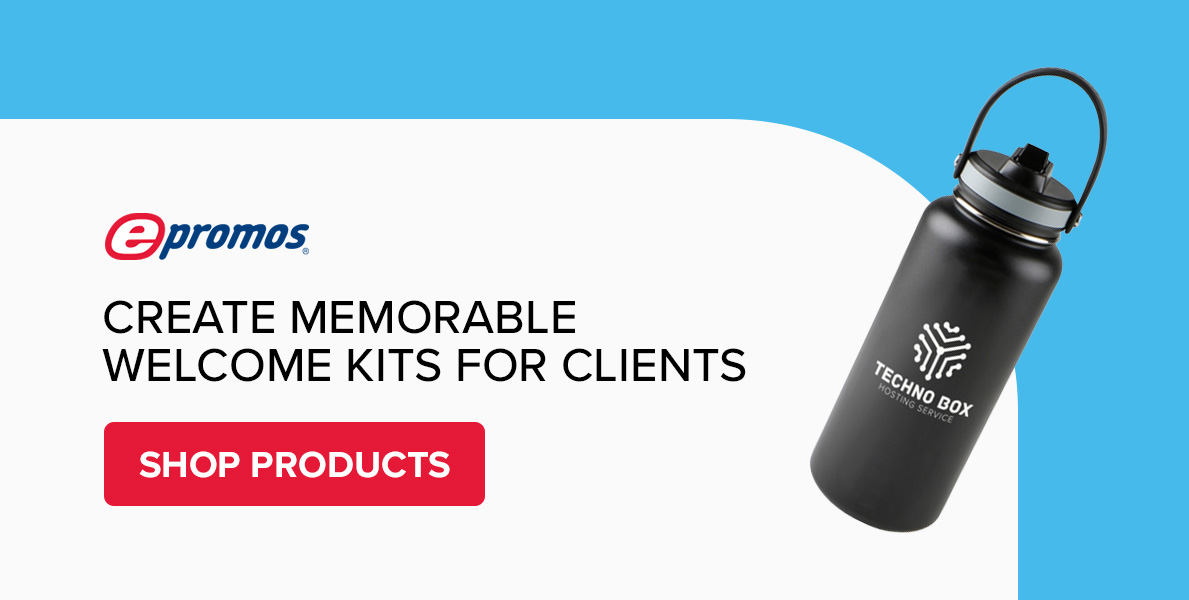 ePromos has all of the above customizable promotional gifts and so many more. Browse our selection of gifts for your welcome folders or kits, and contact us to learn more if you have questions about ordering.