This year has seen an unprecedented health and economic crisis wreak havoc all over the globe. At a time when many people are feeling disconnected and isolated, art and community have seldom been more important. Art can shift our perspective, open our minds, and provide an outlet or identity to keep us grounded during difficult times. In the conversations that art provokes, a deeper sense of community can thrive in its wake—even when we're secluded in our homes.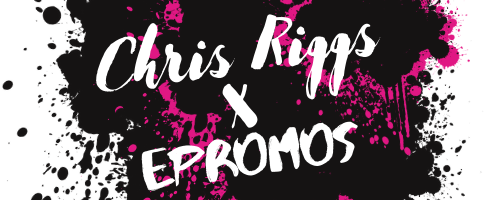 Recently, ePromos collaborated with a world-famous artist to create a stunning collection of art pieces with a very specific focus. We commissioned Chris Riggs for Mayor to create 16 original works in honor of Giving Tuesday Now, 2020.  The artwork was published on the Chris Riggs Gallery on Earth Day (April 22), with a portion of the proceeds going towards the Boys & Girls Club of America's COVID-19 relief fund.
Riggs is a New York City-based artist with extensive ties to the Miami area. He's known for his unique mix of styles—cubism, abstract, surrealism, minimalism, pop, and street art—and is considered one of the leading artists of his generation, with sculptures and paintings displayed in museums and galleries in over 50 countries. His work has recently been featured at Bloomingdales in NY, and he has a mural in the new CBS hit series, Tommy. He has recently collaborated with well-known brands such as Lululemon® and Moncler, and has a celebrity following with fans such as supermodel Adriana Lima, designer Steve Madden, actress and model Carolyn Murphy, celebrity manicurist Jin Soon Choi , singer Justin Bieber and others.
What was the Purpose of This Collaboration?
Our goal was to to introduce Chris to the $24 billion promotional products industry—specifically the plethora of products it encompasses, the fact that we are able to offer creative solutions to our clients and the different decorating methods that come into play. We believe there is an art to getting things just right for customers—things that people don't even consider, such as how to mix paint to get their brand's PMS color just right on variable objects that differ in material. Or the way the factories create machinery to make processes more efficient. Before the current pandemic began to spread across the globe, ePromos flew Chris to Tampa to tour Hit, one of the large factories we work with. Of all our vendors, they were chosen for this particular project not only because of our long-standing relationship but also because of their focus to reduce their environmental impact by offsetting carbon emissions on shipments leaving their facilities.
While there, we asked Chris to think about creating pieces exclusively from a combination of found objects and defective promo products that were destined to become trash. Our intention was to create a series of artworks that honored and celebrated Earth Day 2020 by directly implementing the classic "reduce, reuse, recycle" principles. This project fits in with our ePromos Cares Mission and there are many products that don't make it all the way through the process successfully—for example, when print doesn't align properly or it breaks in the process, or when a product doesn't pass the stringent quality control procedures.
Using items that for whatever reason weren't eligible to be recycled once they became defective, many people would see as "trash," instinctly Chris saw them as art.
Creating Sustainable Promo Art
The result? He took discarded promo items such as sunglasses, highlighters and pens and transformed them into complex, innovative works of art. His provocative work draws attention to the global dangers posed by the current climate crisis and the ways we can all do our part to think more critically about the products we use (and throw away) on a regular basis.
In Chris's artistic hands, an old guitar, a few pairs of sunglasses, and some paint became an astonishingly tactile, exuberant piece in a riot of joyful colors. Even the paint he used was recycled. "People get paint made and don't like the color, so then they don't want it.I mix that paint and make new colors," Riggs explained.
As Chris worked on these pieces at the same time COVID-19 began to spread to the U.S., we thought about how people at home, especially kids, might create their own works of art from found objects sourced from recycling or trash, all while sheltering in place. If you look closely, you will find Barbie dolls incorporated into some of the pieces.
All of the pieces resulting from the Chris Riggs x ePromos collaboration are available for purchase. A portion of all proceeds will go to the Boys & Girls Club of America's COVID-19 relief fund as part of Giving Tuesday Now, which takes place on May 5, 2020.
Chris signs one of the 16 pieces in the Chris Riggs x ePromos collection:
As Chris noted, "I have always enjoyed using found objects to create art. I think it's amazing how artists can turn everyday items into art. It's like magic! So, when ePromos contacted me to make these pieces, I was really excited."
We were just as excited to foster a collaboration with such a talented and renowned artist. As a contribution toward COVID-19 relief efforts and a symbol of how ordinary items can be repurposed and transformed, we hope this project brings joy and reminds viewers of the power of creativity—no matter where we are or what's around us.