Beyond Branding: How Promoting Public Safety Became Accessible in Eight Additional Languages
"We love swag! I don't own a jacket or bag that's not branded." That's what Kathryn McKelvey, Executive Assistant to COO Steve Bodkin, for National Church Residences, will tell you right off the bat when the topic of promo products comes up.
With that kind of enthusiasm, perhaps it's not surprising that McKelvey would naturally gravitate toward a branded solution to a very serious problem: helping the 30,000 residents of National Church Residences communities stop the spread of COVID-19.
Yet this compelling example about the power of promo products beyond branding is not just about conveying information, it's also about meeting your most valuable stakeholders in their own space and speaking to them in their own language—figuratively and quite literally—in a way that reassures them of the reliability and trustworthiness of your message.
About National Church Residences
National Church Residences is the largest non-profit provider of senior housing in the United States. The organization owns and/or operates 340 properties in 25 states and Puerto Rico, serving 30,000 seniors. Their vision is to "advance better living for all seniors, enabling them to remain home for life," and their 2,800 mission-driven staff members work every day to make this vision a reality.
National Church Residences is dedicated to meeting the needs of seniors at all income levels and providing a wide array of housing options, ranging in service level from independent living apartments, duplexes and detached homes to assisted living, memory care and skilled nursing care. This includes several properties that provide permanent supportive housing and services for the formerly homeless and disabled population.
Currently, McKelvey notes, Atlanta is a big focus for growth for their organization. They currently own and manage more affordable senior housing properties within the Atlanta city limits than any other organization. Columbus, Ohio is another metropolitan region that's seen continued growth for the organization.
In most communities, the residents enjoy their own apartments, as opposed to communal living with shared common areas and dining facilities. Each apartment includes a bedroom, a kitchen and dining area, a bathroom and a living room. Maintenance staff are on hand to tend to repairs and upkeep, and Property Management and Service Coordinator staff are available for further assistance on an as-needed basis.
Using Magnets to Simplify Communications
In fact, it was the properties' maintenance needs that first led National Church Residences to experiment with magnets a few years ago.
"All our maintenance staff in our communities have an iPad," McKelvey explains. "And all the residents now have magnets on their refrigerators with a 1-800 number they can call to request assistance from our maintenance staff."
It was these magnets that gave McKelvey a big idea as she was browsing the ePromos website. "One of the best things about ePromos is that it's so easy to use their site. Whatever you're looking for, it's easy to find. And I really appreciate the availability of samples. Often I'll need to show a sample to several other team members for their input. I'm not just buying a few things [and] setting [them] on a counter at a vendor show. All the items I buy are used for our leaders and their teams or for the residents and staff in the field. We have 2,800 employees," she points out. "ePromos is one of the best promotional companies we have worked with and we are blessed to be partners with them," she shares.
As she explored the website in the earliest days of the Coronavirus pandemic, she saw a product that she knew immediately was a must-have for residents. A magnet using a panel of easy-to-understand images and text would both show and tell residents how to help stop the spread of COVID-19 in order to keep themselves and their fellow residents safe.
These magnets depict and describe the basic tenets of social distancing and hygiene that help stop the spread of communicable diseases and viral particles. The first order of magnets were delivered to National Church Residences properties and the Property Managers distributed them to residents.
Speaking the Same Language
Two intriguing developments took place after the magnets were delivered. One was that many residents placed the magnets on their doors instead of their refrigerators. And the second was that many non-English-speaking residents who saw those magnets on the doors of their neighbors assumed the magnets meant the occupants inside had tested positive for COVID-19.
That was not the intention, of course, so when the property management staff began relaying these developments back to the home office, McKelvey knew the magnets needed to be tweaked.
Working closely with Dan F., her ePromos Senior Brand Manager of many years, McKelvey placed another order for magnets, but this time, the content would be different. First, McKelvey contacted the managers of each property and requested a breakdown of all the languages spoken by that property's residents.
Armed with a list of the primary languages spoken in their communities, Dan immediately went to work to find a well-respected translation company in St. Cloud, MN that often partners with government agencies and other organizations. The translation team provided the original magnet's content in eight specified languages within a matter of days. The languages were Arabic, Chinese, Korean, Polish, Russian, Spanish, Ukrainian and Vietnamese.
National Church Residences ordered additional magnets with those translated messages, and their management staff made sure the translated magnets were handed out to the corresponding residents who spoke each language.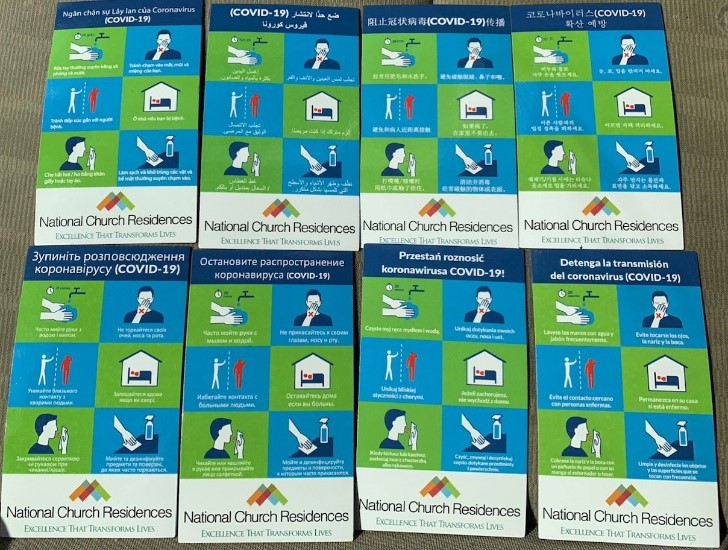 What's Next for This Magnetic Idea?
McKelvey is already planning her next order of magnets. The first order went out well before the CDC shifted its policy on the importance of mask wearing, so she's planning to include this information in the next set. The key is to keep the message short and succinct, as well as authentic and reliable.
That's why a branded product such as a magnet is such a good way for an organization to communicate crucial messages. The inclusion of a familiar logo and brand name, together with contact information, makes the heart of a message—whether it's safety related or simply communicating a process to the recipient—feel more trustworthy. Read more about why promotional magnets should be a part of your brand strategy, here.
How Can ePromos Help You?
As Promo Know-How People, we're here to help brainstorm ways that branded promotional products can help you serve your customers, clients, employees and other stakeholders more efficiently, including ideas that are outside the box. Have a project in mind? Get in touch today.