How to Display Your Logo on Promotional Products
Choosing the perfect promotional product isn't easy, but we've got good news: it just so happens to be our specialty. A good promotional product should resonate with your brand; it should send a message to your audience that aligns with all other company/brand messaging – similar to a bonus or an ancillary way to generate brand buzz. The perfect promotional product fits in seamlessly with your brand (that's to say, it shouldn't confuse your customers). But, for maximum impact, a great promotional product should be bolstered by the artwork printed on it, whether your company name, contact information, or logo. With that in mind, in this piece we're focusing on the ever-important logo. Keep reading for our top tips when choosing a logo, some interesting information on the message certain colors send, and a discussion on the power of logos on promotional products.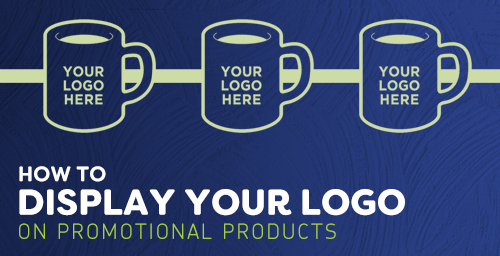 Are logos really all that important? Yes; a resounding, loud, emphatic YES (but you already knew that, right?). Some would even argue it is the most important branding investment a company can make. Why? A logo provides an opportunity to instantly connect with your audience and make an impression – so make it a good one. After all, it's a snap impression, perhaps only a quick glance, and yet it's a moment to create a lasting impression. The power of logos can be seen in children as young as three years old. A study revealed that toddlers – who cannot even read — are able to correctly identify brands such as McDonalds®, Disney®, and Toyota®. Logo recognition increases with age, so the older the child, the more he or she is able to identify even more logos. Being able to connect to a business with a picture is powerful. Not convinced? Check out this piece, which artfully details 101 facts and stats about logos.
Interesting Facts About Logos
We've hopefully convinced you of the utter importance of the logo (CliffNotes®: humans are visual creatures!). But of course now the question begs, what makes a great logo? After all, if logos are so crucial to branding, surely you want yours to be tops – and you're not wrong. It's not enough just to have one; it's got to be one, again, that people will connect with. While there's no magical formula for making a winning logo, there are plenty of ways to increase your chances of coming up with a solid one. Here are a few tips:
• Use color – there is an 80% increase in brand recognition with colored logos
• Brainstorm several ideas before deciding – a logo should gain "meaning and power over time"
• Choose 2-3 colors – this is the perfect mixture of colors so as not to overwhelm your audience
• Keep the design simple – too much going on runs the risk of confusing the viewer
• Ensure the designable is scalable – the logo should fit on various sized items without becoming distorted
In addition to these trusted tips, here is some insight into what different colors represent:
• Red can signify excitement, sexiness, urgency, and passion. Some big brands that employ red in their logo include Target®, Coca-Cola®, and Virgin®.
• Green can signify growth, money, youth, and nature. Some big brands that use a green logo include Starbucks®, John Deere®, and Garnier® Fructis®.
• Yellow can signify optimism, warmth, and fun. Brands that have opted for yellow in their logo include McDonald's, Pringles®, and Ikea®.
• Orange can signify confidence and high energy. Big brands that use orange in their logo include Harley Davidson®, Tide®, Nickelodeon®, and Home Depot®.
• Blue can signify tranquility, strength, and integrity. Brands with blue in their logos include Facebook®, Samsung®, Lowe's®, and Ford®.
• Purple can signify royalty, opulence, and trust. A few brands with purple in their logos include Cadbury®, Hallmark®, and FedEx®.
The Power of Logos on Promotional Products
Promotional products are an excellent way to display your logo in a memorable and lasting way. Unlike an advertisement, such as a billboard, promotional products actually make it into customers' everyday life – at home, in the office, on-the-go, etc. Printing on promotional products is an opportunity to reinforce your brand and make it a household name (or in the case of a logo, a "household vision"). Of course, there are some variations to consider when it comes to printing on promotional products. Some items, such as apparel and tech accessories, are better suited for just printing logos on them. Smaller giveaways are often better suited for printing your company name and contact information, like a phone number, website, or email address. Examples of smaller items that work well to print contact information on them include pens, mouse pads, calendars, magnets, and notebooks.
Another consideration when determining whether to use your logo or contact information on any given promotional product is the imprint size. It's important to make sure the file size of your logo is correct and fits within the area of the product. Additionally, you must ensure the product you've chosen can support the amount of image and/or copy needed. This ties into one of our five top tips for designing a logo – make sure it's scalable! For more information related to artwork for promotional products, check out our artwork guide, which is full of helpful tips.
We hope we've convinced you of this: logos are serious business! There are a ton of considerations to weigh when dreaming up your winning logo – the one that speaks to the heart of your brand and captivates your audience. But you don't have to go it alone! ePromos can help you make your logo dreams a reality thanks to our team of talented graphic designers. We're happy to tweak your existing artwork or create something from scratch (with your insight and review guiding us so the finished product matches your vision). Once the artwork is finalized, it will be ready for printing on whatever promotional product you may have in mind – and again, we're happy to help brainstorm the perfect product for you, too. Reach out today to get started!