How to Plan an Inclusive Holiday Office Party
The holidays are an excellent time to show your employees you appreciate their hard work and dedication to your business and its daily operations. Hosting parties and sharing gifts are great ways to showcase your appreciation.
However, not everyone celebrates the same holiday during the season. Some might not even celebrate a holiday at all. It's essential to focus on diversity and inclusion during the holidays to respect everyone's beliefs and practices. Learn more about how to be inclusive during the holidays and how you can appreciate diversity during the holidays to host a celebration everyone can enjoy.
Why Is Diversity and Inclusivity Important During the Holidays?
Fewer Americans identify as Christian, and the number of individuals with different religions is increasing. Since fewer people identify as Christians, there are also fewer people celebrating traditional Christian holidays, such as Christmas. Instead, people choose to celebrate other holidays that fall within the same season.
It's essential to focus on diversity and inclusion in the office to accommodate employees who celebrate holidays besides Christmas. Focusing only on Christmas can make non-Christian employees feel ostracized or isolated, hurting their loyalty to your brand and impacting turnover rates. Choosing to celebrate multiple holidays or avoiding a reference to a specific event during the season can make everyone feel like a part of the team while showing support for different backgrounds.
Work holiday parties are memorable experiences for employees and staff, so it's an excellent time to celebrate everyone's diversity. These parties can help build bonds between coworkers that will help them work more efficiently as a team throughout the year. Companies that strive to be diverse should ensure they host holiday parties that represent this value, which means making an effort to throw an inclusive holiday office party rather than one that focuses on a single religious holiday.
Inclusive Holiday Themes for the Office
When planning a holiday office party, it can be challenging to include elements from all of these holidays in a single party. However, there are still ways you can make each employee feel heard and respected. You can even choose themes for office parties to capture the spirit of the season without alienating anyone. Some inclusive themes you can choose include:
Winter wonderland: Since many of these holidays occur within the winter season, hosting a winter wonderland-themed party is an excellent way to include everyone in the celebration. Include decorations that remind people of snowy days, such as snowflakes and white fairy lights. If you're looking for something fancy, you can invest in an ice sculpture. You can include winter-themed games and rewards, such as tickets to an ice skating rink or a ski resort.
Vacations: You can issue a poll to your employees to find out what their favorite vacation spot is and host a party around the destination. For example, if beaches are a common choice, you can host a party that brings some tropical elements into the office, like inflatable palm trees, themed drinks, food and similar items. You can even have employees dress in vacation-themed clothing, such as floral shirts or large sun hats.
Ugly sweaters: Ugly sweaters are particularly common around the winter holidays and make an excellent party theme. Encourage employees to find or create the ugliest holiday sweater they can wear to the party, and host a competition where employees can vote on which sweater is the best. You can also create other categories to vote on, such as best DIY or best colors.
Color coordinated: Color-coordinated parties are simple but can be a lot of fun. You can choose a simple black-and-white theme or incorporate colors from your brand. Encourage creativity from your employees to create unique outfits that fit the theme, offering awards like gift cards or gift kits.
6 Tips for Throwing an Inclusive Holiday Party at Work
The following are some of the best practices for inclusive holiday celebrations in the workplace:
1. Utilize a Diverse Planning Committee
A diverse planning committee can bring a unique and fresh perspective that helps you come up with new ideas and ways to celebrate the holidays in the office. You can give this group of employees the power to plan the event and a budget to help them achieve their vision. Planning an inclusive holiday can be an excellent bonding opportunity while encouraging a connection between various cultures.
A diverse committee ensures you won't leave any culture or religion out of the holiday. It also helps prevent unconscious bias that could be present if a single person plans a holiday celebration.
2. Check the Calendar
Numerous holidays fall within the fall and winter seasons, including:
Christmas
Yule
Lunar New Year
Kwanzaa
Hanukkah
Diwali
Bodhi Day
Eid al-Fitr
Be sure not to plan your celebration on a holiday when employees might be at home celebrating with their friends and family. Since so many holidays occur within the same month, you might choose to have your celebration in January to avoid conflict and ensure all employees can attend. You may also consider celebrating during the work day since some employees may have trouble attending a party after work hours if they have children or other responsibilities.
3. Include Food and Drinks From Different Cultures
An excellent way to ensure everyone feels included is to provide food and drinks from various cultures. You can even host a potluck where employees bring foods they eat during the holidays to bring awareness to different traditions.
Remember that some faiths don't consume alcohol or may feel uncomfortable around it. Consider hosting a two-part party where the first half doesn't include alcohol and includes all the games and activities. The second half can be more free-flowing, where employees can drink while socializing.
4. Be Mindful of Decor
Since you want to be inclusive, be mindful of choosing decor that doesn't celebrate just one holiday. You don't want to only include decorations of Santa or play just Christmas music since it can isolate employees who don't celebrate the holiday. Instead, choose simple and inclusive holiday decorations like balloons or unique centerpieces for tables. Consider inviting each employee to submit their favorite holiday songs to create an inclusive playlist to shuffle throughout the season or event.
Remember that a little can go a long way, and everyone is there to celebrate with one another.
5. Use Branded Promotional Items for Gifts
Instead of choosing gifts that promote one holiday during the season, select branded promotional items for gifts instead. These items help make everyone feel part of the team and valued as your company's employees.
Choose from various promotional gifts, such as:
These items can help employees complete their work or care for themselves at home. They're also excellent reminders that your company appreciates their loyalty and commitment to your business.
6. Don't Require Participation
For some people, celebrating the holidays can make them uncomfortable or bring up unpleasant reminders. Others may have dedicated the time to celebrating with their family or are simply introverts who don't enjoy parties. There are plenty of reasons a person may not want to participate in a holiday celebration, so letting your employees attend the event voluntarily ensures no one is uncomfortable or feels obligated to go.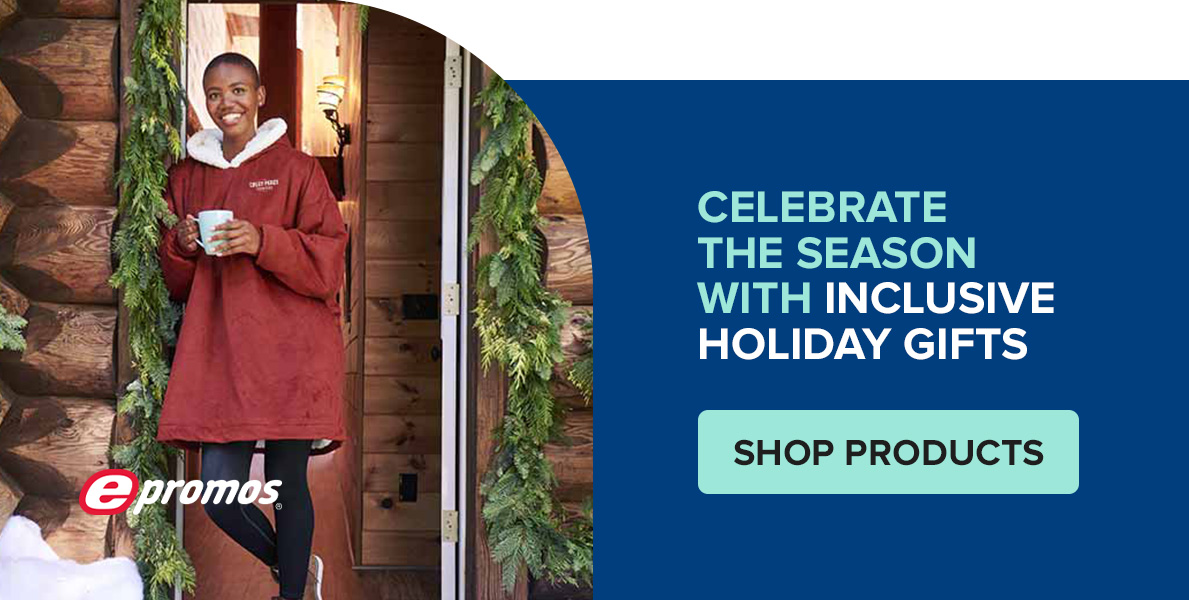 Celebrate the Season With Inclusive Holiday Gifts
Celebrating the season with your staff is an excellent way to build and foster a bond, helping you support lower turnover rates and stronger brand loyalty. A perfect way to celebrate the season is through inclusive holiday gifts that show your employees how much you appreciate them. ePromos offers an extensive collection of holiday gifts, including promotional kits, food kits, apparel and more. Check out our holiday gift guide to find the right gifts for your employees!