How to Show Your Appreciation During Customer Service Week
Customer service employees manage complex issues and work to keep your clients or shoppers happy. Customer service teams address customer concerns, relay helpful feedback and make people feel valued as customers.
Meeting customer expectations can be a challenging task, and just as customer service workers make clients feel valued, customer service workers also deserve to feel valued themselves. Celebrating National Customer Service Week is a fantastic way to thank these workers within your organization. To help you celebrate your employees, we compiled a list of Customer Service Appreciation Week ideas.
What Is National Customer Service Week?
National Customer Service Appreciation Week is an annual event to recognize how important customer service workers are to businesses and institutions all around the world. The event started during the 1980s in the U.S., and it became nationally recognized in 1992. Customer Service Appreciation Week is celebrated across the entire nation and many places around the world.
When Is Customer Service Week?
National Customer Service Week takes place annually during the first full week in October. Make sure to mark your calendar and celebrate those who work hard to provide assistance and tackle problems for their customers.
How Do You Celebrate Customer Service Week?
Some goals of Customer Service Appreciation Week include:
Celebrating customer service workers who are at the front line of meeting customer needs
Thanking customers for their devotion
Reminding your team why customer service workers are vital to a business's success
Sharing customer service success stories
Showing your dedication to continue providing excellent customer service
These goals address how important it is to celebrate Customer Service Week. It's a week to honor customer service workers and great customer service in general by valuing all that the customer service profession involves.
Appreciating employees and their work reminds them that they have a place within the organization. With this in mind, do your part this upcoming Customer Service Appreciation week to make your customer service team feel positively recognized.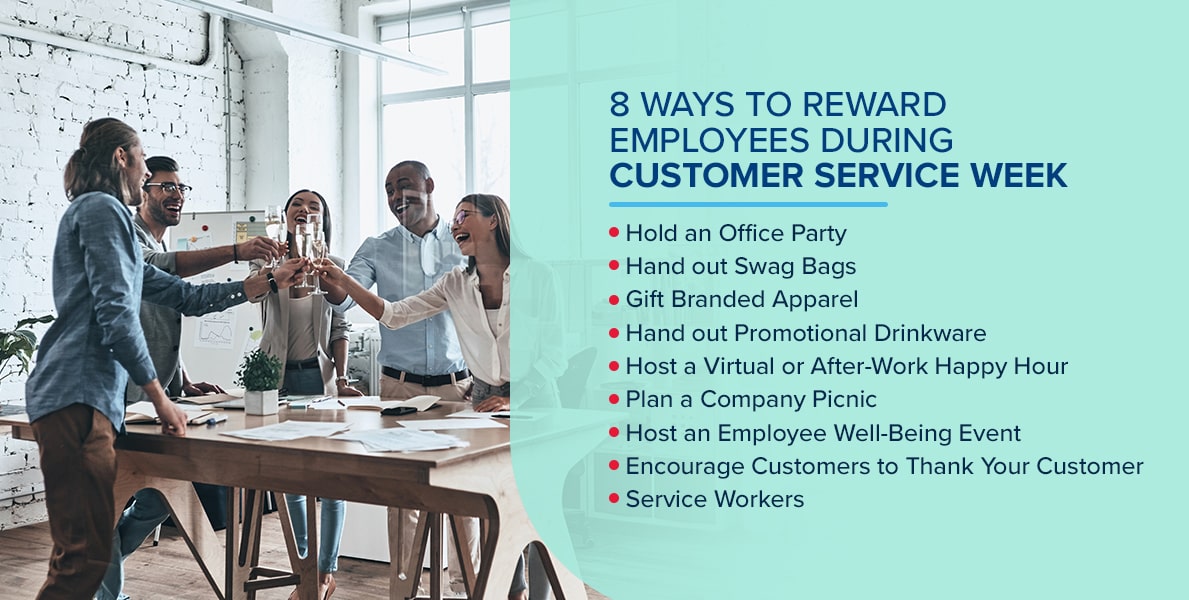 8 Ways to Reward Employees During Customer Service Week
If you need some Customer Service Week ideas, let's discuss some great ways to kick off the week. You can celebrate your customer service employees with the following gestures:
1. Hold an Office Party
Holding an office party or after-work event is a great way to celebrate and get everyone in on the fun. Plan fun activities or games for your employees to participate in together. This is also an excellent way to help workers build positive bonds with each other. Get branded sweets and treats to serve as a fun food addition to the event.
2. Hand out Swag Bags
Swag bags are fantastic gifts to hand out during Customer Appreciation Week, and you can fill them with an assortment of different items. Filling a tote bag, drawstring bag or backpack with goodies is an excellent way to provide a gift within a gift. You could even get creative and fill lunch or cooler bags with delicious snacks and treats that everyone is bound to enjoy. To make this gift extra special, choose reusable bags with multiple uses.
Swag bags provide people with a bag they will use in their day-to-day life, but you should also strive to fill each bag with a range of items that are functional and fun. Employees may find office and desktop supplies useful during their workday, but you can also fill bags with useful technology accessories or fun home and kitchen products.
3. Gift Branded Apparel
Apparel items tend to be a favorite appreciation gift, whether it's a shirt, hat or sweatshirt. You can order promotional apparel for your customer service employees to wear while promoting the company's brand. This allows workers to take pride in the company and the work they do to make a difference.
4. Hand out Promotional Drinkware
Many people enjoy having a beverage handy at their desks. Providing your workers with coffee mugs, water bottles or drink tumblers gives employees a convenient way to sip on their beverage of choice. To make drinkware gifts extra themed to the week, you can order mugs, bottles or cups featuring the company's logo.
5. Host a Virtual or After-Work Happy Hour
Promotional drinkware is also a fantastic gift idea to include in a happy hour event. You can host an after-work or virtual happy hour for employees to unwind and spend time together outside of work. During the event, gift each team member with a fun cocktail kit complete with a promotional cocktail glass, a unique cocktail recipe and promotional beverage napkins.
6. Plan a Company Picnic
A company gathering with delicious food is a fun way to celebrate customer service employees. Plan a picnic at a beautiful outdoor location where team members can spend time together. Provide plenty of tasty main dishes, side dishes and desserts for employees to enjoy. You can also gift promotional picnic blankets workers can use with their friends and families at the event and on their own picnics.
7. Host an Employee Well-Being Event
Let your employees know how much you care about their health and well-being. Host a well-being event to promote healthy habits that support physical and mental health. This event can include fun yoga and meditation sessions, healthy eating presentations, healthy snacks and gifts that promote healthy lifestyles.
You can also give workers products they can use to take care of their mental and physical health. Employees can wear promotional active apparel during workouts or morning walks, and promotional stress balls are excellent tools to relieve stress and focus on mental health during challenging workdays. Helping employees care for their mental health shows them that you care, and caring for mental health can increase job performance and engagement.
8. Encourage Customers to Thank Your Customer Service Workers
Include customers in your customer service celebrations to make the event more meaningful. Let your pride and excitement shine through by encouraging everyone to show appreciation for your customer service team.
Customer service workers deserve to be reminded of why they are so vital to the company's success. People often forget that a simple "thank you" to someone can go a long way. Send emails, post signs or send letters asking customers to thank your customer service employees when they see them.
You can also give customers the option to write a special appreciation note for your customer service team. You can then post the messages around your building to remind your team how much their work matters. As a thank-you to customers for showing their appreciation, gift them with branded pens or other small items.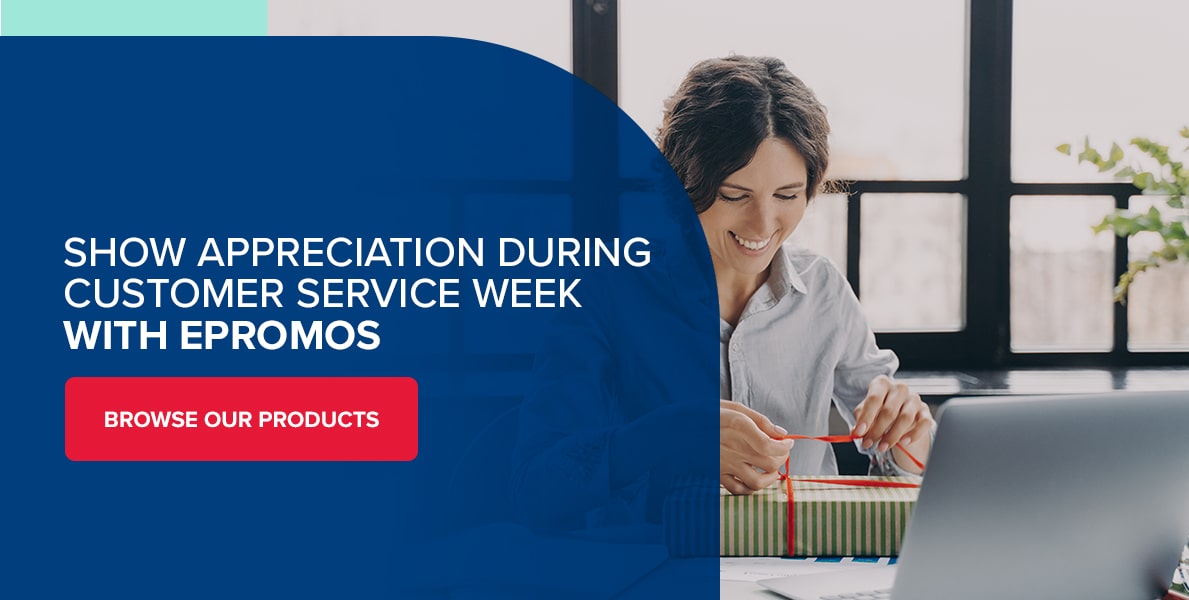 Show Appreciation During Customer Service Week With ePromos
Customer Service Week is an excellent time to recognize your valuable employees and remind them how important their work is. Customer Service Week gifts are fantastic ways to show appreciation and make customer service workers feel valued. Whether you fill swag bags with fun gifts or gift each employee promotional drinkware, you can find high-quality promotional products at ePromos.
ePromos features a wide variety of promotional items. From apparel to fun workout gear, you can provide your employees with enjoyable, thoughtful gifts for this appreciation week or any time of year. Browse our selection of promotional products to celebrate your employees during Customer Service Week and reach out to us to get started!