What Is Microfiber, and How Should You Use It?
Microfiber towels are helpful accessories for everyday items like glasses, phone screens, cars and leather. If you want to hand out gifts or sell items with your company logo or name, consider microfiber products, which can spread your brand in many ways. Explore what microfiber is and how you should use it.
What Is Microfiber Made Of?
Microfiber is a material made from fine synthetic fiber. Its small linear density contributes to its effective cleaning and absorption abilities. Microfiber strands are finer than a human hair. Most microfiber products consist of a mixture of polyester, nylon or polyamide. You'll find them in items like cleaning cloths, bedding and towels.
Microfiber products with nylon often have water-repellent effects, while those made with rayon often have the quality and feel of silk. Companies can explore various shapes, material combinations and sizes of microfiber products to determine what qualities work best for you. For example, if you plan to use microfiber towels in a sports context, consider a combination of polyester and nylon to wick away sweat and water. If you want an excellent cleaning material, consider a mixture of polyester or polyamide.
Types of Microfiber and Their Common Uses
Here are some microfiber types and their uses.
Lightweight: Light microfiber cloths are thin and soft, often used for removing dirt from glasses, glassware and phone screens.
Medium: Medium-weight microfiber products are easy to find and structured like a towel. You can use them for general cleaning and sanitizing of plastic, leather, wood and stone.
Plush: Plush products feel like a blanket and have longer fibers for detailed wax and polish removal and glassware buffing.
Dual plush: Dual-plush microfiber products have long, thick fiber with a soft feel. You can use them for dusting on various surfaces and general cleaning.
Micro-chenille: With thick, short fibers, micro-chenille microfiber products work well for doing dishes, cleaning spills and wiping water.
Waffle-weave: A waffle-weave microfiber product lets you clean products with soap and water and works well for dusting.
How Does Microfiber Work?
Microfiber uses tiny strands of split fibers that flare out like an asterisk. Every square inch could have hundreds of thousands of these strands, acting like hooks to clean up dirt, moisture and bacteria.
Microfiber traps dirt, grime, liquid, oil and grease, among other things, by using positively charged polyester fibers and negatively charged nylon. The materials attract to each other and pull away the dirt on the surface to effectively clean it.
The highest-qualty microfiber cleaning products have the most split fibers. Some items, such as microfiber furniture and clothing, do not have split fibers because they do not need to be absorbent.
Microfiber vs. Cotton
Many people wonder about the difference between a microfiber cloth and a cotton rag. What are the benefits of using one over the other?
The fibers on a cotton cloth often leave streaks of dirt or water, while microfiber cloths are better at absorption. Microfiber products leave no residue, have a long life span and can easily mop up large amounts of liquid. However, they will require special washing.
In comparison, cotton cloths often leave a residue, do not wipe away dirt as thoroughly and may require a short break-in period to disperse the fibers. However, they can be more cost-effective than other materials.
The Benefits of Microfiber
From incredible absorption to preventing lint and scratches, microfiber has many helpful qualities that make it a great cleaning agent. Here are the top three benefits of microfiber you should know.
1. Absorption
Many microfiber cloths can absorb several times their weight in water, making them perfect for soaking up liquid and spills. Whether you want to dry dishes or wipe your car, a microfiber cloth can reliably get the job done.
2. No Lint
Microfibers use a continuous strand split into fibers, which leaves very little lint. A microfiber cloth won't fuzz, pill or leave any debris when washed with other clothing items.
3. No Scratches
Microfiber cloths and towels are scratch-free and safe to use on delicate surfaces like car paint, windows, glassware, phone screens and glasses.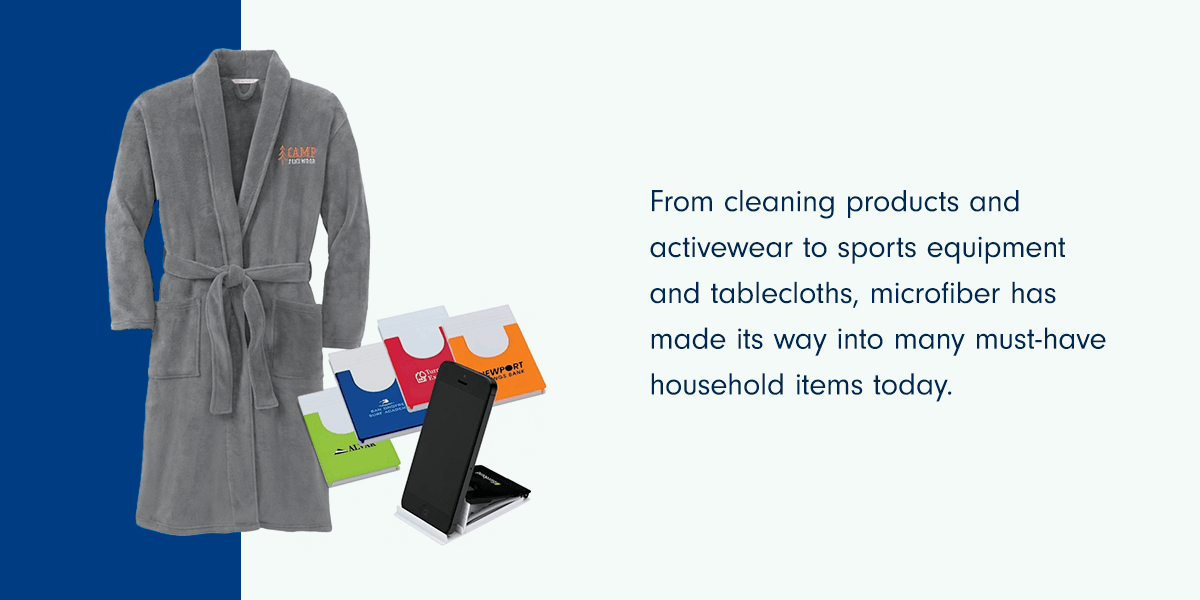 4 Ways to Use Microfiber
From cleaning products and activewear to sports equipment and tablecloths, microfiber has made its way into many must-have household items today. Here are four common ways to use microfiber products.
1. Cleaning
You can use microfiber to wipe away lint and dirt, dust surfaces and absorb oil and grease. Due to their woven strands and long-lasting abilities, you can pick up small particles like bacteria. The cloth is easy to clean after each use.
2. Activewear and Athletes' Garments
Many athletes' jerseys consist of microfiber. You will often find shorts and T-shirts made from the material, which helps wick away sweat and water. You can also buy microfiber compression garments that increase blood flow.
3. Accessories and Equipment
Microfiber is an excellent choice for accessories and sports equipment such as wallets, shoes, backpacks and purses. Many customers want these products to have water-repellent qualities, making microfiber the perfect material. Some sports equipment like boots and balls even contain microfiber.
4. Bedsheets, Linens and Towels
Thin microfiber feels silky and smooth, making it ideal for sheets, towels and linens. Microfiber bedsheets are lightweight, breathable, easy to wash and long-lasting. Microfiber bedding can also benefit people with allergies, since dust mites have trouble passing through the tightly woven fabric.
Microfibers give tablecloths and towels water-repellent qualities and make stain removal easy. Opposite weaving techniques for bath and beach towels allow microfiber products to easily absorb water while drying quickly to prevent mildew and mold.
Check out Microfiber Products at ePromos
At ePromos, you can find reliable promotional products for your business, team, school or group. Add your company logo to bags, cups, accessories and apparel items. Then, you'll have a supply of thank-you gifts or prizes to give your clients and team members. To promote your company through effective microfiber cleaners and products, consider ePromos items for your business needs. Check out our microfiber promotional products online today, or contact us online to speak to a representative.