10 Employee Appreciation Ideas for Labor Day
Labor Day is a time to celebrate your employees and show them you value everything they do. There are various Labor Day celebration ideas that are fun and festive, but nothing says "thank you" like a personal gift. Here are 10 categories of meaningful gifts you can give your employees to show them how much you appreciate their hard work.
1. Bags
Bags are something every employee uses, whether it's to carry their laptops, lunches or supplies. These are some thoughtful bag gift ideas you can consider:
Laptop bags: These provide a fashionable way of safely transporting laptops.
Tote bags: A tote bag can be useful when shopping and for storage.
Drawstring bags: These are perfect for gym goers, athletes and swimmers.
Duffle bags: A duffle bag is a handy, stylish bag option that's perfect for traveling.
Backpacks: These bags offer various uses and can be perfect for commuters.
2. Apparel
There are many different types of clothing and apparel that make for great Labor Day gifts for employees. Branded clothing and accessories give your employees a way to show off their company pride while showing you care about them. Some options to choose from include:
T-shirts: These shirts are easy to customize, comfortable and always fashionable.
Jackets: Give employees that warm feeling with stylish branded long-sleeved jackets and hoodies.
Winter wear: Gloves, mittens, bandanas and scarves are a great choice for companies in areas with cold winters. As the summer ends, winter wear is a thoughtful way of keeping your staff nice and warm.
Hats: Caps and hats are popular accessories everyone can use.
Socks: Everyone loves fun socks. Get creative with your design and logo placement to make a great gift.
3. Kitchenware
Customized kitchen products and accessories bring functional flare. These kitchen-specific ideas have universal appeal:
Cutting boards: Cutting boards can come in a variety of materials. They're easy to customize, add logos to and stylize.
Oven mitts: This useful kitchen essential makes for a thoughtful gift. Choosing comfortable cotton and a nice design will appeal to everyone who cooks.
Hourglass sand timers: Keep track of time in the kitchen with style. Custom timers have a wooden base to place a logo or business name on. You can use colorful or magnetic sand.
Tea towels: Tea towels are a nice accent and keep counters clean and dry. There's always room for one more in everyone's kitchen.
4. Pet Gifts
Fun Labor Day activities for work can include pets. Delight employees with gifts for their furry friends. There are a lot of fun ways you can treat your team's pet owners:
Dog treats: Custom-made dog treats with logos are thoughtful gifts for pet owners.
Disposal bag dispensers: This nifty tool can make a big difference for dog owners.
Pet bowls: Customized pet food bowls are a great choice for dog and cat owners.
Pet toys: Cats and dogs love to play with balls and other novel pet toys. Put your logo or employees' pets' names on frisbees, balls and chew toys.
Collars: Collars with custom colors and pet tags are a caring gift to give to pet owners.
5. Food and Beverage Items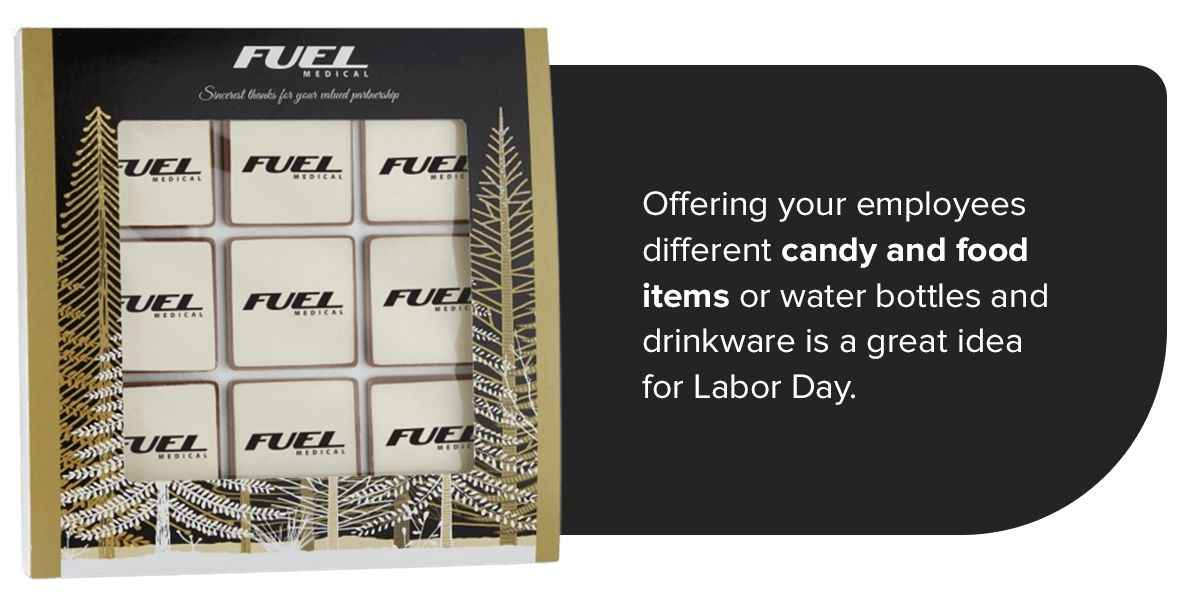 Offering your employees different candy and food items or water bottles and drinkware are great ideas for Labor Day. There are many food and drink gift ideas you can choose from, such as:
Water bottles: Branded water bottles are a staple in the corporate gift sector. They're functional, useful and appreciated presents.
Mugs: Customized mugs are a classic gift for office and home use.
Cookies: Branded baked goods like gourmet cookies are fun, festive and delicious. Give this novel treat a try to make some fond office memories.
Boxes of mints: A branded box or tin of mints is a refreshing snack and a reusable container.
Food gift bundles: Chocolate boxes, coffee packets and even more goodies can be bundled together to make a special gift.
6. Pens and Stationery
Pens and stationery are practical gifts for office employees. Give your team fun and interesting tools to help them get their jobs done:
Pens: High-quality branded pens are useful items to have on hand. A stylish ballpoint or an elegant fountain pen is a memorable way to say thanks.
Notepads: Notebooks and notepads are always convenient to have on hand. Providing customized and well-designed notebooks is a personal and practical way of showing appreciation.
Sticky notes and dispensers: Customized sticky notes and dispensers are fun gifts that keep employees organized.
Desk organizers: Keep pens, pads and stationery in a stylish desk organizer gift. Your team members can organize their desk space with this stylish present.
7. Plants
Having plants in the office can brighten up the space and bring the outdoors in. This makes them a thoughtful gift to brighten up your employees' workdays. Giving everyone a plant to look after at their desk is a fun, thoughtful and meaningful gift idea.
8. Trophies and Awards
Medals, trophies and awards are a special way of thanking employees for their hard work and dedication. Consider handing out customized trophies and awards before Labor Day weekend to tell your employees you care and recognize them for their achievements.
9. Technology
Electronic gifts can make your employees' lives easier at work or give them a handy gadget to use at home. A few tech gifts you might consider include:
Headphones and speakers: Providing a better sound experience for employees is always appreciated. Treat your team to some high-quality headphones or speakers to show you care.
USB drives: Branded USB flash drives are valuable gifts and office tools.
Phone chargers: Customized phone chargers and phone charger kits are helpful, especially when employees are on the go.
Desk clocks: Help employees keep track of time with this fun, customizable gift.
10. Desk Toys
Desk toys can alleviate stress and even bring a sense of personality to a workspace. Employees greatly appreciate desk toy gifts like:
Coloring books: Coloring books for adults are a fun way to relax and destress.
Fidget spinners: Some people like to keep their hands busy. A customized fidget spinner can help them keep their minds focused.
Stress balls: Stress balls work similarly to fidget spinners. They also serve as fun decorations and toys.
Stuffed animals: Choose from various stuffed animal designs and give them a branded shirt for added company pride. These make for adorable and cozy gifts everyone can enjoy.
Find the Right Gift and Customize it With ePromos
ePromos offers an extensive range of customizable gifts. This Labor Day, treat your employees to high-quality gifts that last and mean a lot. Check out our latest deals today!