All Is Calm: 27 Holiday Gifts That Inspire Employee Wellness
Showing appreciation with the best wellness gifts is a great way to express gratitude to employees for all their hard work and dedication. Between work, family life and taking care of responsibilities, employees have a lot to juggle. Promoting self-care with wellness gifts shows your team that you care about their mental and physical health.
If you aren't sure what to purchase, you're in luck — our employee wellness gift ideas give you plenty of options. From thoughtful self-care gift boxes to gift cards that will help relieve the stress and tension of daily life, there is something for everyone.
11 Gift Ideas for Employee Mental Health
Employees who take care of their mental health are able to make decisions, stay focused and handle stress well. Inspire your employees to make their mental health a top priority with these 11 gift ideas for employee mental health:
1. Desk Plants
Fresh desk plants offer a ton of benefits. They minimize stress and enhance productivity, making them a great addition to a desk. Choose a desk plant that is low maintenance and does not require a lot of direct sunlight, such as a snake plant, money tree or peace lily. You could also gift employees with an herb planter, which can help team members grow fresh herbs for their meals.
2. Motivational Desk Calendar
Help your employees start each day with an inspiring quote and positive affirmations with a motivational desk calendar. This understated gift can give your employees the motivation they need to tackle any task throughout the day. Calendars also come in a wide variety of colors, creating a beautiful aesthetic for any desk or office.
3. Wellness Journal
Inspire your employees to focus on their health with a wellness journal. This gift encourages users to write down notes, track their goals, acknowledge their feelings or simply make doodles. A wellness journal is also filled with valuable information that will allow employees to live a healthier and more positive lifestyle. This includes tips and helpful information on how to exercise and track progress.
4. Essential Oils and Diffusers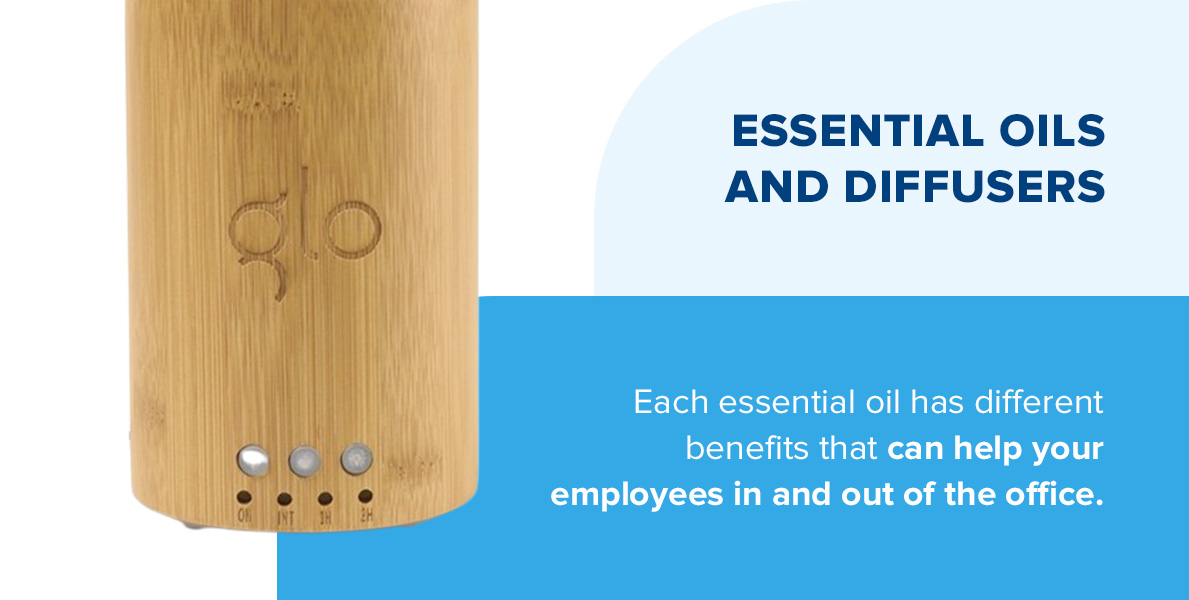 Essential oils are made from various plants and flower extracts. Each essential oil has different benefits that can help your employees in and out of the office, including sleeping better at night or staying productive while at work. There are many essential oil diffusers you can gift your employees, from a bamboo aromatic oil diffuser to a USB diffuser gift set.
5. Self-Care Tea Gift Sets
Create a calming experience with a self-care tea gift set. Choose a tea that contains L-theanine, which reduces stress and anxiety. And don't forget to pair your choice of teas with a mug! This gift will leave your employees feeling relaxed and cozy.
6. Massage Gift Cards
Treat your employee to 5-star treatment with massage gift cards. A massage will help your employees get rid of stress and relieve tension that can cause back pain that hinders productivity. Research online to find locations that offer gift cards, and remember to choose one that is accessible to your team members.
7. Custom Remote Work Gift Boxes
Employees working from home need self-care wellness gifts, too. Finding the right work-life balance is difficult, and for employees working remotely, it's even easier to blur the lines between work and leisure. If you have remote employees, you can create a customizable work-from-home care basket that is versatile and thoughtful. You might add notebooks, mugs, candles and even socks to help your employees create a productive and comfortable work environment.
8. Spa Day Self-Care Gift Sets
If your employees can't make it to a spa, that's OK! Bring the luxury spa treatment to them with a custom spa kit. This will allow your employees to unwind and take care of themselves after a long day at the office or during the weekend.
9. Bath Bomb Set
Take relaxation a step further by giving your employees a bath bomb set. Bath bombs turn water into a fizzy pool that smells amazing and enhances relaxation. The warm water relieves tension and soothes aching muscles from heavy lifting or sitting at a desk all day. Bath bombs also moisturize the skin, leaving your employees feeling fresh and relaxed.
10. Shower Steamers
Shower steamers are a solid alternative for employees who do not have a bath. Employees can place them at their feet and enjoy wonderful essential oils after a long day or at the start of a new day. Along with a pleasant smell, this gift can also moisturize skin and enhance relaxation.
11. Self-Help Books
There are many experts, researchers and psychologists who share tips and information employees can use to benefit their own mental health. Reading self-help books may help employees deal with issues and circumstances in their lives. You can gift your employees with self-help books focused on how to manage stress, ease anxiety or inspire personal growth.
6 Gift Ideas for Employee Physical Health
Your employees' physical health should also be a priority. Prioritizing physical health helps individuals release stress and live a healthier lifestyle. It also lowers the risk of chronic diseases like heart disease or type 2 diabetes. Whether they work up a sweat before work or get their hearts racing after work, here are gift ideas for employee physical health.
1. Yoga Equipment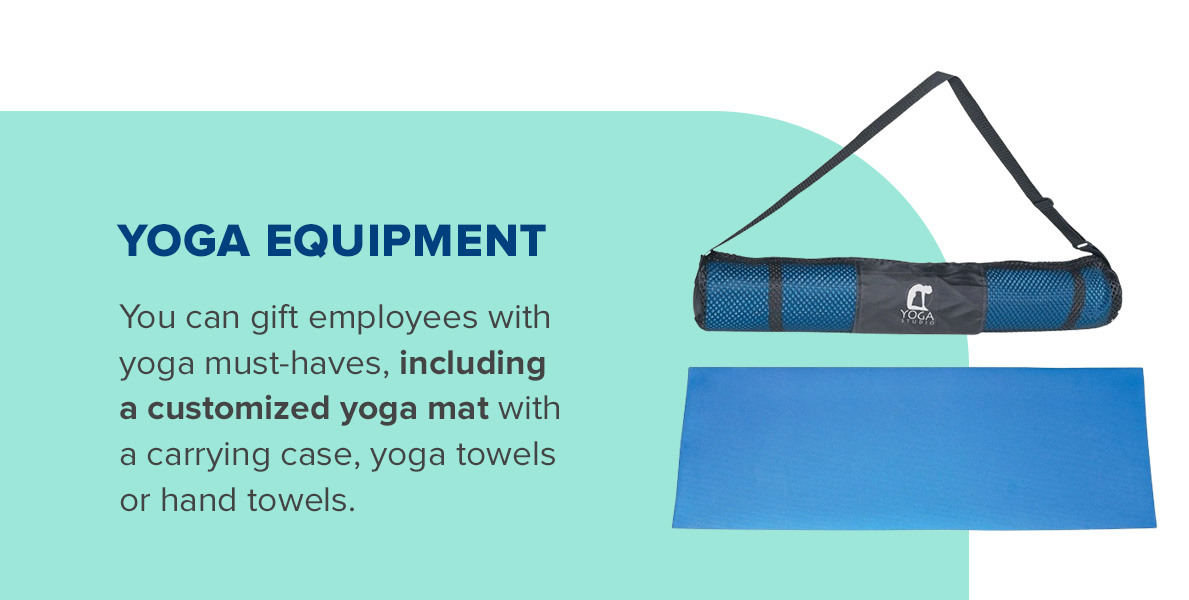 Get your employees out of the chair and into a tree pose with yoga equipment. To encourage movement and relaxation, you can gift employees with yoga must-haves, including a custom yoga mat with a carrying case, yoga towels or hand towels. For a more complete kit, you can add a yoga block, strap and blankets. This gift will help employees focus on their balance, build muscle strength and improve flexibility.
2. Fitness Gear
You may not be able to gift all of your employees with their own treadmill or exercise bike. However, there's some fitness gear you can give them to help them start or continue their own fitness journey. Fitness gear you can gift employees includes a fun fitness dice game, resistance bands, fitness bangles and a nonslip mat.
3. Fitness Duffel Bag
Now that they've got their yoga equipment and fitness gear, your employees need a versatile bag that can hold it all. A branded fitness duffel bag will help your employees store all of their equipment. It's large enough to store towels and mats with ease, and the wide grab handles and shoulder straps make it easy to carry after a strenuous session.
4. Fitness Trackers
One of the best employee wellness gift ideas is fitness trackers. While a wellness journal is an excellent way to track goals and thoughts, a fitness tracker is perfect for tracking steps and runs or logging workout times. It may also keep your employees motivated to reach their exercise goals.
5. Acupressure Mat
Acupressure mats are great gifts for people who love working out, as well as those who want some tension relief. Employees can use this versatile tool in a variety of ways, such as laying on it on the floor or placing it behind their backs while driving. The little mounds create pressure that relieves tension and pain in their neck and back. Employees can use an acupressure mat after a long day at work or after a light gym session.
6. Massage Roller Stick
Another way to help your employees relieve tension and ease pain is by gifting them with massage roller sticks. A massage and recovery branded kit is perfect post-workout for helping your employees ease their muscles and speed up the recovery process, leaving them feeling hyped up and ready for more challenges.
5 Gift Ideas for Employee Nutritional Health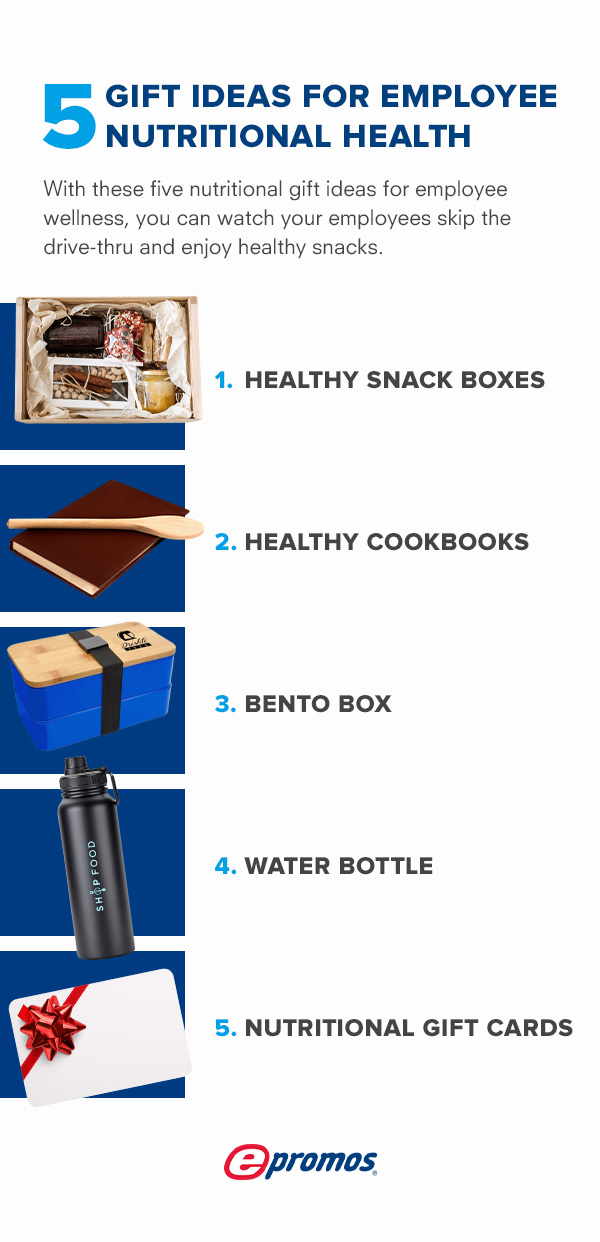 Your employees may be up early in the morning to travel long hours and work countless more. The food they eat is the fuel that keeps them energized and ready to take on all of life's challenges. With these five nutritional gift ideas for employee wellness, you can watch your employees skip the drive-thru and enjoy healthy snacks.
1. Healthy Snack Boxes
A care basket your team members will love is a healthy snack box. From nuts and popcorn to kale chips and dried fruit, there are many snacks that will satisfy your employees' cravings. You can even get alternatives to popular snacks, including decadent chocolate chip cookies, dark chocolate bars and keto macarons. This is a fantastic way to provide delicious treats that aren't packed with sugar.
2. Healthy Cookbooks
Cookbooks with healthy meals are also an excellent idea. This gift will help your team members create healthy dishes they can enjoy throughout the day. A healthy cookbook is perfect for beginner cooks who want to learn simple dishes, as well as skilled home cooks who want to make more wholesome and nutritious meals.
3. Bento Boxes
A bento box stores a single meal in several compartments. It keeps food groups separated and allows your team to keep their sandwich apart from their carrots. A stackable bento box with utensils allows your employees to make lunches with multiple ingredients, like fresh fruits and veggies, nuts, and protein.
4. Water Bottles
Encourage employees to drink more water by gifting them with a water bottle. An infusion or stainless steel water bottle will keep their water cold, and it is lightweight enough that your employees can carry it wherever they go. Water is essential to employee wellness. It will keep your employees hydrated, flush waste from their bodies and is beneficial for skin health.
5. Nutritional Gift Cards
One of the best employee wellness gifts is nutritional gift cards to healthy cafes. Nutritional gift cards promote healthy eating while allowing your employees to take some well-deserved time to eat out and relax. If there are any cafes in the area, find out which ones offer gift cards. A health store is a great option, too. Your employees can get a gift card to buy their own healthy snacks.
5 Gift Ideas to Encourage Better Sleep
Promoting healthy sleeping habits is an essential part of motivating your employees to live a healthier lifestyle and take care of their well-being. Lack of sleep can impact creativity, lead to poor decision-making and limit productivity. It can also negatively impact mental health. Here are some gift ideas for employee wellness that encourage better sleep.
1. Eye Masks
Help your employees block out light that can affect deep sleep by gifting them with eye masks. This helpful gift will calm and relax your employees, leading to a good night's rest and fewer energy dips throughout the day.
2. White Noise Machine
Allow your employees to create a calm and relaxing atmosphere with a white noise machine and speaker. A white noise machine blocks out sounds that can prevent your employees from getting good sleep by playing its own sounds, like waves or a breeze. Your team members can use a white noise machine while they sleep or work to enhance concentration and focus.
3. Weighted Blankets
A thoughtful self-care wellness gift that will help your employees feel safe and improve sleep quality is a weighted blanket. A weighted blanket mimics a baby's swaddle. It creates a sense of safety and security, which reduces stress and anxiety and prevents insomnia and restless nights. Instead of making your employees feel trapped, it puts them at ease and might even help them fall asleep faster.
4. Sleep Patches
If your employees have trouble sleeping at night, gift them with sleep patches. A sleep patch contains melatonin, which calms and promotes sleep and reduces anxiety levels that keep your team members up at night. A sleep patch can also help with sleep cycles and reduce insomnia. With a good night's rest, your employees can wake up feeling rested and energized.
5. Memory Foam Pillows
An employee wellness gift that will improve the sleep quality of your team members is memory foam pillows. These pillows support the neck, spine and head and relieve pressure that can cause aches and pains. Memory foam pillows perfectly mold around the neck of your employee and can limit snoring. This will boost the chances of deep sleep since the muscle relaxes and relieves tension and strain in the process.
Inspire Employee Wellness With ePromos Self-Care Gifts
With ePromos wellness and self-care gifts, you can show your appreciation for employees' hard work and commitment. Wellness gifts boost morale, improve productivity and show employees how important it is to take care of themselves.
Here at ePromos, we provide a range of promotional products that fit your company. Whether you want to gift wellness notebooks or custom yoga mats, we have the gifts that can make your employees feel appreciated. When you're looking for wellness gift ideas for your employees, browse our health and wellness products or contact us to get in touch with an expert.