The Complete Guide to Creating Impressive Swag Bags
Do you want to impress your attendees at your next event? Swag bags are an excellent marketing strategy for leaving a positive impression on your guests. Swag bags can be cost-effective and creative and go a long way in promoting your business. With versatile promotional items, you can create swag bags that impress your guests and increase your customer base.
Learn all about the benefits of swag bags for events and the best swag bag items below.
What Is a Swag Bag?
A swag bag is a bag filled with promotional items, often given out to attendees at different events. Some companies like to hand out swag bags to their employees, as well. Promotional swag bags may include apparel, stationery, food items and technology.
Companies can give attendees branded swag bags at the beginning or end of an event as an incentive for attending. Swag bags can be an affordable and effective marketing strategy to help increase conversions and create brand recognition and loyalty.
The Benefits of Giving Out Swag Bags
Whether you're promoting your brand at a trade show or other events, you want your guests to leave happy and use your products or services in the future. Here are some benefits of giving out swag bags:
Show customer appreciation: Giving out promotional items can show appreciation for your guests and influence their perception of your business.
Make a lasting impression: You can leave a positive impression on attendees, encouraging them to support your business. You can also encourage attendees to recommend your products and services to others.
Enjoy affordable brand promotion: You can purchase inexpensive yet functional and high-quality items to create impressive swag bags that increase your return on investment.
See more customer conversions: People interested in your business may need extra encouragement before supporting you. Incentivizing your attendees with swag bags can be an excellent way to motivate them to sign up for your services or purchase your products.
Build brand awareness: Promotional items can increase your brand exposure, especially if you give your attendees items they can use daily. Consider items like pens and hats that are easy to brand and can go a long way in showcasing your business.
7 Impressive Ideas for What to Put in Swag Bags
Creating swag bags for your event requires some thought and creativity. Consider items that align with your brand and help you fulfill your marketing goals. You can create impressive and cost-effective swag bags with quality and affordable promotional items. Here are some inexpensive swag bag ideas:
1. Clothing Apparel
Promotional apparel like T-shirts, socks and jackets can be an excellent way to impress your guests and promote your brand. Many clothing items are affordable to the brand and provide a smart way of showcasing your company logo or name.
People can wear and appreciate quality clothing for years, helping you get exposure for your brand that lasts a lifetime. Be sure to select a range of sizes and styles to accommodate everyone's needs and interests.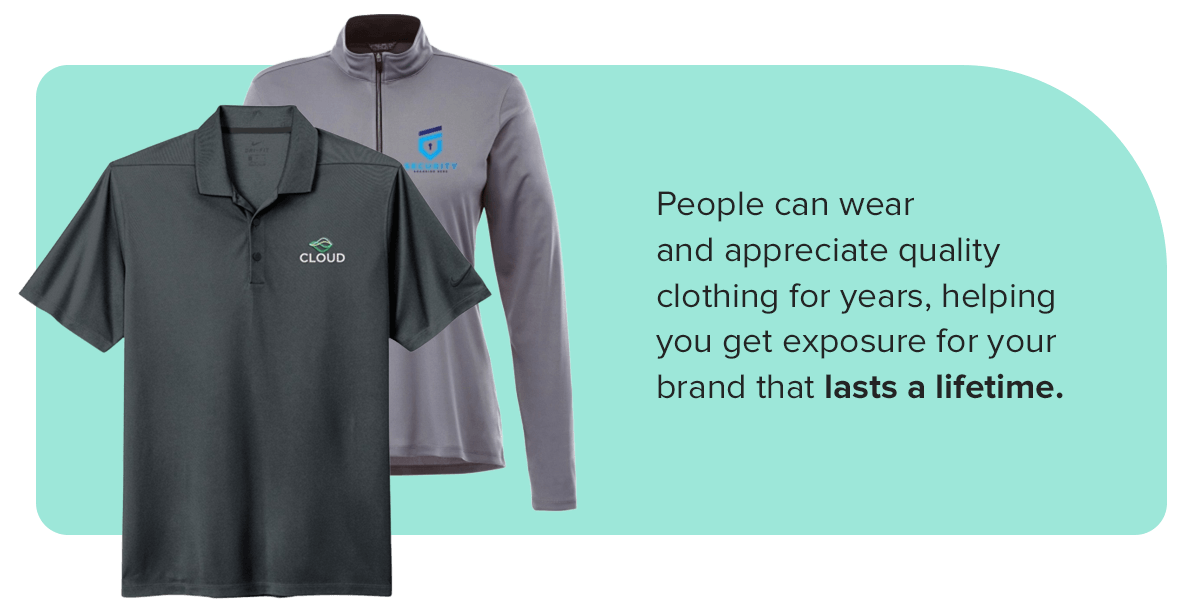 2. Caps and Hats
Caps and hats are popular accessories for every season. You can brand various hat types with your company logo and colors, such as beanies and baseball caps. Hats can come in handy on multiple occasions, like sports days or cold winters, and are also excellent to pair with outfits. Your brand can easily stand out on a hat or cap, providing excellent brand exposure.
3. Office Supplies
Promotional stationary items like pens, pencils and notepads can be useful swag bag items. People can use pens and notepads daily and appreciate the extra supplies. They're also shareable items and the perfect way to get brand exposure. Even if you're not having an event, you can pass out office supplies swag bags to your employees as a great gift.
4. Cell Phone Gadgets
Many people appreciate a new, high-quality phone case, power bank or pair of headphones. Promotional cell phone gadgets and accessories can be an excellent way to get people's attention. Putting your brand name on daily-use items can give your business maximum exposure.
5. Drinkware
People can take their new branded drinkware to work, to the gym or on daily walks and use them for years. You can also opt for drinkware like tumblers and travel mugs that can be versatile and perfect for taking on trips and keeping coffee and tea warm.
With various drinkware options available, you can offer an item that suits your event and audience. Depending on your audience, you can select between branded water bottles, wine tumblers, can insulators or travel tumblers.
6. Food and Candy
Food and candy are excellent swag bag additions for your attendees. People enjoy a delicious treat, especially if they can take it home and share it with friends and family. Candy jars, chocolate and food gift sets are exciting items that keep your brand front of mind.
7. Travel Accessories
Travel accessories like neck pillows and eye masks can be thoughtful swag bag items. You can add luggage tags, fanny packs and compact toiletry bags to your swag bag to impress your guests and give them items they can use for many years. Branded travel accessories with your company label and colors give people something to talk about on their trips.
Create Quality Swag Bags With Promotional Items From ePromos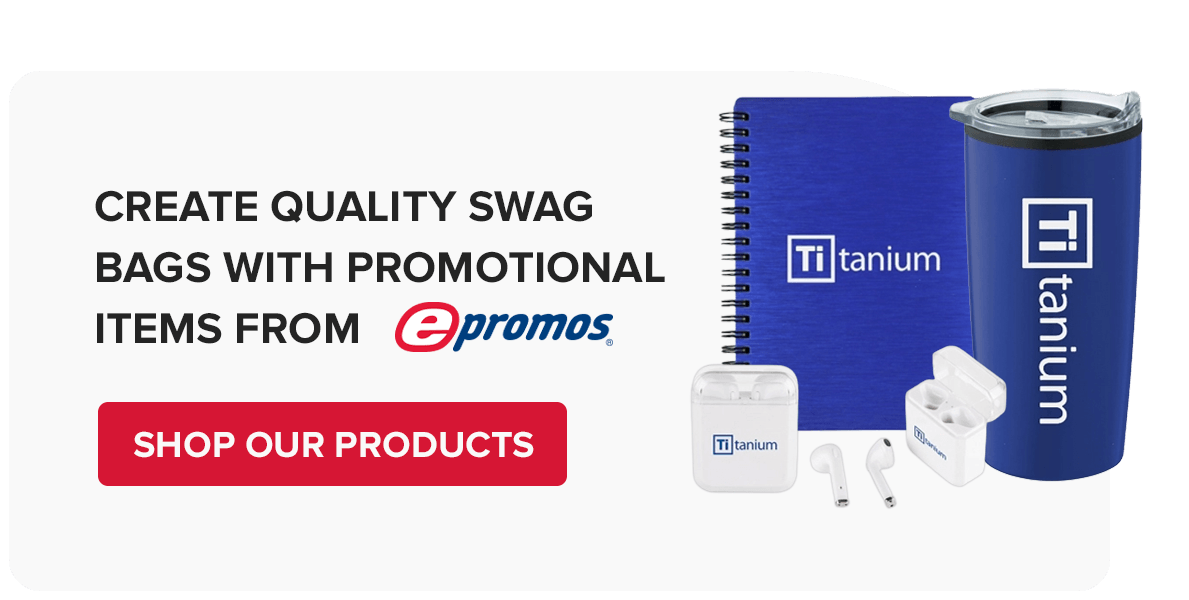 Do you want to impress your attendees at your next event? ePromos provides quality promotional items to create impressive swag bags. You can choose from our wide selection of promotional items like tech gadgets and apparel to create swag bags that align with your event goals and visions.
We offer promotional items and gifts for various occasions so that you can tailor your swag bag to your function. We can help you make your swag bag marketing strategy more effective with our versatile and cost-effective custom items. Browse our website, select your items and let us handle the branding.
Shop our wide range of promotional products today!