Promotional Products to Leave Behind for a Lasting Impression
Getting the opportunity to meet in-person with a client or potential customer is a privilege, especially in today's digital world, where everything seems to revolve around emails and smartphones. But did you know it's also way more effective? According to this study, meeting face-to-face is a whopping 34 times more effective than an email or text communication.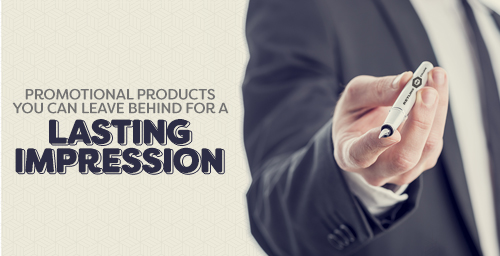 Getting in the door to meet someone is a solid step in the right direction, but what if you want to up the ante? How can you make sure you leave a lasting impression, one that actually makes a personal connection? We have good news; it's not as hard or as complicated as you might think. Introducing "leave behinds". In this piece we'll describe what leave behinds are, and which promotional items make great leave behinds you can use at your next big meeting.
Leave behind promotional items are custom products you can bring to business meetings to leave with attendees after it's over — and frankly, we think this is worth doing every single time. Why? These small tokens of appreciation (promotional products) have longer legs than you may realize. Not only are they a nice way to show your gratitude for an existing or potential client's time, but they serve as a reminder of that time spent together long after the meeting has ended. Also, they are wonderfully practical, in that they can include your name, brand, phone number, website, email address, or anything else you'd like to leave behind with a customer. Think of them as the new business card except they're not small pieces of paper that are easily lost, misplaced, or simply thrown out. Instead, they are functional, useful items that can serve a real purpose in a client's life, with the added benefit of constantly reminding them of you. Sounds pretty good, right?
Bringing leave behind promotional products to your next business meeting is a no-brainer, but what makes for a great leave behind? We all know the importance of a good first impression, but after you nail that you want to make sure you impress your clients and leave a strong lasting impression. Think of your leave behind as a key component to solidifying that lasting impression. Below we share some of our favorite items to use as leave behinds.
Leave behind promotional items are a smart strategy to prove to a client that you're willing to go the distance for them. While it's pretty typical to provide a catered meal during a morning or lunchtime meeting (and those are also appreciated), a physical gift like the ones we've discussed just go the extra mile to ensure you won't be forgotten when the meeting is over. They're a clever way to provide a constant reminder of your meeting/product/service without you constantly having to call or email (which can sometimes backfire if done too much).
Ready to order some promotional gifts for your next meeting? Get in touch today — we're standing by on phone, email, and even chat to help you get started and ensure your next meeting is a success.