Promotional Marketing Materials to Help Raise Customer Interest
Connecting with your customers is a must–after all, they're what's driving your business, particularly if you sell a public-facing product or service. As such, customers are your business, right? You know them, you study them (in a totally non-creepy way, of course), you love them. They are constantly on your (marketing strategy) mind, as you delve into analytics, sales, and any other data you can get your hands on to better understand and serve them, which is key to not only keeping the customers you've already got, but steadily growing your customer base, too. Looking for new ways to engage the beauty that is a customer? Enter…marketing materials.
Marketing materials, the physical items you use to promote your business (we'll get into examples below), are an important part of advertising. Remember how we mused over the fact that your customers, present and potential, are always on your mind? Well, think of marketing materials to make sure you stay on their minds, too. And really, it's not that complicated. If you can get something of substance into an individual's hand, the higher the chances they'll remember your business and engage with it. Sounds pretty good, right? Keep reading for all things promotional marketing materials – what they are, tips for creating them, and how to distribute them.
What are Promotional Marketing Materials?
Marketing materials, as described above, are the physical, customized items used to spread your brand-reach and engage with customers. Unlike a commercial or online ad, potential customers can't just click past them (i.e. ignore them) because they are actual real things! Taking up space! In their hands! Some of our favorite examples include:
• Business Cards – The most important part of connecting with individuals is making sure they can contact you easily and directly. Customers should not have to search or hunt you down online, where they may get frustrated, lose interest, or, let's face it, quickly become bombarded with competitors clamoring for their attention and business. Business cards are a simple, effective way to ensure customers have a direct line of contact to you. Keep your cards crisp and at the ready by storing them in a convenient business card holder. Nothing worse than handing someone a bent, wrinkly business card – except not actually having a business card to hand out.
• Promotional Products — Promotional products are an integral part of any marketing strategy. This in-depth study explains many of the reasons why, but a few quick highlights:
o People keep promotional products an average of just over seven months
o Nearly half of consumers with promotional products give them away when they're finished with them (as opposed to throwing them out)
o The average person in the U.S. owns almost 10 promotional products
Custom marketing materials are perfect for handing out to potential customers at any event, such as trade shows, sporting events, conferences, and festivals. Just keep in mind that bulkier products may be too cumbersome to carry around all day – like a mug, for instance. Instead consider small items for large events: pens, webcam covers, or key chains. If you prefer to give something bigger, consider an item that is easy to carry around, such as a reusable bag or t-shirt, both of which can be easily folded up and stashed away.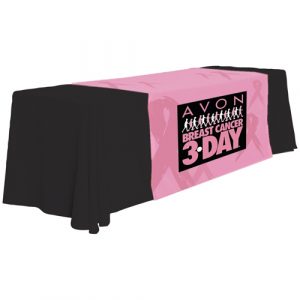 • Table Covers and Table Runners – Hosting a table at an event is a great way to get brand exposure, but keep in mind – first impressions count! When a potential customer walks up to your table, they should see a clean, neat, professional, and visually interesting set-up that clearly spells out your business name as well as your logo/slogan, too. Custom table covers and runners are a fantastic way to do this. You can choose from a variety of colors, including two-tones and multi-color to make sure your table display really stands out above the crowd.
• Signage – Signage includes anything with your brand on it that potential customers might see, such as a billboard, banner, or window display. They're a great offline marketing strategy to interest potential customers – so make sure they're interesting! Your signs should clearly include your business name, identifiable logo/artwork, and some sort of contact information, such as a website, location, etc. If there is enough space available, such as on a billboard, you can include a slogan or picture describing your business so that individuals can easily tell what the business actually is.
Tips for Creating Marketing Materials
Ready to get started creating exciting, new marketing materials to engage new customers? Before you get started, read through the below tips to ensure you get the most bang for your effort (and buck).
• Maintain brand consistency – While we're all for unique marketing materials, now is not the time to splash out on a wild new design or color scheme, unless you plan to go whole hog with your entire business and update everything to match. It is imperative any marketing materials you create absolutely match your current design scheme, otherwise you risk losing potential customers out of sheer confusion.
• Consider size – We touched on this earlier, but it bears repeating. Size matters. Bigger items may feel heartier, but they can unfortunately become a nuisance to carry around all day at a big event. Similarly, if an employee, such as a sales person, can't easily pull something out of his or her pocket when out and about in the world, they may miss an opportunity to connect with a potential customer/sale. While we advise having a multitude of marketing materials, make sure you include an option that is easy to (always) have on hand.
• Think like the customer – This advice is geared towards promotional items specifically. Which is to say, if you're going to use them, make sure it's something that is relevant to your industry and/or will be of use to the recipients. This will change depending on the theme of the event, size of the venue, location, and expected audience demographics. Promotional items are a hit because, well, people LOVE free stuff. They also provide a great opportunity to get creative and think like the customer – a great exercise for any business.
Places and Methods for Distributing Marketing Materials
Once you've got your marketing materials in hand, what do you do next? Unless they're say, a billboard or other large signage, in which case you do nothing but stand back and coo, admiring how beautiful they are (and BIG!). But seriously, what do you do with all your promotional marketing goods? Here are a few of our favorite places to distribute them:
• Trade shows – These may be clients, customers, or both, depending on your business. Trade shows can be high energy events and provide many opportunities to engage with potential customers, particularly if you'll be handing out free promotional items. Stand out with a custom coffee bar (perfect for a midday break), recharge station (complete with phone charging stations and five-minute chair massages), or a game complete with (promotional) prizes.
• Community events – These events are an amazing opportunity to create a positive influence locally. Your business could support a youth league, sponsor a "Founder's Day" in your town or city, or offer a special discount on your product/service for members of the community. You'll not only get the chance to get your business out to the public but do some good along the way.
• Parades – Adults and kids alike love parades. Giant floats rolling down the street, marching bands, and performers all add to the excitement. Consider getting in on the action by building a float to add to the lineup or setting up a table to hand out a useful promotional item that folks will use. For example, customized bottled water.
• Door-to-door campaigns – Canvassing to neighbors adds a personal touch to marketing outreach and allows you to get to know the customers from a new perspective – their homes.
• Mailers – These are a tried and true method for reaching customers. If using this method, it's worth spending the time to create the optimal mailing list so you can more adequately target your ideal customer. Mailers are also a good choice for reaching previous or current clients to say hello and remind them of your products/services.
We hope this information has started your wheels turning with ideas for your next marketing materials. We understand it may feel a bit overwhelming at first to think about, but really, it's an exciting place to be for a business – brainstorming new marketing ideas to attract new customers. Whichever route you take, from business cards, to customized promotional products, to signage, these items are a great way to enhance your marketing strategy and make your business sing. Do it right and that song will hopefully fall on potential new customers' ears.
Oh, and of course, should you opt for promotional products (we're big fans, if you haven't guessed), give us a call! Our expert sales reps are here to make things easy by offering unique ideas to make your marketing goals a reality with the use of custom promotional products.