The Top 10 Promo Trends for 2016
Products that were once up-and-coming, and consequently hard to come by, are now making a big splash at affordable price points. This can be attributed to advancements in the production of many of these products – be technical or scientific – and more competitors in the market driving down prices. Here we outline 10 of 2016's hottest, trendiest products for marketers and business owners to use in their promotional and operational efforts.
1. Bluetooth Headphones
Wireless headphones were some of the most expensive headphones for aperiod of time, despite their limited battery life and other technical limitations. However, Bluetooth headphones are becoming affordable more recently, with both performance and cost enhanced by their popularity within the marketplace. Bluetooth and other technical advances, paired with a variety of features at different price points, have created growing interest in these headphones. They're also especially useful for those on the go, who don't want to have their headphones getting caught on the treadmill or knotted in their bag while travelling.
2. Insulated, Temperature Retentive Tumblers
Insulated tumblers have become increasingly popular this year, for logical reasons. Whether you're filling it with coffee for your morning commute, or pouring in a chilled lemonade on a hot summer day, these custom tumblers ensure that your beverage retains its temperature for up to 24 hours. With a number of manufacturers on the market producing different iterations of this useful tumbler, they are now at a reasonable price point for consumers and make for a useful promotional giveaway.
 
 3. Customizable Journals
While classic, high-quality journals and planners are standard in many corporations, another craze has surfaced in journal production. This trend is journal customization, which goes a few steps further than simply putting your logo on the front cover. The interior of your journal can be customized with special fillers and inserts that are customized with your choice of color, format, content, branding and more. Some fillers you may wish to include are a calendar with your branding, lined pages with your logo, or specialty pages that contain text that you wish to share with your clients or employees. With so many options to make this journal truly unique to your brand, it greatly helps in soliciting a memorable reaction from recipients.
4. Product Packs
For those looking for promotional product offerings with a wow-factor, gift sets are a great solution. These are packs of products for similar use (think a gym bag, water bottle and towel), that are all branded with the same logo. It not only acts as an impressive customer gift, but can be surprisingly cost effective. This is because when the same logo design is used on multiple products, it helps to reduce set up and other production costs.
5. HXD Decorations
HXD uses a patented manufacturing process to create high-quality adhesives for apparel and other textiles. Its appeal is a mix of two features – firstly, HXD looks similar to embroidery, which has a high perceived value. Secondly, it boasts the quality detail and vast color offerings of True Edge™ Transfer. It's also super durable, which means it can be applied to a variety of textiles and outlast the wear and pressure that washing and drying machines can put on textiles. For these reasons, HXD has great appeal in the promotional product branding arena.
6. Custom Packaging
While offering a steadfast, creative product is key in fostering a positive relationship with your clients (ideal for turning them into repeat customers), you can lose the purchase before the product is even seen or used due to poor packaging design. Aesthetically pleasing packages hold a lot of weight in swaying a customer to make a purchase. Mundane, uninspiring packages will leave potential customers feeling just that way about your product – uninspired. Custom packaging for your products greatly helps to strengthen your brand recognition and convert potential customers. Plus, it's a practical way to get more eyes on your logo!
7. 4-Color Process Full Wraparound Logo Pens
Pens have been a long-standing staple of promotional product giveaways, being a largely popular product to distribute at trade shows and around the office. This year, we're seeing a lot of pens that boast a larger imprint area, where the logo fully wraps around the pen. We're also seeing a shift from pens with just one standard color logo, to a more visually appealing 4-color process. Take your marketing services to the next level with 4-color processing, which will allow you to integrate other information (such as your contact information or website) into the logo on your custom pen.
8. Using Biomimicry to Produce User-Friendly Products
When seeking products that suit different human needs, there's nowhere better to look than centuries of human evolution. Clever companies are taking advantage of structures and textures from nature that can be used as a resource to produce everything from user-friendly backpacks to chairs. Simple details such as adjustable straps and accessible pockets in bags are small, but have a big impact on customers.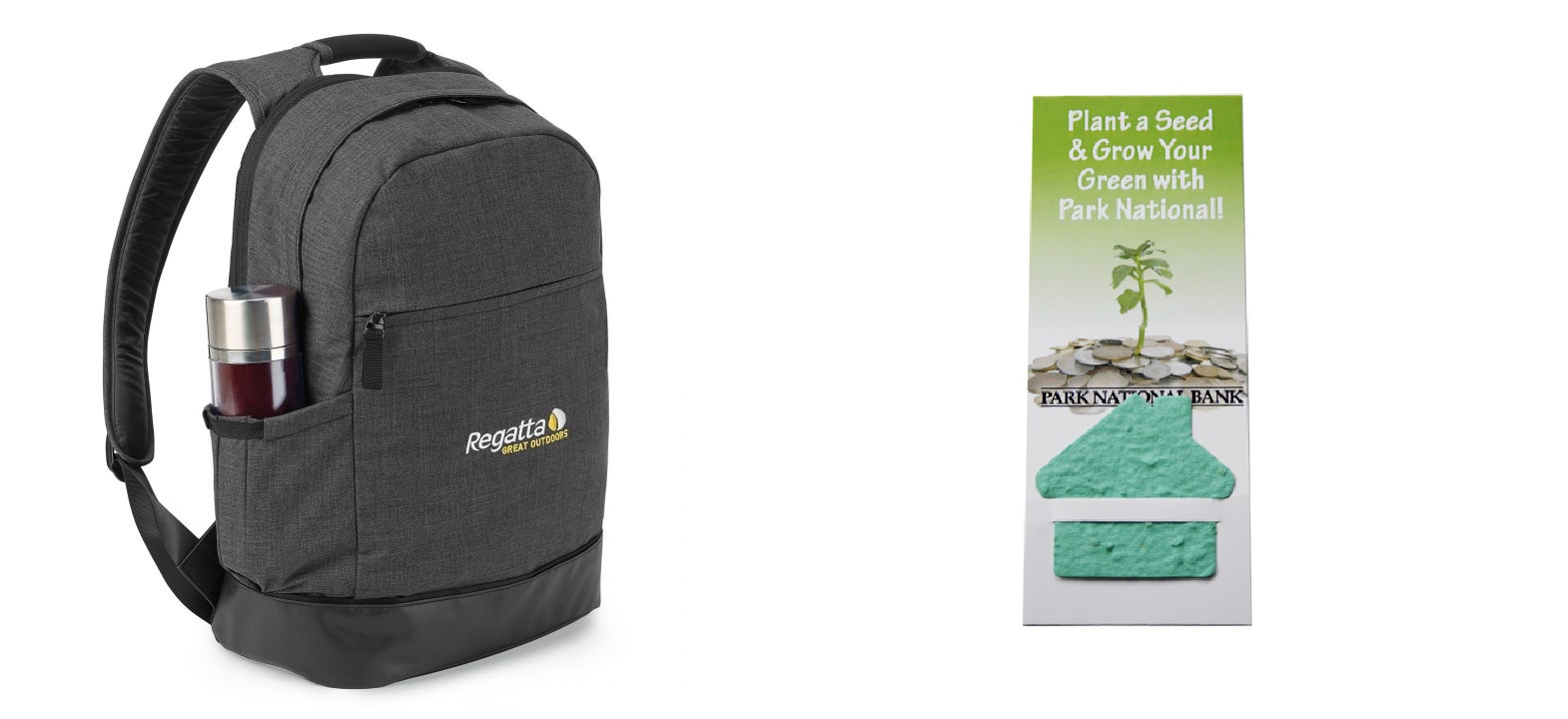 9. Product Collections
We're increasingly seeing manufacturers producing different products that all have a common thread. To provide a literal example, think using the same textile or pattern on anything from a lunchbox to a backpack. Other examples are beauty companies that offer a variety of products – like lotion, lip moisturizer and perfume – in the same branded scent. This can help companies cut down on material or other costs, while still offering customers a range of promotional gifts.
10. Americana Apparel
Ethical and patriotic, many people living in the United States would prefer to support their American economy through their promotional products. The phrase 'Made in America' has also increasingly become synonymous with quality. In addition, stars and stripes on apparel have transcended past Fourth of July costumery to be an every-day fashion statement. Stars and stripes are now found on everything from shoes to tote bags, in a variety of color and pattern iterations. We predict that this style will stick around for a while, so consider offering Fourth of July reminiscent products that will be trendy year-round.