Get Well Soon Kits for Employees
When your employees take sick days, having something extra to offer them is a nice touch that will come as a pleasant surprise. Show your appreciation and consideration by providing employee care packages. Keep reading if you're looking for products to place in a get-well basket or relief package.
7 Gift Ideas for Employee Care Packages
Designing a care package is similar to putting together any gift basket, only you'll probably want to focus on items that people commonly use when they're sick. A care package is when you put together various related items — like soup, tea blends and tissues — to help someone feel better, such as when they're under the weather.
Below are seven care package ideas for your resting employees:
1. Coffee Mugs
Sitting wrapped up in a blanket or robe with a hot mug of coffee or tea is just what a sick employee needs. A promotional coffee mug can have many unique features depending on the type you want to order for your care packages. The most common options are ceramic or stainless steel mugs.
Gifting coffee mugs is a great idea because they're:
Comforting: A hot cup of coffee, tea or hot chocolate can be a blessing on drowsy sick days. For added convenience, your employees can heat up portions of their favorite soups in their mugs for a comforting meal.
Practical: A coffee mug is a useful item even when your employees are feeling their best. When they recover, they can continue enjoying their gifted coffee mugs and even bring them into the office.
2. Water Bottles
Staying hydrated is important when you're sick. Gifting custom promotional water bottles with your chosen features and designs is the perfect idea because they're:
Functional: A water bottle is helpful for many purposes. Having reliable access to water, whether you're sick in bed, working out in the gym or on the way to the office, can help you feel your best. Encourage the benefits of hydration by giving your employees handy water bottles.
High-quality: Investing in a quality gift for your employees goes a long way to show them how much they're appreciated. Include durable, nice-looking water bottles in their care packages for a surprise they're sure to love.
3. Thermometers
Branded thermometers are useful to have on hand for someone who might have to monitor their temperature while sick. These items are ideal for a sick care package because they're:
Suitable: This thoughtful gift fits the intention of your care package perfectly, and you can bet that your employees will put them right to use after they receive their care boxes.
Useful: This device will be a welcome addition to your recipients' first aid kits, as they'll continue to use the thermometers when they or their family members get sick.
4. Heat and Ice Gel Packs
Many gel packs can be frozen or heated, so they have more than one function. A set of heat and ice packs makes a fitting gift because they're:
Multi-purpose: While packs are good for treating sore muscles, back pain, cramps and sprains, they can also be used to keep food and drinks cold or a lunch plate hot.
Comforting: These packs offer a lot of comfort for rest days, whether your recipient needs to wrap an ankle in an ice pack or treat a muscle cramp with a hot pack.
5. Tissues
What's a care package without tissues? Extra packs of tissues are just what a sick employee needs to recover, and you can order promotional tissue packets with company branding to remind your workers you care. Overall, tissues are:
Timely: Compared to most other supplies, tissues are one item sick employees will probably require. Keep them well-stocked by sending some more to their doorsteps.
Affordable: Because tissues are affordable, you can order as many as you need to send to employees when they take sick days.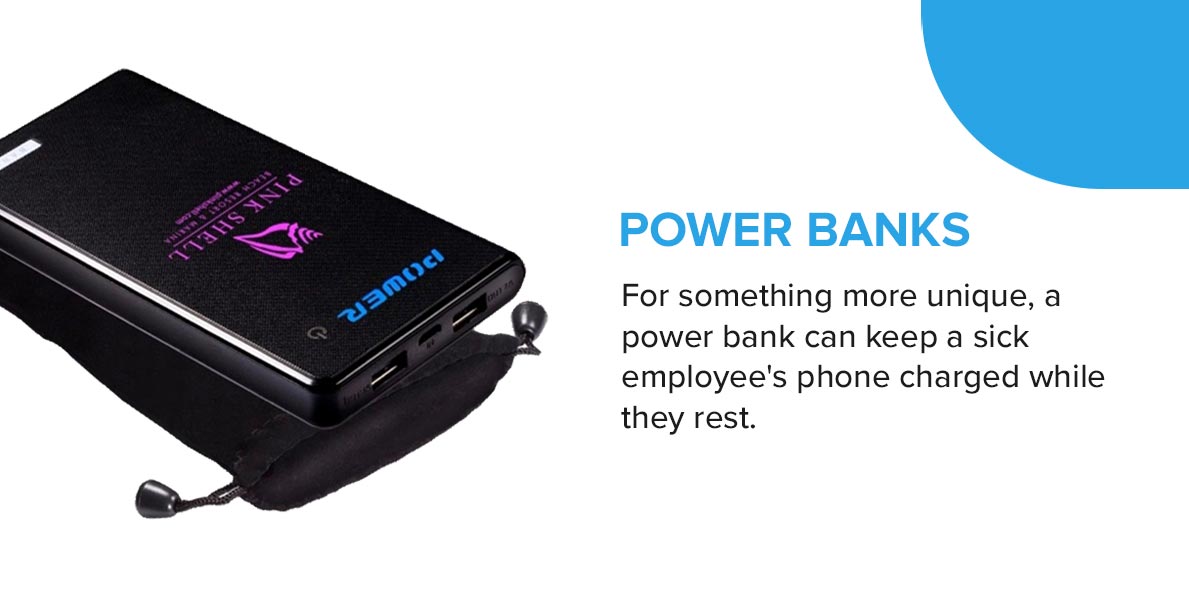 6. Power Banks
For something more unique, a power bank can keep a sick employee's phone charged while they rest. Sending power banks and chargers for phones or laptops is a good idea for any company, but it's especially fitting if your company's industry is technology related. The benefits of power banks for care packages include being:
Practical: Electronics are part of most people's daily lives. Staying plugged in is important for ill employees who lack energy, especially those who have lengthy hospital stays ahead of them. Plus, your employees will continue to use their power banks after they recover.
Valuable: A quality power bank is a valuable item that comes as a special surprise. If a team member ends up losing their main charger, they won't have to spend money on another one — they'll have the power bank you sent them.
7. Socks
Pulling on a pair of comfy socks is comforting when you're sick. These items are useful for a get-well-soon gift kit because they're:
Well-made: Some socks have special features that make them ideal for gifts for sick employees. While certain socks have grips so your employees can wear them like house slippers, others are moisture-proof or made from an antimicrobial knit.
Universally popular: Everyone needs and likes new socks, so your employees will continue to wear them after it's time for them to return to the office.
8. First Aid, Health and Safety Kits
If you want to include an item in your care package that's strictly health-related, you have several great options for promotional gifts, including first aid kits and safety kits with gloves and masks. These items are a good choice because they're:
Helpful: A health kit works great for helping employees get back to feeling better. If you're unsure what to put in a gift box individually or prefer the convenience of ordering pre-made gift boxes, a prepared kit is a helpful choice.
Different: Each kit comes with its own unique items or features, so you can pick the best option for your employees and their needs or preferences.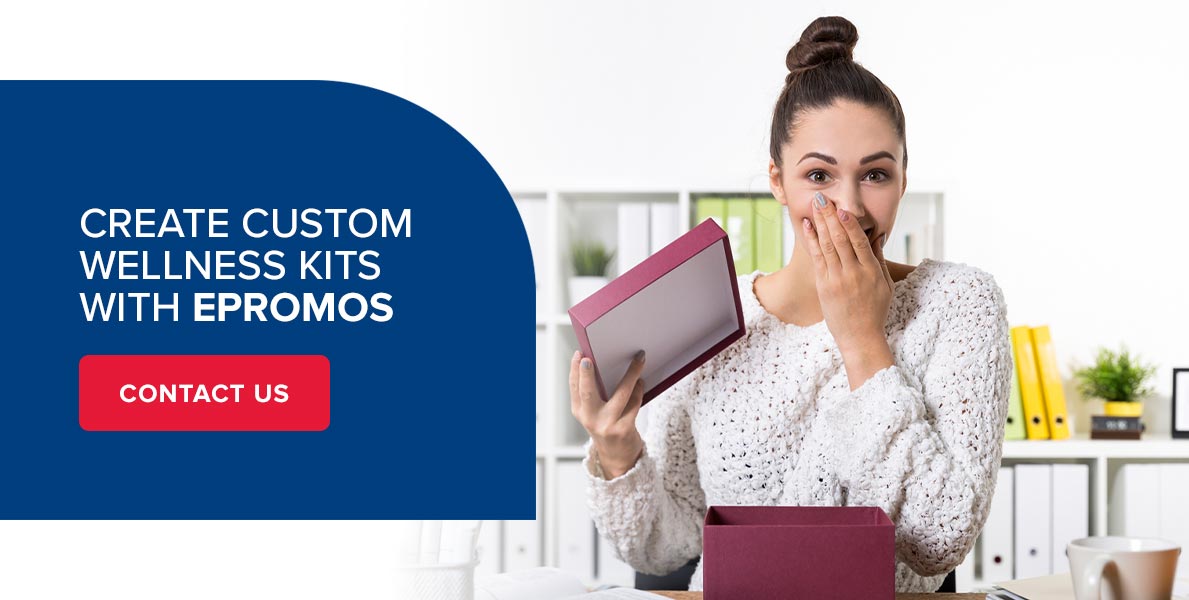 Create Custom Wellness Kits With ePromos
Show your employees how much you value them with surprise gifts. At ePromos, we have plenty of high-quality promotional products that would be perfect for wellness kits or a care package. Browse our wide selection of gifts for your wellness kit, or contact us at 877-377-6667 if you want more information about any of the products we offer.