14 Best Gifts to Celebrate Employees' Achievements
Your employees and team members deserve to celebrate their achievements and promotions after helping the company reach new heights. And what better way to celebrate than with a moment of gift-giving? Employee promotion gifts will be much appreciated and can contribute to an empowered and healthy work environment. Plus, gifting a branded product can improve brand recognition!
So, what are the best gifts to give recently promoted team members? You've got lots of options, including food gift sets, desk accessories, apparel and more. In this guide, we'll provide you with 14 exciting promotion gifts for employees to help you honor their success and show support for their future endeavors at the company.
1. Desk Accessories for an Improved Professional Look
Desk accessories make excellent employee recognition gifts. They can help promoted employees continue pursuing excellence, encouraging them to remain focused and motivated in their new position. Simple and visually appealing work accessories can do the trick in inspiring productivity, but branded promotion gifts for employees can take things up a notch.
Everyone who walks by their desk, including potential clients and loyal customers, will notice the branded merchandise and gain a positive impression of your company. Some examples of desk accessories you can gift to your employees include:
Desk organizers: Desk organizers offer a great way to keep your employees' desk space neat and clutter-free. Promotional items such as a pen holder, dual phone changer, headphone stand, memo holder and multifunctional desk organizer are prime examples of the perfect gift to give employees who want a sleek and professional-looking workspace.
Office supplies: Offer your employees custom office supplies to make them feel even more professional and ready for the work day. These supplies can include branded desktop vacuum cleaners, a desktop whiteboard, framed message boards, business card stands, calculators or jarred snack gift boxes.
2. Organization Gifts to Help Them Stay Organized
Simple productivity gifts can help employees feel more prepared and supported in their new role, especially when they're going to be taking on more tasks or carrying out more complex day-to-day activities. In these times, items such as notebooks, calendars, planners and notepads can be the best business gifts since physically writing information down has proven to improve cognitive processes and memory retention.
Equipped with organizational supplies like notebooks and planners, employees can better ensure that work processes are carried out accurately and on time. For example, your employees may use their notebooks and planners to record important information about tasks they need to complete. They can also take note of deadlines, strategies to implement and items for future discussions.
3. Promotional Bags for Every Occasion
If you know that a promoted employee is going to be carrying a lot more equipment around in their new position, give them your support in the form of a spacious new bag that will last for years. Some bags you can gift your employee include:
Briefcase: These bags have numerous compartments, making them excellent for carrying work essentials like drinkware, laptops, phones, tablets, folders, writing instruments and charging cables.
Drawstring bag: Drawstring bags can come in various materials and sizes and are extremely versatile. Recipients can use them at conferences, take them to the gym or pack them with essentials for hikes.
Tote bag: Tote bags are practical and stylish both in the workplace and on personal trips to the gym or food market, making them a valuable gift for all employees.
Lunch bag: If your employee's bag is going to be filled to the brim with work material, provide them with a lunch box or lunch cooler. With this new bag, you can help ensure employees care for their health in their new position.
Laptop bag: Laptop backpacks and sleeves are fantastic for ensuring your employee's technology stays safe and secure. It also leaves space for personal items such as keys, notebooks and pens.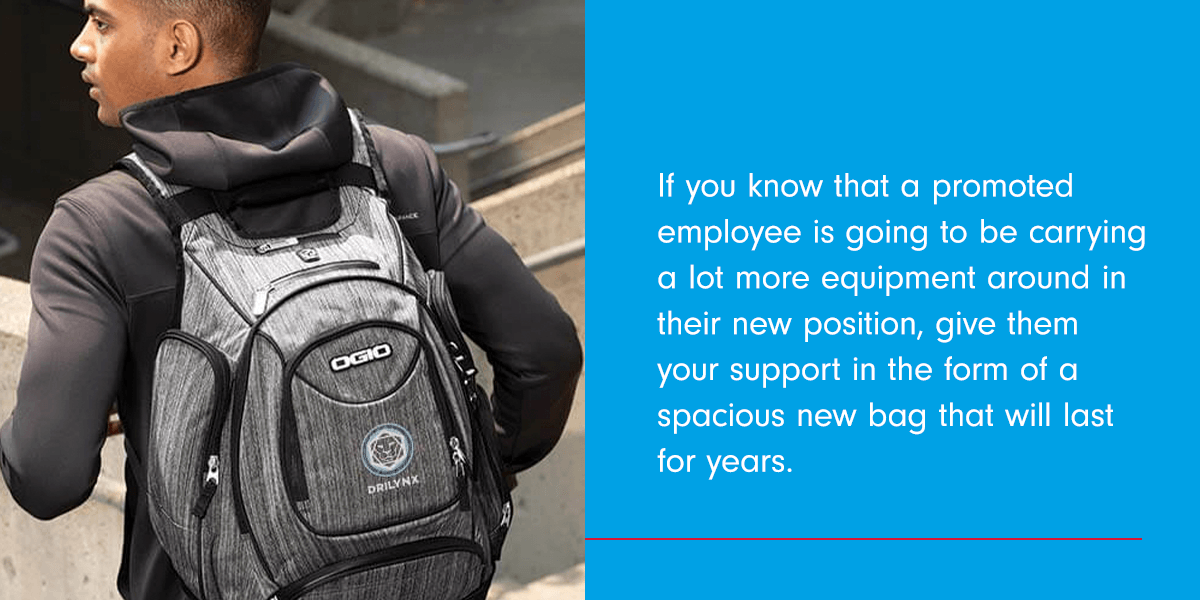 To add an extra special touch, add a branded element to the bag to let your employees know they are valued members of the company. This can include anything from a logo to a company slogan. As a bonus, your employees will spread brand awareness everywhere they go when new people and prospects catch a glimpse of their branded bag.
4. Drinkware
Drinkware gift sets are another great way to make promoted team members feel appreciated, whether it's in the form of a tumbler, coffee mug or water bottle. These items last a long time, allowing users to reduce waste associated with the typical throwaway cups. Promoted employees can also use their tumbler or water bottle on the go as they make their way to meetings or out of the office after work.
Check out these exciting and elegant branded drinkware gift set ideas:
A self-care tea gift set with a mug, various teas and a scented candle.
A coffee press with glass mugs or leather coffee mugs with a matching flask.
An all-in-one set that includes a tote bag, water bottle, notebook and pen.
5. Office Pens
A new pen can symbolize a new chapter in one's professional career, making it an excellent business gift for employee recognition and promotions. Pairing pens with a matching notebook can make this gift even more meaningful. Before choosing a writing gift set for your employee, you'll need to consider which pen is most suitable. Here are a few pens that stand out:
Classic pens: A classic javelin pen customized with your company's logo and colors is personal and practical.
Gel pens: Gel pens are ideal if you want your employees to have a smooth writing experience while writing out notes. These pens also come in various colors for more fun note-taking.
Novelty pens: Some employees may enjoy a funky and playful take on pens. In this case, gift them a novelty pen that has silly faces, lights up or has a fun cap.
Multifunctional pens: Employees who like to color code or use various colors will love pens with multiple ink colors.
6. Health and Wellness Promotion Gift
Receiving a promotion is undoubtedly exciting, but it also comes with higher expectations and more responsibilities that can increase work stress. With this in mind, reward your employees for their hard work with personal care items that help them combat this stress and create a healthy work-life balance. There are many unique employee promotion gifts that can improve and maintain your employee's health and wellness, including:
Stress-O-meter monitor card: These cards help track the user's stress levels. They can stay aware of stress and take steps to counter those feelings when they arise.
Rest and relaxation kit: Make sure to include useful products that promote restful sleep.
Spa kit tote: A spa kit promotes self-care and includes various spa items to support a relaxing evening or weekend. You might include bath bombs, face masks or lotions.
Safety items: If your employees work in a hazardous environment and could use some new equipment, help them feel safer with protective masks, safety whistles or customized reflective safety vests.
7. Promotional Printed Apparel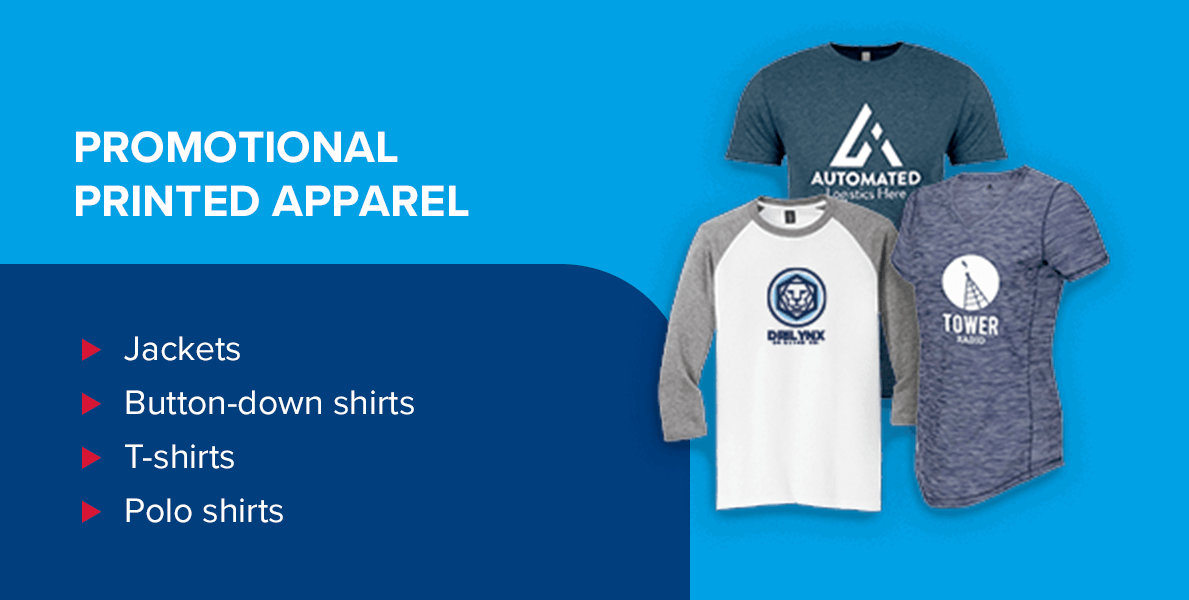 Give your employees a stylish gift they will appreciate. From cozy outwear to polo shirts they can wear to a sports game, with customized apparel, your employees will promote your company wherever they go without even saying a word. Some branded apparel you can gift them include:
Jackets: Cozy jackets are one of those pieces you never want to take off once you put them on, especially in the winter. They're a perfect gift if your employee receives a promotion during a colder season.
Button-down shirts: Allow your promoted employee to kick off their promotion with smart and sophisticated button-down shirts.
T-shirts: If your employee is more of a t-shirt person, gift them the type of t-shirt they can flaunt at work or on a day off. There are various styles you can choose from, including crewnecks and V-necks, as well as short-sleeved and long-sleeved shirts.
Polo shirts: Polo shirts are appropriate in various settings, including semiformal and casual workspaces and special campaigns or events.
8. Headphones and Earbuds
If a promoted employee loves listening to music while they work or is a podcast connoisseur, gift them with a high-quality pair of headphones or earbuds. With hands-free noise-canceling headphones and earbuds, your promoted employee can engage with their work more deeply and stay productive throughout the day.
After work, they can get their workout on or take a long walk while enjoying their music, podcasts or audiobooks. These headsets will last for years, meaning employees get to enjoy them long after they've been promoted.
9. Cell phone Accessories
Smartphones often act as someone's most treasured — or at least most used — personal possession. If you're looking for something simple yet valuable to gift your employees, consider gifting them some cell phone accessories. And when you customize these accessories, the gift can become even more special for your promoted employees. Some useful cell phone accessory gifts include:
Cell phone wallets: Cell phone wallets are wallets that stick to the back of a phone, allowing quick and easy access to business cards, IDs and more. They come in various colors and styles, making them a convenient gift, especially for the employee on the go who wants to grab their phone and get going.
Cell phone grip and stand: Grips and stands are stylish accessories your employees can add to their phones. They make it easy for them to watch videos on their phones hands-free.
Cell phone charging stands: A charging stand allows employees to wirelessly charge their phones. They can leave it at their desk for those pesky days when they forget to bring a charger.
Screen cleaner: Phone screen cleaners come in many different shapes, sizes and colors to accommodate all tastes.
10. Computer Accessories
Customized computer accessories have become increasingly popular in recent years, making them a superb gift idea for promoted employees. Computer accessories add a classy touch to their new desk and can serve as a reminder of how far they've come. Here are a few computer accessories that can put a smile on a team member's face as they approach their desk every morning:
Webcam cover.
Laptop skins.
Blue light reduction glasses.
Wi-Fi extender.
Screen cleaner.
Mouse pad with built-in storage compartment.
Tech and cord organizer.
11. Personal Care
One of the best promotional gifts for hard-working employees includes personal care and beauty gifts that let them know you care about their mental and physical health, too. Give them a combination of thoughtful and lightweight gifts they can use anywhere, including the office, at home and when they're out traveling. Valuable gift ideas include:
Sunscreen.
Eye masks.
Travel packs.
Hand sanitizer gels.
Fanny packs.
Compact mirrors.
Sunglasses.
Lint rollers.
Lip balm sets.
12. Drinkware Accessories
Show employees you care and remember their interests with drinkware accessory gifts they can use in their spare time outside of work. If they enjoy wine or wine tasting, gift them a wine-tasting journal they can appreciate. As another example, give your promoted employee who loves a cold beer on the weekend a nifty bottle opener, unique ice molds or a cocktail multitool.
If your employee is more into funky and colorful items, get them an out-of-the-box inflatable beverage coaster, some colorful straws or some bold coasters. Other drinkware accessories you may consider for your employees include collapsible and reusable straws with pouches or customized anniversary coasters.
13. Food Gift Sets
If your employee loves a good snack or has a sweet tooth, give them a food gift set. What better way to celebrate a promotion? Some tasty ideas include:
A movie snack box for those who enjoy a good movie with their snacks.
Cookie decorating kits for a promoted employee who loves decorating desserts.
Jarred sweets and snacks for your employees to keep at their desks.
A customized do-it-yourself food kit.
A tumbler or mug snack combo.
14. Kitchen and Grill Gift Sets
Does your employee love gardening? Do they enjoy cheese tasting or grilling on a Friday afternoon? Cater to your employee's interests with a gift you know they'll enjoy to the fullest outside of work. When you gift your employees with items that match their personal interests, it shows all team members they are valued by the organization. Here are a few examples of niche gifts that will get your employees excited:
Picnic cheese board.
Planter set.
Grill set.
Tea gift set.
Coffee press set.
Cocktail kit.
Barbeque toolset.
Grill apron set.
Improve Employee Recognition With Promotional Items From ePromos
While there are various reasons to give workers employee appreciation gifts, such as birthdays and work anniversaries, employee promotion gifts are possibly the most important. These employees have earned recognition through hard work and perseverance. Show them how valuable they are to the company with a unique promotion gift they will appreciate.
If you're looking for promotion gift ideas for employees, ePromos has a range of items to choose from. We're a promotional products provider, meaning you can gift your employees a meaningful item and showcase your company at the same time. Whether you're looking for one of the products mentioned above or seeking something similar, browse our selection of promotional gifts today to make your employee's day.