Awareness Events in August
August is the perma-Sunday of summertime. A last chance to cross off any summer bucket list items, like getting to the beach, finally taking a vacation, and using the grill as much as possible while it's still light out until nine o'clock (and too hot to cook inside anyway!). Fall signifies shorter days, back to school season, and chillier nights that only serve to remind us all that winter really is coming— the Monday to August's Sunday, if you will. But like any good Sunday, August is no reason to sit inside and pout. There's still sunshine! Hot weather! And sweet, slow summer vibes. There are plenty of reasons to send August off with a celebration (that begins on August 1 and ends on August 31…!).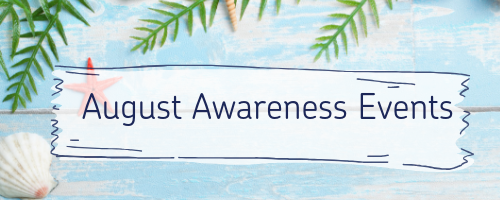 As a company looking to promote your brand, you can help with the celebration by getting involved in the many national events and awareness days of August. While they may not be as well-known the 4th of July or Labor Day, they are still worth investing in. In fact, because they tend to be smaller and more niche, you just may find a crowd that is better-connected and passionate about the celebration (as opposed to the generalness of say, Labor Day), as well as less competition from other brands. In this piece we offer a handful of national events, ways to get involved in the extravaganza that is "Back to School" season, medical-awareness days, and general awareness days — all of which are celebrated each August.
National Events
There are several nation events in August that may suite your brand. Here's a few of our top picks:
• Family Fun Month
Summertime — time off from school — is basically what every kid lives for.
On the other hand, it can be incredibly tough for parents to find opportunities to fill each day for their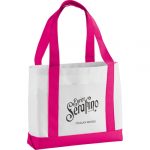 kids, especially if said parents are working full time. Help a mother (or father) out by creating a family-friendly event in August hosted by your company. One idea is to host a movie night in a local park, complete with against projector screen, popcorn machine, and games before the show. Consider branded prizes that go along with the theme, like beach chairs and chairs that can be used to sit on during the movie, beach totes for carrying everything required when you travel anywhere with a child, candy and other snacks that can be packaged in branded materials, and balls for kids to play with before the show.
• National Financial Awareness Day
Finances…something most people don't like to talk about much, yet would probably be better off if they did, especially since the majority of Americans are in debt. If looking to promote your brand with this day (which occurs August 14 FYI), you don't necessarily have to be a money-oriented business for it to fit. Although, of course, if you are a finances/economy/money-focused company, start planning your contribution to National Financial Awareness Day now! That said, every business is at least loosely related to finances (um, things cost money!). You could go as far as to hosting (or co-hosting) a financial health event, complete with money savvy speakers and financial planners available to speak one-on-one to participants. Branded goods could include pens and notepads (perfecting for jotting down notes), or even a good ol' stress ball (money can be stressful, after all!).
• National Coloring Book Day
While coloring is practically a rite of passage for young children, it has also become wonderfully popular for adults, too, thanks to the calming and therapeutic effect it can provide.
After all, who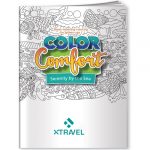 couldn't use a little bit of de-stressing from time to time? To celebrate this national event, what could be more perfect than a branded coloring book to give away as a promotional gift? ePromos offers a ton of child-friendly coloring books that are not only fun to use, but educational. Themes include summer safety, anti-bullying, and playground safety, among others. Adult-friendly coloring books are also offered in a variety of themes, like flowers, cars, and U.S. landmarks. Aside from simply giving out coloring books on August 2, the official date of National Coloring Book Day, you could take it an extra step by hosting a fun all-ages coloring book event. This could be held virtually, with a hashtag to encourage participants to post and share their coloring creations online. Or, it could be held in-person, complete with tables full of coloring books, crayons, and colored pencils for participants to sit down, color, and relax. Special guests might include artists that share wisdom and tips for drawing, painting, etc.
• Women's Equality Day
Women's Equality Day, which is celebrated annually on August 26, is held for a very special reason— that is the day, in 1920, when the 19th Amendment became official, which granted women the constitutional right to vote. The day was first celebrated in 1973 as a way to pay homage to the suffragettes whom fought for women to have a say via voting in the U.S. — a monumental occasion to say the least. To mark this national day, consider a virtual campaign that celebrates all the hard work of not only women throughout history, but perhaps specifically in your industry — including those in your company. For instance, if you have a female CEO, consider an interview in your monthly newsletter (or whatever communication you use to connect with your audience) that highlights her achievements along with advice to young girls to encourage how they can become future leaders — something that is sorely needed, as this Pew research shows that women make up a disproportionately low amount of leadership positions in the U.S. government and companies.
Back to School Season
August is also the perfect time to prep parents and kids for back to school, which typically occurs in early September. This provides plenty of opportunities to get your brand out there, as back to school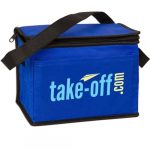 shopping/preparation can be a huge effort, and as such, gets a ton of attention. One way to join in on the excitement is to donate logo products to schools as a charitable effort. It's been found that most public school teachers use their own money to buy needed classroom supplies each year, so gifting some of those in any capacity would surely be appreciated (and needed)! This is a great way to not only offer something useful to your community, but an excellent way to become involved in said community and create some good will for your brand. Promotional products that are always in need during the
school year include a slew of items, like pens, pencils, notebooks, lunch boxes, backpacks, and more.
Check out our Back to School promotional collection for more ideas of items that are perfect for customizing for kids and teachers heading back to school in September.
Medical Awareness Days
August has many medical awareness days that may be appropriate for your brand to promote, particularly if you are in the health, wellness, or medical-related field, such as a hospital or pharmaceutical company. Here is a handful of awareness days with a brief description of each to help determine if joining in on any of these days fits your brand and messaging.
• National Immunization Awareness Month — This annual observation, which always occurs in August, is promoted by the Centers for Disease Control and Prevention (CDC) as a way to mark the important roles vaccines play in preventing diseases throughout one's life.
• Spinal Muscular Atrophy (SMA) Awareness Month — August is dedicated to raising awareness of this horrific disease that has devastating effects, such as the inability to walk, eat, and even breath. While there are year-round efforts to raise awareness and funding for SMA, this month is an especial time to plan events and make a real going at raising awareness.
• Psoriasis Awareness Month — A skin condition that affects upwards of 3 million people each year, August is dedicated to raising awareness of this all too common condition.
• Neurosurgery Outreach Month — The goal of this event is to raise awareness about what it is like to live with and be treated for neurological conditions. Each year a different neurological condition is highlighted. In 2019 the spotlight is on neurological spinal conditions.
• Children's Eye Health and Safety Month — Eye health is important for people of all ages, and installing good eye health and safety during childhood is a great way to promote life-long good eye health and awareness. The Prevent Blindness organization has dedicated the month of August to promoting all things children's eye health.
Additional August Awareness Days
August may bring summer to a close, but it's not stopping the celebration until September is officially here. These additional August Awareness Days are just more reasons to celebrate— and get your brand out there!
• Happiness Happens Month — Talk about a reason to celebrate. This awareness event promotes the notion that happiness is both unlimited and contagious and plays with the idea that your happiness has a rippling effect by making other's happy, too. Honestly, we're smiling just writing this because it's just so…happy.
• National Aviation Week — This is celebrated the week of August 19, to coincide with National Aviation Day, a celebration of Orville Wright, of the famous flying Wright Brothers.
• International Youth Day — Held annually on August 12 and promoted by the United Nations, this day celebrates the many youth of the world (ages 10-24), and their role as "essential partners in change", as well as raising awareness to the many difficulties and issues facing today's youth. The 2019 theme is "Transforming Education" and seeks to promote efforts to make education accessible for the youth across the globe.
• Coast Guard Day — This celebration is held each year on August 4th to commemorate the creation of the U.S. Coast Guard in 1790 by Alexander Hamilton.
• Be Kind to Humankind Week — Celebrated each year from August 25-31, this awareness week aims to make people reflect on how they can help make the world a better place. Each day has its own theme, including "Willing to Lend a Hand Wednesday" and "Speak Kind Words Saturday".
Woo-wee, there are a slew of reasons to celebrate in August. As we mentioned earlier, none of these are necessarily widely-celebrated events, though they are each surely worth calling attention to and celebrating. From a business perspective, the slightly more nuanced perspective of these events may mean that they won't have as much competition, allowing you the opportunity to take the lead and spotlight them, promotional goods in hand.