May is a spirited month, a time of growth and new life — spring! April showers have (hopefully) stopped, the trees are budding, and flowers spring from the earth. People are ready to reemerge from their winter hibernation (of Netflix binges) and get out into the springtime air. All in all, it's pretty great.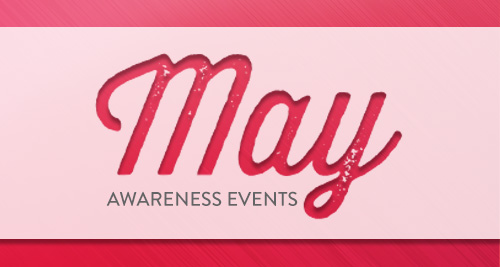 With all this naturally going on, May practically forces people to want to celebrate, making it an excellent time to get your brand involved in an awareness event. Using your brand's voice to support and connect with one of these events is a fun and dynamic way to get involved in your community (whether on a local, national, or even global scale) and connect with new audiences. In this piece we share the details on all the May holidays and awareness days. Keep reading to see which ones align with your brand and consider ways to get involved this month.
May Holidays and Awareness Days
May offers a big range of awareness opportunities, from day- to week- to month-long events. Below you'll find an exhaustive list of everything this month has to offer, complete with a short synopsis of the event and a link to more detailed information. Without further ado, let's dig in.
If your brand is in the education or kids' space, these could be great awareness days to get behind by offering discounts or free (promotional) gifts to educators.
Medical Awareness Observances in May
May has many medical awareness days that may be appropriate for your brand to promote, particularly if you are in the health, wellness, or medical-related field, such as a hospital, research, or pharmaceutical company. Here is a handful of awareness days with a brief description of each to help determine if joining in on any of these days fits your brand and messaging. If you do opt to join any of these campaigns, we suggest reaching out to the organizers, or incorporating some of their communications pieces (many have available toolkits that include items like promotional posters and social media copy you can tailor) into your work to ensure you are representing the cause accurately.
As you can see, May is chock full of awareness events — hopefully you've found one that rings true to your brand's identity. Getting behind something that speaks to your brand's voice is a great way to connect with your audience, as well as expand your brand's reach. And as if those reasons weren't good enough motivation to get involved, there's the additional bonus of doing some social good in many of the above-mentioned awareness events. We suggest you consider adding promotional products to your marketing campaign to make a lasting impression and commemorate your event. Ready to get started? Reach out to ePromos today. Our reps will walk you through each step of the ordering process to ensure it's an easy and smooth experience for you, and backed by our 110% guarantee.