Finding a Hat that Fits: On Your Head and For Your Brand
Hats and caps are a fashionable, practical way to represent your brand. At ePromos, we offer hats in a variety of styles, from baseball and trucker caps to visors and novelty headwear. Customize something with your logo to create a unique giveaway for your next party or event. With so many choices, there's no limit to your creativity.
Hats are typically sold as "one size fits all" though what this means varies depending on the manufacturer. In most cases these differences are minor, but they matter if you're looking for the perfect fit. Human heads can vary a lot from person to person. So, before you begin placing your hat order, be sure you know a bit about sizing. This guide will walk you through fitting basics, including how read the sizing charts. Whatever style you choose, you need it to fit well.
If you buy a hat that's one size fits all, chances are it will fit well enough. But, if you have a few sizes to choose from, why take the time to find the best fit? You can measure your head on your own, but it works best if a friend or someone else can help you.
Step 1) First find a sewing tape measure, a length of string or a flexible pocket-sized tape measure will work too.
Step 2) Place the string or tape measure around your head about 1/8″ above your ear, across the mid-forehead, completely circling your head. Hold the measuring tool snug, but not too tightly. Basically, you need to measure your head exactly where the hat will set and hats should fit snuggly; not too tight or too loose.
Step 3) Be careful to hold on to your endpoint on the string or sewing tape measure in order to properly mark your head size.
Step 4) For the sewing tape measure, simply correspond your measurement to our hat sizing chart. For your length of string, use your ruler to work out how long your length of string measures and then reference our hat sizing chart.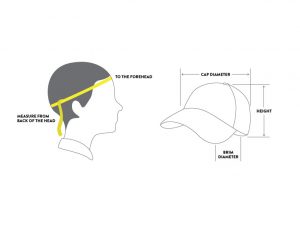 If the idea of measuring your head feels too close to a science experiment, don't worry! You can always head to your local mall and try out hats there. When you find one that fits, check the sizing label and use it as a reference when you order. Because sizing varies between brands, we can't guarantee this method gets you the perfect fit, but you'll have an estimate.
Hat manufacturers use three different methods to distinguish sizing. This includes numerical sizing that's like what companies use to size shoes, or by giving the circumference in inches. The most popular measurement method, however, is the S-M-L-XL sizing.  For your convenience, we included a guide below that shows how these difference sizing guides compare.
If your measurement falls between sizes, choose the next largest hat size. Of course, adjustable caps and hats are available. These hats fit securely when the plastic snap, sliding buckle, two-piece Velcro closure, or other closure is used to tighten the hat onto the head.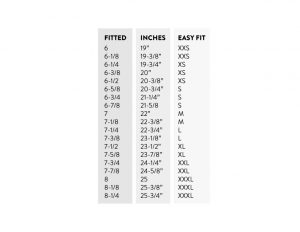 ePromos Brand Consultants have years of experience making personalized hats and caps for our clients that look and feel good. When you work with us, you can be confident that hats and caps will look great every time. Headwear is a fantastic way to keep your brand on top. Browse our selection and then contact one of our "Promo Know-How Professionals" to help you order the perfect customized hat today.