How to Celebrate Teamsgiving: Thanksgiving in the Workplace
Fall is many people's favorite season. Fall brings changing leaves and cooler weather and sets the holiday season into motion. One of the most comforting holidays that occur during fall is Thanksgiving. This holiday sets aside time for everyone to indulge in a great feast while enjoying the company of their loved ones. Many people are familiar with Thanksgiving and are used to celebrating it every year with friends and family. What may be less familiar is celebrating "Teamsgiving."
What Is Teamsgiving?
Teamsgiving is essentially a Thanksgiving at the office with your team. You may also think of Teamsgiving as an office Friendsgiving. Many people have their own Thanksgiving traditions with family and friends, but if you've never had a work Friendsgiving, you might not know how to celebrate such a day.
But why should you celebrate Teamsgiving in the workplace? Team bonding is essential in the workplace to ensure employees can work as a team to complete their tasks. Collaboration is critical in many jobs, even for employees working from home, so fostering connections and bonds among your employees is essential.
You can bring your employees together during the holidays to celebrate to encourage team bonding. People spend a lot of time with their co-workers, and they become like a second family to many people. Allowing people to connect during the holidays, where the focus is celebrating the holiday and tradition rather than work, helps your employees build a connection outside of the workplace, making them feel closer than before. Employees with strong bonds are often more productive and work easily with others.
The Great Resignation and quiet quitting show employees feel undervalued and unappreciated in their workplaces. People want to feel like they matter to their employers and that they're seen as people rather than numbers. Holding events and celebrating holidays like Teamsgiving is a great way to combat quiet quitting since you're showing employees you care and want to bond with them.
This article discusses some office Thanksgiving ideas to get you and your co-workers excited for Teamsgiving at the office.
6 Ways to Celebrate Teamsgiving at the Workplace
You can celebrate Thanksgiving at the office in several different ways. Here are our top Teamsgiving ideas to get you and your co-workers in the holiday spirit!
1. Hold a Team Lunch
You may decide the best way to celebrate Teamsgiving is the same way Thanksgiving is traditionally celebrated — with a feast.
If your co-workers love cooking, then you could host a potluck where everyone brings a dish. You could ask everyone to bring their family's famous Thanksgiving dish. Your team might want to avoid an overload of traditional holiday foods and contribute to a Teamsgiving taco bar instead. Having everyone bring a dish to share is an inexpensive way to bring everyone in the office together.
You can still have a celebratory lunch even if people in your office aren't interested in cooking for both Teamsgiving and Thanksgiving. Consider taking everyone out for a company lunch, hosting a catered event at the office or bringing in pies for an afternoon snack.
No matter what type of Teamsgiving meal you and your co-workers choose, keep in mind the risk of germs spreading — especially if you are eating and chatting near one another. If you plan on having a team lunch, consider providing your employees with a face mask and some hand sanitizer. Masks help prevent airborne diseases from spreading, and hand sanitizer helps keep shared serving utensils clean.
2. Arrange a Tailgate
Another creative way to have a feast is to arrange a tailgate party. You can serve delicious chicken wings, burgers, hot dogs and other tailgate foods. Many people love fall because it means football season! In addition to football, consider including fun games at your tailgate party. Cornhole and ping pong are excellent party games, especially if you invite your employees' families to the event. Hosting a tailgate is a fantastic way to share a meal and get people moving around and socializing.
If fall weather in your area is chilly, you might want to give employees customized blankets so they can stay comfortable while enjoying the festivities outside. No one wants to get sick and miss out on celebrating Thanksgiving with their loved ones. By celebrating Teamsgiving safely, you can keep your co-workers and yourself healthy during the holiday season.
3. Hold a Food Drive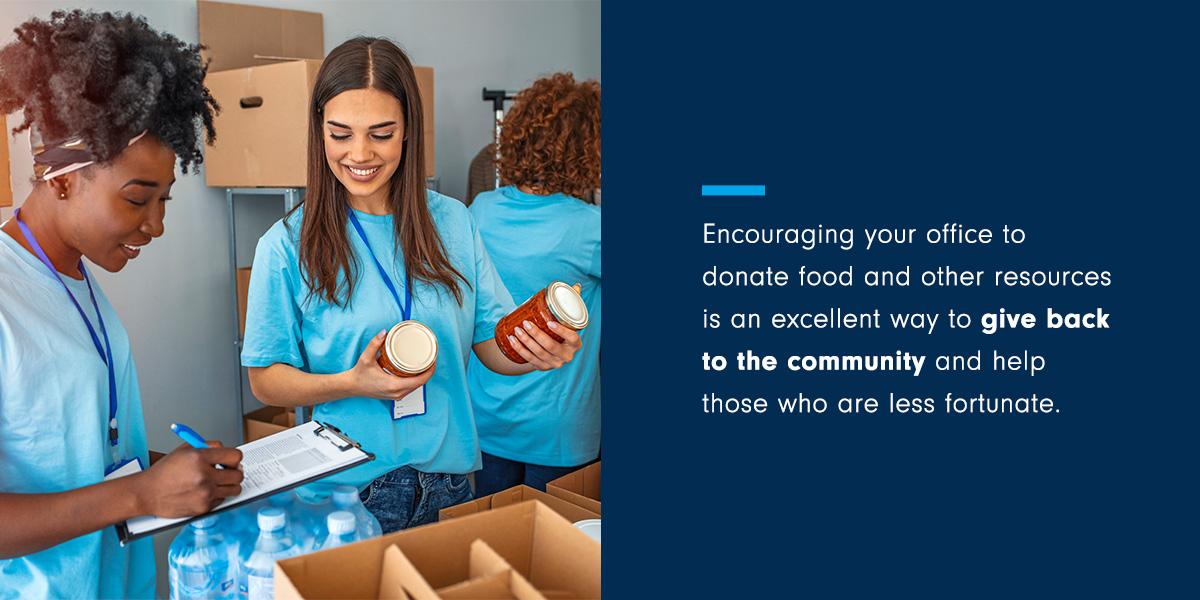 If your employees aren't interested in sharing a meal as a way to celebrate Teamsgiving, you have many other options available. One of the best Friendsgiving work ideas is focusing on giving by organizing and running a food drive. The holiday season is a difficult time for many, and not everyone can afford to have a Thanksgiving feast. Encouraging your office to donate food and other resources is an excellent way to give back to the community and help those who are less fortunate.
A food drive also makes a good Thanksgiving office contest. Have different departments compete against each other to raise the most funds or bring in the most non-perishable food items for your local food bank.
4. Participate in a Charity Run
Another charitable way to have your work celebrate Teamsgiving is by having the office participate in a 5k or fun run. Many races are dedicated to supporting a cause. Gathering your co-workers together to run as a team can be a great bonding experience. Additionally, during the holiday season, many of us stray away from our fitness routines, so running a charitable race can help the community and your health and well-being!
Remind your co-workers to stay hydrated during a race with customized water bottles, especially if you live in a hot area where people are more prone to heat strokes. Providing your employees with water and a bag to store their items can make running a race or participating in a fun run much more manageable. You may be surprised how many people forget to bring their own water bottle, bag or other essential items!
5. Decorate the Office
Not every company can take time to host a Teamsgiving celebration or volunteer at a charity event, but this doesn't mean your office can't participate in other fun ways!
Simply decorating around the office can get everyone in the fall spirit and ready for the approaching holidays. Co-workers could pick out fall-themed decorations and help place them around the office. If your office is feeling crafty, you can create your own decorations. Some fun and easy fall-themed crafts everyone can make include a hand-turkey and paper cut-outs of colorful fall leaves!
An even simpler way to celebrate Teamsgiving is to make sure your employees and clients know how thankful you are for them. Sending out thank you cards or creating a wall of thoughtful, individualized messages to each employee is an easy but effective way to make everyone feel appreciated.
6. Host a Virtual Potluck and Party
After COVID, many people work from home, and businesses are changing their operations to include remote or hybrid workers. These employees are essential to the operations of any business, so it's important to include them during the celebration.
One way you can do this is by hosting a virtual potluck party. Have employees bring a Thanksgiving meal filled with food they enjoy and spend time eating together while participating in planned events. These events can include Thanksgiving-themed trivia, icebreakers, bingo and other games! Virtual Teamsgiving parties are an excellent way to encourage bonding among your employees while celebrating the holiday spirit. You can even treat your virtual employees and have food delivered right to their homes!
If your remote workers all live close by, you can invite them to the office or rent out a space in your city to host a similar event to ensure everyone feels included. If some still can't make it, you can host a Zoom or Google Meeting so they can participate from a distance.
Choose What Works Best for Your Team
Your office has endless choices when it comes to ways you can gather together and celebrate a Teamsgiving. Every workplace is unique and contains people with different likes and interests. Whether your co-workers love food, fitness, giving back to the community or simply saying thanks to one another, celebrating Thanksgiving at the office is all about finding what speaks to the majority and makes people feel appreciated.
Show your appreciation for everything your team does with customized merchandise from ePromos. Call us today at 877-377-6667 to speak with an expert and find the best way to celebrate fall with your co-workers.