How to Retain Employees with Promotional Products
Employee retention is more critical than ever before. Some recruitment firms claim that replacing an employee can cost up to $10,000, depending on an employee's seniority. And this is just the monetary cost of losing staff.
Offering employee swag can be the start of enhancing staff retention. Employee swag is a relatively simple way to create a feeling of unity and engagement. When done right, it can significantly benefit you and your employees.
5 Ways Branded Swag Can Boost Customer and Employee Retention
Branded company swag is often overlooked when talking about retention. It is a simple yet effective way of showing people you value them. Here are five ways branded swag can aid retention:
Promotes company culture: Company culture is essential to client and customer retention, and toxic workplaces are a driving force for high turnover rates. Company swag offers a unique opportunity to share your core values and messages with employees.
Builds company brand: Your company brand is part of your company values. Quality swag can show employees you are willing to invest in them. It shows you appreciate their time and effort in building the company. You can also attract potential talent by giving them swag bags that reflect your brand, leaving a lasting impression on them.
Bringing teams together: As the world gets smaller and working models change, teams can work from anywhere. Company swag can help remote workers feel like part of a team. Unique swag for different departments can help staff feel more connected to each other.
Increase brand visibility: Employees and customers wearing or using your company's swag become brand ambassadors for your brand. The more people see your brand, the more likely they will look it up or remember your company name or logo. This can drive new customers and employees to your business.
Strengthen relationships: Swag can help build and grow relationships with staff and employees. Consumers have high expectations for customer experience. Fun, sensory swag boxes can create a positive impression of your company. Swag tailored around your team's personal and professional milestones can also help build a stronger relationship.
How to Boost Employee Retention With Branded Swag
Step up employee swag to boost employee retention with these ideas:
Recruitment
Recruiting swag can be a powerful tool. Finding the right person for your company takes time. When you do find the right candidate, they might have multiple offers available to them.
Gifting them with high-quality swag can help you stand out from the others, showing you are already willing to invest in them. Simple yet valuable swag can be taken to recruiting events and handed out to attendees to increase awareness for your company and its open positions. When attendees start looking for a job, they are more likely to remember your company.
Onboarding
Onboarding swag sets are perfect for welcoming new employees to your company. They can be filled with essentials such as day planners, mousepads, tech accessories and even apparel that can help ease employees into their new job. It can help them feel like part of the team and shows you invest in your employees from the beginning.
Rewards and Awards
When your employee reaches a significant milestone, company swag can be a great reward. You can also have awards made to recognize each employee's phenomenal achievements, like hitting certain work-related goals or reaching a big milestone in their personal life.
You can also use swag to celebrate an employee when they perform exceptionally well on a project or with a client or as part of incentive programs for department-specific goals.
Celebrations
Swag can also be handed out to celebrate different holidays and occasions. Christmas, Easter, Independence Day and more are prime examples of holidays you can hand out branded gifts that also act as a thank you to staff for their work.
Popular Company Swag Ideas
Swag is unique to each company. The type of swag you invest in will depend on your budget and how you plan to use the items — for example, an employee recognized for 15 years at your company will get a different reward than a new employee just joining the company. Here are a few popular types of swag:
Technology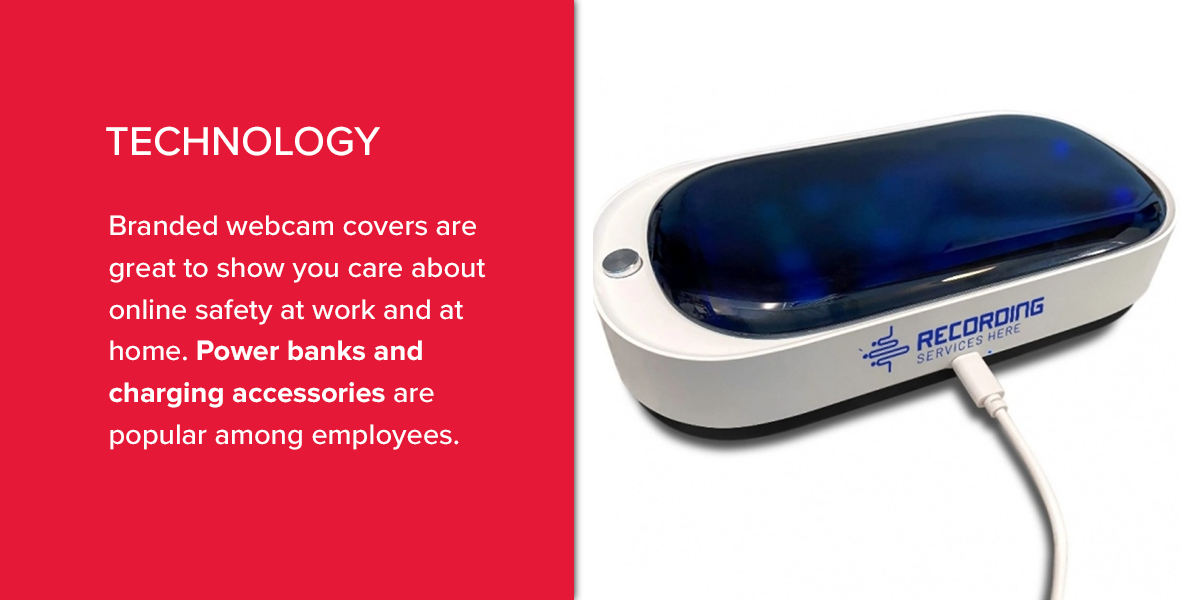 Everyone loves a new piece of technology or tech accessories. There are many options for you to choose from. Branded webcam covers are great to show you care about online safety at work and at home. Power banks and charging accessories are popular among employees.
Blue light glasses are great for staff who spend most of their time in front of a screen. Speakers are always in demand, as are earbuds and headphones.
Office Supplies
You can use office swag to make work easier for everyone. A great New Year's gift or employee onboarding gift can include a desk planner, journal and calendar to inspire healthy habits at the office.
Note pads and pens may seem outdated compared to new tech, but they are essential to office work.
Apparel
Apparel is helpful to employees regardless if they work at a desk or are on the road all day — and there are so many options! Keep your staff warm in winter with jackets, sweatshirts, beanies, scarves, gloves and more.
Eco-Friendly
Show your dedication to sustainability with eco-friendly swag. Travel mugs and tumblers are perfect for giving out in the office, on the road or at company events. Add a set of reusable straws, and you will have a fantastic gift for corporate events.
Encourage your team to bring lunch to work with an insulated lunch bag. Inspire sustainable shopping with produce bags or environmentally friendly tote bags.
Something Fun
Gift your employees something fun and unusual to show appreciation for their work-life balance. Hand out pet accessories to employees with furry loved ones or toys for employees with kids. You could also inspire creativity and spark interest in a new hobby by gifting grow-your-own herb garden sets.
Something Fancy
Sometimes you need swag that is a little more substantial than traditional swag. When an employee reaches a significant anniversary milestone with the company, you want to give them something that shows you truly appreciate their loyalty. A popular option is often wristwatches. A different idea to consider could be quality luggage sets.
For employees who consider themselves foodies, you can give them a bamboo cheese set or premium barbeque set.
Find All Your Swag at ePromos!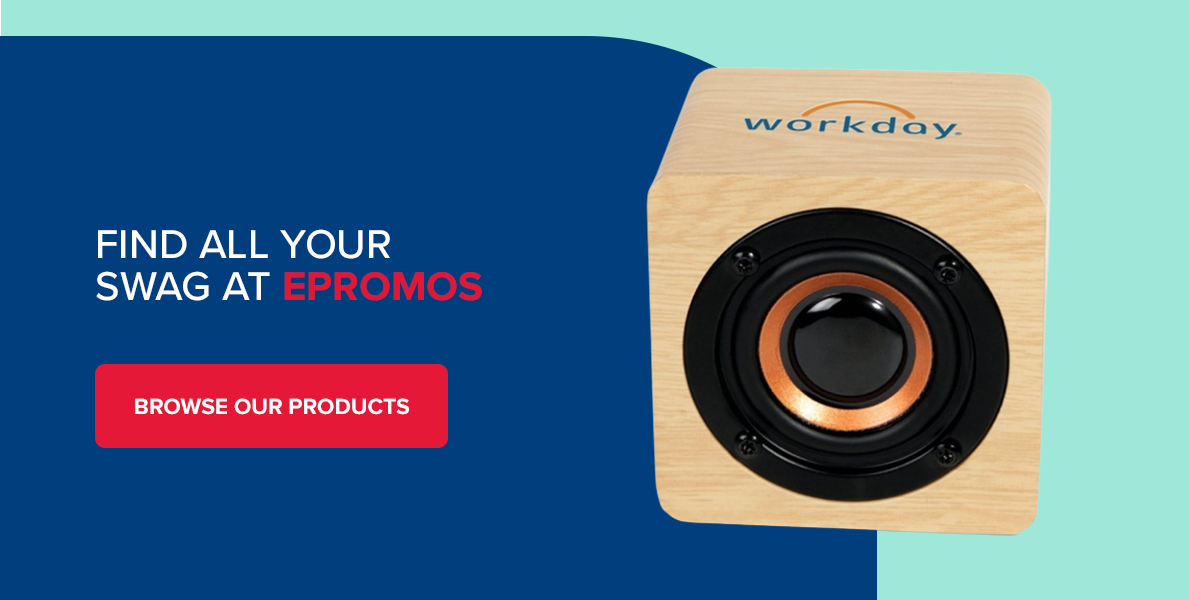 Company swag for employees can be a powerful tool for retention when used correctly. By investing in high-quality merchandise that fits your employees' wants and needs, you're sending a message that you care about them and appreciate the work they do. Browse ePromos range of swag products today!