Everything You Need to Know About Ordering Promotional Products
There are a bazillion reasons to use promotional products to promote and expand your brand's reach, whether at a national convention, local event, or even as a gift to employees for a job well done. People love free things, and the power of promotional products should not be underestimated. They're a fantastic way to show love to loyal customers (or employees) and to gain new fans.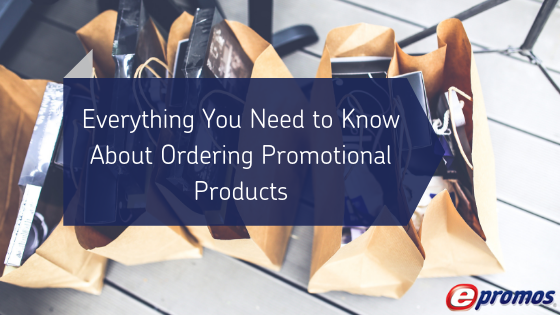 BUT, where do you start? Maybe you've got a product in mind, or some artwork you'd like printed up on…something. Not sure what? Or, having trouble deciding on the right item for your needs? Perhaps you're just feeling generally lost in the sea of promotional products (it is a big one, we know). Fear not! While the possibilities and options are nearly endless, (which, by the way, we think is a good thing!), we guarantee you'll be happy with the results – literally. Our 110% guarantee promises you'll receive the correct item with the correct imprint to the correct place on the correct day, or, we'll take it back and refund you. We can offer this guarantee because part of our ordering process includes free samples, free artwork clean-up, and free e-proofs – we cover all the bases with our seamless ordering system.
This guide is designed to walk you through the steps involved in choosing and ordering the best promotional product(s) for your brand. We'll go through each of the five steps involved:
-Choosing the right products
-Personalizing them
-Ordering
-Receiving
-Distributing
Now, to begin the process…
1. Choosing the Right Promotional Product(s)
Choosing the right product is key, as it has a twofold mission – first, it must accurately represent your brand, and second, be something your audience will connect with/want. Keep in mind, this isn't necessarily going to be a one-size-fits-all situation. Depending on the audience and event, you may opt for different products to stay relevant. For instance, internal employees may benefit from a personalized mug as part of your 'go green' office initiative to eradicate paper cups. But, for a conference in Seattle (or other rainy locale) umbrellas may hit the spot. In any case, ePromos offers a ton of goods in the most popular categories, including:
-Drinkware 
-Bags
-Apparel – t-shirts and socks
-Pens
-Tech products – chargers and USB keys
-Green friendly goods – reusable water bottles
-Relaxation products – essential oils and candles
As we mentioned earlier, the options are vast, so you're sure to find the perfect products for your needs. That said, if you're feeling a bit overwhelmed or just having trouble homing in on the best products for your brand, reach out! Our sales team is always happy to talk through your needs and brand voice to arrive at the best products for you. Our contact information is prominently displayed at the top of our website. You can opt to call us toll-free (844-567-9944) or live chat with a team member – whatever is easiest. We also have a robust help center on our website that answers frequently asked questions.
2. Personalizing Your Promotional Items
The artwork you provide for your promotional products is just as important, if not more important, than choosing the right product. After all, a cotton t-shirt is a cotton t-shirt is a cotton t-shirt – it's your artwork/logo/messaging that will stand out and appeal to potential customers. We offer a range of services related to artwork. Or, do you already have something drawn up and ready to go? Great, we can totally work with that – and we provide free touch-ups and tweaks if/as necessary.
On the other hand, for those without artwork, just get in touch! We have a team of talented designers at the ready, eager to create the logo/message/artwork of your promotional dreams. This service includes five unique designs plus two rounds of revisions. And while we're happy to work from scratch, we can also create something based off of a rough sketch or draft you may already have started. Again, just reach out – we're here to help!
One tip we'd like to offer – it's always good to be mindful about the amount of copy you'd like to include as compared to the size of the product itself. While we'll always work to make your idea a reality, sometimes size limitations simply get in the way. Too much copy on a small piece can result in small, unreadable text, which is pretty much the opposite of what we aim to do when creating promotional products. We want your product and message to sing – loud and clear.
3. Ordering Your Promotional Products
We know clicking the "place order" button can induce a bit of nerves (particularly when you're ordering hundreds, or even thousands of items) but we aim to make the entire ordering process as seamless and nerve-free as possible. A big part of that is our promise of proofs. As mentioned above, we will work alongside you to tweak/clean-up/design your artwork. Whatever level of our involvement in putting together the artwork for your piece, we will send eProofs for you to review before anything is printed. This allows you the opportunity to review all copy/artwork and make sure it matches your expectations.
Another way we seek to make ordering an easy process is by offering samples ahead of actually placing an order. This is a great option for those curious to actually see and hold potential products and make sure they match what you're looking for. We offer samples for many products for free or at little cost. We encourage customers to use this option, as it's another part of why we guarantee you will be happy with the final product – knowing you've seen the item upfront takes away any unpleasant surprises and helps tremendously in the way of customer satisfaction.
As for the steps in the actual ordering process, you can upload your artwork when you place the order online. Or, if you don't have the art file, you'll be prompted to enter instructions.  You will have the ability to enter in payment as well. Shortly after placing your online order, you'll receive an email confirming we've received it. Then, a customer care expert will be assigned to your account. He or she will check product availability, as well as review your order for any potential issues with artwork or imprint, delivery times, and offer any recommendations while reviewing your order.
Following review by a customer care expert, you will be sent an Order Acknowledgement for your approval. This document will include all the details of your order, including shipping charges, and a form for payment (for orders where payment was not completed online). The Order of Acknowledgement is typically sent with your eProof to review. We ask that it be returned within 24 hours. This allows us to stick to our projected delivery date – something that's extremely important to us.
4. Receiving Your Order
Once you receive your products, we ask that you check your products to ensure everything meets your expectations and follow-up with your sales rep and/or leave a review of the product or your experience working with us. We take great pride in our customer satisfaction and will work very hard to make sure you're happy with your customized products.
5. Distribution of Your Promotional Products
Now that you have your promotional products in hand, you may be wondering what's next. Distribution is a beast unto itself, but there are plenty of opportunities to get your promotional wares out to the public. They're always a hit at trade shows, conventions, and other events where people are mingling around – and eager to scoop up free goods. To generate extra interest, consider running a contest or game to go along with your promotional giveaway to stand out above the crowd. Other options include mailing promotional items to customers when delivering another good or service they've purchased – a nice way to say "thank you". Of course, sometimes promotional products aren't intended for customers at all, but employees. Consider distributing them at a holiday party, Employee Appreciation Day, or other in-office event that would benefit from showing some "employee love".
The world of promotional products is vast, and ePromos is here to walk you through each step to ensure an easy, customer-centric experience that ends with you ultimately spreading your brand reach through the wondrous marketing strategy that is promotional products. Ready to take the leap? Give us a call and let's get started!