An Investment in Cause Marketing is an Investment in Your Brand
Cause marketing is more than an industry buzzword—it's a smart long-term strategy for brands looking to meaningfully engage consumers. Why? Because today's buyers are paying close attention to the social impact of the businesses they support. In fact, according to the 2019 Porter Novelli/Cone Purpose Biometrics Study, "Nearly nine-in-10 consumers (86%) say they're likely to purchase from purpose-driven companies."
---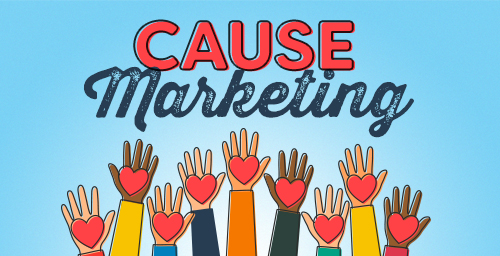 Where to start?
What does this mean for your company's initiatives? For starters, figure out what really matters to your company—and what will matter to your community. It isn't enough to pay lip-service; savvy consumers do their homework and look for genuine support of issues that align with their own values. This means that to execute cause marketing successfully, you'll want to choose a cause that's related in some way to your industry. For example, a fitness center might align their cause marketing efforts around building playgrounds for kids or helping families who live in "food deserts" to access fresh fruits and vegetables.
It also helps to give more than money. Some organizations provide free products or services to in-need communities, host benefit events, or offer support to local nonprofits who are already aligned around a cause. To show the depth of your involvement, develop a strategy around your efforts, market your cause or partnership, and clarify to consumers exactly how their support of your brand in turn supports a worthwhile cause.
How can your brand give back? 
There are plenty of strategies for getting involved. You might consider selling products that support a particular campaign or initiative and then donating all or a portion of those sales to the cause. (For example, developing products in support of the RED campaign). You might also look toward co-branded events/programs, such as days of service, marathons or walks, collections of in-kind gifts, or other community projects. Cause-marketing branded promo products can play a significant role in any of these initiatives. Alternately, you can choose to set up a purchase plus or checkout charity. This will give customers an opportunity to donate a small amount of money (or round up) to a relevant cause as they're making their regular purchases.
Promo Products for Cause Marketing
How are businesses using promo products to further their cause marketing efforts? There are plenty of creative ways to move these initiatives forward. For example, Basecamp® contributes a portion of sales of their gear to the Wounded Warrior Project, in addition to providing versatile, high-quality promo items to wounded veterans through direct donation. As another example, Xactly sells bags, water bottles, power banks, and other items that can be used for hiking or backpacking adventures. The company supports The Planet Water Foundation™, a charity that improves access to clean water in communities that need it.
Alternately, it can make sense to support a group of initiatives in order to extend impact across multiple programs. Charles River Apparel® focuses heavily on their "Clothing with a Cause" campaigns, which support charities that "provide comfort, hope, and support to youth and families." Through 10% of product sales, the organization uses pop-up stores and online sales to drive their giveback programs to several organizations. The AWS Collection features a variety of products including pens, bags, sunglasses, and key chains that support charities such as St. Jude's Children's Hospital, Make-A-Wish Foundation, The American Cancer Society, Boys Town, and Shriners Hospitals for Children.
Clarifying reach and helping consumers see the results of their gift can also have huge benefits for brands. Look at the drinkware company Miir, which enables customers to track where donations go as a way to highlight their commitment to transparency. In 2019 they also deepened their impact efforts by becoming climate-neutral certified.  We've sold so many of these MiiR Gift Boxes because of this reason alone.
For every product sold, Soapbox® gives back by donating bar soaps or contributing to health and hygiene initiatives in communities, both domestically and abroad. Soapbox has donated over 7 million bars of soap. Consumers can track their impact with a Hope Code®, found on all Soapbox product packaging.
Other Factors to Consider
Cause marketing is not the same as charity. However, some of the same stipulations may apply, and it's important to stay aware of the legalities of your efforts. With that in mind, consider which specific legislation may apply to your cause marketing efforts. Pay attention to the following:
State and federal laws, including taxation, around donated goods, services, or time.
Considerations from the Better Business Bureau.
Licensing around an existing nonprofit or organization.
Any state/federal laws pertaining to false advertising or documentation of your cause marketing efforts.
If you aren't sure where to begin your impact initiatives, start small. Look within your own company for ideas about existing causes or nonprofit organizations to support. Plenty of companies have paved the way to show how businesses can further social good while still working toward their own benchmarks. This is good news for consumers, communities, and brands themselves, and it means cause marketing is an investment all businesses should consider making.
Call us, the Promo Know-How People, to let us help you incorporate cause marketing into this year's marketing strategy.
---