22 First Day of School Activities Your Students Will Love
Coming back to school can cause mixed emotions in children. They've had a long vacation, and some might be nervous about fitting in and meeting new friends. Coming up with the right back-to-school activities can help break the ice and focus the children in your class on the year ahead. However, finding things to do on the first day of school can be challenging. You have to get through to the kids in a way that makes them want to engage.
Beginning of the year activities set the tone for the entire school year. Choosing the best ones for your class and age group is essential to get everyone off on the right foot. It also lets the kids learn more about each other, their teachers and the school, so they feel comfortable and establish connections with their peers.
8 First Day of School Activities and Projects for Elementary School
As an elementary school teacher or administrator, you work with some kids who are setting foot in a "big kid school" for the first time. There will be plenty of nerves and many kids who would rather be playing outside in the summer sun. The following first day of school projects will help get the kids focused on school, get to know their peers and spark some excitement for the year ahead:
1. Create Get-to-Know-You Bags
First, you must give each child a bag at a meet and greet or similar activity before the first day of school. Fill the bag with a few gifts and print a note asking them to decorate the outside of the bag to represent who they are. Ask them to put three items in the bag that tell you something about them and to bring their bags on the first day of school.
You've already made a connection by the time the kids arrive for their first day. Depending on the size of the class, choose a few kids each day to explain how they decorated their bags and why the contents represent them.
2. Play a Special Kind of Bingo
This activity is an excellent way to encourage kids to interact with one another. Create a bingo board where kids have to find classmates with certain characteristics. These characteristics can be anything, from wearing jeans to having visited the beach. The kids have to move around and talk to each other, and when they find someone who matches a characteristic, the other student has to sign their board.
The goal is to fill the whole board. Consider a prize for the child who completes the task the fastest.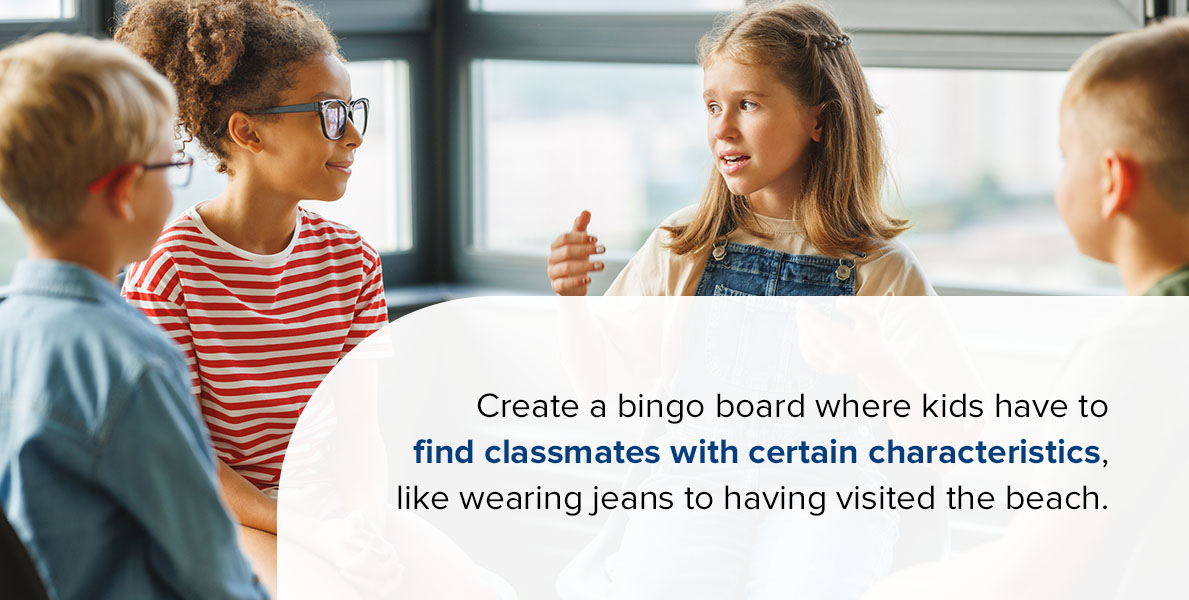 3. Draw a Selfie
Encourage kids to be creative by getting them to draw a self-portrait. You can also encourage them to write words that describe them in the blank space, which will help you and the kids to get to know each other. If you have them complete the same exercise at the end of the school year, they can see how they've grown since the beginning of the year.
4. Ring the Bell
Ringing a bell marks the beginning of a new journey, and many schools across the world begin the year with this tradition. Although some schools have a massive bell as part of the ceremony, a small bell will work just as well. Have the kids line up and take turns ringing the bell to symbolize the start of a successful and happy school journey.
5. Read a Book
Some lovely relatable books are available to put younger children at ease on their first day of school. Sit down and read your class one of these books so they know their nerves are not unusual. Consider doing some of the activities the characters in the book do on their first day at school to complete the experience.
6. Make a Measuring Wall
All you need for this activity are a big roll of paper and some bright colored pens. Tape your sheet of paper to the wall, measure each child and mark their names on your measuring wall. Keep the measuring wall up for a few days to build excitement, and then you can store it until it's time to see how much they've grown at the end of the year.
7. Build a Birthday Board
Kids love to talk about their birthdays, what kind of party they want and what they want as a present this year. Kick off your first day of school by making a birthday board together, where you can learn about the kids and their preferences. They might write down their birthday, their favorite flavor of cake and one thing on their wishlist. You can also have the rest of the class sing to the birthday kid when their special day comes!
8. Find a Friend
Spark student interactions and help them find common ground with the "find a friend" game. Give each child a worksheet and give them a few minutes to fill in their favorite things, from their favorite food and activity to their favorite color. When they're done, let them find classmates who fit each description, as it helps them see what they have in common and encourages them to talk and get to know each other.
7 First Day of School Activities and Projects for Middle School
Moving from elementary school to middle school is a significant step in the school journey, and your new students will walk through the doors brimming with nervous excitement. Keep the following first week of school activities in mind to connect with middle schoolers and make special memories:
1. Make the Classroom Rules
Creating rules together is one of the most important back-to-school activities to set the tone for the year. Kids are more likely to follow the rules if they're empowered to create them. Sit down together as a class, discuss what's important to you and the kids and come up with a list of rules that everyone agrees on.
Being kind to classmates, respecting teachers and focusing on learning are great examples of classroom rules. You can expand on these to include things like listening quietly when someone else is speaking, coming to class on time and helping classmates who are facing challenges.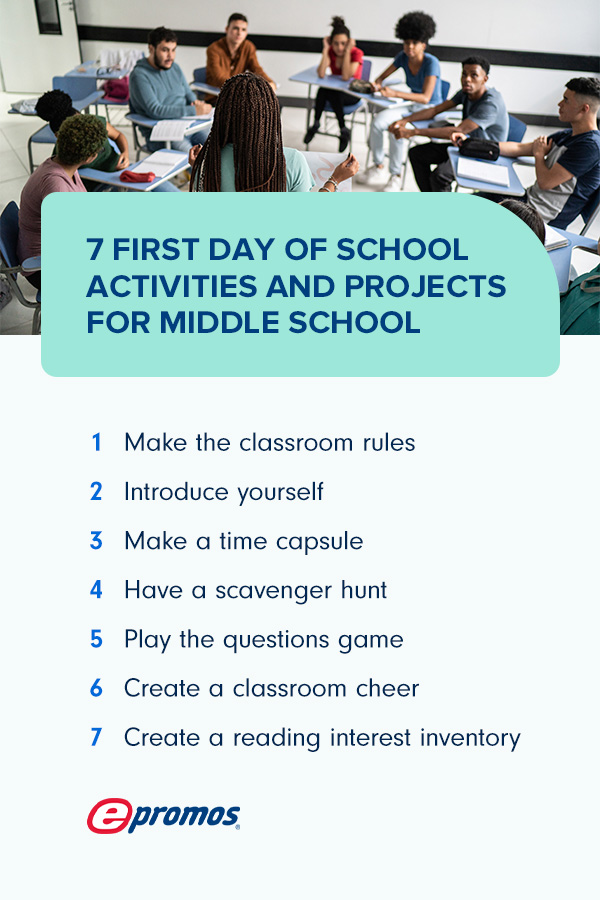 2. Introduce Yourself
Connecting with your new class is essential to start building rapport, and the kids are probably just as curious about you as you are about them. Think about how you could share some of your life with them. You could use a slide show to introduce them to your hobbies and pets or have them play a guessing game where they try and figure you out. Whatever method you choose, letting your students know students about you outside of the classroom makes you more human and approachable.
3. Make a Time Capsule
Get as creative as you like with this activity. It's a fantastic choice for getting your students excited for the year ahead. You can make one classroom time capsule or have each student make their own miniature time capsule in an empty tissue box. Think about having the kids put an article from today's newspaper, some information about their likes and dislikes and a note to their future selves inside. If making individual time capsules, place a special gift inside each one and display them on a shelf to be opened at the end of the school year.
4. Have a Scavenger Hunt
Putting a scavenger hunt together helps introduce your new kids to each other and the school at the same time. Create a list of places and items to find around the school and split the kids into pairs or small groups. Send them around the school looking for the items on their list and have them take pictures or collect stickers from each item to prove they found it.
5. Play the Questions Game
"Would you rather" questions get kids talking to each other and engaged in a healthy debate. Put together a list of questions that give them two options, such as:
Would you rather live in a city or in a rural area?
Would you rather go to the beach or the water park?
Would you rather be a famous actor or a famous archaeologist?
As the kids answer the questions, they'll learn what they have in common and see others' perspectives. They'll be talking before you know it, and you'll learn a lot just by listening to their choices.
6. Create a Classroom Cheer
Encourage your new class to get creative and boost their team spirit by creating a unique cheer they can use throughout the year. This is a fantastic way to get them working together and incorporate some language and music into their first day. When they create something together, they start to bond, and they reinforce this connection every time they use their special cheer.
7. Create a Reading Interest Inventory
Reading is a big part of the school journey, and knowing what your students like to read tells you about their personalities and helps you tailor your teaching to be more engaging. Have your students complete a quick questionnaire of books, magazines and genres they enjoy and jot down some reading goals for the year. Their answers can help you choose reading material that matches their unique interests.
7 First Day of School Activities and Projects for High School
High school is a vital part of the school journey, filled with more anxiety and excitement as the kids grow up and progress. Starting a new high school year can be full of mixed emotions for students, but the following activities can help to put them at ease:
1. Give Out Welcome Back-to-School Kits
A welcome back-to-school kit can provide kids with everything they need to stay organized and succeed. From power banks and chargers to woolen beanies and water bottles, you can personalize your gifts to welcome them to the class or school and give them a gift they can use all year, so they feel they're starting the year on the right foot
2. Unlock the Box Mystery
There's nothing like a little problem-solving to unite a classroom. Set up a locked box with back-to-school gifts inside and create clues to help students unlock the box. Split your class into teams and have them work through the clues to unlock the box. You can create clues to encourage them to explore the school and engage with each other. You can add a spooky element to the activity for high school students, but you can scale it down for any age group.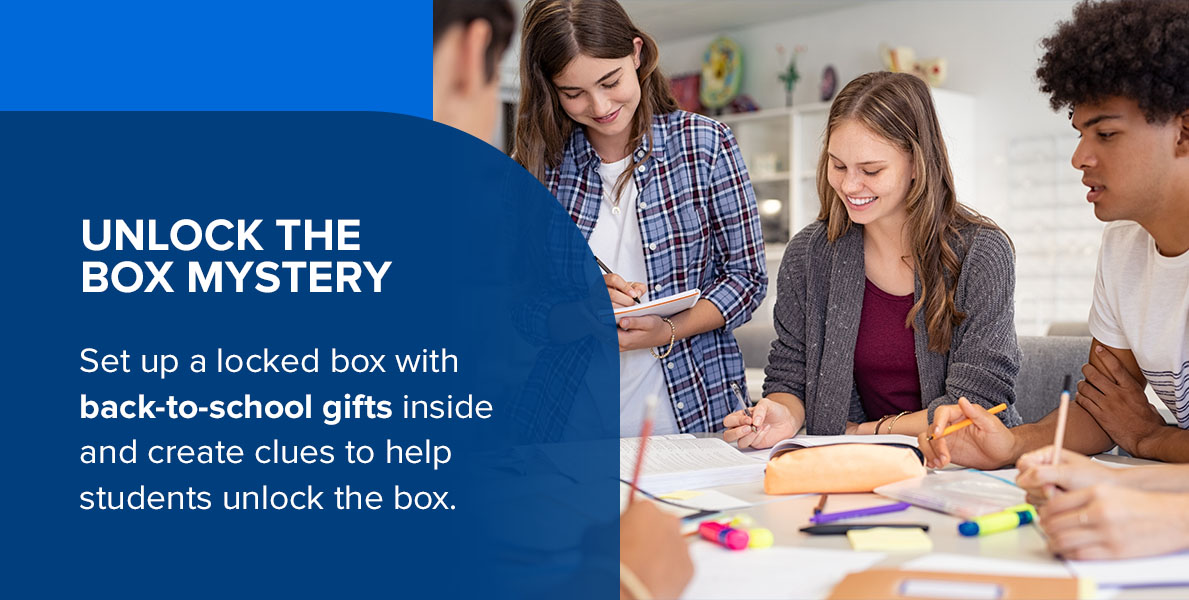 3. Take a Selfie
If your school allows you to take photos, a traditional beginning-of-the-school-year selfie can help set the tone for the year. Gift each student a celebratory first day of school t-shirt and decorate a frame to hold up. You can also encourage them to display their goals for the school year. Send the photos home with the kids or display them in the classroom as an additional method for them to get to know each other.
4. Share Some Advice
At the end of the school year, get your students to share some advice on how to succeed in your class. Give them complete creative freedom to be as funny and truthful as they like. When your new class comes in at the beginning of the school year, share the previous class's insights with your new group of students. Although this activity takes some preparation, It's great for breaking the ice and getting some laughter in the room, and it's valuable for the students as well.
5. Take a Group Photo
Create some camaraderie and give your students a social media moment with a group photo. Think outside the box and ask your students to come up with a pose that represents them and their goals for the year. Print the photo and display it in your class to remind your students that they're there to support each other throughout the school year.
6. Walk the Red Carpet
Create a special memory for your high school kids by making their first day a red carpet event. You and all the other staff can line up along the red carpet and applaud the kids as they enter the school. See if you can get some photographers on board to give a celebrity feel and memorialize the moment. You can send the photos home with the kids or display them in class.
This activity is special because it ensures the first time you meet is positive and energetic, which is an excellent way to start the year.
7. Organize a Pen Ceremony
Pens are a symbol of learning, and every child in your class needs one. Call each student in your class and present them with a school pen, like a funny pen, a gorgeous executive pen or a funky gel pen. Tell them it's a symbol of everything they're going to learn and achieve in your classroom.
When each student has a pen, put them to good use and get the class to write a short poem or paragraph that describes who they are and what they want to achieve in the school year. Encourage them to read it aloud to break the ice and get to know each other.
Make the First Day of School Count With ePromos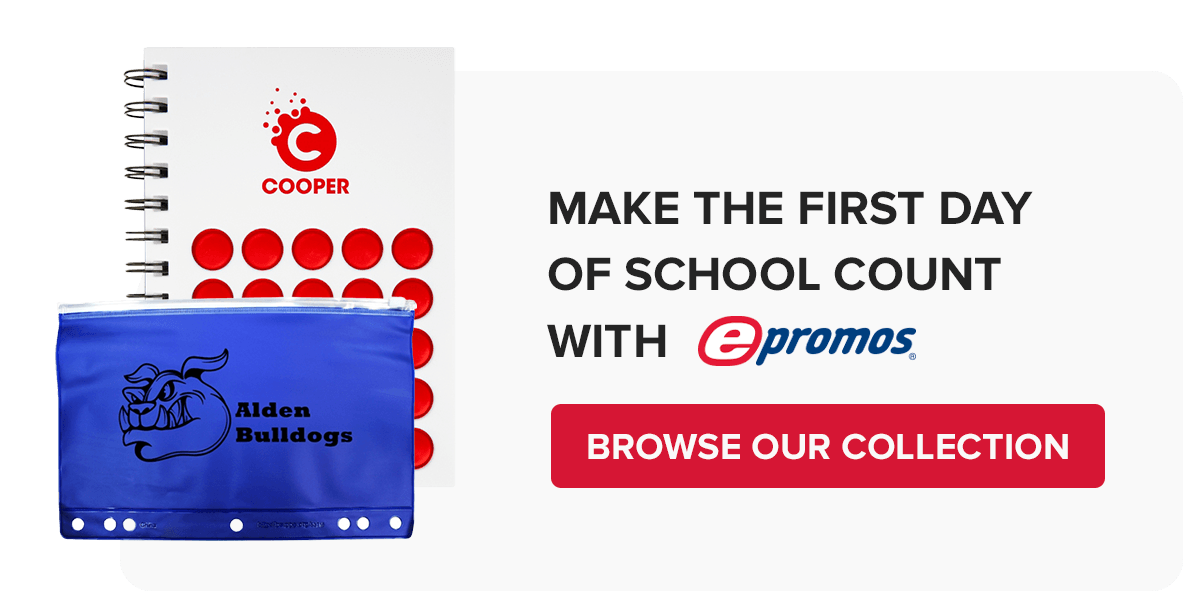 The first day of the school year can be as nerve-wracking for teachers and administrators as it is for students. You can take the anxiety and guesswork out of first-day activities with gifts and supplies from ePromos. Order the perfect back-to-school package to complement your activities, complete with free product samples and digital proofs to ensure you get exactly what you're looking for to make that first-day extra special.
Feel free to browse our extensive collection of back-to-school promotional items and order today to give your students a first day they'll never forget!