Why Promotional Magnets Should be Part of Your Brand Strategy
Your brand is not just your product or even your logo… it's so much more. Your brand is what's at the heart of your company. It's all the feels. So, your brand strategy needs to be in sync with that.
You're in it for the long haul, and so should be your branding strategy. An effective strategy will position your brand within the market; it will take what sets you apart from your competitors and make it shine. Promotional products are the ultimate marketing medium to your brand strategy because they take the intangible components of your brand and put them into something customers can physically touch and connect with.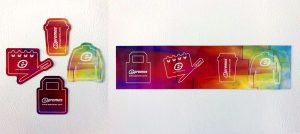 Why Use Promotional Magnets in Your Branding Strategy?
Most people enjoy custom magnets; they put them on their refrigerators, cars, filing cabinets – anywhere they'll stick. They may be useful for holding up pieces of paper, making a share-worthy statement, serving as a reminder, or just as good old decoration.
Whatever the reason, custom and calendar magnets have the longest shelf life of any other media or promo method. Because they stand out as well as offer free and repetitive advertising throughout their lives, the cost-per-impression is less than a penny. Plus, the upfront cost will not break the bank, making them a great deal for your business.
Magnets offer a full-color imprint area, allowing you a beautiful, creative canvas to showcase your brand's message. They are 100% customizable in everything from their shape and size to their color and style – even thickness – making them one of the easiest promotional products to truly reflect your brand.
Lightweight yet durable, simple yet useful, a business magnet offers a unique portability perfect for handing out at trade shows and conferences. It may even double as a business card, making distribution a breeze.
How to Distribute Custom Business Magnets
Now that you know why magnets can work for your brand strategy, here are just a few ideas how you can use them: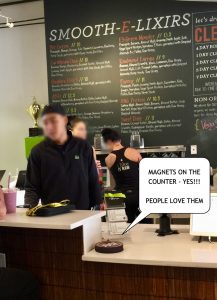 • Leave a stack at the register for customers to take
• Give away at trade shows, job fairs, conventions, etc.
• Include in direct mail marketing
• Hand out at parades or community events
• Incorporate into orientation materials
Sometimes a promotional magnet serves an alternative purpose. For example, calendar magnets and sports schedules are very popular and tend to stick around (pun intended) for a while. From the education industry to real estate, customized calendar magnets are often kept even beyond the calendar time period. They're handy, helpful and easy to distribute either in person or by mail.
Reversible promotional magnets are also a big hit with businesses that want to get even more bang for a buck. You can display multiple languages or different types of information thanks to full, dual-sided printing. If you want to stretch your calendar magnets even further, just print the current year on one side with the following year on the other.
Another novelty in the world of business magnets is the puzzle magnet. It's fun. It's unique. And who can resist a puzzle, especially on a filing cabinet at the office.
What to Consider When Shopping for Promotional Magnets for Your Business
When you use promotional magnets for your business, choose a product that reflects your unique value proposition. This could mean offering a coupon or incentive for making contact. A magnet with a strong call to action is much more effective than one without. Keep your call to action direct and on par with your brand.
Strength and thickness are also factors to consider when shopping for promotional magnets. For example, our 20mL magnets are the most cost-effective but are not strong enough to hold a piece of paper. So, think about how the recipient will most likely use your magnet before choosing the thickness. Also keep in mind weight for mailings. While magnets are popular direct mail items, the shipping costs can add up with thicker pieces.
In addition to the message and distinctive features (such as a calendar) of your business magnet, you'll want to consider the size, shape and color that will best fit your brand. Because magnets are 100% customizable, trendy brands may choose to create a signature shape to suit a logo, industry or even message. They may certainly stand out and demand to be noticed, but that may not be for every brand.
It's important to keep in mind your brand's individual personality and flavor so you have a completely cohesive message in line with your branding strategy. Shop our entire collection of custom car, fridge, calendar magnets and more. And make your branding really stick with promotional magnets!