Promotional Products with Prop 65 Warnings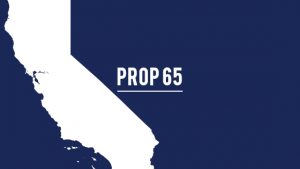 If you live in California, Prop 65 warning labels are nothing new. They're pretty much everywhere. Dealing with products made in or shipped to California, we've become very familiar with Prop 65 over the years. We're not here to weigh in on the law itself; we're just here to follow the rules.
But we do want to be sure that you, our customers, protect your company as well as your own customers. So here is what you need to know about Prop 65 when it comes to promotional products…
What exactly is Prop 65?
Enacted over 30 years ago, its official name is the Safe Drinking Water and Toxic Enforcement Act of 1986, but it is more commonly known as Prop 65 (or Proposition 65). It's a law that California voters approved requiring businesses to provide warnings about exposures to chemicals that can cause cancer, birth defects or other reproductive harm. The current list contains over 900 chemicals.
While the U.S. has its standards of product safety, Prop 65 is specific to California and has its own standards for what is considered a "significant level" of certain chemicals. The law requires that chemicals found in products that Californians purchase, have in their homes or workplaces, or that are released into the environment, are clearly and reasonably recognized.
The list of chemicals is updated yearly, and businesses are required to either scientifically prove "safe harbor" levels of these chemicals if those levels exist or to put a warning label on the product.
What does the Prop 65 warning look like?
Here are some examples of what you might see:

The warning you see in the product description on our website will match exactly the label on the product. Doing our part in the Prop 65 regulation is to make sure you have all the information you need up front and before you purchase. You can then pass the information along to your customers and client base.
What does the Prop 65 warning really mean?
The warning label required does not ban or restrict the use of the chemicals. In fact, the chemicals on the Prop 65 list are found in countless everyday items in safe levels as determined by the federal government, which is why Californians are so used to seeing the warnings. But for the rest of the country, it doesn't hurt to be in the know.
Are products with a warning still safe to use?
All of ePromos' products conform to FDA and EPA regulations. Products with a Prop 65 warning label still meet these standards. The presence of a warning does not indicate the amount of a chemical in the product. The State of California is working to establish safe harbor levels but has not yet provided them for all of the 900 chemicals on the Prop 65 list. In cases where a safe harbor level has yet to be established, products containing any amount of those materials, even a miniscule amount, triggers the necessity for a warning label.
Do I need the warning label on my products if I don't live in California?
Promotional products are distributed all over the country, and it's our job to make sure our customers are safe and informed. To be sure we all follow the law in compliance with Prop 65, we will provide warning labels on any items that contain chemicals on the Prop 65 list in numbers above any existing safe harbor levels –- even if those items are not going to California.
"Compliance" sounds intense. What does it mean?
To comply quite simply means to submit to regulation. In this case the regulation states that a product must have either 1) none of the Prop 65 chemicals; or 2) numbers lower than the safe harbor levels if they exist; or 3) a clear and reasonable warning. Therefore, rest assured that ALL of our products are Prop 65 compliant.
Does the Prop 65 regulation impact my order?
Prop 65 will not affect your order in any way. ePromos has already provided each of our products requiring Prop 65 warnings with labels so that you don't have to worry about it. There are no surprises and nothing more you must do to comply with Prop 65 regulations. You will experience the same order, art and shipping processes as well as our superior customer service as when you order any of our products.
For more information about the Safe Drinking Water and Toxic Enforcement Act of 1986 known as Prop 65, visit www.p65warnings.ca.gov.