Is a Tumbler Better Than a Travel Mug?
Choosing the right drinkware for your next promotional activity or special occasion can seem daunting. There are tumblers, travel mugs, water bottles, mugs, glassware and more to choose from. Today, tumblers and travel mugs are increasingly popular with many people. Their insulation ability and the fact that they can be used while on the go make them favored by users across industries. More and more people are also using them as alternatives to disposable options for activities such as road trips, picnics and exercise.
Deciding whether to use a tumbler or travel mug depends on various factors, including who will be using them and how they will be used. Our guide will help you understand the differences between tumblers and travel mugs.
What Is a Travel Mug?
A travel mug is a reusable, insulated container designed to keep your beverage warm while traveling. These mugs are commonly made with double-walled stainless steel or similar metals. Most have a leakproof lid that snaps or screws on to prevent spills. Others have a small opening with a part that slides or snaps into place to cover it. Travel mugs may have handles, and they usually fit into car cupholders as they're common for commuters.
What Is a Tumbler Cup?
A tumbler is a reusable, portable cup designed to keep drinks cold when on the go. There are two main types or tumblers — metal and plastic. Depending on the manufacturer, tumblers can be made using double-walled insulation technology to keep drinks cooler for longer. The wide openings of tumblers make it easier to add ice, fruit or other extras to your glass.
Travel Mugs vs. Tumblers
While there are many similarities between travel mugs and tumblers, there are also several differences. These differences may be minor, but they can significantly impact your choice of use and when.
Purpose and Beverages
Travel mugs and tumblers have different uses. Travel mugs are generally used for hot beverages, while tumblers are used for cold drinks. The leakproof nature of travel mugs combined with the double insulation makes them ideal for use when going on long trips, running errands, hiking and other activities where you want easy access to your hot beverage. The small sip opening is also ideal for drinking hot drinks to avoid burning your mouth or tongue.
Tumblers, on the other hand, are more suited for colder drinks. They have a larger drink capacity and a wider opening, so you can easily add ice. The lids of tumblers are generally not as spill-proof, making tumblers less suitable for travel. You can use tumblers at picnics, barbeques, when camping and as wedding favors and so much more.
Tumblers can be used for hot beverages, specifically ones made from double-walled stainless steel and with insulation technology. Both tumblers and travel mugs are sustainable, eco-friendly options for drinkware compared to solo cups and takeaway cups, regardless of how you want to use them.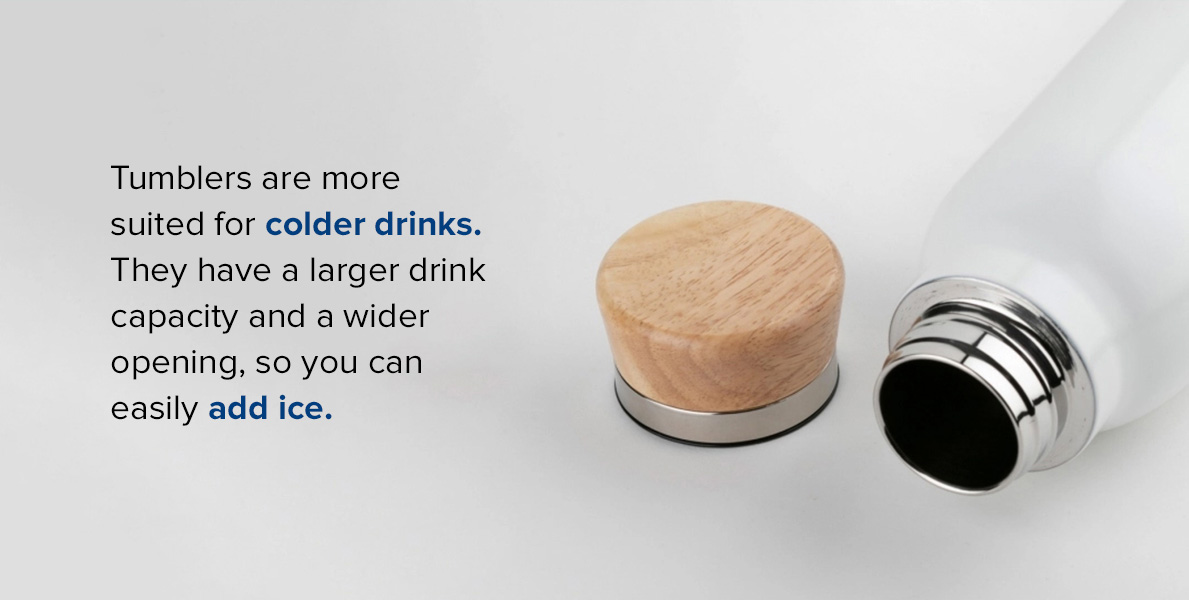 Portability
In terms of portability, travel mugs are more portable than tumblers. Most travel mugs have a screw or snap-on lid that is spill-proof to ensure there are fewer leaks while you are on the go. You can put travel mugs in your bag, backpack or car, confident that there will be no spills.
Tumblers are portable to an extent, especially if you have a lid. In most cases, tumbler lids aren't leakproof. You can still use them while traveling or out at events but there is more potential for spilling.
Both tumblers and travel mugs are made from durable materials, either BPA-free plastic or metal. As such, they are far tougher than regular cups. They will also last longer than typical takeout or solo cups, making them a more environmentally friendly option for events and day-to-day use.
Handles
All travel mugs have handles for convenient access and on-the-go transportation. Some travel mugs have handles built into the lids, while others have them on their sides.
Tumblers, on the other hand, are handleless. You can purchase handles that slide for easier use.
Lids
The lids between travel mugs and tumblers can vary significantly between manufacturers. Even different travel mugs can have different caps. Travel mugs have lids that either screw or snap on. Screw-on caps are more popular as they provide greater leakproof abilities than some snap-on lids. Then, a small piece slides over the opening, clicking into place to prevent accidental spills. Some lids will have handles built into them.
Tumblers generally use snap-on or flip-top lids. They also have larger drinking holes. If there is a piece that covers the drinking opening, it often flips open rather than sliding.
Straws
Travel mugs have no space for a straw unless the lid is off. Using a straw on some travel mugs might be possible if the drinking opening is large enough. Tumblers may come with straws made specifically for the tumbler or have a wide enough opening to fit a straw.
Size and Shape
Tumblers are generally bigger than travel mugs. Typically, travel mugs are no larger than 20 ounces, though some go up to 24 ounces. Meanwhile, some tumblers can hold up to 32 ounces or more.
Tumblers are available in various shapes. Some might have a rounded bottom that tapers to a narrow top. Others have a narrower bottom and a wider top. Travel mugs tend to be straight with little difference between the bottom and the top. There are travel mugs that have slimmer bottoms so that they fit easier to cup holders or slip into backpack pockets easier.
Insulation
The way travel mugs and tumblers are insulated allows them to keep hot and cold beverages hot. Travel mugs have superior insulation that ensures they retain heat for extended periods. This can include a combination of double wall insulation, a vacuum seal and copper lining to keep coffee hotter for longer. Tumblers generally use double-walled insulation and a tight seal to keep drinks cooler for longer than regular cups.
Materials
Tumblers are mostly made from more versatile materials, such as BPA plastics. Plastic allows you to use a range of fun colors for your tumblers. Travel mugs are often made from aluminum and stainless steel and are often more subdued in color. Both tumblers and travel mugs can use a combination of plastic and metal to create eye-catching decisions.
Create Custom Tumblers and Travel Mugs With ePromos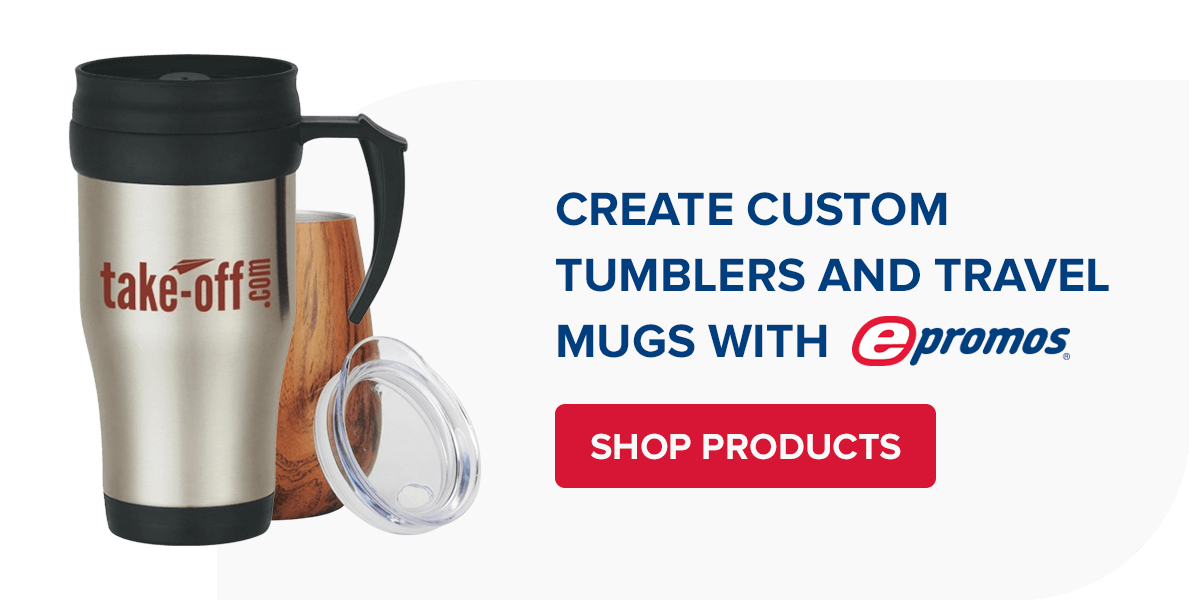 Travel mugs and tumblers each have their own set of advantages. They can each be used in several ways. As they become increasingly sought after, they are an effective promotional tool or a thoughtful gift for special occasions. Tumblers do have certain benefits over travel mugs and vice versa. Make your decision based on which option will offer the most value to those receiving them and how you can customize each.
Browse our range of tumblers and travel mugs today!